Hulu vs Paramount Plus: Which is Better For You? [2023]
We may earn small commission from the products mentioned in this post.
Hulu vs Paramount Plus – When it comes to on-demand streaming video services, there are a lot of platforms out there. However, not every platform offers the best and wide variety of content.
In this article, we'll be talking about leading on-demand streaming services like Hulu and Paramount Plus. Both Hulu and Paramount+ are entirely different from each other.
For instance, they offer different content selections, extra features, prices, and more. So, keep on reading to find out more about Hulu vs Paramount Plus comparison!
Hulu vs Paramount Plus: Complete Overview
Plans and Pricing
Firstly, Hulu and Paramount Plus differ significantly in terms of plans and pricing. Both of them have different plans and offer different types of pricing combinations.
Hulu Plans and Costs
Hulu offers different subscription options to fit a variety of entertainment and budget needs. There are long-term commitments, hidden costs, or cancellation fees, and you have the ability to switch plans and add add-ons at any time.
Basically, Hulu offers four different plans – Hulu, Hulu (No Ads), Hulu+ Live TV, Hulu (No Ads) + Live TV. Here is the complete information of Hulu plans and costs;
Hulu (Ad-supported): Hulu is the leading streaming service that offers on-demand and live movies and TV shows.
It is an ad-supported plan and costs $6.99 a month, and provides you access to thousands of hit movies, shows, and more from its library.
You also get the option to sign up for an annual subscription which costs $69.99 a year. Note that eligible students can sign up for this plan for just $1.99 per month.
It has a wide selection of add-ons, such as SHOWTIME, STARZ, HBO, Cinemax, and ESPN. Every add-on gives you access to premium shows and movies from their library that you can watch directly from the app.
Hulu (No Ads): It costs $12.99 a month. You can also subscribe to one of its Hulu (No Ads) plans with The Disney Bundle, and the total amount you are billed will be accustomed accordingly.
You have the option to a subscription to any of its Partner or Premium Add-ons, such as SHOWTIME, STARZ, HBO Max, Cinemax, and ESPN, for an additional monthly charge.
Although premium doesn't have the breaks, there may be promotional content before particular videos to show other movies and shows that you can access with the add-ons.
With this subscription, you can access everything from Hulu's library and even get a preview of the movies and shows before signing up.
Hulu + Live TV: It costs $64.99 a month. When you sign up for this plan, you can have access to everything from Hulu's streaming library along with 75+ channels you can watch at home.
In addition to Premium and Partner add-ons like SHOWTIME, STARZ, HBO, Cinemax, and ESPN, you can also have access to Live TV add-ons like enhanced cloud DVR, entertainment networks, sports add-on, unlimited screens, and Español networks for an extra monthly charge.
You can also watch breaking news, live sports, daytime soaps, weather forecasts, award shows, primetime dramas, the latest Hulu originals, and many more.
Record up to 50 hours of live TV and with the Live guide, view what's airing now and what's coming up over the next two weeks.
Hulu (No Ads) + Live TV: It costs $70.99 a month. And additionally, you can get more channels and upgraded features like unlimited screens, Espanol Networks, enhanced cloud DVR, and entertainment networks.
Note that the enhanced cloud DVR add-on will only let you fast-forward through the ad breaks in recorded videos. It offers everything that Hulu (No-Ads) and Hulu + Live TV comprise.
You get to watch everything like the latest episodes, full seasons, subbed or dubbed anime, award-winning series, documentaries, movies, plus live and on-demand content from over 75 channels.
Hulu Free vs Premium Comparison [2021]
Paramount Plus Plans and Costs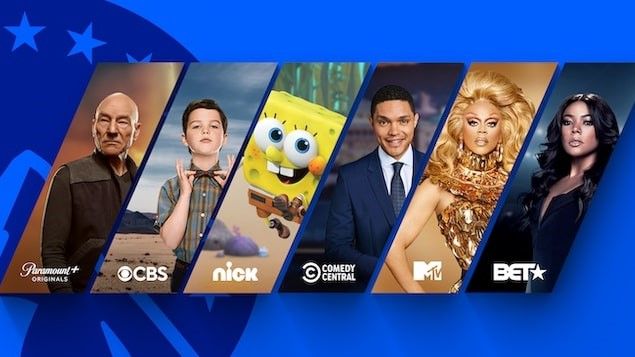 Paramount Plus currently offers two plans from which you can choose;
Paramount Plus Essential
It costs $4.99 per month or $49.99 per year.
Watch over 30,000 episodes and movies on demand.
Stream with limited commercial interruptions.
Get 24/7 national news with CBSN.
Access Paramount+ Originals and more exclusive programming.
Stream NFL on CBS and Champions League Live.
It does not include access to your local live CBS channels.
Paramount Plus Premium
It costs $9.99 per month or $99.99 per year.
Access Paramount+ Originals and more exclusive programming.
Stream with no ads, except live TV and a few other shows.
Get 24/7 national and local news with CBS live and CBSN.
Stream NFL on CBS, WEFA Champions League, and additional top soccer leagues, as well as even more sports like NCAA basketball and PGA golf.
You can download shows to watch offline, anytime, and anywhere.
Add Showtime: You can add showtime to any of the Paramount Plus plans. When you decide to add showtime to your Paramount+ account, you can access Showtime series and movies via the Showtime app and Paramount+ content through the Paramount+ app.
Paramount+ Essential and Showtime – $9.99 a month
Paramount+ Premium and Showtime – $12.99 a month
Paramount Plus Essential vs Premium: Comparison [2021]
Paramount Network vs Paramount Plus: Difference? [2021]
Hulu vs Paramount Plus: Device Support
Hulu: You can access Hulu on most devices, including iPhones, iPads, Android smartphones and tablets, Apple TV, Android TV, Fire TV, Roku, Chromecast, LG TV, Samsung TV, Fire tablets, Xbox One, Vizio Smartcast TV, Xbox 360, Nintendo Switch, PlayStation 3 and 4, Xfinity Flex, and X1 set-top boxes.
Paramount Plus: You can download the Paramount+ app on your Roku devices, Apple TV, Xbox, Chromecast, Amazon Fire TV, Fire TV stick, Xbox, Android TV, Samsung TV, LG TV, Vizio smart TV, Xfinity Flex and X1 set-top boxes, Android and iOS mobile devices, and also right on your television.
Content
Hulu
Hulu on-demand library offers hundreds of movies and thousands of series episodes from major networks. For animation fans, there are shows like Bob's Burgers, Archer, Futurama, Adventure Time, and many more.
And for drama and comedy fans, it comprises Bones, The X-Files, Killing Eve, Brooklyn Nine-Nine, Malcolm in the Middle, Seinfeld, Letterkenny, Broad City, The Orville, and more!
Originals: Similar to other streaming platforms like Amazon Prime and Netflix, Hulu also creates original content.
Some of Hulu's best originals are Helstrom, Little Fires Everywhere, The Handmaid's tale, High Fidelity, Marvel's Runaways, Veronica Mars, Castle Rock, and Harlots.
Live TV: Hulu + Live TV has a deep lineup of content across the entertainment, news, and sports categories.
Its news and entertainment channels include Fox Business, MSNBC, ABC News, CNBC, CNN, Fox News, Discovery, Cartoon Network, FX, National Geographic, TBS, TLC, Food Network, Disney, Animal Planet, TNT, FXM, and more.
Besides the live feed, you also get to watch on-demand content from different networks that it offers.
Sports: In addition to local channels that you get in your zip code, its lineup comprises CBS Sports, ESPNEWS, BTN, ESPN, ESPN2, Golf Channel, and Olympic Channel.
To become the finest option for streaming NFL games, Hulu has NFL Networks at no additional cost and launched the $9.99 per month sports add-on.
Paramount Plus
Similar to Peacock, Paramount+ has divided its content into two types – on-demand and live. It comprises a vast catalogue of past and current series like The Brady Bunch, Criminal Minds, Hawaii Five-0, Blue Bloods, Clarice, The Daily Show with Trevor Noah, and more.
Besides a lot of CBS hits are not available through Paramount+ because of licensing rights. Currently, series like The Big Bang Theory, Two and a Half Men, and Yellowstone are available to stream on other platforms.
Originals: Some of the original content that Paramount+ has announced includes The Offer, Fraiser, Avatar, The Real Criminal Minds, Lioness, Star Trek, A Yellowstone Prequel, A Workaholics movie, Reno 911, Kamp Koral, and a revival of The Game as part of BET's programming.
Live TV: Premium subscribers can access feeds of their local CBS broadcast stations. That means that can watch prime-time shows and any of the CBS network series.
Sports: Paramount+ sports streaming lineup is more considerable than Peacock's streaming platform, which primarily focuses on IndyCar coverage, Premier League matches, and WWE PPV events.
And if you want more coverage of national sports leagues, you'll need to pay for a live TV streaming service like YouTube TV or fubo TV.
User Experience
Hulu
Premium subscribers can download selected TV shows and movies for offline viewing as well as its original programming. You also get to record up to 50 hours of content and keep them for as long as you subscribe.
If you want to increase the limit to 200 hours and skip ads in the recording, you can pay an extra $9.99 per month. Although it might not offer every show in HD, most of its shows are not available everywhere in high-quality.
Like most of the on-demand services, Hulu's basic plan supports two simultaneous streams. However, you can pay for the unlimited screens and get rid of the limit for devices on your home Wi-Fi.
Paramount Plus
Paramount Plus's interface has all the basic features that you might expect. It also offers a short description in the upper left corner of what you are currently watching.
Even though you cannot select the streaming resolution manually on the web, you can choose the video quality between low, medium, high, or auto through the app.
All Paramount Plus subscribers can simultaneously stream on up to three devices per account. If you subscribe to Paramount Plus Premium, you can some selected titles in 4K.
But to watch something at this resolution, you'll need to use a supported streaming device, such as Fire TV, Android TV, Apple TV, or Fire TV.
Final words: Hulu vs Paramount Plus
What did you choose? We know it might be really confusing to choose a particular platform since they both offer a wide variety of shows and movies.
However, we would like to suggest that before picking up a platform, you should consider the content it offers, user experience, the cost and the type of plans each platform offers.
Well, if you still can't make up your mind about what streaming service you should use, you may try both of them and then come to a decision.
So, we hope the above article has helped you to know everything about Hulu vs Paramount Plus. If you have more queries, feel free to ask in the comment section below.
7 Best Comedy Movies On Paramount Plus to Watch [2022]
FAQs
What is Hulu?
Hulu is an American subscription-based video-on-demand service that is serving as a collection of recent episodes of television series from their respective television networks.
What is Paramount Plus?
Paramount+ is another American-owned global subscription video on-demand that is operated by ViacomCBS Streaming. It offers original content, including newly aired CBS broadcast properties, and content from the ViacomCBS library.
Is Paramount Plus available on Hulu?
No. You cannot watch Paramount+ on Hulu, but you can access Paramount Network as a part of Hulu Live TV subscription. 
Where can I watch Paramount Plus?
You can access Paramount+ through the Paramount Plus mobile application or directly stream on the web. 
How can I get Hulu for free?
The easiest method to get Hulu for free is to try its free trial for 30 days and access the content it offers. 
Can you watch Yellowstone on Hulu?
No. Yellowstone is not available on Hulu or Netflix. However, the first three seasons are all available to stream on Peacock. 
Hulu vs Paramount Plus: Comparison [2022]
Sling TV vs Paramount Plus: Comparison [2022]
Peacock vs Paramount Plus: Comparison [2022]
Amazon Prime vs Paramount Plus: Comparison [2022]
Apple TV+ vs Paramount Plus: Comparison [2022]
Paramount Plus vs HBO Max: Comparison [2022]
fuboTV vs Paramount Plus: Complete Comparison [2022]
Paramount Plus vs ESPN Plus: Is ESPN Plus on Paramount Plus?
DirecTV Now vs Hulu Live: Complete Comparison [2022]