Must Try these Apps like Cleo to Manage Finance [2022]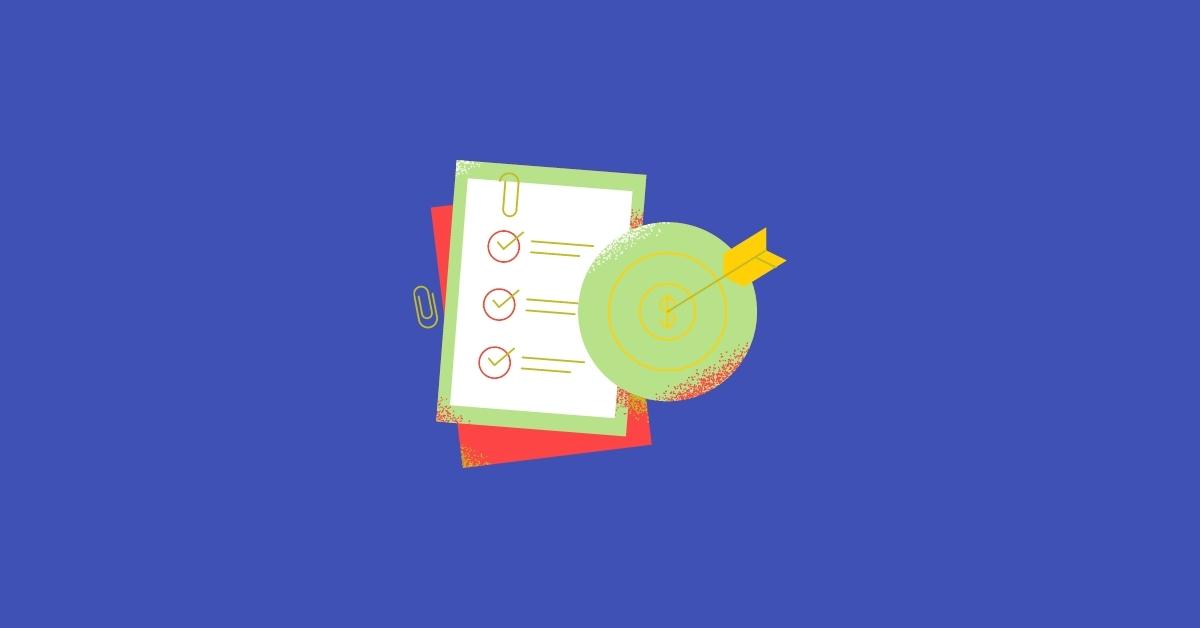 Apps like Cleo – Searching for a personal financial advisor? Are you looking for the best app to save your money? Want to know which app offers the best features?
Don't worry; we'll help you with that! In this article, we'll show you the 10 best Cleo alternatives that automatically help you save your money.
Expense tracker apps or money-saving apps helps you to manage your finances. With apps like Cleo, tracking money and saving money has become easier. Before getting into further details, first, let's understand what is Cleo and how does Cleo work.
What is Cleo? 
Cleo is an Artificial Intelligence budgeting app that assists you in tracking your spending, saving your money automatically and even earning cashback rewards. You'll have the ability to ask for your information like expenses or finances, and it'll respond to you quickly. Once you've created your personal budget, it'll help you to adhere to it.
If you want extra cash between paychecks, Cleo lets you to get a small cash advance between $20 to $100. You can also build credit with its credit builder card. With no credit checks and no interest, a credit builder card is particularly created for people who wish to improve their credit score.
How does Cleo work?
Once you have installed the Cleo app for your device, you've to enter your details and link your banking details to Cleo to permit the AI-powered chatbox to read your spending patterns. Although not all banks are available, you can request to add providers if you wish to link is not available.
The app then displays your selected accounts transactions and categorizes your spending. Then, you can set your budget or simply start saving within the Cleo application by using "Save" or "Budget" phrases in the chatbox.
Cleo's algorithm and recommendations will depend on your spending patterns. All the budgeting, tracking and spending analysis features are entirely free.
Apps like Cleo: Best Alternatives!
Although Cleo is a fantastic budgeting app, it's always better to explore more options. Here is the list of the 10 best apps like Cleo:
Everyone who is earning wants to manage their finances properly. So, read on further to know more about the best Cleo alternatives that help you track your spending and automatically save spare money.
Mint
Mint is a personal financial management website and a mobile application that syncs to your bank account and credit cards.
Its primary services let users track bank, investment, credit card and loan balances and transactions via a single user interface and allow you to set financial goals and create budgets.
Fees: It is entirely free for everyone; you can sign for free and access all the app's features for free. Also, there are no paid versions available.
Key Features
It collects information from different accounts for easy management.
Although it is not an investing app, you can view and track your investments.
It gives account holders free access to its credit score and credit monitoring tools.
You can control your spending with its money spending tracker.
Link your credit cards, cash, investments, loans and many more with just a single tap.
How Does Mint Work?
Once you create a Mint account, you can enter your personal information, debit or credit card information as well as any bills that you would like to be reminded to track or pay. You can also track loans and investments through the app, this included IRAs and 401(k)s.
You can connect your credit cards, mortgages, PayPal and as many bank accounts as you like. Furthermore, you can set up your budget and then, based on your finances, it'll offer a budget for you which can adjust later.
Dave
Dave is one of the best app from apps like Cleo list that provides loans to individuals' accounts at their banks for overdraft protection. 
It uses an algorithm to estimate users' capability to repay loans depending on their income history and checking account.
Fees: It doesn't charge any interest or overdraft fee, instead it charges a monthly fee ($1) to use the app, which is deducted from your connected bank account every month. It also provides the option to "tip" (optional) after getting a loan.
Key Features
Its spending account holds deposits and makes payments and transfers between it.
It is partnered with LevelCredit, which helps your on-time payments to build credit.
Budget feature tracks your income and spending to help you plan for upcoming bills.
Its side hustle feature comprises jobs like food delivery driver and rideshare.
You can always know how much you can spend while still covering all your bills.
How Does Dave Work?
Dave helps you access pay advances, and you can borrow up to $100 from the platform. First of all, you have to show proof of your consistent income, and this should be in the form of a minimum of two direct deposit paychecks from your employer to your account.
You can repay your advances on your payday. Although it'll not check your credit score, you are supposed to meet some requirements to make sure you can pay back.
Digit
Digit is a financing app that analyses factors like expected income, recent spending, checking account balance and other personalized savings controls, which are set by you to examine when and how much you can spare. 
There's no minimum needed for your Digit account, you can withdraw your money at any time.
Fees: Digit charges a $5 monthly membership fee that is deducted directly from your linked checking account.
Key Features
Find out how to save, invest, enhance your spending and pay off debt easily.
It helps you get results and reach your money goals.
It analyses your spending patterns and income and saves what you can afford.
Its overdraft prevention feature moves money back into your checking account.
It divides your savings and allocates money to your savings goals.
You can earn 0.10% annually on your Digit savings.
How Does Digit Work?
In order to use Digit, you just require a bank account at any institution to connect your digit account. You can be able to access your Digit account through your desktop or through the mobile application for iOS and Android devices.
Once you've created your account, you can set an unlimited number of personalized savings goals into which you can put up funds in your Digit account from your checking account.
It has the ability to use that money and make regular payments like student loans, credit cards or cell phone providers.
7 Best Apps Like Digit & Digit Alternatives [2021]
YNAB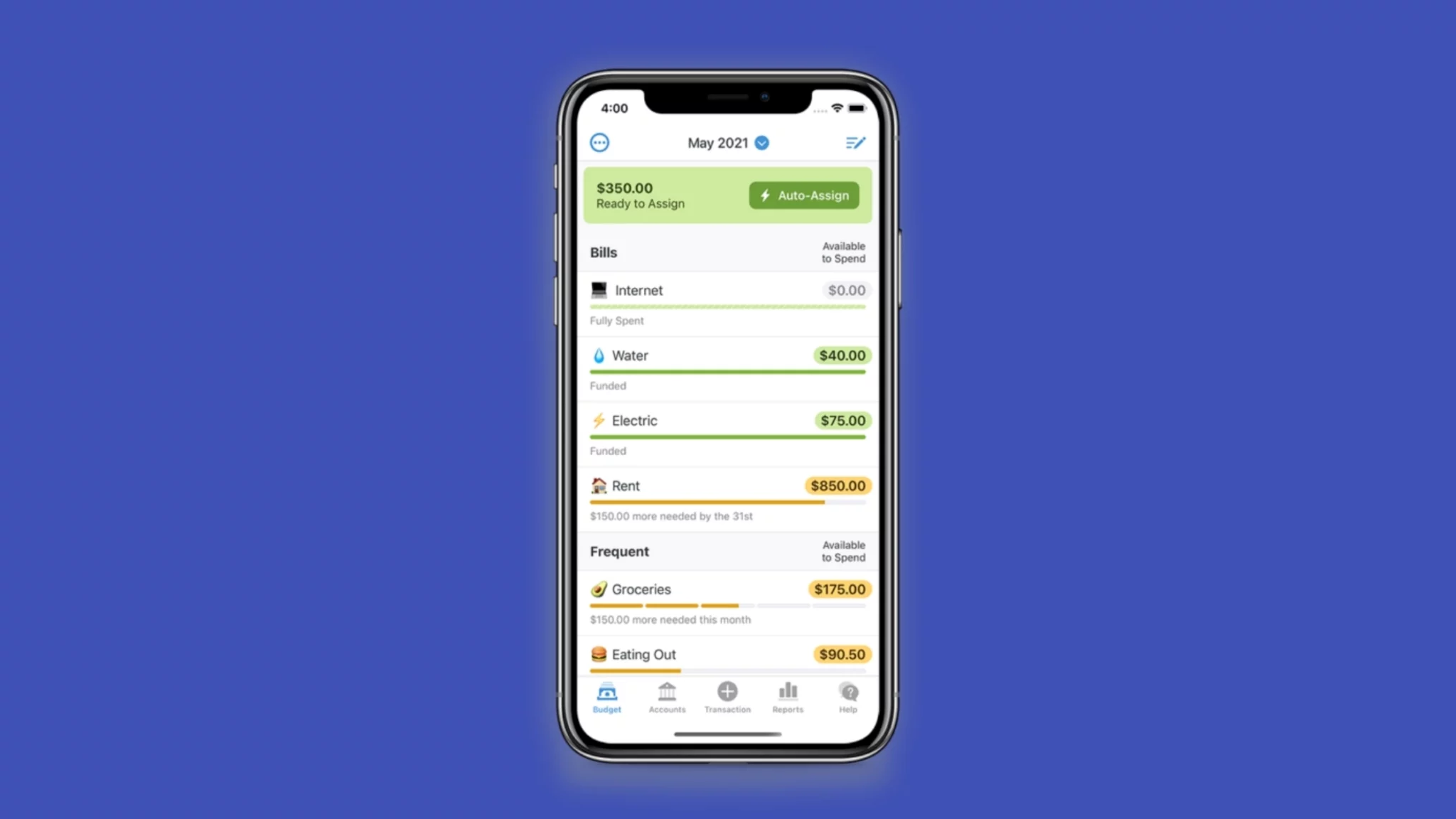 YNAB (You Need A Budget) is an American personal budgeting service. Its general theory is "give every dollar a job", which means each dollar is allocated to a certain purpose, including long-term housing repair funds, annual car insurance payment, college savings and many more.
Users can input transactions manually or import them automatically from their financial institutions. 
Fees: Its charges membership fees which costs $11.99 per month or $84.99 per year, which you can cancel anytime. It also offers a 34-days free trial.
Key Features
Easily connect all your accounts at one place for a big-picture view.
Track the progress on your financial priorities and reach your goals more quickly.
Visualize your spending trends with easy and simple personalized reports.
View changes to your budget in real-time.
Your financial information will never be shared.
Its debt paydown tool allows you to create an easy-to-use plan to assist you tobget out of debt.
How Does YNAB Work?
Unlike other budgeting services, YNAB works by making you assign every free dollar to a category. In this way, you can be able to plan where your money is going to go before you spend it. All you need is to download the YBAN app or visit YNAB's website and create your account.
Once you've logged in, you can instantly start setting goals and completing your profile. You can add credit card accounts, checking accounts or saving accounts.
Olivia
Olivia is an Artificial Intelligence-powered financial advisor that examines your spending habits, foresees your next buying and provides you personalized advice on spending wisely and saving more.
View all of your accounts in one place and review your spending, which is precisely systematized by category.
Key Features
You can ask questions, get advice and share your experience with other users safely and anonymously.
Get personalized recommendations on your spending habits.
Track where your money is going and how much you have available.
View all your accounts in one place and review your spending.
All data is stored and transmitted with bank-level encryption.
Participate in challenges and categories where you can save the most.
How Does Olivia Work?
You just have to download the Olivia app for iOS and Android device or use it on the desktop computer and then link your bank account, and stay informed about your spending through its "Overview" and "Spending screens."
You can be able to communicate with other users via your customized feed and influence the wisdom of Olivia's community. Also, get personalized recommendations on spending smarter and saving more money.
MoneyLion
MoneyLion is another Cleo alternative, providing financial advisory, lending, and investment service to users. Its machine learning technology offers personalized advice to users based on their spending habits.
It also offers access to small loans to help users handle their monthly income and expenses.
Fees: It doesn't charge any interest or monthly fee; you can create a MoneyLion account for completely free. However, to get a Credit Builder Plus loan, you'll have to pay a monthly fee of $19.99.
Key Features
Track your spending and plan your budget.
Get zero-interest cash up to $250.
Automatically invest the spare change from buying into your MoneyLion investment account.
Credit Builder Plus loans are 12-monthly instalment plan loans.
There are no account minimums for any account.
How Does MoneyLion Work?
To use MoneyLion, you should have a MoneyLion account. You can easily create a free or select to add other paid (Credit builder Plus) or free services (Instacash advances). Once you've created an account, you can access all the MoneyLion services.
Through its Credit Builder loan, you can receive a portion of your loan funds upfront. In order to get a credit builder loan, you should have a checking account for at least 60 days, positive transaction history, and a regular source of income.
16 Best Apps Like MoneyLion to Manage Your Money [2021]
NerdWallet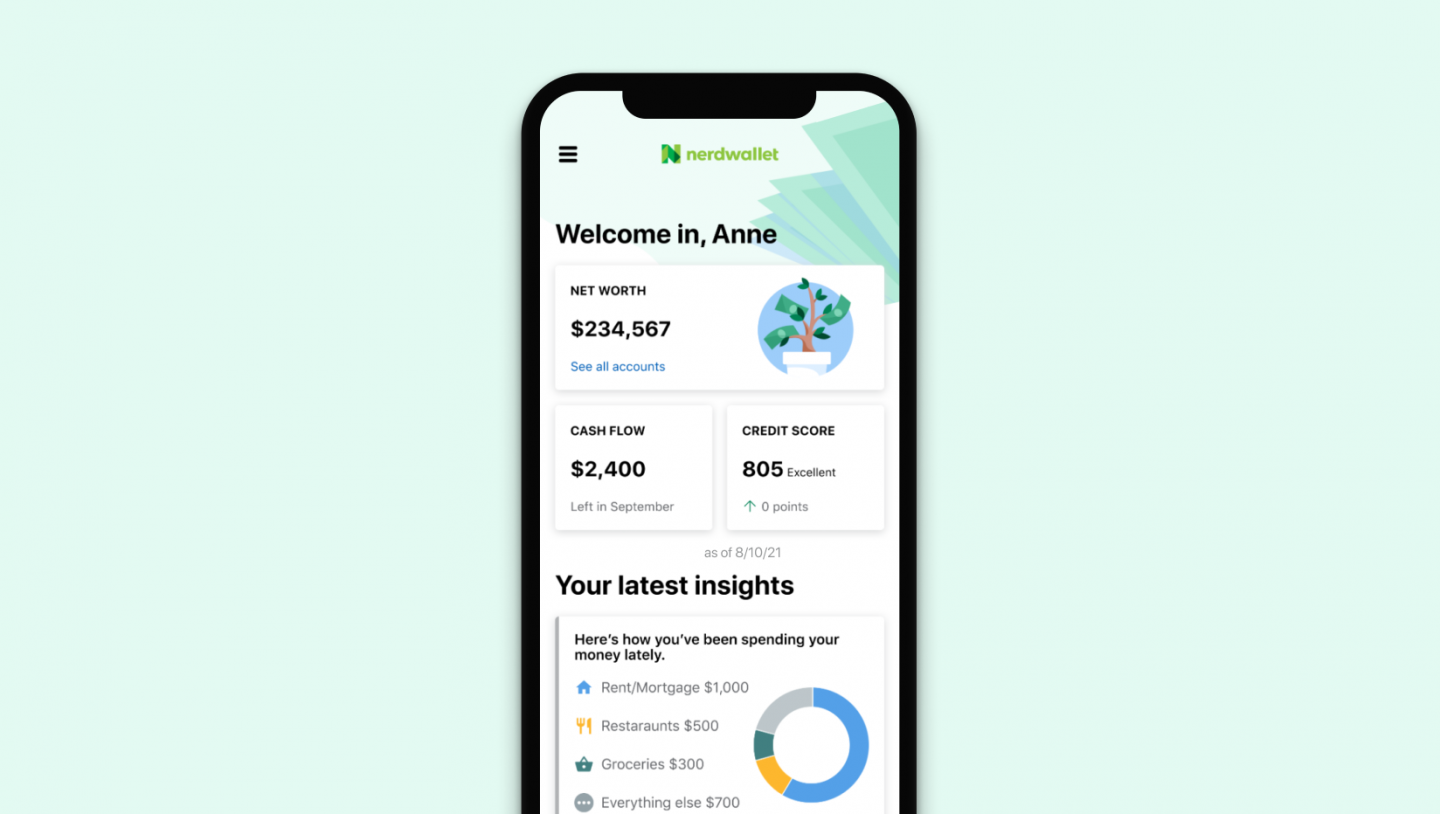 NerdWallet is an American personal finance platform whose main aim is to offer information that educates users in making any financial decisions. They offer both reviews and side-by-side comparisons of different financial products, including banking, investing, insurance, credit cards, and loans.
Fees: NerdWallet is entirely free to use.
Key Features
Track spending across various cards and bank accounts together and understand what you've left depending on spending, income, and bills.
It'll show you a breakdown of your top spending categories to help you cut back on spending and adjust your budget.
View how all your money moves add up, including your total debts, cash, and investments.
Personalized insights into making the most from the accounts you currently have.
You can always have access to your free credit score and free credit report.
How Does NerdWallet Work?
All you need to do is create a NerdWallet account and simply provide your personal details. You can then use its services that are divided into different categories.
NerdWallet app and the website assist users in knowing how to invest & save money, learn about student loans, find the best credit cards, get a mortgage and much more. It also offers articles and tools that help you to make financial decisions wisely.
QuickBooks
QuickBooks is an accounting service, whose products are mainly developed for small and medium-sized businesses and provide on-premises accounting applications as well as cloud-based versions which handle & pay bills, accept business payments and payroll functions. 
Fees: It charges different types of fees, check out the table below:
| | | | |
| --- | --- | --- | --- |
| Fee Type | QuickBooks Online | QuickBooks Desktop "pay monthly" plan | QuickBooks Desktop "pay as you go" plan |
| Monthly Fee | None | $20 | $0 |
| ACH Bank Transfer | 1% (maximum $10) | $3.00 | $3.00 |
| Credit Card Swiped | 2.4% + 25 | 1.6% + 30 | 2.4% + 30 |
| Credit Card Online Invoice | 2.9% + 25 | 3.3% + 30 | 3.5% + 30 |
| Credit Card Keyes | 3.4% + 25 | 3.5% + 30 | 3.5% + 30 |
Key Features
Categorize your monthly expenses to make them easier to track.
Invoice generator lets you track invoices sent, so you can always know who owes you and who has paid you.
View your profit and loss to see what you are spending and making., by connecting your bank account.
Review your bank transactions and add them to your accounting records.
You can have extra features with over different partner apps, including advanced crm and inventory management.
How Does QuickBooks Work?
In order to use QuickBooks, you've to create an account. Then, you can link your bank and credit card accounts to download and categorize transactions for you automatically. You can then personalize your invoices.
Its chart of accounts consists of your financial information, including accounts receivable, checking savings, balance sheets, and dividend accounts. Its report center offers a method of tracking sales, expenses and income.
Plum [Only available in UK]
Plum is a savings and investment service that uses AI to analyze your spending and automatically saves your money for you. You can choose between a primary pocket or one that pays interest. Money can be easily withdrawal from the primary pocket.
Fees: It doesn't charge any withdrawal fees or hidden transactions or trading costs. Nevertheless, it charges a 0.48% annual average fund management and provider fee. It also has a paid plan – Plum Plus that cost £1.00 per month.
Key Features
The money set aside in your Plum account, where you can make extra pockets and assign goals.
Small amounts are automatically set aside without leaving you short for what matters.
It'll let you know if you are overpaying and can switch you to a new supplier within seconds.
You can also invest and choose from wide variety of funds.
Its Money Maximizer feature stores money in your savings account for as long as possible.
How Does Plum Work?
All you have to do is to create a Plum account and connect your bank, so that Plum can analyze your transactions and adapt to your spending. You can personalize your Plum account, assign goals and create Pockets.
You can be able to determine how much you want and can ask it to stop saving at any time. However, small amounts are automatically set aside without leaving you short for what matters. 
Charlie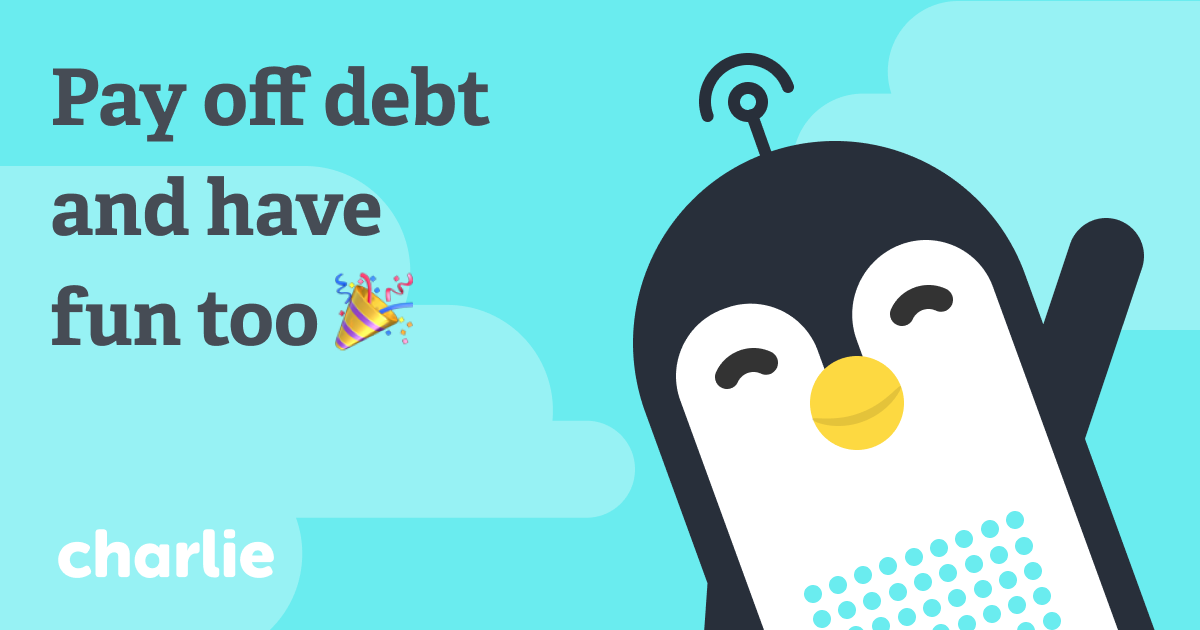 Charlie is the personal finance management service that will provide you some of the areas where you can be saving and give you the tools to cut your bills.
Its Artificial Intelligence assistant helps you with different financial tasks, including looking for better deals, notifying when your account balances are low and more.
Fees: It charges a $4.99 monthly fee. You can also get a one-month free trial.
Key Features
It'll let you know when your balance is running low or when payment due dates are coming.
You can calculate your monthly spending and even set limits on any certain product or activity.
It uses 256-bit end-to-end encryption and entirely anonymizes the database.
Its saving calculator lets you see exactly how much you'll have to save every week to reach your goal.
How Does Charlie Work?
You just have to sign up by entering your mobile number on the Charlie website to initiate a text-based interaction or simply send a message through Facebook Messenger. It'll immediately respond and ask you to connect your credit or bank account.
Once it is done, it'll instantly tell you about your current balance, and it also offers you to send regular balance updates. It'll also help you cancel unwanted subscriptions and save automatically through custom rules and regulations.
Wrapping Up!
All the budgeting apps mentioned in this article provides a great way to save money and track your expenses. Although most of them are free, some charge a fee to access to app completely. So, we hope the above article on the 10 best apps like Cleo has helped you to select the best option.
Discloure: ViralTalky is supported by its audience, when you buy through links on our site, we may earn a small commission.