Paramount Plus vs ESPN Plus: Is ESPN Plus on Paramount Plus?
We may earn small commission from the products mentioned in this post.
Paramount Plus vs ESPN Plus: Life without streaming is life without oxygen, to balance out work and life, we do need some entertainment in life. Earlier we used to wait for the cable to telecast favourite shows on their timings, but now we can see whatever we want with one click.
Online streaming services are at peak of their particular industry. Their market is getting more competitive day by day.
In this article, we are going to talk about two popular streaming services namely Paramount+ and ESPN+. By the end of the article, you will get all the details about their prices, bundles, streaming content, and much more.
What is Paramount Plus?
Paramount+ is an American-based streaming service that is popular for on-demand content. Paramount+ has launched 7 years ago initially with the title of CBS All Access. Their title changed in 2021 and now is Paramount+.
Paramount+ currently earns more than 32.8 million, whereas if we include its earnings with Showtime, Paramount+ is earning 56.8 million of profit.
Paramount+ serves locations in America, Nordic countries, Australia, and the Middle East with the help of Orbit Showtime Network. The headquarters of Paramount Plus is currently situated in New York City, United States.
What is ESPN Plus?
ESPN Plus has been in the streaming industry for approximately 3 years ago and the ownership of which is under the hands of The Walt Disney Company and Hearst Communication.
The key people behind ESPN+ is Russell Wolff and the parent company is Disney Media and Entertainment Distribution. The headquarters of ESPN+ is situated in the United States.
ESPN Plus currently earning 21.3 million of profit. ESPN+ is an additional package of ESPN's linear networks.
Paramount Plus vs ESPN Plus: Packages, Prices, and Bundles
Paramount Plus
Paramount Plus doesn't have made price change to be exclusive as in Paramount Plus plans but is still settled with the plans and pricing technique that CBS All Access used to offer.
Paramount Plus currently offers subscription plans which have two versions namely the add-free version and the add-supporting version. Paramount+ also offers a free trial for up to 7 days.
Paramount+ offers streaming on simultaneous screenings of 3 screens in total.
The plans offered by Paramount Plus are:
Paramount Essential will cost you around $4.99/month.
Paramount Premium will cost you around $9.99/per month.
Paramount Additional Showtime bundle:
Showtime + Paramount+ Essential costs you around $9.99/per month.
Showtime+ Paramount+ Premium costs you around $12.99/per month.
ESPN+
The main feature of ESPN+ is the screening option. ESPN+ currently offers 5 screens to be shared simultaneous streaming which is the highest number of screenings available compared to Peacock TV, Hulu, Paramount Plus, and much more.
There are many plans or bundles ESPN+ has offers namely:
ESPN+ regular subscription will cost you around $6.99/per month.
ESPN+ Annual Plan will cost you around $6.99/per year.
You can also get ESPN+ with Disney+ with Hulu which costs you around $13.99 per month.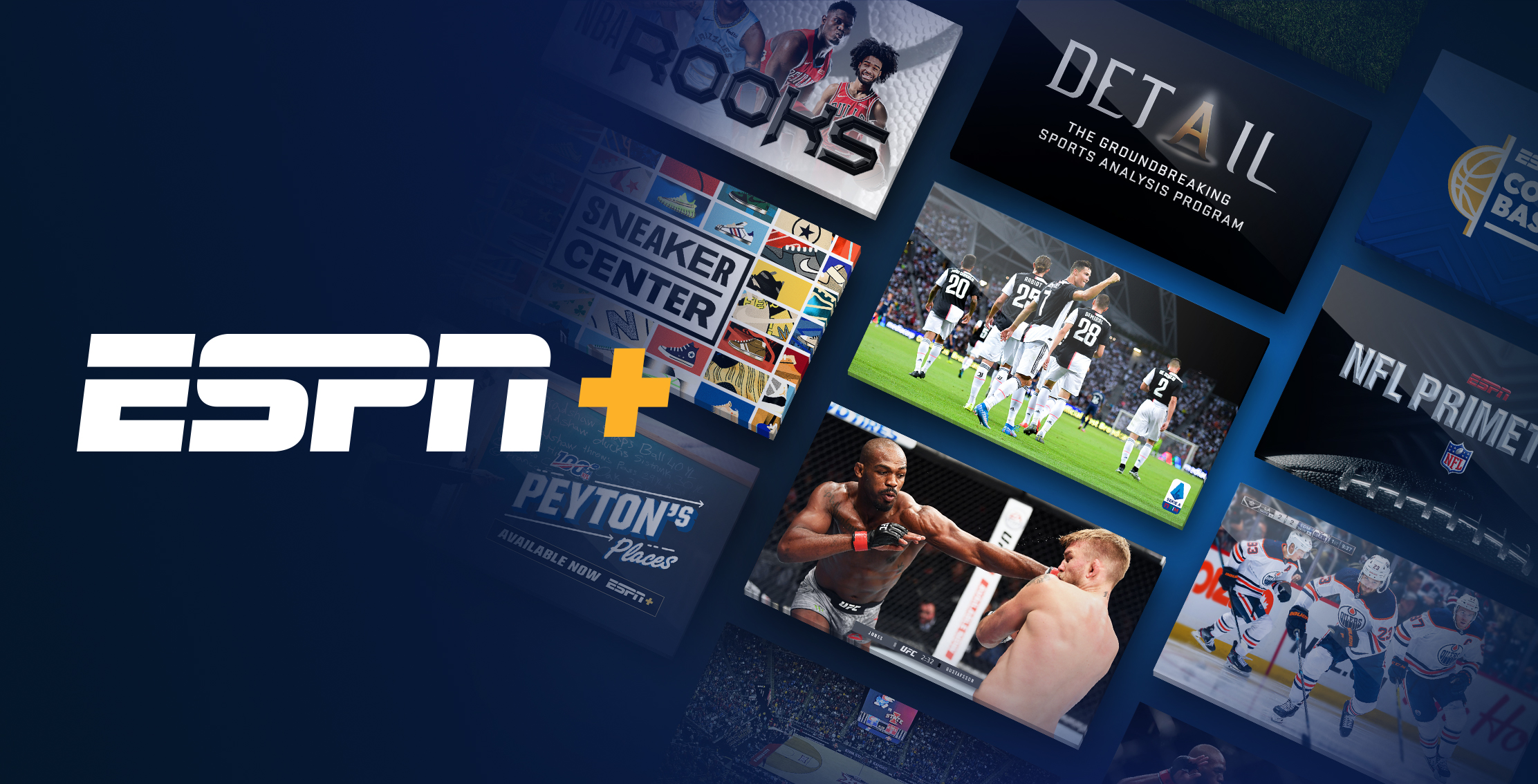 Paramount Plus vs ESPN Plus: Device Compatibility
Paramount Plus
The streaming service of Paramount Plus is available on the following devices:
Andriod and Ios devices
Apple TV
Amazon Fire TV
Chromecast
LG Smart TV
Roku
Samsung Smart TV
PlayStation 4
Xbox One
Series X
Vizio
Comcast Xfinity and much more.
ESPN+
The streaming service of ESPN+ is available on the following devices:
ESPN App
iPhone
iPad
Apple TV
Android Handset
Roku
Amazon Fire TV
Chromecast
PlayStation 4
Oculus Go
Samsung TVs
Xbox One and much more.
Paramount Plus vs ESPN Plus: Content and Channels
Paramount Plus
Paramount+ currently offers a huge collection of channels and content to be watched with their subscription. They are as follows:
Channels-
Nickelodeon
MTV
BET
Comedy Central
Smithsonian Channel and much more.
Binge-Worthy Content-
The Twilight Zone
Star Trek: Discovery
The Stand
The Real Criminal Minds
Lioness
The Offer
The Good Fight and much more.
ESPN+
ESPN+ is more sort of direct TV streaming of ESPN network. The shows you can watch on ESPN+ namely are:
UFC Events
MLB and NHL Games
Domestic and International Soccer namely Bundesliga, FA Cup, Series A, MLS, Copa Del Rey, EFL Championship, Carabao Cup, and much more.
College matches namely basketball and football matches.
Paramount Plus vs ESPN Plus: Is ESPN Plus on Paramount Plus?
When we talk about Paramount+ and ESPN+, we get to know that both of them are different. Currently, Paramount Plus offers sports channels and shows to watch matches like basketball, football, soccer, and much more.
To date, Paramount+ have not been publically informed about their partnership with ESPN+. The ESPN+ is a package available on the ESPN website and app but has no partnership with Paramount Plus as a bundle to do so.
ESPN+ has a current partnership and bundle available with Disney+ and Hulu. Hence the future may make Paramount+ and ESPN+ together.
Ultimate Verdict: Is Paramount+ better or ESPN+?
Paramount Plus offers a wide range of content with sports. Paramount Plus highly focuses on streaming their original content with many popular TV shows, movies to binge-watch. Paramount Plus also offers live TV streaming of local news stations and sports to watch.
Whereas, ESPN+ is a subscription available on ESPN Website or app streaming service. ESPN+ is highly recommended to the people who are looking for an add-on sports package to their tv streaming and online streaming options.
Selectively speaking the audience who wants only sports addition to watch and doesn't want highly paid subscriptions of TV shows, movies and much more can select ESPN+ as a pocket-friendly option.
Compare to ESPN+, Paramount+ is a wider concept in terms of content to offer its subscribers. Hence, people who want everything namely TV shows, sports, news, movies to watch can go for Paramount+.
7 Best Comedy Movies On Paramount Plus to Watch [2022]
FAQs
What do you get on Paramount Plus?
Paramount+ offers 30,000+ movies and shows with channels mainly Comedy Central, MTV, and much more. It has a huge category of originals, movies, TV shows, sports, news channels, classic shows, and many more.
Does Paramount Plus include sports?
Yes. Paramount Plus includes the broadcasting facility of college football MLB, NBA, NHL, and much more.
Is Paramount Plus worth it?
If you are a die heart fan of CBS Network and CBS Shows, then you will be pleased with the subscription of Paramanount Plus, and will not regret it.
Fubo TV vs ESPN+: Complete Comparison [2022]
fuboTV vs Paramount Plus: Complete Comparison [2022]
Sling TV vs Paramount Plus: Comparison [2022]
Peacock vs Paramount Plus: Complete Guide [2022]
ESPN vs Fox Sports: Who Wins the Battle? [2023]