Must Try these 24 Sites like Carvana, If you want to Buy/Sell a Car!
We may earn small commission from the products mentioned in this post.
Are you looking to buy or sell a car? But don't prefer Carvana for some reason, don't worry, we have found several other companies & sites like Carvana across the web.
Carvana is a well-known technology startup founded by Ernie Garcia and his son, Carvana is an online "only-used car dealer" that only operates in the United States and allows consumers to finance, shop, and trade-in vehicles from their website.
Customers can pick up their vehicle orders at one of Carvana's car vending machine locations after completing the order online, or they can have them delivered nationally! Carvana was founded in 2012 as a subsidiary of the drivetime Automotive Company, and it has had a lot of success in the area of online used car sales.
Best Sites like Carvana [Alternatives & Similar Sites]
Several other firms have entered the industry, competing as Carvana alternatives.
If you are trying to finance, purchase, or trade-in your vehicle, we have compiled a list of the best sites, such as Carvana, that will assist you. These businesses are no longer Carvana since they have devised better offers and services to solve any difficulties.
Carmax
Car-Max claims to be the largest used car dealership in the United States and a Fortune 500 business. As a result, its inclusion on the list of the best Carvana alternatives in 2021 is justified.
They also have a 5-day money-back guarantee, which ensures you can return the car with a full refund if you do not like it.
This Carvana alternative delivers a single, equal price, so there is no haggling or bargaining, and you can spend and buy with confidence. Apart from selling used vehicles, it also sells new cars.
Carmax does not discriminate; any vehicle, in any condition, with any number of miles on the odometer will be accepted.
| | |
| --- | --- |
| Pros | Cons |
| Well-maintained vehicles | Trades in offer are usually very low |
| Wide range of models, makes and model years | Transfer fees cannot be included in the sales price |
| Financing is available and a 30-day warranty | Might have to pay the shipping cost |
| 5-day money back guarantee | |
6 Best CarMax Alternatives for Selling Your Car! [2022]
Edmunds
Edmunds is an American resource for automotive inventory and information. Its website consists of prices for used and new vehicles, a database of national & regional incentives and rebates, advice on all aspects of car purchases & ownership, dealer & inventory listings, and vehicle test drive reviews.
It offers information through its "True Market Value" pricing tools. True Market Value "New vehicle Calculator" shows the estimated average price consumers pay when purchasing a new vehicle.
True Market Value "Used vehicle Appraiser" predicts the actual transaction price for used vehicles sold and bought by dealers and private parties. These free tools and calculators help users to estimate loan payments and the total price of a car.
Search for new or used car listings by local dealers and shoppers. Customers can search for cars depending on various filters, like a model, engine type, special features, make, vehicle type, vehicle history, and color.
Remember that Edmunds is not a car dealership. Nonetheless, you can be able to find local dealerships on the Edmunds site by just entering your ZIP code under "Car Dealerships Near Me."
| | |
| --- | --- |
| Pros | Cons |
| Easy user interface | It doesn't let you negotiate |
| Free tools and calculators | |
| Filter your search by different features | |
CarGurus
CarGurus is an automotive research and shopping website that helps you compare local listings for new and used cars and contact sellers. It functions in the United Kingdom, the United States, Germany, Italy, Canada, and Spain.
Its algorithm analyzes and compares features and prices of cars on sale. Search for specific cars in your local area and compare listings by features, price and dealership reputation.
Likewise, it also offers a discussion platform for car enthusiasts and automotive experts, who offer insight, provides information, submits questions, and gather and share information.
It claims that it has more car listings than its competitors like Cars.com, Autotrader and TrueCar. Although it doesn't have a physical inventory and doesn't own cars listed on the website, it offers a way to shop for used and new cars.
You just have to pre-qualify for a car loan and receive a price quote via CarGurus. You can then contact the dealership with your quote and choose a time to test drive and buy the vehicle.
| | |
| --- | --- |
| Pros | Cons |
| Ability to compare deals, price and inventory at nearby dealerships online | Charges a listing fee of $4.95 for 30 days |
| Facility to filter your search results | Doesn't buy used vehicles directly |
| Get pre-approved for financing online | Doesn't have a physical inventory |
| Reliable resource for finding a vehicle and extra unbiased research | |
Carvana vs CarGurus: Which Is Right For You?
CarFax
Initially, Carfax started with the interest to be the legitimate source of data relating to the history of used cars for buyers and sellers. Later, it has become the most inclusive history report catalog available for cars and trucks.
Its history reports consist of information like estimated mileage driven per year, fleet history, hail & flood damage, accident indicators, estimated miles, service history records, warranty coverage information, service history records, number of previous owners & length of ownership and more.
You can also be able to search for your next car, including several used and certified pre-owned car listings from local dealerships. Since every listing has a free CarFax report, users can filter their results by numerous factors.
Its history-based evaluation takes your account info from the car's history without having you pay for the entire report.
Whether it is a car that you own or a used car that you're searching for, CarFax can be the best option! Its buyback guarantee assists buyers to have a little more comfort when buying a pre-owned car.
| | |
| --- | --- |
| Pros | Cons |
| Well-known vehicle history tool | Vehicle history reports are not free |
| Offers buyback guarantee | It can be quite expensive |
| Open recall lets dealers to finds and announce cars | |
Carvana vs CarFax: Complete Comparison [2022]
Hemmings
Cars pre-approved by a listing specialist and good for driving can be sold at a Hemmings auction. Its auctions are curates, have a sell-through rate of 75% at the time of publishing and usually last for two weeks.
Selling can also be done through Hemmings ads. Every purchased ad will run on the website for over six months and in print for over one month. So, if you want to buy, you can simply search both auctions and classified ads for entirely free on its website.
Purchasing at Hemmings auction needs you to pay a buyer's fee. On the other hand, classified ads are free to browse and it doesn't charge any buyer's fee.
Classified ads are for different cars, but auctions are specially for roadworthy and unique vehicles, this includes vintage vehicles, classic vehicles, high-end vehicles, collector vehicles, and antique vehicles.
If your vehicle does not sell at auction, you'll get six months of free Hemmings classified ad space. Furthermore, it also has a "companion magazine" that mainly focuses on the growing requirements of car-collecting enthusiasts.
| | |
| --- | --- |
| Pros | Cons |
| Special platform for classic cars | Charges a buying and listing fees |
| Provides a choice to place an auction or a classified ad | Classified ads are not curated |
| You can use the site search feature to compare your vehicle to others | Doesn't offer finance cars |
Cars & Bids
Cars & Bids was developed to assist modern car enthusiasts in buying and selling cars quickly and securely. Unlike other sites that usually take weeks to get a seller's auction live, Cars & Bids gets cars list as fast as possible and works with sellers to find out the best schedule.
Its submission process is very simple and lets sellers know whether their car will be accepted or not. The vehicle history report of every vehicle it auctions is provided free of charge rather than asking the seller to pay for it.
It has lower fees than other auction sites, ranging between $49 to $89 for every listing and deducting a 4.5% buyer's fee with a minimum of $225 and a maximum of $4,500.
Since it focuses on modern enthusiasts, it only provides cars after 1980, which means no car models developed before 1980 are available.
| | |
| --- | --- |
| Pros | Cons |
| Each and every vehicle consists of a history report | Doesn't offer financing options |
| Low listings and commission fees | No seller and buyer tools or resources |
| New features that transform buying and selling online | |
| Users-friendly automobile site | |
Cars.com
Cars.com is another one of the best Carvana alternatives available, it is one of the most popular online car buying site, providing reliable and easy-to-understand data from customers and experts to assist shoppers in deciding what to purchase, where to buy, and how much to pay for a vehicle.
Cars.com places car shoppers in charge of their choice of cars by providing them with the details they need to make confident purchasing choices.
It follows very detailed pricing information, side-by-side comparison tools, photo galleries, animations, dealer ratings, impartial editorial material, and a wide range of new and used car inventory, making it one of the best Carvana alternatives available.
It offers different resources for both buyers and sellers, this included vehicle history, payment calculator, comparison tool, recommendation tool, and trade-in value tool that lets users to get free estimates of their car value.
Cars.com has released a new feature – RepairPal Partnership, which lets consumers learn maintenance and repair tips and discover trusted certified service centers in their location.
| | |
| --- | --- |
| Pros | Cons |
| Provides an extensive list of products and services | There are a lot of ads on their website |
| It provides unbiased research | Doesn't have a physical inventory |
| It helps you find the best rebates and financing offers | |
Autotrader
Autotrader is the next best Carvana alternative on the list. With 3.5 million vehicles, autotrader.com makes it simple to find the next used vehicle.
All cars go through a multi-point vehicle inspection, an extended year/mileage warranty, and a vehicle history report. You can also get roadside assistance.
Find Cars for Sale, Car Research, Sell Your Car, Find Local Dealers, Loans, Insurance, and a few other special choices distinguish autotrader.com from other sites such as Carvana.
Autotrader highlights detail, performs comparisons, and so on to assist you in making an informed decision about the selling or purchasing of a vehicle.
It offers car search and membership services for entirely free, and it has a huge selection of automobiles from both local and nationwide dealers and private sellers.
If you want to put an ad on Autotrader, its charge may range from $25-$100. Furthermore, it also offers a VIP service that consists of various benefits like privacy shields, call screening, pricing advice, title transfer document services, solicitor blocking services, and many more.
| | |
| --- | --- |
| Pros | Cons |
| Provides buying and selling tips | Trade-in marketplace is not available in all areas. |
| Warranty programs, safe & vehicle history reports | It doesn't have a physical inventory |
| Ability to compare deals, price and inventory at nearby dealerships online | Instant cash offer is only valid for 72 hours |
6 Best Sites like AutoTrader to Buy Used-Cars [2022]
Truecar
This Carvana Alternative would never betray you! It reveals how many other people pay for the car you are thinking of buying. This ensures that Truecar Certified Dealer rates are accurate.
Then their dealers give all Truecar buyers who buy a car from this online car dealer promised savings.
Commissions, accessory prices, and bonuses are included in the dealer's upfront, reduced price.
This is the Truecar price, the price you can pay, and the price you will pay. This website will seem to be similar to Carvana, but it makes certain that you never pay too much.
Truecar is a well-known brand in the online car-buying industry, and it has collaborated with some of the country's leading membership groups, including USAA, Sam's Club, American Express, and Chase.
Although it doesn't have a physical inventory, you can still be able to shop for a new and used car around various cars in your area. As soon as you've found the car you're wanted, you can simply contact the seller directly and set up a test drive.
| | |
| --- | --- |
| Pros | Cons |
| It has over 250 car buying programs | True Cash Offers might not be available in all areas |
| You can use the loan and lease calculator to help you figure out your estimated monthly payments | It doesn't hold a physical inventory |
| Price ratings make it easy to check how a car's price compares | |
Shift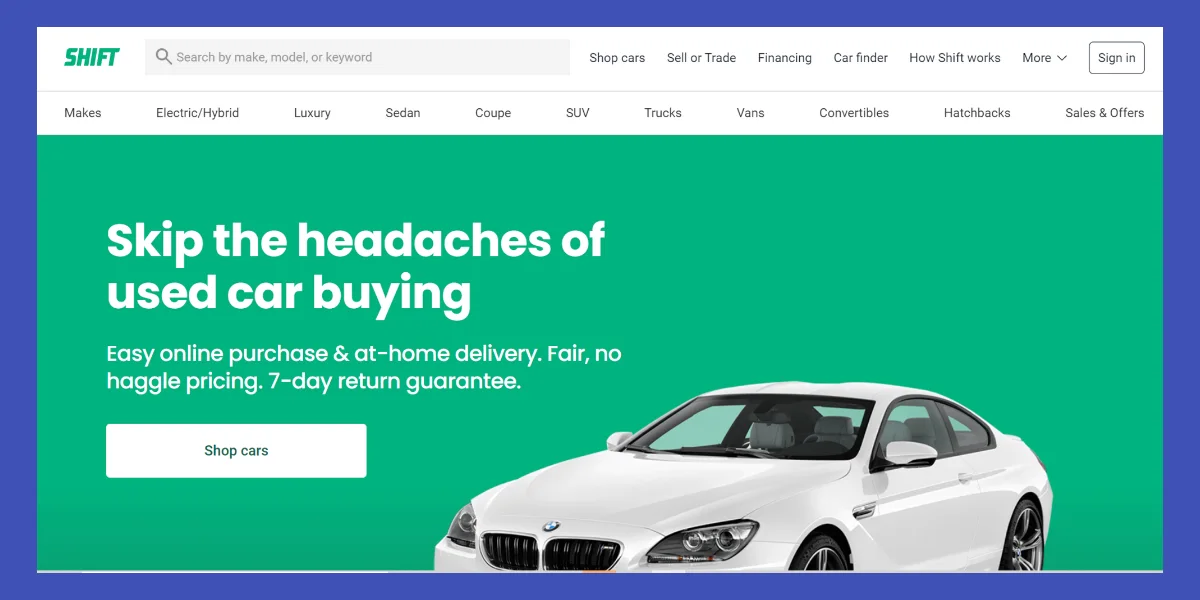 Shift primarily assisted as an intermediator that bought and sold used cars on a delivery basis. Then it began obtaining cars authorization and reselling them on its platform direct to buyers, and thus removing the peer-to-peer consignment model.
Shift buys and sells used cars directly to and from customers through its eCommerce platform. It enables pricing, financing options, department of motor vehicles interactions, test drives, detailing, inspections, and merchandising.
Shift vs Carvana: Which is Best?
Shift vs Vroom: Is Shift Better than Vroom? 
It thoroughly examines and repairs the cars it gets through its regional reconditioning centers. Then, it lists cars on its website where customers can buy the car online or book a test drive appointment in their local area.
| | |
| --- | --- |
| Pros | Cons |
| Competitive estimates by analyzing data on similar cars | Bad customer service |
| Free vehicle estimate | Sometimes the paperwork can take longer than mentioned |
| At-home evaluation for your car | |
Kelley Blue Book
Anything you need to review a new, CPO, or used car, compare vehicles, find cars for sale, and make an educated decision is available right here at this other website like carvana- Kelley Blue Book, another good website similar to Carvana.
It assists you in buying or selling vehicles and serves as a reference for everything automotive, from simply testing the worth of your existing vehicle, aggressively searching for a new vehicle, or purchasing one quickly.
The best thing about Kelley Blue Book is that it is not exclusively for cars; it is also one of the most comprehensive online resources for motorcycle values.
Kelley Blue Book has become one of the most trusted names in the automotive industry. Is not it true that it's been a long time?
| | |
| --- | --- |
| Pros | Cons |
| Analyses pricing information from real-world used car prices | Instant cash offers are not really accurate |
| Provides a wide range of tools and other information | |
| It has a 5-years cost to own tool | |
6 Best KBB Alternatives You Should Try!  [2022]
Vroom.com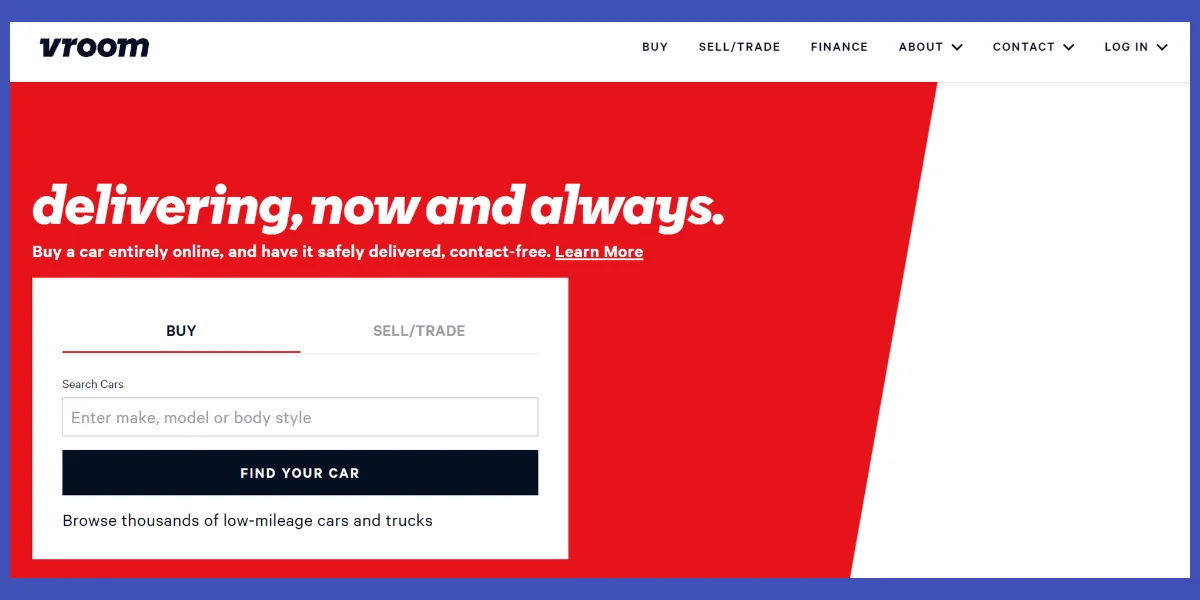 Vroom.com, an e-commerce firm headquartered in New York City, was founded in 2013. Just a year after Carvana, has climbed to the top of the chart for sites like Carvana.
It helps consumers to purchase, use, and fund cars online with only a few mouse clicks. They only sell High Luxury vehicles that have passed several tests, ensuring that you get the best of the best!
With their simple online lending scheme, you can apply in minutes. Their lending partners would fight with your business and get you a low rate.
Rather than visiting a dealership, you can easily handle the transaction almost entirely online. You just have to visit the site, pick up a cat and pay a deposit of $500. It has a seven-day return policy, up to 250 miles.
You will get your car delivered to you or a nearby place whenever you want!
| | |
| --- | --- |
| Pros | Cons |
| It'll deliver your car within 10-14 days | Sometimes it declines to refund the delivery fee |
| It offers a free roadside assistance program for a year | While selling, Vrooms offer can be less than what you might get in a private sale |
| You can complete everything online | You're not allowed for a test drive |
| Offers a 7-day return policy | |
CarsDirect
CarsDirect is one of the best sites like Carvana. It is an online automotive research portal and car buying service that lets users to research, purchase, price, insure and finance a vehicle online.
Customers visiting this site can provide the model, make, price range, and trim level of the car they are searching for.
CarsDirect's main aim is to provide users a streamlined and amazing shopping experience by removing the dealership, thus simply providing customers all the information that they may require in order to finalize the decision.
Not only cars shopping, it also lets you to apply for financing as well as get a quote for your trade-in vehicle.
| | |
| --- | --- |
| Pros | Cons |
| Offers car loan to have access to the vehicle and pay the balance over time | It has higher interest rates |
| It has a user-friendly website | Trade-in estimates are not guaranteed |
| Provides extensive details about every car on the site | |
| You can request prices for the car you want to buy | |
CarSoup
CarSoup lets individual sellers and dealerships to list cars as well as motorcycles, trucks, RVs, boats and other vehicles for sale. It offers a fast and easy way to list cars for sale.
When sellers list a car, CarSoup will lead them over a few simple steps to create an ad to assist sell the car easily and quickly.
Buyers can be able to browse cars for sale by category, including price, year, cylinder count, seller type, make and model, color, mileage, transmission type and location.
Once you find a car you want, you can just simply click on the listing to take you to the dealer's website.
When a seller lists a car, it'll guide them through a few simple steps to make an ad, thus assisting the seller in selling the car quickly and conveniently.
It has two package options – Standard and Souper. The standard listing package costs $15 and the souper package costs $30. You can get the vehicle history information through the Souper Package.
| | |
| --- | --- |
| Pros | Cons |
| Low-cost listing service | Only a few private sellers are available |
| Offers a fast and easy way to list cars for sale | |
| Offers standard and Souper package options | |
DriveTime
DriveTime is an American-based car retailer and finance company. It sells and finances cars to customers across the nation. DriveTime's business model is mainly concentrated on selling previously owned vehicles to car-purchasers.
A proprietary credit scoring model is used to finance car buying in-house dealerships, including subprime lending. It buys over 150,000 cars yearly at different auctions.
Once the auction is finished, it puts the purchased cars through a 14-days check at one of its inspection centers. Not only that, before sending the vehicle to its dealerships, it makes required repairs.
If you wish to purchase a car, you just have to provide some basic details. You'll also have the ability to view the ViewCheck report, which comes with every DriveTime vehicle.
A year after Carvana's foundation, DriveTime became the majority owner of it and thus making it one of the best sites like Carvana. Nonetheless, the two companies are operated entirely differently.
| | |
| --- | --- |
| Pros | Cons |
| It is available in over 138 locations in the US | Interest rates can be a little higher |
| 5-day return guarantee | |
| Options for poor credit and no credit | |
| Offers a complimentary 30-day or 1,500-mile warranty | |
TRED
You can Sell For More with TRED and take no risk. This Carvana Alternative enables you to sell your car for up to 30% more than a dealer trade-in. The most significant part is that you should not have to pay anything before you consider a bid.
When your car sells, you just have to pay TRED $499 or 2.99 percent, which is not much if you get a decent deal on your old car.
You will buy For Less at TRED to save the dealer. You only have to offer an average of 15% less than distributor pricing (No dealer fees) Carvana, an online car dealer, also offers a free Carfax and testing. Financing and warranties are two other features.
Not only buying and selling cars, but it also offers different features like Gap insurance, monthly vehicle value reports, financing options and extended warranties. Its monthly vehicle report helps you to check your car's value every time.
It doesn't need the involvement of brokers, so without brokers, you'll be able to keep an essential portion of the money from the sale.
This online car trading platform is absolutely secure and trustworthy, with excellent online feedback.
| | |
| --- | --- |
| Pros | Cons |
| Helps you with legal paperwork and other major tasks | Charges up to $99 if you want to deactivate your listing |
| Protects from frauds and only associate you with authenticate buyers | Available in limited states |
| Offers monthly vehicle value report assisting you to set your price | |
Try Car rental:
Avis vs Hertz: Which is Best? [2021]
Turo vs Zipcar: Which is Better? [2021]
AutoTempest
AutoTempest is another best Carvana alternative that collects used car listings from a number of top sites like eBay Motors, Cars.com, CarGurus, Oodle, AutoTrader.com, Hemmings, Carvana, Autobytel, Criaglsit, CarSoup.com, and more.
Start your search with the most basic data, such as the make and model of the car, as well as your zip code and search radius.
You can also use the site's advanced search option to narrow down your search results, including transmission type, trim package, color, price range and more.
Once you click on the result, you'll be redirected to the listing's website, where you can view more details and photos of the car.
Furthermore, it offers users a blog and a lot of guides to assist them to navigate the car purchasing process. Its extensive tools help you find your next used car. Search for reviews, compare auto insurance quotes, compare new car quotes and get quotes for shipping a car from outside your area.
| | |
| --- | --- |
| Pros | Cons |
| Extensive car search experience | It doesn't let you directly buy cars |
| Easy user interface | Has limited results |
| Results page give you all the information you need to check | |
| Saves time by providing listing from different sites | |
Autolist
Autolist is an online car purchasing site that gathers several new and used cars list from other websites. Its "Listimate" features make it different from other sites. This lets you know if the displayed vehicle price is based on real-time comparisons..
Search functions are usually for a car buying website and consist of the model, location, make, and price filters. It offers a wide range of affordable cars, and its filter allows you to set a maximum price of as little as $1,000.
Its exclusive price analysis features gather information from listings around the country, which lets you view the average mileage and price for a specific model, make, and year.
Its information assists you in ensuring a vehicle is correct for you, including CARFAX's vehicle history reports, price histories showing the original price, and how many days a vehicle has been on the market.
Once you sign up for an account, you can save your previous searches, add vehicles to your favorite lists and check individual cars if the seller lowers the price.
| | |
| --- | --- |
| Pros | Cons |
| Aggregates listings from numerous sites | Doesn't offer financing options |
| Offers fair price comparison tool | You can not add your own listing |
| Ability to filter your search results | |
eBay Motors
eBay Motors is where you'll find used and new vehicles as well as parts for updating, fixing, and maintaining your existing vehicle. It manages an online auction and shopping website in which businesses and people can buy and sell a wide range of goods and services worldwide.
eBay's full inventory of parts and accessories is now available with eBay Motors. Although it is entirely free for buyers, it charges a fee for sellers to list products after a limited number of free listings. eBay is available in several countries.
Enter your zip code to search for your desired products that are available in your local area. All the products listed on eBay are examined and approved by the manufacturer to function like new.
Furthermore, it gives a number of service solutions for buyers. Its vehicle protection program will pay up to $50,000 in fraud protection completely free of charge. Check vehicle's past information through AutoCheck and organize an inspection from Inspect My Ride.
| | |
| --- | --- |
| Pros | Cons |
| Easy user interface | Charges fees for sellers |
| Reaches a large number of audiences | No appropriate support channel to get fast replies |
| eBay is a great place to find unique vehicles | Not every seller is reputable and authentic |
| Sell anything you like | |
| Various opportunities to make a branded presence | |
Facebook Marketplace
Facebook has enhanced its business model to comprise an online marketplace feature that permits users to explore, buy and sell products to the people in their area. Get in touch with the seller through Facebook Messenger and have access to their Facebook Profile.
Facebook does not enable the payment or the delivery of products in the marketplace. You and the other user have to decide it on your own.
You just have to tap on the Marketplace icon at the bottom of your home page and then it opens the list of products that are available near you.
Look for new or used cars by simply entering a keyword in the search bar by clicking on the search icon at the top of your screen.
Filter your search results by category, location, or price. If you wish to sell products in the marketplace, just click a photo of your products and then enter description, price, and name, authorize your location and select a category.
| | |
| --- | --- |
| Pros | Cons |
| Buying and selling are easier | Doesn't verify products, so it becomes a platform for scammers |
| Search results are completely based on location | Doesn't enable payment and delivery system |
| Connect with sellers through the Facebook Messenger | |
| Reaches a large number of audiences | |
Craiglist
Craigslist primarily started as a US-based community electronic newsletter and instantly become of the most regularly visited website. Currently, it is accessible in over 450 cities around the world. Offers the ability to find certain listings for purchasing and selling items.
It has different sections particularly dedicated to sales, wanted items, services, resumes, jobs, housing, discussion forums, community service, and gigs.
It is available in different languages, including English, German, Italian, Spanish, French, Portuguese, and Dutch. The main reason behind its immense popularity is its simple application available for both iOS and Android devices.
Not only that, it is a simple and easy user interface that helps you to find your requirements easily. There is also a subcategory feature that assists you in finding what exactly you are looking for.
| | |
| --- | --- |
| Pros | Cons |
| No listing or selling fees | Certain categories are not free and need $3-$5 posting fees |
| Selling and buying is safer | |
| Your listing automatically remains active for 30 days | |
| Has a simple and easy user interface | |
Cars Oodle
Oodle is an online marketplace that helps you find used cars, apartments, motorcycles, boats, RVs, vacation Rentals, Job listing, homes for sale and much more.
It is currently the largest collector and sums listings from sites like ForRent.com, eBay, BoatTrader.com, as well as local listings from local newspapers and websites.
Find the car you like and then apply for the finance. Once you've been approved for finance and select your car, it'll then finance the buying of the car. It'll pay the dealer and organize for the car to be delivered or collected.
It strongly supports posters to consist of a Facebook Profile with listings, so that users will like the transparency of dealing with someone.
| | |
| --- | --- |
| Pros | Cons |
| Transparency of dealing | Some people have complained that almost all ads are spam |
| Permits you to put up ads for the products | You can only post anything by logging in through Facebook |
CarWow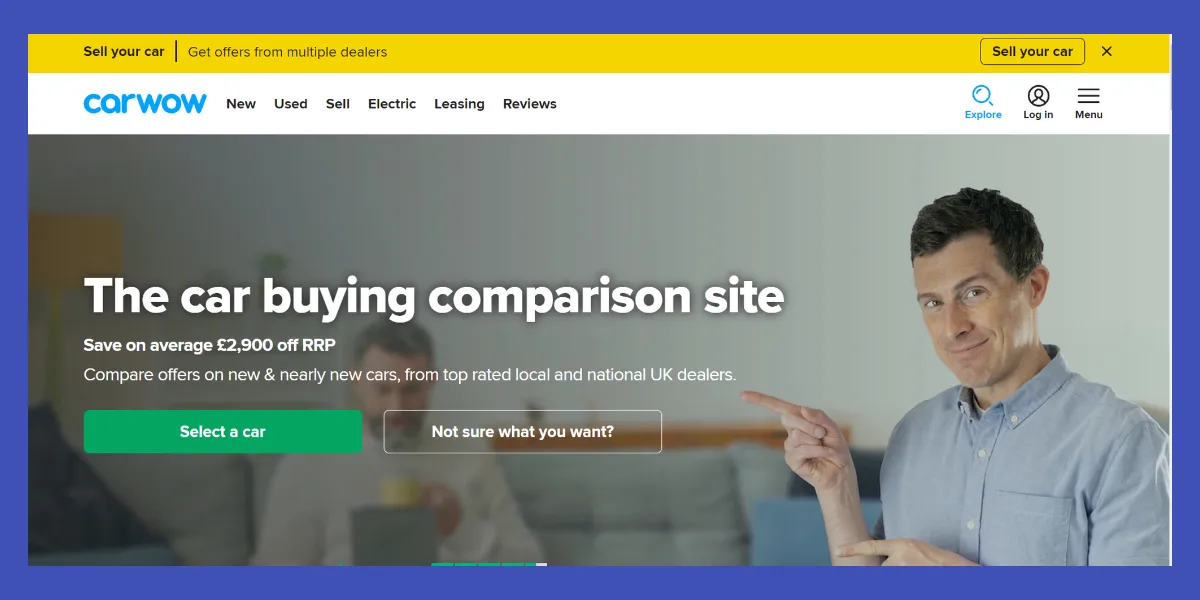 CarWow is a UK-based service for purchasing used and new cars from dealers. CarWow uses a reverse marketplace model to remove the want for buyers to negotiate with car sellers. Choose the car that you wish to buy, with certain features and specifications.
CarWow offers data-driven tools and services, such as stock sourcing, e-commerce, marketing, lead generation, brand building, training, and advertising.
Check out its reviews and guides or watch their videos to decide which car is right for you. You can also use its car choose to help filter your search results.
Once you've selected a car, it'll send you different offers from authorized dealers. Then, you can choose the offer that will fit you, depending on location, price and dealer ratings from other buyers. Ask your lender questions, call them or even organize a meet and test drive your car.
| | |
| --- | --- |
| Pros | Cons |
| Allow negotiation with sellers | Not available in the USA |
| Offers data-driven tools and services | |
| Offers from authorized dealers | |
Used Car Search Pro [App]
If you are looking for the apps like Carvana, Used Car Search Pro states itself as the largest used car search engine. Find used cars and trucks, and SUVs for sale from over 40,000 used and new car dealerships and for sale by owners around the U.S. in one search.
With its wide set of filters, you can effortlessly search for the car that meets your exact requirements, whether it needs to be cheap, 3rd row SUV, AWD, or you want to purchase a used car that's under $5k, $10k or $15k in your local area.
Over 10 million pre-owned and certified car listings are analyzed daily by their analytics engine and offer valuable insights to users regarding every car.
Its system calculates the market value of every used car to assist you in seeing whether the asked price of the car is reasonable or not. "Below Market" is labeled for the underpriced cars, and "Above Market" is for overpriced cars relative to its calculated market price.
Final thoughts – Sites like Carvana
Here's what you need to do to find the right vehicles to sell, purchase, swap, or fund. The numerous services provided by these Carvana Alternative online car dealing pages, such as inspections, insurances, valuation, and comparisons, are likely to benefit you greatly.
| | |
| --- | --- |
| Pros | Cons |
| User-friendly interface | It is not really accurate |
| Provides up-to-date listings | |
| It has an intensive search system | |
FAQs
What is the closest thing to Carvana?
Vroom is a Carvana rival that can carry a used vehicle to your house. You will look at vehicles and apply for financing right on the website.
Which website is the best for buying a car online?
Sites to Buy a Car Online in 2021-
1. Autotrader is the best overall.
2. Cargurus has the best deals.
3. Autotempest is the best comparison site.
4. Carvana is the best financing option.
5. Tred is the best for peer-to-peer sales.
6. Carmax has the best home delivery service.
Also Read: