Carvana Review: How does it work? [2023]
We may earn small commission from the products mentioned in this post.
Carvana Review – Are you wondering what is Carvana? Want to know what are its features? Wondering whether it is Legit or Scam? Don't worry, we'll help you with that! In this article, we'll show you a simple Carvana review which will help you know everything about Carvana app.
Buying a car online should be easy, simple and convenient. Carvana is such online car buying business that sells used cars and also provides direct financing for the vehicles they sell. Carvana boasts itself on proving haggle-free and a streamlined digital car-purchasing and selling experience. Read on further to know more about Carvana review.
Carvana Review: Getting Started!
Carvana is one of the leading e-commerce businesses which sells used cars by an easy-to-use technology service. It offers over 20,000 accurately inspected and photographed vehicles in their inventory. By selecting "Vending Machine" experience, it offers 'Touchless Private Appointments' and 'Touchless Delivery.'
All you have to do is to explore cars for sale, get immediate financing terms, then buy online and track your delivery. If you want to finance your own buying, don't worry! Carvana works with all kinds of credit. All your purchases are secured by a 7-day "Money Back Guarantee." This can be a handful if you don't like your vehicle and wish to return it for some reason.
With Carvana's app, you can schedule your delivery, view and reschedule your delivery date, track your delivery, get notified if there's a recall on your car and also get all the data regarding your vehicle protection or warranty plan at one place.
How Does Carvana Works?
Carvana does all of its business online instead of a physical dealership. It manages purchasing, selling, trade-ins as well as financing of purchases. Carvana discovers its vehicles from trade-ins, dealer partners, private sellers, and auctions. All you have to do is to visit Carvana's official website (https://www.carvana.com) and select 'search cars.'
You can filter the cars by models, price and features. By selecting an individual search result, it'll give you complete details about that car. It details consists of a 360-degree view of the vehicle as well as a photo gallery. All the cars listed in Carvana are certified and have a free CarFax report.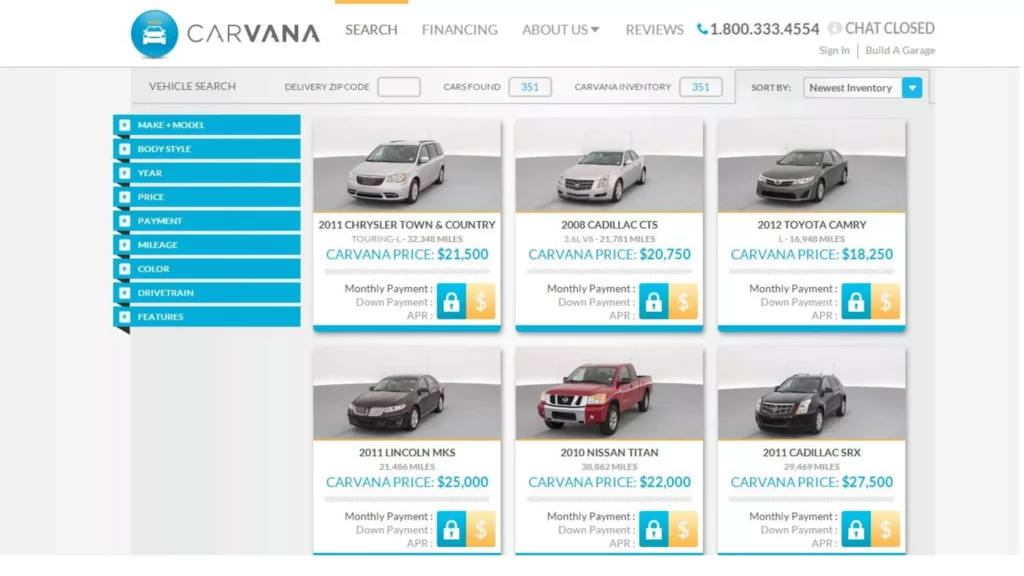 If somebody has already started the purchase process, a pop-up will appear on the details page. Cars that are marked as 'Purchase Pending' states that it might have been purchased already. However, sometimes they become available again if they are returned.
Buying a Car from Carvana
All you have to do is to create a Carvana account and select "Get Started." You can use the filter options to narrow down your search, this includes body type, mileage, fuel type & efficiency, price, year, color, features, transmission and drive type.
Once you've filtered your search, you'll be shown the available results. Carvana provides financing options to qualified customers, and it also sells gap insurance and a prolonged warranty. Currently, Carvana has over 260 local markets in 31 states.
Selling a Car to Carvana
Carvana also purchases and allow trade-ins within local markets. The car owner is supposed to offer Carvana with information on the car's current condition, miles and history. Then, Carvana makes a deal which will remain available for the next seven days.
During the completion of the sale, the Carvana representative makes sure that the car is as expected. If the deal is a trade-in, Carvana will hang onto the old car until the end of the new car's 7-day trial period. In this way, customer can get their old car back if they have changed their mind for some reason.
Trade-ins
Like any other car dealerships, Carvana also accepts trade-ins and adds that value to the final price. You can still sell your car to Carvana, even if you are not purchasing a vehicle. All you have to do is to provide some basic information regarding the car.
Furthermore, it doesn't let you to negotiate the trade-in price. The only catch is that you should live within a local delivery zone otherwise, you won be eligible to trade in your car.
Carvana Pricing
Carvana doesn't negotiate on pricing. Usually, for 2010 models of Mitsubishis and Fords, it can cost up to $8,000. For this, the projected monthly payments start at $151 with a 69-month loan at 6.6% APR and $0 down payment.
Whereas, you can find Land Rovers and Tesla between $70,000 and $85,000 with monthly payments of about $1,000 with a 72-month loan at 5.54% APR and a substantial down payment. You can use Carvana's calculator tool to determine your down payment, annual income, credit score and loan length for a more precise monthly payment approximation.
Carvana Features
Delivery
If you live in local market can get their Carvana car delivered at a certain time for completely free. However, if the car has to be brought from a long distance, it might charge a delivery charge. You can also look for cars which don't have shipping charge. Your shipping charges can be refunded if you have returned the car within seven days.
If you are not from local market, you can either pick up the car in a local market or simply pay a fee to have a third-party company deliver your new Carvana car within the delivery period. You have the ability to get a 20-minute test drive after providing proof of insurance and driver's license. You can then decide whether to complete the paperwork or return the car.
Return Policy
Carvana offers a 7-day money back guarantee, which starts when the car is delivered. This means, exchanging or returning the vehicle should be by 5:00 pm on the 7th day after getting the vehicle. You can drive the car for 400 miles for completely free. However, if you drove over 400 miles, you are supposed to pay $1.00 for every extra mile.
It doesn't charge any extra charges for returns and the car can only be returned if it hasn't been damaged or reformed. Also, remember that the customer outside the local market doesn't get the delivery charge refunded.
Warranty
Carvana offers a 4,189-mile limited or 100-day warranty. This warranty consists of roadside assistance and covers standard and powertrain parts. It also offers an option to buy the additional warranty – CarvanaCare, for 36 months/60,000 miles or 60 months/90,000 miles.
Carvana Pros:
Large Car Selection: It offers a wide variety of car makes and models.
Strong Return Policy: If you don't like the vehicle you've purchased, you can return it within 7 days for a complete refund.
Finish Your Buying Online: You can be able to explore their huge inventory and finish your whole buying online.
Detailed Listings: The listing consists of 360-degree photos that can assist you better assess the vehicle's condition and be sure while buying online.
Sell and Trade-in Option: It not only lets you purchase; you can also be able to sell your vehicle or simply trade it in.
Detailed Inspection: Al the vehicles that are sold on Carvana should pass its difficult 150-point examination and must have a clean title.
Carvana Cons:
Price: Sometimes price could be higher. You might be able to get an amazing deal, but the prices can be little higher than a private sale.
Poor Support After Your Purchase: A lot of Carvana customers have complained concerning the lack of support after buying.
Warranty: Although it offers good warranty, several people are annoyed about how hard it is to get in touch with their warranty benefactor – SilveRock.
Limited Free Delivery: Even though its free delivery is a huge perk, you are only accessible if you live within 75 miles of their physical location, or else, it'll might cost you $199 for up to 250 mile and around $1,000 for coast-to-coast delivery.
Less Sale: Carvana offers you an immediate cash offer which can enhance your sale; however, you might also be able to get more in a private sale.
Carvana's online used car place makes it easy to discover and buy a preowned vehicle. It can be the best option if you are interested in buying a used car and if you are okay with the purchasing process which will takes place completely online.
As there are no prepayment penalties or minimum credit score needs, it can also be a good choice for your credit history. So, we hope the above article on Carvana review has helped you to know everything about Carvana.
FAQs
Can you negotiate with Carvana?
No. You cannot negotiate with Carvana.
No, Carvana is an entirely authentic company without any hidden fees. It only charges for registration, tax and the price of the used car.
Can I test drive a Carvana car?
Yes. Customers get a 20-minute test drive after providing the proof of insurance and a driver's license.
Why is Carvana down payment so high?
Carvana's down payment is based on the price of your vehicle as well as your credit history, financing application and your yearly income.
How does Carvana care work?
CarvanaCare lets you to buy additional warranty for 36 months/60,000 miles or 60 months/90,000 miles.
Carvana vs CarGurus: Which Is Right For You?
Carvana vs CarFax: Complete Comparison [2022]
CarGurus vs CarMax: Which is Best? Comparison
Driveway vs Carvana: Which Is Better? [2022]