6 Best Apps Like SoLo Funds [Alternatives 2021]
Best Apps Like SoLo Funds – Every now and then, you might be stuck in a condition where you require money urgently. In this case, cash advance apps or Payday or Paycheck advance apps can help you to get paid early for the work you've already done. This means, you can use these apps to borrow money few days earlier than your payday.
SoLo Funds is such 'cash advance made easy' app, which lets you borrow money from other people for instant needs, rather the typical finance organizations like banks. It is specially developed to cover your emergency expense without charging any interest or fees.
However, SoLo Funds charge a high late fee for smaller loans. Thus, it never hurts to check out SoLo Funds alternatives. So, if you're searching for apps like SoLo Funds or apps, don't worry. You've come to the right place! In this article, we'll show you 6 best apps like SoLo Funds.
Best Apps Like SoLo Funds
All the apps mentioned in this article are available on Google Play Store or Apple App Store. Read on further to know more about 6 best apps similar to SoLo Funds.
Prosper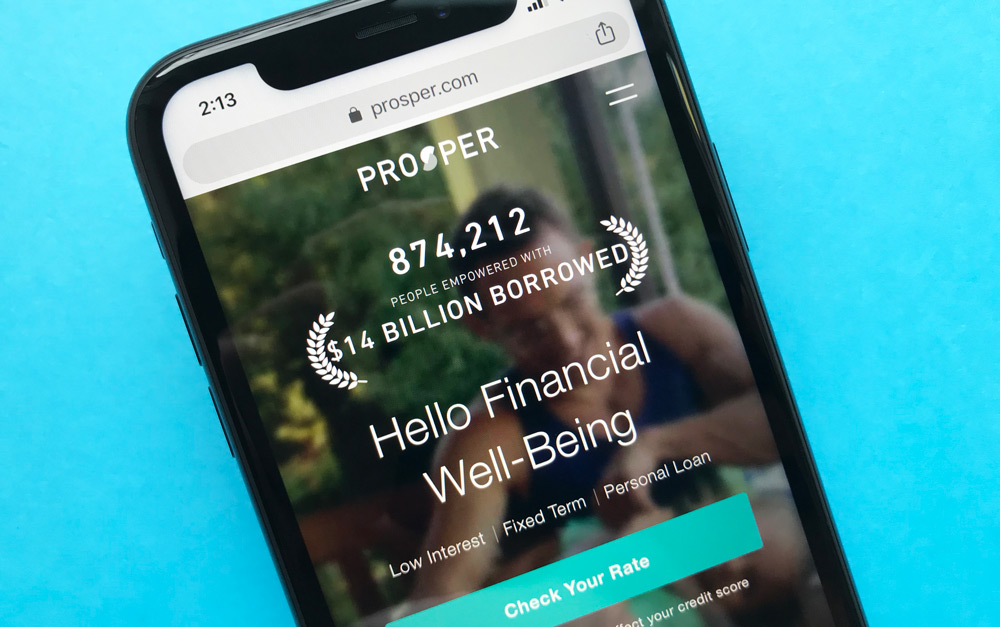 Prosper is a peer-to-peer lending service that offers personal loans to borrowers with a good credit score. It uses an exclusive rating system that deliberates data points like debt-to-income ratio and credit history to approve applicants.
People who borrow money might charge an origination fee around 2.41% to 5%. Online lenders can change the origination fees once they approved a loan. Also, late fee of $15 will be charged to you if you forgot to repay your loan for over 15 days past due date.
Key Features
Offers access to loan amounts from $2,000 to $40,000.
Two borrowers can apply for a loan together as join applicants.
Use its 'Auto Invest' tool to set up, review, and adjust your target portfolio allocations.
Provides access to a home equity line of credit for borrowers in states like New Mexico, Alabama, California, Colorado, Florida, Arizona, and Texas.
You can choose a three- or five-year loan repayment term.
MoneyLion
MoneyLion is another financing app which offers numerous features, including cash advances, checking accounts, credit score tracking, credit builder loans, personal loans, a loan marketplace and managed investing.
MoneyLion prides themselves as "All-in-one mobile banking membership" as they offer several products. It also offers cashback from shopping at major stores.
Key Features
You can easily create a MoneyLion account for completely free, this will give you access to an investment account and a zero-fee checking account.
It allows tips on cash advances and has a 5.99% APR credit building loans available for a membership plan which costs $19.99 per month.
Although a membership fee is pretty high, it does approve you for some advanced products.
You can be able to invest your additional change from your buying into your investment account.
It doesn't perform any credit check; it just analyzes your primary checking account which should meet few measures to get approved.
You can also be able to pay off your loan early with no early payoff consequence fee.
Lenme
Lenme is another best apps like SoLo Funds that provides borrowers to borrow money and lenders the capability to lend without high costs required to maintain staff, manage loans, staff, verify and qualify borrowers.
All you have to do is to request a loan, and the investors will contest to provide you the best interest rate which matches your profile.
Key Features
Borrowers can borrow for a low origination fee and investors can easily fund loans online directly with borrowers.
You'll receive your money directly in your bank account within a week.
You can easily download the Lenme app from the Google Play Store or Google Play Store.
They charge a 1% origination fee from the fund investors give while funding the loan.
You can be able to manage your repayments through the Lenme mobile app.
It removes all the needless costs by using technology to provide borrowers instant and transparent access to capital.
Zirtue
Basically, Zirtue functions by giving a platform for family and friends to lend and borrow funds from one another in an official way. All you have to do is to set the loan amount and the lender with establishes the repayment terms.
Once the both parties agree to the terms, the loan request is serviced by Zirtue. These loan payments start on the agreed date by using the Automated Clearing House Network.
Key Features
You can set a custom amount you wish to borrow and decide on the repayment details with your lender.
Set your payback terms and allow automatic payments do the remaining process.
You can track your payments and loans all in one place.
They use patent-pending technology to make sure your financial and personal information is completely encrypted and safely stored.
The borrower has the ability to set the loan details and while the lender creates the repayment terms.
Possible Finance
Possible Finance is an online lender, which makes small installment loans through its app. It gives you eight weeks to repay the loan in two-week intervals, rather than needing full payment on your next date. You can easily apply for a loan in just a few simple steps. It is one of the best apps like SoLo Funds.
Also Read: Best Apps like Possible Finance
Key Features
Money can be sent directly to your debit card, so that you have instant access to your loan.
It offers more adoptable cash options than other payday advance or loan alternatives.
It is available in numerous places like Florida, Ohio, Missouri, Oklahoma, Indiana, Washington, California and much more.
You don't have to worry about no credit or bad credit as they don't check your Vantage score or FICO score.
You can be able to repay in installments to rebuild credit and increase financial health.
LendingClub
Lending Club is one of the best SoLo Funds alternatives which offers variety of financial products and services. It is the first peer-to-peer lender to register its offerings as securities with the SEC (Securities and Exchange Commission).
It allows borrowers to create unsecured personal loan between $1,000 and $40,000.
Key Features
LendingClub generates income by charging borrowers an origination fee and investors a service fee.
You can easily get started by entering your online Banking username and password.
It makes traditional direct to customer loans, including automobile refinance transaction by WebBank.
You can check your account balances and view transactions for personal and small business saving accounts.
You can also create a budget and track your spending or automate your savings.
Final Words: As there are a lot of options available out there, the best SoLo Funds alternative really depends on your needs and preferences. So, we hope the above article on 6 best apps like SoLo Funds has helped you to pick up the best option.