Shift vs Vroom: Is Shift Better than Vroom? [2023]
We may earn small commission from the products mentioned in this post.
Shift vs Vroom: Buying and selling a car is tough and so maintaining it. Every product in today's generation comes with an expiry date and so do cars.
We do buy cars not regularly but we do need to change them once in 5-8 years to not end up making the car more worst in condition and costly in maintenance.
But when it comes to buying and selling, the thing goes too deep and just can't be given to anyone without considering every miniature thing to do so. To ease down the buying and selling procedure nowadays there are services online available that work as an agent to help you out.
In this article, we are going to talk about two similar online selling and buying services which are popular for many reasons namely Shift and Vroom.
By the end of the article, you will be able to differentiate both, will know in detail about their features, pricing, customer services, reviews, and also their alternatives to be used.
Shift vs Vroom: What is Shift?
Shift's ultimate promise is to make the buying and selling of cars and transfer of ownership to be the minimal and simplest in the doing. The shift was born in the year 2015 as a kind of a newbie in the industry of being a trade-in agent of cars and their ownership.
Shift offers technology-driven services by being a middle man known as an agent to sell used cars and buy them vice-versa. Currently, Shift is managing 75000 and more customers and have been given a 4.5-star rating on social media handles namely Facebook.
Shift vs Vroom: What is Vroom?
Vroom is a New York City-based service that offers to buying and selling of cars through their website. The Vroom was founded back in the year 2013 which approximately 8 years ago by two persons namely Kevin Westfall and Marshall Chesrown.
Currently, Vroom is in the hands of Paul Hennessy who is designated the position of Chief Executive Officer. There current number of employees working for Vroom is stated at number 944. The revenue build-up of Vroom as used car dealers is $1.1 billion.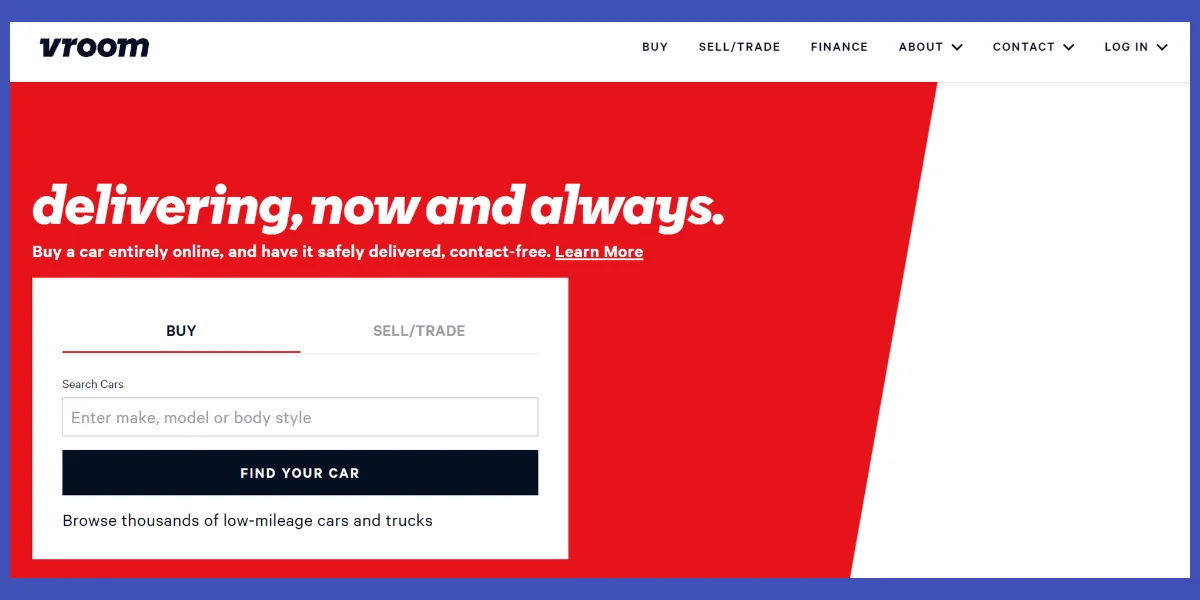 Shift vs Vroom: How Does Shift Work?
Shift verifies the car's condition via the Shift Inspection Process in which it reviews all the services reports, history of the car, Maintainance reports and ownership information, and much more.
The shift also does another inspection namely 150+ point inspection where they check up on the damages or repair works that are still left to do or are necessary to be done before selling it on an accurate level.
In this inspection, they will look up into the parts for the engine, its transmission, electrical components are working fine or not, suspensions and cooling with the brakes.
Once the vehicles pass both the inspection namely 150+ inspection and Shift Inspection: only then you can sell your vehicle via Shift Technology. Because of their inspections, it makes them a reliable site to sell and buy a car from.
The shift also offers free test drives to be taken and examined by the customers before buying their perfect car according to their requirements and personal experience of using the car.
Now let us see the procedure of booking a test drive or buying a car from it:
First and Foremost, you have signed up to their webpage or application then look for a particular car according to the requirements using filters to do so.
Once you have final a car you can go further and book a test drive for the same. While doing the test drive, you will meet a supervisor of Shift to help you out with your queries regarding payment options and car details to personalize the car and finalize it according to your requirements.
Once the test drive and your questions are solved, you can directly book the car with paying deposit and paperwork will be done as soon as possible by the Shift Head to make that car yours.
The test drive is optional for experience, if you like the car and are willing to buy online you can do that, you can deposit the payment online and also schedule the delivery of the car at your doorstep.
Now let us look at how to sell your car via Shift Technology:
Firstly, you have to register all the details of yours and your car namely year, model, license plate, ownership details, and much more.
Once your car's details are submitted, then they will ask for the vehicle history with all the service history and Maintainance and repair work if done any.
Once all the details and vehicle history are checked, you will get the estimate of your car via Shift Technology in just 2 minutes of wait.
Once you are done getting an estimate of your car which you want to sell, then you can schedule an evaluation for the same, and after the evaluation of the car is done, your car will get approval to be sold in the market via Shift.
Once you are partnered with Shift, they will offer you the final offer in 7 days' validity and once you are ready to sell your vehicle, the Shift Concierge will look after all the paperwork to be done and car to be checked. Once your car is delivered at their Shift Centre, they will release the payment within 24 hours which may take 3 to 7 days to be reflected in your account.
The shift also offers a trade-in feature where you sell your old car and buy another car with Shift, let us look at the procedure to be carried out while trading cars with Shift:
Firstly, you have to select the car you want to buy and then select the option to trade in the car.
The Shift Advisor will contact you and you will get the estimate for your vehicle to trade in with.
Once the estimate is made, your car will be evaluated as well as the car you are going to buy will be allowed to do test drives with.
When you are done with testing the drive and are looking forward to buying, the Shift Advisor will provide you the car details and paperwork related to the same and will ask for your payment options, your vehicle's information, old cars paperwork and so which you have yo hand it over to the Shift Advisor.
Once all the things are done and paperwork is completed, they will offer you the final offer on the spot to apply for your new vehicle to make yours and the old one to be sold.
Shift vs Vroom: How Does Vroom Work?
Let us see how you can sell your car to Vroom:
Vroom as the appraisal form to be filled up with all the car details like license plate number, mileage, model, year, paperwork, features, etc.
Once you submit all your details of the car and its history, within 2 days they will send you an offer which is no haggling and a solid one to decide upon.
Once you approve their offer, you have to complete the paperwork to transfer the ownership title from your name to the Vroom.
Once the ownership title is transferred, Vroom will offer a free pick-up service to pick your car up.
Once your car is collected by Vroom, they will initiate the payment which will reflect in your account in 2-3 business days.
Let us see how you can buy a car from Vroom:
Signup to their page and start browsing the car you want to purchase from Vroom.
Once you select your favorable car, you can click on the start payment option for the choose the payment option out of cash, bank account, or a car trade-in.
Once you submit or buy a car request, the specialist of Vroom will contact you for the proof of insurance, photocopy of your driving license to verify, and so on.
You need to pay a deposit that is fully recoverable to book the car so no one can buy your car, the deposit amount is kept at $500.
Then you have to complete the paperwork via email and return the signed paperwork within 24 hours of duration. Lastly, Vroom will check up on your car and book the delivery within 10 to 14 days.
When your car arrives at your doorstep you will handle the paperwork and take the cash. And the car is yours. If your mind changes in 7 days you can still return the car to Vroom and get a refund of the purchase price you paid.
Shift vs Vroom: How much money do they make?
The shift makes money by keeping the profit margin of 15 to 20% on selling the cars. The shift also charges a service fee, delivery fee, and deposit fee for the same. The shift takes money for the service charges namely for the operating costs. The shift also charges fees for the delivery of most car purchases and a deposit fee of up to $250 which is non-refundable and holds for 72 hours.
Vroom makes money out by charging delivery fees of $599 to $999. They also charge up to $500 to hold the car as booked for the final payment on a future date. Vroom buys cars at lower rates and then they add up their profit margin and sell cars in a higher amount to make a profit out of it.
Shift vs Vroom: Exclusive Features
Exclusive Features of Shift are:
Shift offers a warranty period over shift-certified vehicles for a 30-day powertrain.
The shift also provides a protection package which is extended protection after the warranty period ends to protect you from the costs namely towings, repairs, etc.
The shift also offers the GAP Insurance which build-ups for the insurance pays in the event of an accident or mishap to the vehicle.
The shift also provides a 7-day free return policy where you can return the vehicle for any reason in the 7 days duration.
The shift also has an exclusive feature of financing and presents you with the option of a downpayment method for monthly credits and loans.
Exclusive Features of Vroom are:
Vroom offers a warranty of 90 days and also a 7-day free return policy for its customers.
Vroom also offers trade-in facilities to be done. Vroom is also known as the fastest delivery into more than 48 continental states to be counted.
Vroom also has detailed inspections before buying a car or selling a car to their customer to make sure the car is qualified to be a part of their market and not to disappoint their customers in the quality of the car.
Vroom also offers finance options and a maximum loan term of 75 months.
Shift vs Vroom: Ultimate Verdict
The ultimate favorable answer goes to Vroom because Vroom works on a much larger scale compared to Shift and even sells more than 8x of what Shift sold.
But the perfect fit for you will be decided among the requirements you need to check to buy or sell the car from Shift or Vroom.
Shift vs Carvana: Which is Best?
CarGurus vs CarMax: Which is Best? Comparison
Shift vs Vroom: Alternatives
There are many alternatives of Shift and Vroom available online. They are as follows:
Carmax
Edmunds
Hemmings
Cars.com
Shift vs Vroom: FAQs
Is Vroom trustworthy?
Yes, Vroom has more than 1109 customer opinions which shows Vroom is a trustworthy website for selling and buying cars.
Can I negotiate with Shift?
No, currently Shift only estimate the transparent amount for the car and hence doesn't have the facility to negotiate them.
Does Shift charge a shipping fee?
Yes, Shift does charge you a shipping charge while purchasing a car online from their website.
Is Vroom like Carvana?
No. Vroom and Carvana both have unique features to provide their customers, hence we cannot say there are the same in their services.