6 Best Sites like AutoTrader to Buy Used-Cars [2023]
We may earn small commission from the products mentioned in this post.
AutoTrader can be a useful website for buying and selling used cars. But — for better options, if you are searching for other sites like AutoTrader, we have the perfect list of 6 sites like AutoTrader for you.
AutoTrader is an online Marketplace for cars where you can search for new as well as used cars. They offer good deals for millions of cars listed on the website. And on the website, you meet trustworthy owners and complete the perfect deals.
It gives you shopping advice, tools to compare for car financing, available insurance information along with automotive reviews — everything to make buying and selling used and new cars easier for you.
Even when AutoTrader has perfect features and benefits to it, there can be a lot of things you dislike about them. Maybe, you like the working of the website but dislike the payment process? Whatever the case, the list of sites like AutoTrader mentioned below will help you just right.
CarGurus
If you want to buy a second-hand car with honest reviews from trustworthy sellers — CarGurus must be your destination. It is essentially made for those who would like to sell their old cars or buy the same from sincere sellers.
Furthermore, CarGurus offers a set of the best deals availing at the moment. So, if you do not like any of the offers, you can opt for searching your ideal offer from the wide list of promotions updated daily on the site. The website makes it easy to trust the sellers by allowing you to see the reviews of the customers for the sellers. You can also check the seller rating to know more about them.
Key Highlights
The website highlights if the product you are viewing in the list is listed recently.
The dashboard will allow sellers to know about the deals and ratings of their items. They will be able to put discounts on their cars while buyers will enjoy the offers on vehicles.
It supports Instagram and other social media sites like Facebook and Twitter for links. You can visit the owner's page for more information.
The website has added rating badges like Fair, Good and Great to make it easier for buyers to analyze the deal.
Pros
Allows you to pre-qualify for financing online before you head to the official website or page for the further buying process.
Cons
You won't find the process of buying a used car (which is about 2-3 years old) easily. You need to lower your search filters for viewing available options.
AutoTrader vs CarGurus: Which Is Better? [2022]
CarMax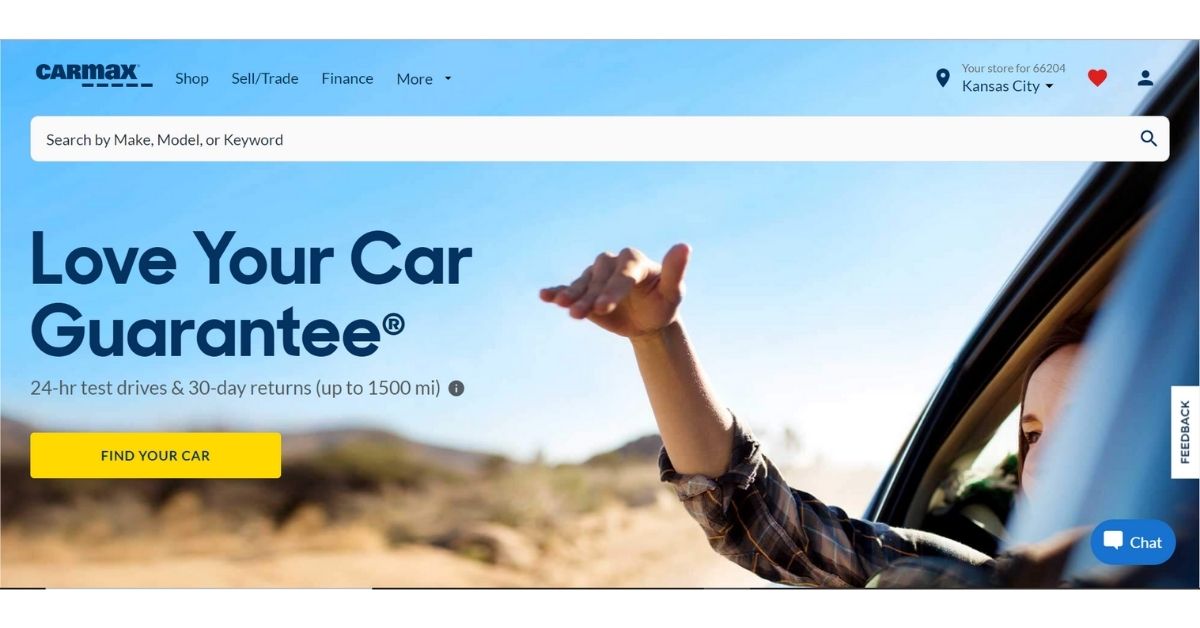 CarMax has a guarantee named 'Love your car' which allows them to help you buy an ideal car that suits your taste. The feature that catches the most attention of the website is — that they allow you to go for a test drive for 24 hours.
After buying the car, if you do not like anything or the car is not working like it is supposed to, it offers a 30-day return policy (about 1500 mi) where you can return the car immediately.
CarMax is known for making – selling and buying cars online with ease. Hence, it is one of the best sites like AutoTrader. The site has a good list of options suitable for every budget and liking. From a family car to a stylish car for 4 — CarMax has all of it. And the exciting offers on the website make it all exciting.
Key Highlights
The website has an easy user interface and works smoothly without words most of the time.
The website does not ask you to compulsorily register yourself and give in personal information. Even if you did give your data, the site will make sure to keep it secure.
It allows you to check the pricing of the down payment, monthly payment, and such before going ahead.
The site allows you to shopkeeping your budget under control.
Pros
The user interface is easy to use for shopping.
The website does not pressure you at any time. It works in a hustle-free environment.
Cons
Comparing the prices on the site with the official websites of the car owners — the prices are higher due to the third-party and overhead charges added.
Half of the time, you are required to pay an additional shipping fee to get your car delivered to your doorstep safely.
6 Best CarMax Alternatives for Selling Your Car! [2022]
Autotempest
Autotempest is a famous site that gets you listings from a big range of sources. It has millions of listings on its website which gets updated frequently with the best deals allotted. And the website allows you to filter your search with specific qualities or go for all the listings on one page.
You are not required to be an experienced person in buying or selling cars if you wish to operate the Autotempest website. It has a full guide on how to take a tour of the website as a beginner and understand important things. And it uses a secured connection to keep your data safe.
Key Highlights
It has launched an app to make it easier and better for users to access.
Offers features for all the important and required fields.
The website is on a dynamic link generator.
You can access AutoTempest through laptops and PCs along with cell phones and tablets.
Pros
Autotempest is a one-stop online shop – which does not ask you to visit multiple websites.
The site alerts you after you click on any listing — the action may take you off the site.
They usually present the results in a decent manner which is best to read and understand.
Cons
The more narrow you make your search, the lesser the results will appear.
Other websites do not have complete information half of the time.
You can not buy any car through Autotempest.
Cars.com
Cars.com is one of the best sites like AutoTrader where you get to buy new or used cars with an easy and simple approach. It allows you to research the best deals on cars and compare models, their important factors, and prices before you move ahead. And you can also calculate the payments beforehand.
Moreover, its advanced search feature makes searching easier. Since most of the cars come from certified owners, you get a lot of certified pre-owned cars with the best features and quality. It has pictures as well as videos to showcase the car nicely which you are viewing.
Key Highlights
You get a lot of cars with leather seats which gives a comfortable experience to drivers and passengers in the car.
The backup camera is installed in most cars.
You can search for remote startup cars — they are easy to find with smooth performance.
Bluetooth is installed in almost all cars.
Pros
The website is a stable and reliable platform to find cars that hold value.
They offer unbiased search results.
Cons
The website does not have an in-real car inventory.
Hemmings
Hemmings is called 'The Bible' for having a hobby to collect cars since 1954. Hemmings Motor News is undoubtedly — the world's largest shop for vintage, muscle, strong and classic cars.
Hemmings Motor News is a magazine working every month for gathering different car collections for traders. They act as a bridge between buyers and sellers whose car preferences are not just usual.
They have the largest library of cars including every type of car to satisfy every preference and liking. From exotic sports cars to antique old cars, you can get everything at Hemmings. It is one of the best sites like AutoTrader, even better if we compare.
Key Highlights
It is the ultimate destination for all American car magazines. Each issue will bring you photos to excite your will to buy a unique Car.
They let you compare the cars to help you decide which one will suit your preferences and liking the most.
Pros
You can find the accurate model and style you were looking for in a car.
The site gives good coverage for buyers.
Hemmings is classified as a specialized platform for unusual cars.
They gave you an option to put up an ad or auction.
Cons
Your auctions must be approved if they won't work.
They do not have any Trustpilot or even BBB ratings or reviews.
Autolist
The Autolist website as well as its app works to help buyers and sellers trade used cars. They have a good list of categories and options to choose from. The website holds sales and offers most of the time — to make it easier for buyers to buy.
The website has a review section where you can see people posting their reviews along with the cars they bought. From cars that can only be used for daily life to cars that are best to show off — you get everything at Autolist.
Key Highlights
They have a review section where you can see reviews of past customers. It will help you decide if the buyer has what you expect or not.
While surfing on the website or app, they allow you to put a car or two in your favorite list.
The website shows you fair prices.
Pros
They have dozens of trustworthy sites.
The app is user-friendly and rated positively.
They give you accurate prices depending on the value of the car.
Cons
The site does not have multiple options for financing.
You can not add your own ads for cars directly.
Final Words
The above-mentioned list has the perfect sets of other sites like AutoTrader. All the above sites have their pros mainly overcoming their cons, which means – if you choose any one of them, you will compulsorily get benefits.
Frequently Asked Questions
Which are other sites like AutoTrader?
Cars.com, Hemmings, Autotempest, CarMax, and CarGurus are a few of the best other sites like AutoTrader. They all work in the same industry but have different working ways and diversified car options to offer.
Which are the best AutoTrader alternatives?
Autolist, cars.com, CarMax, and CarGurus are a few of the best AutoTrader alternatives.
Must Try these 24 Sites like Carvana, If you want to Buy/Sell a Car
Cars.com vs AutoTrader: Which Is Better? [2022]