AutoTrader vs CarGurus: Which Is Better? [2023]
We may earn small commission from the products mentioned in this post.
AutoTrader vs CarGurus: Having a car and not having a car both come with ample responsibilities and hassles. If you have a car, then the hassle comes in a face of Maintainance, servicing, and then with time, you need to replace it for obvious reasons like mileage problems and much more.
If you don't have a car then you may face more problems like transporting from one place to another, to find rides or public transport can be a tedious task and if you are on vacation then you have luck if you find a seat or ride.
So now if you are opting for one of the options namely buying or selling the car, there are other sets of rules to be followed up for getting a great deal in the real world. And hence to reduce your hazardous work, the virtual world has in-store apps that help you bring a great deal home instantly.
In this article, we are going to talk about two apps that help people to buy and sell cars online without being worried about fraud and instant payment options. The two apps to compare are AutoTrader vs CarGurus.
By the end of the article, you will get details about AutoTrader vs Cargurus in their procedures for buying and selling cars, differences and similarities, pros and cons, and much more in detail.
Overview: What is AutoTrader?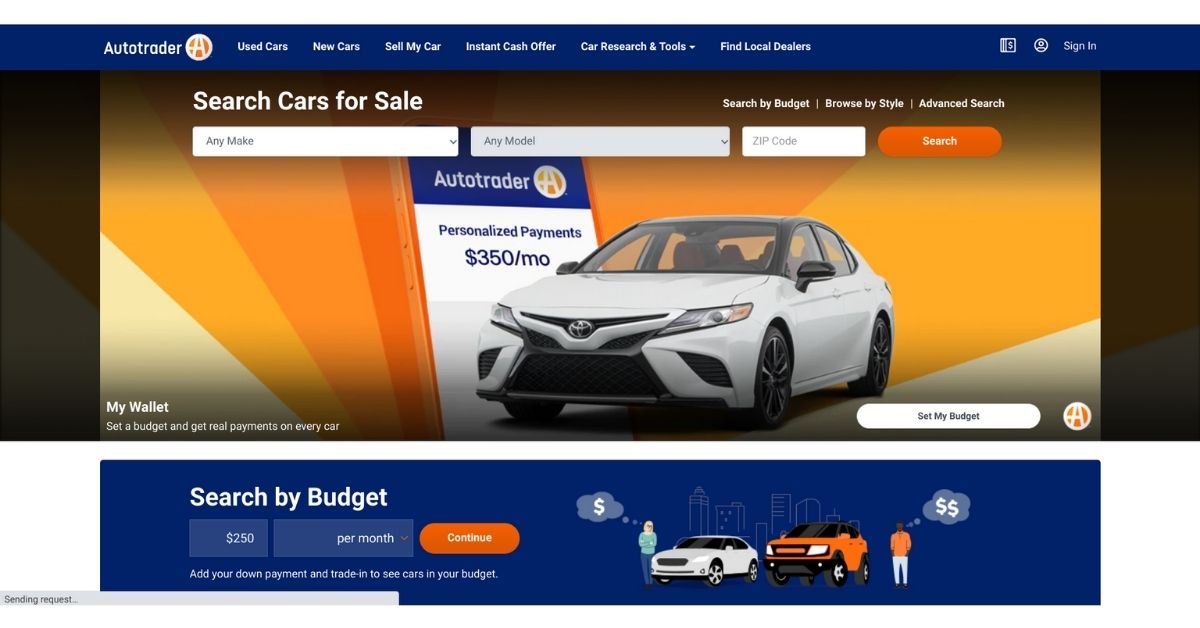 AutoTrader is a great online service that provides users to buy and sell their vehicles online under the boundaries of the United States, Canada, and all over Europe.
The AutoTrader app is been since the days of the year 1997, yet the app is incorporated by all types of vehicles from new and old vehicle categories which are certified by their experts to offer their buyers and sellers respectively.
Currently, the website offers more than 90,000 vehicles updated every day for the buyers and sellers to choose their perfect ride for life in terms of resale or brand new vehicle as per their choices.
How Does AutoTrader work?
The mission or motto of AutoTrader is to provide buyers and sellers best-certified cars within their locality through an online application service. The website and the application both promise to be serving the category of more than 6 million vehicles for the same.
The website in the app both has a clean user interface which is said to be user-friendly and offers an easy navigation feature. There are plenty of options to click on select and follow step by step to buy or sell a car.
The AutoTrader app is available on Apple's App Store and Google Play Store to download on ios devices and Android devices respectively. You can also use their website from chrome and other browsers.
AutoTrader tends to be a mediator between buyer and seller and hence on their website or app you can meet and talk with buyers and sellers, they don't own any inventory or garage where they sell cars on the personalized brand name.
Buying a car with AutoTrader
To initially start your journey with AutoTrader, you need to visit their website through a web browser or download their application on your mobile device.
Once that is done, then you have to sign up with AutoTrader by providing your email address and mobile number.
Then after creating an account with AutoTrader, you have to provide some personal information like name, address, payment details, pin code, age, a document like a license, etc.
Once everything is done, directly go to the search bar and enter the car make, year, model, etc of your choice, and don't forget to enter the Pincode to check for local availability of vehicles.
Once that is done, the app will show you the results of the same to select from several sellers available.
If you are not sure of what you want to buy then you can simply search your favorite picks from the style you want and scroll down to select one perfect vehicle for yourself.
Then when you have finally selected your perfect ride, you can check their price with the categories listed namely good, or great price to confirm what is the best deal for you.
AutoTrader app offers price categories from Kelly Blue Book Tool to assure how much range is a fair range of sellers to choose from.
Once you have made up your mind about the price and model, then you can directly contact the seller for further procedures.
Selling a car with AutoTrader
The selling procedure done with AutoTrader is very easy and minimal to follow.
Hence the AutoTrader only works as a mediator for sellers and buyers, the app and website provide to be a bridge but the procedure has to be carried out with buyers by sellers personally.
So all sellers have to do is provide your car VIN, car make, year, model, etc with photos and description if you want.
After that, you need to pay for the listing around $49, and once the payment is done your car will be listed on the selling page for the buyers to notice.
Pros & Cons of AutoTrader
Pros of AutoTrader
The user interface provided by AutoTrader is easy to navigate and super user-friendly.
The app is available on app stores and desktop versions too.
The users can get access to their account on the browser via their Website.
The selling and buying procedures are kept easy by being the mediator.
Autotrader provides trade-in, buying, and selling procedures with Kelly Blue Book research tools.
It is a great platform for people to connect with sellers and buyers respectively.
The price comparison can be easily done if there is more than one seller for your particular choice.
The app is said to be a reliable and unbiased platform.
Cons of AutoTrader
AutoTrader only works as a mediator for buying and selling activities.
The app doesn't have its label or inventory to sell cars from.
The app doesn't purchase any vehicles directly or sell any vehicles directly.
It doesn't offer any financing features or facilities.
Overview: What is CarGurus?
CarGurus is said to be the most popular or famous online application or service which provides car selling and buying activities under their title.
CarGurus is available under the boundaries of the United States, the United Kingdom, and Canada. CarGurus is quite new in the industry if compared with AutoTrader's establishment.
CarGurus in is the car buying and selling industry since the year 2006, and yet has gained more popularity among other brands because of its best reports, customer services, deliveries, and friendly user interface.
How Does CarGurus work?
CarGurus works on a very simple user interface and is said to have the largest automotive audience with more than 5 million vehicle listings. CarGurus personally checks your car if you are trade-in or selling with their title, to certify your car.
If you are buying with CarGurus, it has detailed analytics reports of the certified and verified cars to select from and provides you will the best vehicle option under all your requirements listed with them.
To start your journey with Cragurus, you need to download their app or signup with their official website through your internet browser. To signup, you will need your email address and mobile number with some personal details like name, address, payment methods, Pincode, etc.
Buying a car with CarGurus
To buy a car with Cargurus, create your account and select the option of Buy A Car.
After selecting the option, choose the option between used cars or new cars.
Once you have selected that, then you can simply just choose from a huge catalog which car you want to buy.
You can search it as per year make, model, color, type, etc.
You can even search it in SUVs, trucks, luxury cars, etc categories to select the perfect ride.
Once you have selected the perfect car, then you can apply for the test drive request and after the test drive, you can finally choose to buy or not.
If you go ahead with buying the car option, then you can simply choose your vehicle to trade-in or you want to pay with cash or have finances for the same.
Selling a car with CarGurus
To sell a car with Cargurus, you simply have to go to their app or website and log in frot he same.
Once you have a login, you have to click on the option of- Selly My Car.
After that, it will ask you for car details like VIN, license plate, location, car make, model year, etc.
After that, you can post your car photos and a small description regarding the same.
Once that is done, then you can select a free pricing tool that will give you a fair share of price to set as the selling price of your car according to the details you entered.
After that, it will list your car at the price of $4.95 for buyers to attract, those who will be interested in your car will contact you for arranging tested rive and further procedures.
Pros & Cons of CarGurus
Pros of CarGurus
CarGurus is the most trusted app for selling and buying cars online.
It only lists your cars which are still in good condition.
The app also provides research material as well as financing options.
CarGurus listing of the car is the cheapest among the popular ones.
Cons of CarGurus
It doesn't purchase your vehicle directly.
It doesn't own any inventory.
It will charge you for car listings for 30 days validity period.
What is similar between AutoTrader and CarGurus?
The similarity between AutoTrader and Cargurus is in their selling and buying preferences. They both offer a platform to buy and sell cars with online facilities of website and app.
Both of them don't have inventories to purchase the car directly from but provide a s a connecting platform between buyers and sellers. CarGurus and AutoTrader both also offer a listing of cars with contact features.
Differences: AutoTrader vs CarGurus
AutoTrader and CarGurus may look similar and have lots of similarities within each other. But yet they both have their unique identities, reputation, and few features which the other doesn't have.
AutoTrader is costlier than CarGurus for listing the car. But again, AutoTrader offers a free listing category too which CarGurus doesn't offer o its users. CarGurus offers financing options for its users whereas AutoTrader only works as a mediator and doesn't provide finance options.
Who wins? Final Verdict: AutoTrader vs CarGurus
Here, we come to an end of the comparison between AutoTrader vs CarGurus, in this article we have provided you with all the information regarding both including their pros, cons, selling and buying procedures, other features, etc.
To select which wins among the two- depends on the user's requirements and conditions to buy or sell a car. If you only need a mediator and nothing else then AutoTrader is a great alternative but if you need cheaper listings, finance options, etc then CarGurus works best.
6 Best Sites like AutoTrader to Buy Used-Cars [2022]
Cars.com vs AutoTrader: Which Is Better? [2022]
CarGurus vs CarMax: Which Is Better For You?[2022]
Carvana vs CarGurus: Which Is Right For You? [2022]
Carvana vs AutoTrader: Which Is Better? [2022]
FAQs
Who owns AutoTrader?
AutoTrader is owned and managed by Cox Automotive. 
Who owns CarGurus?
CarGurus is under the hands of-  Langley Steinert.