Top 8 Apps like Bumble to Fulfill Your All Needs! [2023]
We may earn small commission from the products mentioned in this post.
Finding a partner has never been simple, and the obstacles posed by COVID-19 have made it considerably more difficult. Even if you do not go out as frequently as you used to, online dating services and mobile dating apps can help you build connections that could lead to a long-term partnership (or even just a fun fling!). Yes, the internet is a fantastic tool.
Bumble is a famous dating app that was created to defy the traditional conventions of dating. It gives people the confidence to connect with others online, whether they are dating, networking, or making new acquaintances.
They have changed gender conventions by making it not only obligatory but also acceptable for women to make the first move. They place a premium on compassion and respect, ensuring a secure online environment.
On the other side, it has its own set of disadvantages. The downside of Bumble is that only women may begin a conversation; guys cannot send the initial message. As a result, if you have some outstanding icebreakers in your arsenal, you will not be able to employ them. In addition, once you have both swiped right, ladies only have 24 hours to contact you. If a lady you are interested in does not message you, the match is over. So, we have come up with apps like Bumble for you.
Whether you are wanting to meet new people, attempt casual dating, find individuals with similar interests or eventually find your ideal match for a long-term relationship, there are plenty of reputable dating services and apps to choose from. As a result, we are here to supply you with applications.
We considered everything from the size of each online dating service's dating pool to whether it offers daily matches and if it is a free or paid dating app. There is bound to be someone fresh out there who matches your specific dating profile!
Here's a rundown of the greatest dating apps like Bumble available. So, what do you have to lose? Sign up for one of these popular dating services or apps, begin talking, and increase your chances of meeting your ideal match.
Hinge
Hinge, one of the dating apps like Bumble, decided in 2018 to stop connecting individuals through Facebook friends. Its algorithm is now set up to introduce people depending on the data they offer.
Hinge is the only app that uses the Nobel Prize-winning Gale Shapley algorithm, as well as powerful machine learning skills, to determine users' "type" over time.
Hinge will highlight your "Most Compatible" match each day, which is the person the app thinks you would like the most (and who is most likely to like you back).
You also get to give one match a free "Rose" — a premium that signifies increased interest — each week. You will have to pay $3.99 per rose if you want to give away more than your free weekly rose.
Hinge stands apart from the competition since browsing is much more engaging than merely swiping left or right. You can like a particular photo, leave a remark on a certain prompt, or respond to a question.
This relieves stress because the ice breakers are already built into the profiles. When someone likes or comments on any part of your profile, you will get a notification, and if you are interested, you may react to start a dialogue.
The "Standouts" feed is intended to assist you in initiating new conversations with people with whom you are most likely to connect.
Hinge, an app like Bumble essentially curates prompts from individuals who they feel most closely match your personality type, and this feed is updated daily.
You may filter people by gender, geography, age, ethnicity, religion, and distance to restrict your pool of prospective mates.
You will need to pay for a premium membership if you wish to filter people based on particular lifestyle choices and values, such as family planning, vices (drug and alcohol habits), and political convictions.
If you do not like someone's profile, you may pass over it by clicking the "x" icon. But, just so you know, they are not necessarily gone for good. If you run out of profiles in your region, you may have another chance to look them over and reconsider your decision.
What's Inside?
Profile scrolling replaces the traditional "swipe" functionality.
There is a lot of emphasis on personality qualities vs. images.
"Your Turn" and "We Met" encourage people to talk
To jump to the head of your date's queue, send a "Rose."
Conversations and matches have no time limit.
On rare occasions, a "Compatible Match" will be suggested based on your activities.
People of various ages use it.
Video Prompts provide a wide range of discussion starters.
Their "Virtual Date Night Kit," produced in collaboration with Uncommon Goods, is a fun date night activity that involves preparing cocktails.
Security & Safety
Hinge appears to prioritize safety; in fact, the app says that every abuse complaint is sent to the front of the customer support line so that rapid action may be done.
When you utilize the "report" tool to notify the company about a user's conduct, you will get an email confirmation as soon as the report is received. If you report any activity that might endanger you or other members, Hinge has automatic systems in place to remove that person from the platform.
By analyzing both automatic and in-app user reports, Hinge's staff of content moderators helps to keep the Hinge community safe and secure. They also have the option of acting on any report or escalating it to Senior Moderators and an in-house safety professional, who will decide what action to take.
Hinge has a "strong zero-tolerance policy for hate speech on or off the app," according to the company. The hate speech reporting option is available to any user who experiences discrimination, threats, or abusive language. Anyone who is accused of this behavior will be removed from the app immediately.
Hinge also has an ongoing collaboration with the Anti-Defamation League (ADL), with whom it plans to continue working to identify and remove hateful profiles. However, to protect users' privacy, Hinge does not reveal whether or whether a user has been banned from the app.
Pricing & Plans
Total Cost of Each Plan:
While Hinge is free to use, you may upgrade to a preferred membership for the following price:
For one month, it costs $19.
$29 for a three-month subscription
$59 for six months
You may use an Apple or Google Play account, which both accept the majority of major credit and debit cards.
Pros
Detailed profiles with a lot of information
The user base is evenly balanced between men and women.
Matches are optimized using an advanced algorithm based on your dating interests.
Users' profiles can be "liked" and interacted in various ways.
Prompts based on your profile to help you start a discussion
You may utilize the pause option to keep your profile hidden from new matches while still chatting with old ones.
Conversations and matches have no time limits.
Ability to change your location quickly and simply at any moment
Cons
The number of matches available to free users is restricted to ten per day.
Unmatching someone is irreversible.
The use of sophisticated filters necessitates the payment of a fee.
You could run across someone you "disliked" again in the future.
Tinder
Tinder is another dating app that allows users to share matches and profile pages.
You may define the gender, age range, and location range of your potential matches in your profile preferences in another app like Bumble.
After you have stored your selections, Tinder will show you individuals who fit your criteria, and you will have to pick whether you want to like (swipe right) or hate (swipe left) them based on four profile photographs and a brief bio (swipe left). A match is formed when two people swipe right on each other.
What's Inside?
Users from all across the world
Swiping interface that is easy to use
You may now talk to your matches in real-time with the new Face to Face video chat tool.
Photo verification is an optional tool that reduces catfishing and allows you to date confidently.
The Super Like option lets your potential mate know that you are interested in them.
The New Vibes feature, which is available on both Android and iOS, allows users to answer relevant questions and engage with others depending on their responses.
People may now use new safety measures to assist them in avoiding being harassed.
Security & Safety
Tinder has made strenuous efforts to address safety issues, particularly those related to catfishing and misrepresentation, culminating in implementing its Photo Verification system last summer, which grants users who verify additional clout on the platform.
Tinder's cooperation with Noonlight, which allows you to enable location tracking and even quietly activate an emergency alarm if you are feeling terrified or in danger, will be appreciated by individuals concerned about their safety while meeting up with strangers. Tinder has lately introduced a "Are You Sure?" feature.
Users will be warned before sending messages that the app believes are inappropriate or dangerous, forcing them to think twice before sending. Better still, the app now integrates with your contact list, enabling you to exclude employers, coworkers, family members, and ex-partners from your possible match list.
These are all huge leaps ahead, especially considering how dating apps started. Tinder deserves a lot of credit for implementing these adjustments.
Pricing & Plans
Total Cost of Each Plan:
Basic Account is free.
Tinder Plus is available for $9.99 per month (or $19.99 per year if you are over 30) or $54.96 per year.
Tinder Gold is available for $14.99 per month or $82.99 per year.
Tinder Platinum is available for $39.99 per month.
Pros
A large user base offers a higher chance of finding a match.
With 50 gender identities and 9 sexual orientations, it is LGBT-friendly.
The interface is quite user-friendly, and the settings are simple to change.
The addition of Vibes gives the experience some much-needed complexity.
Cons
Tinder has a young demographic, with more than half of its users being between the ages of 18 and 25.
Some users still think of it as a hookup app, while others think of it as a dating app, confusing.
Tinder profiles are still shorter and less detailed than those of its competitors.
Tinder charges customers over the age of 29 a higher monthly fee than those under the age of 29.
Happn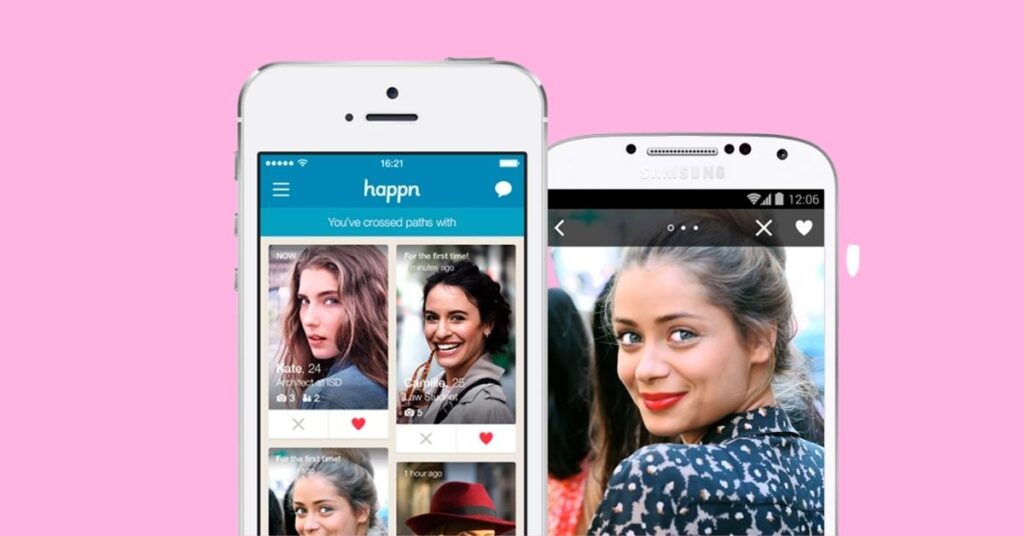 Happn links you with people you have met in person during the day. They also know about your common interests (think magazine and TV shows) and what you have been listening to on Spotify.
Users may only contact each other if they both like each other, making the user experience far less overwhelming than typical dating applications.
While the registration process is easy and quick (less than a minute), you must have a Facebook account to authenticate your identity.
This may be a good thing since catfish have to put in a lot of additional effort to join, but it also means exposing more personal information than one would be comfortable with straight away.
This app like Bumble, is more effective in large cities than in smaller communities. The larger your pool of alternatives becomes as you pass more individuals during the day.
Security & Safety
Because Happn connects users with individuals they have passed during the day, if the match leads to an awkward chat, it may be uncomfortable – and, depending on the scenario, dangerous – for one or both parties if they are used to passing each other on their way to work or otherwise.
Pricing & Plans
It has both free and paid version.
Premium membership costs $24.99 for one month, $15/ month for six months, $10/ month for 12 months.
Pros
iOS and Android versions are available.
The idea of only connecting users with people they have passed on the street leads to some thrilling and engaging talks.
Each user's organization and job title are included in the matches, making it simple to conduct more research if a match appears to be particularly suspicious.
Happn allows you to discreetly 'like' a match, so they will not know you are interested unless they are also interested in you.
Cons
If the match goes bad, the premise of matching its users with others they have passed on the street might lead to an uncomfortable commute in the future.
If you prefer an algorithmic or personality-based approach to meeting people, matches are established solely on proximity, which may be both thrilling and frustrating.
OkCupid
OkCupid, another Bumble alternative, you can browse and interact without paying a fee. You can discover who is online right now by going to the Search page. You may also "like" their profile from this page, albeit without a paid subscription, all you get is their username, location, and a photo.
By selecting a user's profile page, you may also send them a message for greater engagement.
OkCupid has transitioned from a traditional online dating site look to a more social one, complete with parts like an Instagram-inspired "Snapshots" area and Q&A.
The app is also making much better use of the massive amounts of user data it has amassed over the years.
OkCupid has long been renowned as a dating site where a big portion of the matching algorithm is based on the questions you answered on your profile, allowing the site to display a percentage score next to each profile you peruse based on matched responses.
The percentage score has not vanished – which is a good thing – but you may now explore the site more casually through groups of individuals who are categorized based on their responses to questions. As a result, the experience is far more social, with discovery and engagement seeming more natural rather than forced.
While all of the most important site features are free to use, OkCupid does have some important and useful paid features, such as the removal of outside ads, unlimited likes, the ability to see who has liked you before you have liked them, a profile boosts to increase your visibility, and the ability to see the public responses your potential matches make to their questions before you answer your own.
What's Inside?
You may start surfing and participating right away thanks to the simple setup.
You can still engage with other users if you have a free membership.
Quickmatch provides you with a sample of possible matches so you do not have to go through the entire database.
Stacks provides a targeted discovery experience based on real-world data.
New social features allow you to explore the app and meet new people in a more relaxed setting.
Users can pick from more than 22 gender choices and 20 orientation possibilities.
Non-monogamous couples can utilize the service as well.
Security & Safety
By providing an anonymous means to engage with other users, OkCupid safeguards its members' personal information. It is a personal decision to share what with whom, and it should not be taken lightly. The app's in-app messaging system allows users to communicate anonymously without utilizing their communication tools.
With a complete membership, you may also change your username at any time to maintain your privacy. You may also block or unmatch someone, which will make it appear as though you canceled your Account from their perspective. You may report someone who engages in harassment or abuse to OkCupid's moderator staff here.
We recommend reading the app's Privacy and Safety section for additional information on the standard practices of online dating services.
Pricing & Plans:
Free plan
Basic memberships are available for $11.99 per month or $5.99 per month for six months.
Premium memberships start at $39.99 for one month and $19.99 for six months.
Pros
There is no charge to view the app or engage with other users.
The design is simple and clear, making it simple to use and non-distracting.
The app does an excellent job of matching people based on personality compatibility.
Upgrading to a Basic or Premium membership is inexpensive and comes with a lot of benefits.
LGBT-friendly
Non-monogamy is encouraged.
Cons
Because it is free to register, it is possible that individuals are not taking it seriously.
To use the full functionality of the app, you must pay.
Coffee Meets Bagel
Coffee Meets Bagel, a similar app like Bumble, requires a Facebook account to sign up since it authenticates users and matches them with individuals they know from the social networking app.
After connecting with Facebook, you will be led back to the app, where you may choose your orientation and the orientation of the matches you would want to meet, with both options being man or woman.
The following several stages ask you to accept geolocation and push alerts, as well as add friends to the app, all of which you may avoid if you choose to continue using the online dating app.
When you initially log in, you will get a visual depiction of how many beans you have that day, which will be 10, as well as how many you acquire by using the app for many days.
The following page displays your first bagel or match, which you can pass or enjoy. After you have made your choice, the app will bring you to your profile page, where you may add profile images (at least one is essential) and fill out basic information about yourself.
You must also state your career, the firm you work for, three words to define yourself, three hobbies you love, three things you value on a date, and three humorous facts about yourself that will be used as ice-breaker questions.
Finally, you may choose your match requirements in the profile section, including age, height, and distance ranges, ethnicity, and religion.
Coffee Meets Bagel does not have a login method. You will not be requested to log in again as long as you are signed in to Facebook — unless you choose to log out of your Account from the account settings screen. If you ever log out, just log back in using your Facebook account, just as you did when you first signed up.
Coffee Meets Bagel used to be generally gender-neutral, but in recent months has updated its platform to be more female-centric, with males receiving 21 bagels (or matches) every day and women receiving a more hand-selected group of 5.
Users may also peruse the Discover area, which has between eight to twenty more profiles that are not app-suggested matches but rather members to whom you can send alike.
Because the profiles are brief and straightforward, they are displayed in their entirety, including all images in both the Bagels and Discover sections. When two profiles match, one-on-one discussion via the chat section becomes accessible, but only for a short period.
The dating app guides you through much of the process, providing tips, asking for feedback on your choices for initiating contact with other members, and providing a handy profile analytics section that transparently displays how well you are doing on the app and suggests changes for any areas of weakness.
The app encourages users to participate in the development of its analytics by allowing you to state your reasons for passing on profiles and using the Photo Lab from the profile section, which allows you to vote for the best profile (profiles are shown in pairs) and rewards you with beans for your participation.
Additionally, the chat section encourages you to reach out to new matches by providing unique ice-breaker information (which is hidden on the public profile), responding to messages, and asking if you would like to extend your chat time (which does expire) with users you have matched and/or conversed with.
Beans are the app's social currency, and you can earn them by participating with the app in a variety of ways.
The simplest approach to get the freest beans is to log in every day, as the number of beans granted each day grows exponentially with each subsequent login.
Beans may be acquired at the Bean Shop through social media shares, which vary from 100 to 500 beans each sharing or purchased in increments of 100 beans for $1.99, 2000 beans for $23.00 (a 33% savings), or 3000 beans for $24.99 from the Bean Store (60 percent savings).
The bean shop also includes a Wallet section with instructions on how to obtain extra in-app analytic data like the Mirror Mirror Report, which shows how your profile compares to others on the site, and the Reveal Report, which shows why people liked your profile.
What's Inside?
In-depth analytics assist you in becoming a better online dater.
The app pays you just for utilizing it, giving you exponentially more beans (or points) the longer you stay logged in.
The profile is straightforward to set up.
Ice-breaker questions make it easier to send introductory communications to potential mates and its not an app like Bumble as both parties have equal control on starting a conversation.
The website lists common acquaintances.
In contrast to other dating services, the majority of users are women.
Security & Safety
According to Coffee Meets Bagel's Privacy Policy, the firm will "make every effort to preserve personal information to keep information private." Even if users are traveling outside of the United States, their information may be transmitted to, kept, and processed in the United States, where their servers and central database are located and maintained, according to the privacy policy.
Pricing & Plans
Free & Paid Plans
Premium version costs $34.99 per month for a one-month membership (includes 6,000 beans)
Pros
The user base is overwhelmingly female.
Multiple guidelines and interactive step-by-step explanations make this a very user-friendly design.
The point system allows you to boost your chances of success by using the program more frequently.
Cons
Because it is a group of friends, passing on a possible match might result in an embarrassing encounter at a future social gathering.
Friends of friends might also refer to ex-boyfriends or old high school classmates you erased from Facebook years ago.
Skout
Similar dating app like Bumble, Skout offers its users to look for a match in their area by skimming through a newsfeed-like stream of user updates from your location or looking through images of people who are eager to meet up.
Users can also "shake," which is a type of conversation in which you are matched with a random user who is also eager to talk with a stranger.
When you join up, you have the option of linking your Facebook or Google+ Account or creating a new account with your email address. You may look for a match before posting a profile photo once you have signed up.
What's Inside?
Shake: Shake your phone to activate this function, which pairs you with another user who is looking for a nice conversation with a stranger.
Buzz: A newsfeed-style feature distributes nearby users' photographs and status updates.
Meet: This function shows a grid of images of users who are close by and want to meet up in person.
Chat: If a user's profile piques their interest, they can initiate a conversation with you, regardless of whether you have confirmed interest in their profile.
7 Dating Apps like Skout to Check Out!
Security & Safety
Because Skout users seeking companionship might be as young as 13, they place a strong value on safety. Check out their safety guidelines if you are worried about meeting friends or possible companions online.
Pricing & Plans
Total Cost of Each Plan:
Register for a Free Account
Skout Premium: 1 Month ($9.99), 3 Month ($24.99), 12 Months ($69.99)
Pros
Extremely user-friendly
The environment that is both safe and enjoyable
Encourages a sense of belonging.
Cons
To join, you must be at least 13 years old (young user base)
Messages from adjacent users are inundating me.
Plenty Of Fish
POF offers an extensive and reasonably simple search engine that allows you to simply limit down its user base to just display you individuals that check particular boxes.
If you are dead set on meeting Catholic singles in your area, you can do so; if blondes are your thing, you can locate them; and if you have kids and want to meet someone who does, you can do so as well.
Almost anything you noted about yourself during the sign-up process can be searched for in other users, making the search function — which can be found under the "Search" heading on the desktop and under the icon that looks like a rectangle between two lines on the POF mobile app — one of the site's major assets.
What's Inside?
Use of tokens
Verification of the phone number
Search filters with a lot of options
Messages of highest priority
'Meet Me swiping' is a swiping
Sign-up takes a long time.
My Town
Video conversations in real-time
On a blind date
Security & Safety
PlentyofFish employs a phone number verification procedure during sign-up to guarantee that users are not bots, and they check profile images to make sure you are not using any that are not in violation of their terms of service.
POF benefits from what should be top-of-the-line digital security because it is owned by the Match Group, although the app did reveal a data breach last year that exposed members' postal codes. More information about the app's privacy policy may be found here.
Pricing & Plans
Total Cost of Each Plan:
You can use PlentyofFish for free, but if you want to upgrade, you will have to pay:
For a single month, it costs $19.99.
If you join up for three months, it will cost you $12.90 each month.
If you join up for four months, it will cost you $12.75 each month.
If you join up for eight months, it will cost you $9.99 each month.
For a year, it will cost you $6.99 every month.
Pros
Surprisingly up-to-date user interface
Swiping is not the only way to focus.
Strong search capabilities
Cons
Users who have low-resolution, unstable photographs
There are hardly many singles.
Not a queer-friendly environment
Zoosk
As with swipe-based applications like Tinder and Bumble, you choose between yes, no, and maybe alternatives and wait to see how the other person replies in Carousel mode.
Zoosk has three key features that allow you to see other members: Search, Carousel, and Online Now. You may send alike, smile, message, or click "Next" to browse more profiles in Online Now and Search mode.
What's Inside?
Over 40 million users on the Zoosk.
Sign-ups helped by Google and Facebook
The user base is 52% female.
Send a lot of messages and increase the number of people who see your profile.
Carousel
Algorithms SmartPick and Behavioral Matchmaking
Reply automatically
Verification of the phone number
Security & Safety
Zoosk administrators will eliminate images that do not comply with company regulations to guarantee that people utilize actual photos. Its rules include that you should "make sure it is obvious," "be alone in your shot," and avoid using nudity.
It also asks you to link your profile to your phone number to engage with other users or utilize the Carousel function, albeit these are optional procedures. Zoosk is a difficult app to create a false profile on because of its varied features and the fact that you have to pay to communicate with other users, which may dissuade many would-be fraudsters.
You can also ban anyone on the app, and it claims to work with "trusted cybersecurity and fraud services" to keep its users secure.
You may learn more about the company's privacy and security policies by clicking here.
Pricing & Plans
You may create a free account to explore the app, but free accounts are unable to send or receive messages.
Otherwise, it is as follows:
If you sign up for only one month, the cost is $29.95.
If you join up for three months, you will pay $19.98 each month.
If you join up for six months, the cost is $12.49 each month.
Pros
Design that is simple and easy to use
A large user base
The gender breakdown is almost equal.
Cons
You cannot message other users unless you pay.
Not as well-known as its mobile competitors
Members who identify as bisexual must establish a separate profile.
Top 10 Apps like Match to Check out [2022]
Final words:
One of these online dating apps like Bumble could have your next date waiting for you. You have nothing to lose by giving these Bumble alternatives a go because they are all free.
Take the effort to make your profile stand out if you want to offer yourself the best chance of landing a date. Take the finest images you can, create engaging biographies, and do not take yourself too seriously.
6 Apps like Wizz/ Wizz Alternatives to Check out [2022]
Stir App Review: Features, Plans, Legit? [2022]
5 Apps like Noteit Widget for Couples [Android & iOS]
7 Best Dating Apps like Feeld & Feeld Alternatives [2023]
FAQs
What is the closest thing to Bumble?
Apps like Bumble-
OkCupid
Meetup
Tinder
Badoo
POF
Tinder or Bumble: which app is better?
Because matches expire, users on Bumble have a higher chance of striking up a discussion than they do on Tinder, and as a result, individuals are more optimistic about finding quality matches. Given these considerations, it is no surprise that Bumble has a reputation for being the better dating app.