13 Secret Apps like Wizz & Wizz Alternatives! [2023]
We may earn small commission from the products mentioned in this post.
Did you got bored with Wizz and looking for its alternatives? If so, then you are at the right place! We have given a list of the best apps similar to Wizz that you can use.
In this generation, it is majorly seen that people love to socialize online instead of having face-to-face meet up.
And for that, we have several apps like Wizz that let you find and meet people with similar interests and socialize.
So, to find out which one is the best Wizz alternative, read the article below!
Yubo
Yubo is a social networking app where you can find new friends through live streaming and authentic interactions. Based on your interests, you can easily make friends, be it from your local community or around the world.
And with the live streaming feature, you can host up to ten streamers with a limitless number of viewers. As a streamer, you can only join a session room if you've created it or are invited by another streamer.
Furthermore, because of its partnership with Snapchat, you can invite friends to join Yubo through Snapchat and earn rewards.  
What's Inside?
Yubo offers online streaming where one can start a live video chat and connect with up to 10 people at once.
Offers party games to play with friends and also offers a platform to interact, sing, dance, and do much fun together.
Offer to connect you with old friends as well as create new ones same.
This app also offers a community for different categories namely beauty, yoga, music, sports, and much more.
Allows YouTube streaming facility with different lenses to click photos, enjoy watching YouTube with online friends and offline too.
It has a unique category of games namely Would You Rather, QnA game, Truth or Dare, guessing pictures to play and enjoy with friends, and much more.
14 Best Apps Like Yubo to Make Friends [2022]
Wink
Wink- make new friends is a platform like Wizz which let you make new friends and communicate with them. It has a unique feature of swiping like dating apps by which you can swipe to make a new friend or not.
You can use your Wink profile to express yourself – add up to 6 photos of yourself, and your unique interests, record a voice intro, and add a bio that describes yourself.
Moreover, you can earn gems that you can use to send a friend request to someone new or to purchase a new background for your profile.
What's Inside?
The most fascinating feature of Wink is the Swipe feature offered to make new friends by just swiping right to their faces. It works basically like dating apps where you can see their profile with the bio feed where they describe their liking and disliking to make friends or not.
Fastest messaging service.
Offers a platform to chat, and send photos, stickers, GIFs, and also audio messages to your friends and+ groups.
It also has the feature of earning gems that you can use for sending a friend request to someone new or sending an arrow back for not missing someone in the queue.
It is a safe platform to use because of its no-adult content policy which makes it trustable for making friends. But yet they say to be cautious when you share photos, full name, personal details, and much more.
LMK
LMK is another social network app to make new friends in different ways. All you need to do is to download the LMK app and join the community with people who share similar interests and talk, chat, and hang out.
Just like any other Wizz alternative listed in this article, you can swipe right on people you want to be friends with. You can add your interest and write a bio on your profile and even post to the community feed to show yourself.
What's Inside?
LMK offers a platform to make new friends and chat and hang out with those who share similar interests to them.
It offers drop-in audio rooms where people can talk to a group of people and also has the feature of sending gifts via audio rooms.
Has a simple feature like Wink of Swiping right to make new friends.
Has the feature of making a first impression via making a user profile containing their likes and dislikes with their photos to make it easy for others to approach them.
This app has the policy of making and building the safest and most positive platform for their users who used to feel lonely in this immensely huge world.
It has a simple and decent user interface to make new friends and chat with people like Wizz.
Spotafriend
With Spotafriend, meet new people around you by just swiping right! With over two million teenagers on the platform, it is sure that you'll meet someone to chat and meet with.
With the premium version, you can access several advanced features like an unlimited boomerang, change old swipes, two extra super swipes per day, unlock swipe history, priority listings in your area, and the ultimate badge on your profile.
What's Inside?
Spotafriend is quite famous in terms of buzzing around the trendy world today.
It is updated every month and is free to use and download.
It is a safe app to chat and make new friends without being afraid of people judging you because the population of the app is teenagers same as you.
Swipr
Swipr is another app to make new friends and meet your lifelong best friend on Snapchat. Just connect your Snapchat, send a like, and start making new friends from across the world.
Here, you can find people, make, and meet new friends, and build a real, positive, and valuable friendships. And with the chatroom feature, you can instantly send messages to your Swipr friends.
So, enjoy the real-time chat and promote yourself to thousands of people looking for new friends and conversations.
What's Inside?
Swipr has a unique partnership with Snapchat which allows you to make new friends using the same.
It has swiping feature like many other apps to make new connections and approve friend requests.
Allows users to connect with people, talk and chat with them, and know their small list of interests.
Connect with your friends on other social media too by sharing users' IDs.
Swipr allows the pre-chat feature of a chat room to talk with real friends to whom you can add on Snapchat after the chat is done and you both have to build a good connection to carry forward.
Snapchat
Snapchat is an instant messaging app that features pictures and messages for a short time before they become inaccessible to you.
With Snapchat, you can easily talk with friends, explore news in Discover and view stories from around the world. It is a fun and fast way to share the moment with your friends and family.
You can express yourself with filters, lenses, Bitmoji, and much more. And also stay connected with your friends through live messaging or through a video chat with up to 16 friends at once.
What's Inside?
Snapchat allows people to add friends via their email id, phone number, and unique usernames and snapcode i.e. bar code.
It also offers a snap-sending feature, where you can send a disappearing picture by opening it once.
Offers the privacy of chats by informing about the screenshot taken among friends and group chats.
Unique sticker collection that can be customized like the real personality of their customers under the application name- Bitmoji.
By using Snapchat, you can see their status stories, snaps, and texts, and you can also call and video call and group call all your friends.
Offers reels and Snapchat original corners where you can find shows to binge-watch.
Hoop
Hoop – Make new friends is a safe app to help you make new friends and socialize online. It allows you to meet new people, filter your recommendation preferences whenever you want, go through millions of profiles from across the world and send requests to the ones who look genuine.
Hoop helps you make a profile on its platform and you have the entire control over whether you want to share your other social media details with people or not.
Talking about diamond achievements – it is not compulsory to adhere to this feature but in case you want to have more fun, then you can do various activities to collect diamonds and once you achieve a goal – the app will reward you with certain additional services.
What's Inside?
You get to check a person's name, nationality, and age on the recommendation page without going all the way to their profile page.
Tap on the star button on the recommendation page and the person's profile will be saved in your favorites.
For every new friend request, you will get to check how many minutes, hours, or days ago they sent the request.
Purp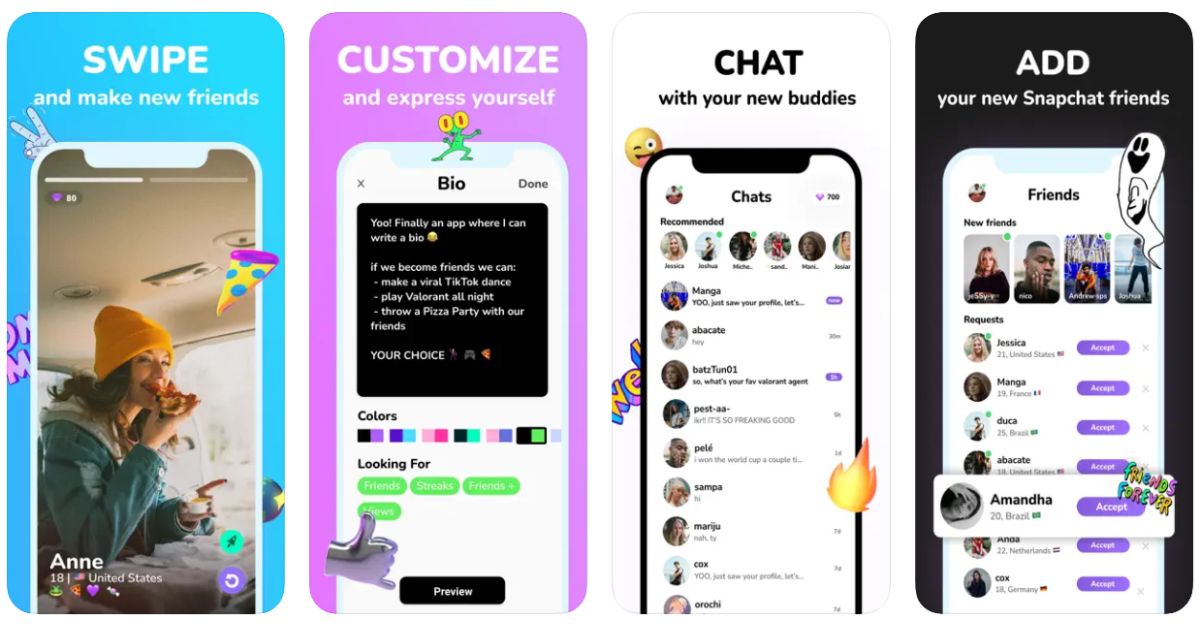 Purp app allows you to make new friends from around the world.
With the help of this app, you can discover new cultures, learn about new topics, get interested in creativity and productivity through others, meet new people and start your adventure with your online friends.
You just have to swipe right and left to delete a recommendation or send a friend request to the person you find genuine. And you'll automatically get notified whenever you receive a new friend request or the other person accepts your request. After acceptance from both sides, you both can start chatting and checking each other's socials.
What's Inside?
You'll earn gems even if you just check in every day and add new friends to your group or community.
Just sharing the app link with your friends and asking them to join through the link will get you a good handful of gems.
Wave
Wave doesn't ask you to find new people and socialize globally, but merely brings you millions of fast and real-time maps to navigate around and enjoy life freely.
With this app, you get private maps to share your current location with friends and even family members that are included.
It includes group chats where you can add multiple people and share your location in groups. You can also share photos, messages, and live locations.
What's Inside?
The app will automatically notify others if you are stuck in a traffic jam or going on the wrong route, without you needing to notify them while driving.
You get to check each member's live location in your community.
Compatibility: iOS and android
Limatch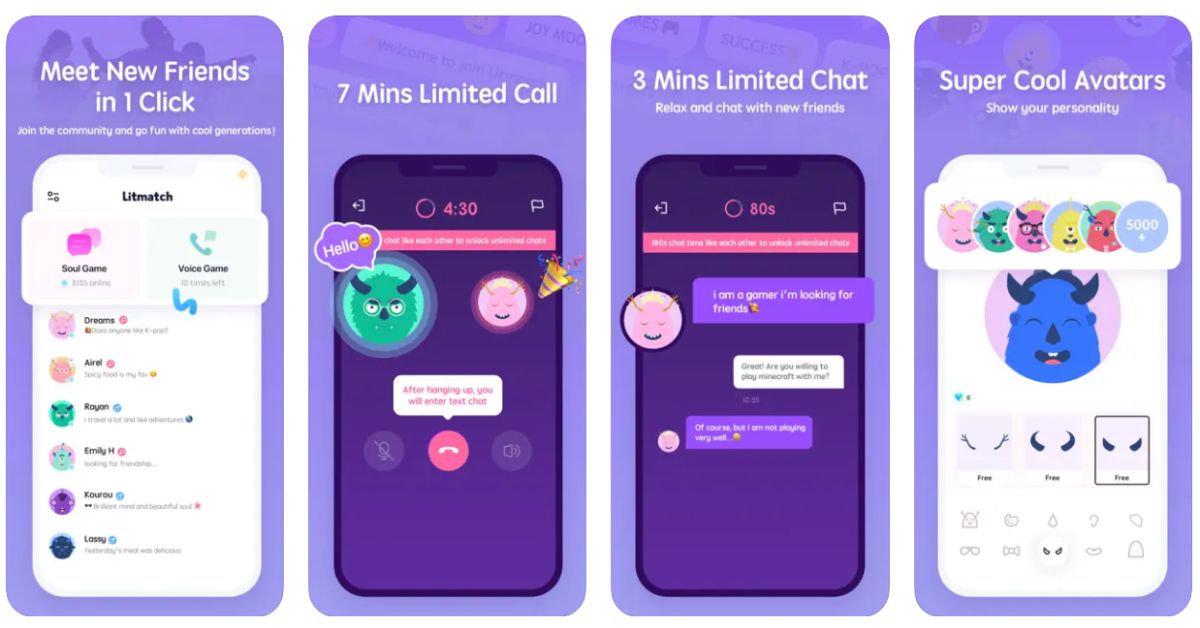 Limatch is another safe social media platform helping you meet new people, make new friends, and maybe go beyond friendship. The app holds a warm community where you can share your honest opinion, feelings, and thoughts. Likewise, it is filled with cool and caring people to support you in what you believe.
Limatch first recommends you the list of friends according to your preferences. If you like someone, you can share a request, or if you have received a friend request, you can check the profile and if you think you both can be good friends, then you can accept their request.
What's Inside?
You can get to know your new friend better by sharing a brief voice call.
The group chat and party room feature allow you to be the host and share your talents and thoughts on the mic while receiving interesting gifts from members.
Random Chat: Oops
Oops is another good app to make new friends but has some unique and interesting ways to socialize and meet new people. You can make new friends through the honest question-and-answer game, share your live regular day moments, check who is watching your videos, and do much more.
Oops is said to be associated with Snapchat and is widely used to grow the Snapchat family. It offers more features to help you quickly find people with similar hobbies and fill your map.
What's Inside?
You can share your videos on your profile and let others explore you.
You can surf on the live feed, find people sharing similar interests as you, and add them to your Snapchat with one click.
If you find someone adhering to your preferences in the question-and-answer game, then you can start chatting with them immediately.
Ablo
The Ablo app is here to focus more on your first-time conversations with people who share similar interests as you. Through this app, you can meet your new online crush or friend and create a new story through chatting.
Ablo has the live stream shows feature which helps you watch millions of Livestream shows regularly. You can join as a guest and you can also broadcast yourselves, showing off your talent or maybe something worth sharing with others.
Moreover, you can create your own fan base by uploading videos. People will like your videos and will follow you and you can even achieve certain goals to receive rewards from the app. It also allows you to add descriptions to your profile and follow other influencers on the app.
What's Inside?
It has a video call feature through which you can talk with your new friend or crush on face-to-face calls.
While on a video call or live streaming, you can use multiple emojis when you don't want to add text.
You can change your recommendation preference whenever you want and find people through nationality, age, etc.
Meetup
Meetup helps you find events near you, meet people face-to-face who share similar interests as you, and discover new things in your area. It is also helpful in spreading the word about your own events of different kinds and letting people know so they can join.
The app will match you with the preferred group or events based on your interest. You can go for regular life events like yoga, cooking, etc to professional and career-based events like tech conferences, seminars, etc.
Meetup is one of the trusted apps like Wizz when you want to do something more than just chatting and having fun across the Internet.
What's Inside?
You can browse through the recommended events and save the ones you are interested in.
You can explore the variety of events by keyword, or category, or just check which event is popular in your area.
About Wizz
Wizz is another social media platform, but unlike Instagram and Facebook, it mainly focuses on helping you make new friends.
Wizz claims to be a safe platform where you can be yourself and meet new friends from around the world who share the same interest as you. It is specifically designed to help you meet new people and is 100% free.
Final Verdict: Apps like Wizz!
Wizz simply helps you socialize online when you don't need to meet people directly face-to-face but let others know what you're interested in and learn new things eventually.
Likewise, if you want to try something different like doing video calls, building a community or social group, etc then there are plenty of good apps like Wizz mentioned in the above article which will help you just right now. Also, all our trusted and safe platforms – as said in user reviews.
With this, we hope our list of 6 best apps like Wizz has helped you find the perfect app suiting your taste.
FAQs
Is Wizz a hookup app?
Wizz is socializing apps to make new friends but it is not an adult app or hookup app.
Are there any apps like Yubo?
Yes. This article shows the best similar apps out of many like Wizz namely Yubo, Snapchat, Swipr, Wink, LMK, Spotafriend, and much more.
Who owns the Wizz app?
Wizz app is owned by the CEO – Dustin Dean Kronsbein.
Which are the good apps like Wizz for android?
Hoop, Ablo, Limatch, Wave, Meetup, and Purp are some of the good apps like Wizz for android.
Are there any good dating apps like Wizz?
Wizz is not a dating app. But, if you're looking for more apps like Wizz that can help you meet new people, then our list contains Limatch, Wave, Ablo, Hoop, Meetup, and Purp.
Is Wizz safe?
Yes, Wizz is a safe platform. As seen from the reviews by users, it is 100% safe, and even if you encountered a fraudster or bad people in the community, then you have the full right to report them right away.
Is Wizz a dating app?
No, Wizz is not a dating app but since it helps you meet new people, it is totally up to you if you both want to stay friends or start dating.
5 Apps like Noteit Widget for Couples [Android & iOS]
Top 10 Apps like Match to Check out [2022]
6 Similar Apps like Hinge to Check Out [2022]
Top 8 Apps like Bumble to Fulfill Your All Needs! [2022]
Stir App Review: Features, Plans, Legit? [2022]