Bumble vs Match: Which Is More Exciting? [2022]
Bumble vs Match: Bumble and Match, are two of the real dating sites with Millions of users using them. But, which among these two will help you meet the Man/Woman of your life?
Bumble and Match are the two Best Alternatives for each other. They are two Real Dating sites that help and have helped several people meet their other halves.
Why do you think Dating websites are important? Aren't they just a waste of time? That is what we thought at the start, but when the Positive results were announced, it was hard to deny the fact that these free dating apps are more than just a pass-time place.
Bumble or Match, apart from these, there are more Dating apps in the line that work similarly. The list starts with Tinder, OkCupid and ends with Happn, Badoo, MeetMe, etc.
To give you the best place to meet your loved one, who could lend you a shoulder at your sad times and dance with you in your happy moments – we have brought you a comparison article between Bumble and Match to help you decide which application is best for you.
What are Bumble and Match?
Bumble: gumball has changed the way people used to meet online, especially for love-related purposes. Bumble is the first website in the history of the world, where women are the only ones given the control to approach the person who they like. Whether it is a boy or a girl, the female gets to decide if the conversation should start or not.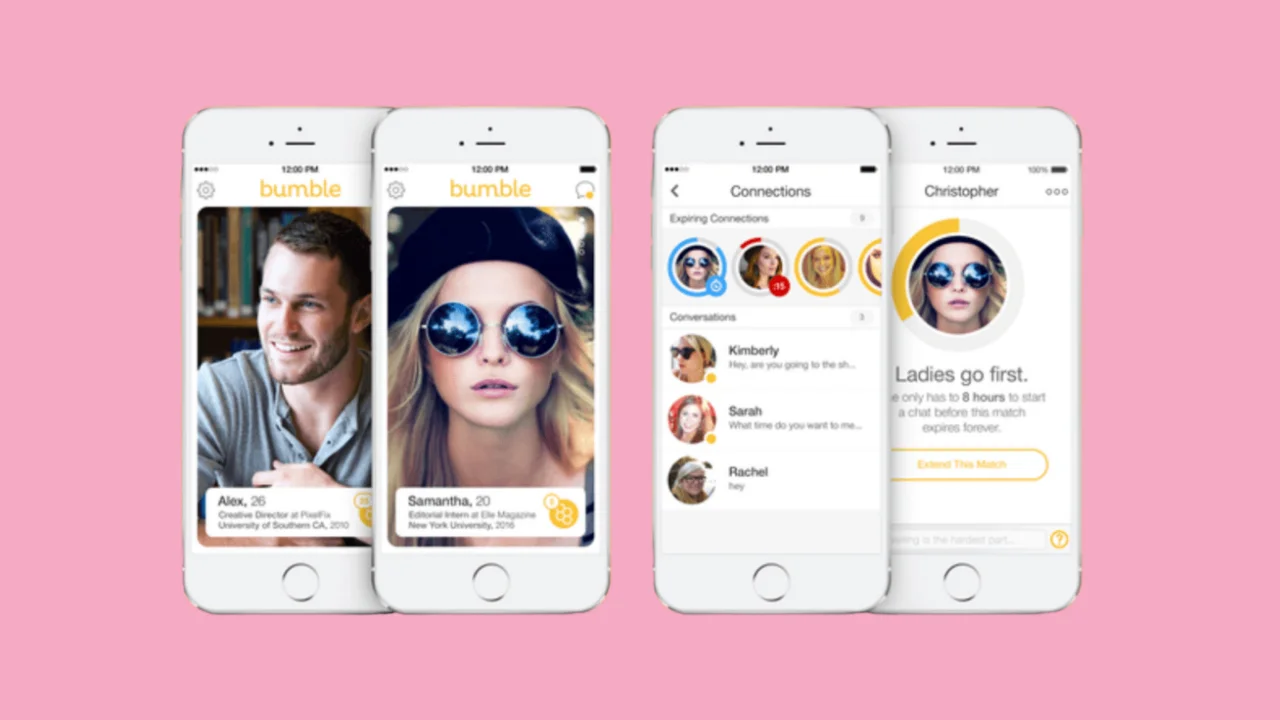 If you were thinking about approaching Bumble for finding a casual friend or an online friend to be exact, you are at the right place. Bumble is not only for dating or finding your partner, it can also be used to find a genuine interest in the other person online and become friends with the same.
Toxicity and unhealthy relationships do not take place at Bumble. Bumble is a Productive and Positive application for creating both Relationships and Friendships. It is created to empower those Relationships and Friendships that weren't found with the real people around us.
Match: Match is known as the No 1 destination if you are looking for an online dating website. It claims that the website has more Dates, More Relationships, and more marriages than any other online dating website.
It not only connects people Nationally but can also help you meet Foreigners. The website is accessible in most countries and it can connect you to the person staying right opposite you in the world. Match.com can be your ultimate website if you are interested in marrying the person you want to date.
Match is not only for singles but all types of people who are interested in marrying. If Marriage does not work for you, dating can also Match.
Match is a healthy platform where fake profiles are not accepted. At Match, you will only meet real people. Although Match is a premium website, it gives you Six months free Trial at the start.
Bumble vs Match: Key Features
Bumble
Create a profile and decide which information of you can be seen by others.
Upload pictures of yourself and check others' Personalities while surfing on the app.
Swipe 'Reject' if you did not like the Suggestion or 'Accept' if you like the profile recommended.
Make alterations to your profile.
Text the Profiles you like.
Match
Match gives you one profile that will be visible to all the members of the Match Community.
With the help of Filters, you can alter the suggestions according to your preferences.
Chat with others and know more about them.
When Match gives you Recommendations based on your Filters, you can either Reject them or Accept them.
With the help of 'Winks', you can have a little fun.
Bumble vs Match: Total Users
Bumble: in 2017 Bumble recorded a total of 12 million users using its application. In 2018, the number increased drastically from 12 million to 22 million. In 2019, more than 7 million were added and in 2020 the total users using the app were 42 million.
Match: With 51% Women and 49% Men, Match has over 21,575,000 users currently using the Match website.
Match vs Bumble: Pricing and Plans
Bumble: Bumble has divided its pricing and plan into four different subscriptions. They are as follows:
$19.99 for one week
$39.99 for one month.
$70 6.99 for 3 months.
These payments must be done upfront. The fourth payment is the Lifetime payment which unlocks all the Premium features for Lifetime. It costs you $229.99.
Match: Match has divided its Membership Plans into 6 different plans. There are 2 different plans named as Standard plan and Premium plan, each divided into three parts They are:
Standard Plan for 3 months – $31.99 per month
Standard plan for 6 months – $22.99 per month.
Standard plan for 12 months – $18.99 per month.
Premium plan for 3 months – $34.99 per month.
Premium plan for 6 months – $24.99 per month.
Premium plan for 12 months – $19.99 per month.
How to use Bumble and Match?
Bumble
First, download the application on your cell phone. The first thing you will see after downloading the application will be the commitment to put women first. You don't have to worry because this commitment will not stop you from meeting new people.
Next, you will edit your profile. You can choose if you want to add your Facebook account and auto-fill pictures from Facebook to your account. You can also take a fresh selfie and upload it.
This step is optional but you can verify yourself by snapping a good selfie to show Bumble that you are a real person and not fake.
After your profile is set for others to look at it, you can travel to the settings page and share your preferences.
Now Bumble will send you recommendations for profiles. You can either accept them if you like them or reject them without hesitation.
Match
Users are requested to create their accounts on the website.
The next step will involve them setting their account and making Alterations according to their preferences.
Surf on the website and find your matches.
If you found anyone of your liking, send them a message.
What's the difference between Bumble and Match?
There a several differences between Bumble and Match, but, we will list the most noticeable ones below:
Bumble is a Location-based Dating app and Match can match you with anyone from anywhere, even if he/she is staying in South Korea while you are in United states.
Bumble allows women to text first, on Match, anyone can approach anyone first.
Final words: Bumble vs Match
Among the two Free Dating apps, it is up to you if you want to go for Bumble because of its Population, that it will give you a good set of people to choose from.
Or, if you think it is time for you to find the real Lover, you can Create your Profile on Match. Bumble and Match, both are the Best Dating apps in short.
Frequently Asked Questions
What is a Match on Bumble?
If you got a suggestion from a person on Bumble, the same person will receive your suggestion. If both of you swiped right, accepting each other then you are a 'Match'!
Is Match and Bumble the same?
There were not same until recently, the merging of companies brought Match to work under Bumble.
Is Bumble better than Match?
No. Match is likely to take a step ahead of Match because of its one Feature – it has more Diversifications than Bumble.
Why can I see the people who like me on Bumble?
If you cannot see who is liking your profile, that is because – you haven't liked them back. Bumble will only allow you to see who likes you if you like them back and you are also supposed to be a regular surfer on the app.
Top 8 Apps like Bumble to Fulfill Your All Needs!
Top 10 Apps like Match to Check out!
8 Apps like Meetme to Chat & Meet New People [2022]
Discloure: ViralTalky is supported by its audience, when you buy through links on our site, we may earn a small commission.