Ticketmaster vs Seatgeek: Which Is Better For You? [2023]
We may earn small commission from the products mentioned in this post.
Ticketmaster vs Seatgeek: Booking tickets on time is a tough job in the modern world. Especially when we want to book tickets for our favourite game shows, bands, movie nights, and much more. Getting tickets on the time can be no less than a miracle.
And booking tickets online has many risks too. Many times it happens that people get scammed by fake websites under the name of booking platforms for concerts, shows, game nights, and much more.
In this article, we are going to talk about the two ticket platforms which offer good deals and valet options for tickets booked under their title namely Ticketmaster and Seatgeek.
By the end of the article, you will get all details about Ticketmaster vs Seatgeek, what are they, how they work, fees, prices, ease of use, and much more.
What is Ticketmaster?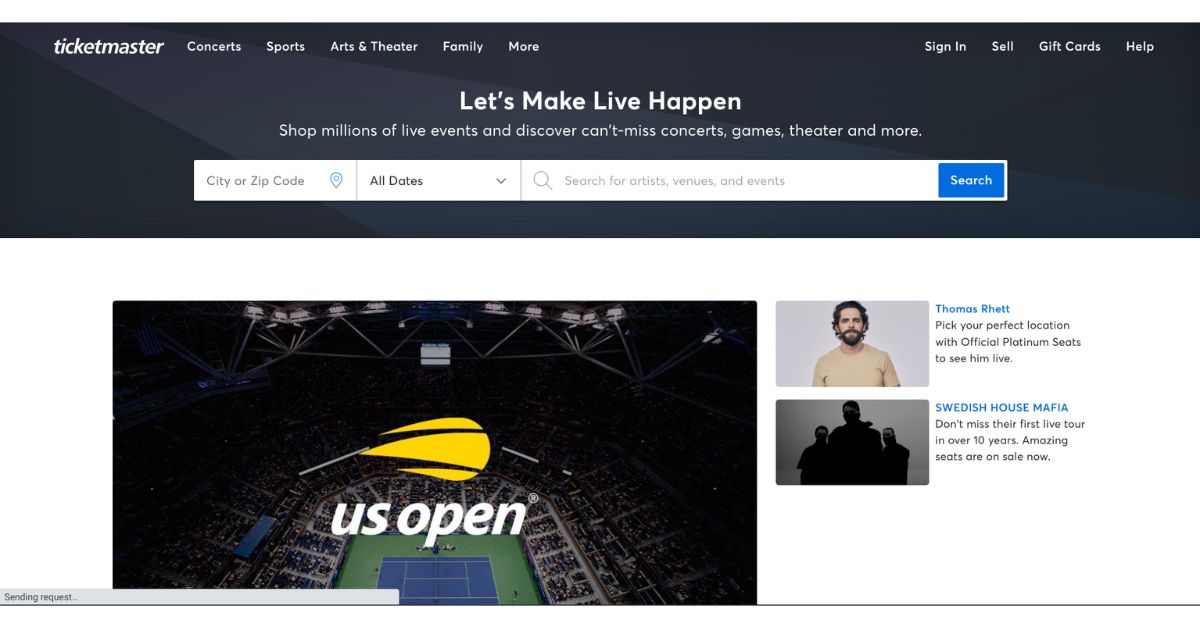 Ticketmaster stands for the website- TicketMaster.com has been in this industry for more than 30 years now. Currently, it offers its services in 32 countries all around the globe.
It has started giving these services for the world to enjoy the live entertainment options since the year 1982. It currently serves more than 500 million primary tickets each year via its platform.
It also offers a very unique feature of fan-to-fan resale options under its handle. It simply says any fan can sell their tickets to another fan on their portal after the verification. It also offers an exchange offer for the tickets sold by them under the title TicketExchange by TicketMaster.
What is Seatgeek?
Seatgeek is kind of new in the industry of ticket booking platforms and has been on its leg since the year 2009. It has by now sold millions of tickets in 10years and more which many unique features.
It also has a deal score, return tour ticket feature, and many more. It also offers selling features and also many discounts offers to avail.
In today's date, Seatgeek comes at B ranting with the Better Business Bureau and with 3.8 stars out of 5 which is pretty impressive when compared to other platforms. Seatgeek gives a guarantee for the timely deliveries of tickets, valid entry to the events, and many more.
How does Ticketmaster work?
The buying and selling procedure of TicketMaster is kept very user-friendly and easy. It has 100% Real Tickets where everything is accounted for and rechecked before selling tickets.
Buying Procedure of TicketMaster
First and foremost you have to create an account with Ticketmaster.
It will ask you for your personal information like name, location, order histories, debit and credit card details, and much more.
Once you have successfully created your account, you will be asked to select the location to get updates on the upcoming shows and events happening nearby your location.
After giving the location, you can find your event category.
The events category offered by TicketMaster is said to be Sports, Rock concerts, family friends concerts, and many more.
You can prebook your tickets under different locations, timings, dates, and much more.
In case., the tickets which you are looking for are not available, then it must be because it is not available and fully booked or the booking of the concert is not yet started.
One of the best options available when booking a ticket via TicketMaster is the seating chart. They offer a real seating chart from which you can choose your perfect seats according to your liking.
After selecting the seats, you can choose how you want to pay and the delivery mode which does you want tickets on mobile itself or gets delivered at your doorstep.
Selling Procedure of TicketMaster
The selling procedure is quite easier via TicketMaster.
You simply have to go to their website and enter your ticket details into the selling portal.
Once you have provided the details of the ticket it will get verified by TicketMaste and once it is verified then you are allowed to go on next step.
Then you can go to the pricing page, where you can decide the price of your tickets and it has a feature of removing and editing your tickets from the list anytime.
And after that, you can finally decide how you would like to get paid for the tickets you sold and the rest of everything will be handled by TicketMaster.
How does Seatgeek work?
SeatGeek is a great option for buying and selling tickets because the procedures under their title are kept very simple and user-friendly with new features and match the modern world's taste.
Buying Procedure of SeatGeek
Open The Seatgeek app and create an account with them.
After creating the account with them, tap on the tickets menu in the navigation bar at the bottom of the screen.
After selecting the ticket criteria, you can select the ticket group from which you want to buy tickets.
Then you can select the particular event and seat and payment option for your tickets.
After selecting all of these, once your payment is done they will send you an email for your order confirmation.
In the end, you can choose to get your location for tickets offline or you can choose to get it on mobile via email.
Selling Procedure of SeatGeek
To sell tickets via Seatgeek, you first have to go to their website and log in to your account with them.
Once you have a login to your account, tap on the tickets counter and select the group of the ticket as in its genre.
After selecting the ticket group and then tap on the sell option to sell them.
Once you have listed all the tickets you want to sell, then it shows you the option of listing them with the price factor.
Once the listing is completed, you can set the prices according to your margin and you can again edit them, and delist them whenever you want.
Fees
Ticketmaster
Fees are a very crucial part of any online services available today. Hence the fees have been undertaken for buying and selling under the TicketMaster platform. On the average count of fees, 30% of the ticket is being charged as fees.
And if you are opting for discount coupons and delivery options etc, the fees may vary from 10% at least. Hence, paying 30% of the ticket as fees is quite costly as per the customer's review.
Seatgeek
When compared to Ticketmaster, the fees of SeatGeek are kept to be the lowest. The fees charged for SeatGeek in the process of buying and selling tickets are said to be 10% or more than it as per choices.
If the delivery location is far, there are other nuances too which are being taken care of as if return guarantee or something similar, then the fees can be raised to 30% or so. While Ticketmaster vs SeatGeek, SeatGeek wins the fees section easily.
Pricing and Payments
Ticketmaster
For the price summary of Ticketmaster, it's nothing new to the original prices of the tickets with fees charged. Hence since the price of fees is kept higher as per the customers, The pricings can seem a little costly too.
For pricings, you simply have to pay for the ticket, delivery charges, fees, etc. The payment mode accepted by Ticketmaster is American Express, Visa, MasterCard, Discover, Diners Club, Ticketmaster gift card, or any other debit card.
Seatgeek
The pricing and payment factor of Seatgeek is quite different from others. The pricings are set with the original ticket prices, delivery charges plus fees similar to TicketMaster.
The pricings are quite lower compared to TicketMaster but it still gives a guarantee for every service they have kept open for the customers to avail. The payment options are kept very minimal for the citizens of America, Mexico, and Canada. Otherwise, you can use authentic payment options and even gift cards and promos offered by SeatGeek.
Ease of Use
Ticketmaster
The user interface of TicketMaster is kept very minimal and easy to use compared to the technologies today and their latest technology updates.
When we talk about how easy the app is, we can say it is very user-friendly and can easily be used for new beginners or non-technogeek. It has no extra decorations, or banners to confuse people while booking the ticket.
Seatgeek
The user interface of Seatgeek is quite similar to what Ticketmaster offers. It also has a very sleek, neat, and easy user-friendly interface that can be known by any.
It also has no banners or ad style, and the buttons are ordered rightly with easy steps to follow. Hence the user interface of SeatGeek is great for non-technology users too.
Pros and Cons
Ticketmaster
Pros of Ticketmaster
The main pro of Ticketmaster is the genre it provides, it has a huge category to choose from in sports, entertainment, events, and much more.
The return policy set by Ticketmaster is very flexible and hence it is a great advantage for its users.
It also has price filtering for buying seats is quite a great tool where you can find your seats at your prices.
Cons of Ticketmaster
The only con which is considered for the Ticketmaster is the hidden fees category and high fees compared to other same industry platforms.
Seatgeek
Pros of Seatgeek
It offers the largest search engine for tickets to select from.
It has a very easy resale ticket option for the customers.
It also has multiple ticket delivery options which is a good extra at a lower cost.
It also offers a great mobile application for every user.
It also has notification alerts when they change pricings of tickets so no user is kept in dark.
It also has a deal score system to save some money on using Seatgeek.
Cons of Seatgeek
The map feature given by Seatgeek, compare to Ticketmaster is not that clean or clear.
Ticket fees can add up fast with the extra choices which may make them a bit pricey.
Customer Service
Ticketmaster
Speaking of customer services undertaken by Ticketmaster, it is very hard to build an opinion on that. Customer service relies upon how the customer is treated and what the problem is.
Some of the problems need just seconds to be resolved and some of the problems in more time to resolve than they should. Hence on a general basis, the customer service offered by Ticketmaster is said to be good when it offers the live chat feature 24×7.
Seatgeek
The customer service of Seatgeek is different from the customer services offered by TicketMaster. The customer service of Seatgeek is not up for live chat 24×7.
The operators to solve the query in Seatgeek are said to be on a fixed work schedule. The schedule for solving the queries of Seatgeek customer service is said to be from 8 in the morning till 10 at the night.
Which is Better? Final Verdict of Ticketmaster vs Seatgeek
When talking about TicketMaster vs SeatGeek, it is a tough call to choose the best. But if you look at them for the more features, mappings, and extra delivery options then it will be a tie since both of them offers different kind of extras with ticket buying and selling options.
If we talk about TicketMaster vs SeatGeek in pricing matters, then the clear winner is SeatGeek because the total of SeatGeek with all the features chosen will be half of the total of TicketMaster. Hence for the budget-friendly users, Seatgeek is a winner.
In conclusion, we can just provide you with the information and suggestion for the same, but the ultimate decision of choosing which one wins among them is only with you as the reader and customer.
Ticketmaster vs Ticketek: Which Is Best For You? [2022]
Ticketmaster vs Stubhub: Which Is Right For You? [2022]
SeatGeek vs Vivid Seats: Which Is Right For You? [2022]
Gametime vs SeatGeek: Which Is Better For You? [2022]
Ticketmaster vs Vivid Seats: Which Is Better For You? [2022]
Gametime vs Ticketmaster: Which Is Better For You? [2022] 
Ticketmaster vs Vivid Seats: Which Is Better For You? [2022]
FAQs
Who owns TicketMaster?
TicketMaster is a subsidiary industry for TicketMaster Entertainment, Inc. It is founded and is in hands of Albert Leffler, Peter Gadwa, and Gordon Gunn III. 
Who owns SeatGeek? 
Seatgeek is owned by its founders namely Russell D' Souza and Jack Groetzinger under the title of DreamIT Ventures.