Are you looking for best sites like Zebit? Want to know which site offers you best options? In this article, I'll show you a list of Zebit alternatives that offer Buy Now and Pay Later services. Zebit is one of the best platforms that offers interest free credits.
There are several sites that offer BNPL (Buy Now, Pay Later) payment services which permits you to pay for your purchase over time instead of paying them all at once. These options include rent-to-own, credit cards and lease-to-own programs and installment plans.
List of Best Sites Like Zebit [Zebit Alternatives]
One of the best features of Zebit is that it involves many interactive modules, better encryption layer for safe usage, newsletter feature and many more. Even though, it has several amazing features, it might not be right for you. Check out the below article for more information on best sites like Zebit.
FlexShopper
FlexShopper is one of the best sites like Zebit. You can be able to shop over 80,000 products, including top brand electronics, furniture, home appliances, mattresses, Televisions, video games, Tablets, smart home, laptops, garden and tools, cameras, camcorders, tires and much more. The organization makes a majority of its income by leasing its products.
You can have the liberty to lease whatever you want from wherever you want. All you need to do is to simply take a photo of the product you like and fill out a simple form. Products are delivered at your doorstep or you can pick up in stores.
Afterpay
Afterpay is another Zebit alternative that is operating in the United Kingdom, the United States, Canada, Australia and New Zealand. It is populary known for its "pay later" service which allows in-store and online consumers to buy a product immediately and pay for it later with four equal repayments without being charged.
It is fully integrated with your favorite stores. First time users can provide payment details as usual and then products will be delivered to you by the seller. You can log in any time to check your payment schedule and make the payment before the due date. Otherwise, they'll automatically deduct money from your credit or debit card.
Overstock
Overstock is an American online retailer that primarily sells furniture. It is one of the best sites like Zebit which help you find designer brands and home goods at cheapest prices online. The company continues to sell furniture, home decor, bedding, handmade goods and many other products that are closeout merchandise, nevertheless, it also sells new merchandise.
Overstock also manages the inventory supply for other vendors. The organization originally sold entirely surplus and returned products on an online e-commerce marketplace, settling the inventories of at least 18 failed dot-com companies at less than the wholesale prices.
Fingerhut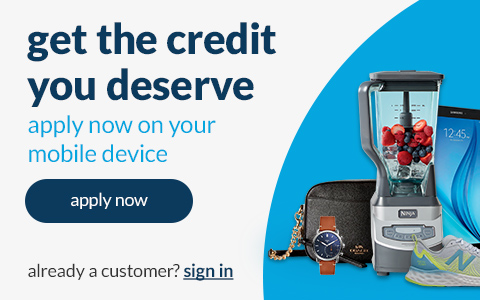 Fingerhut is one of the finest Zebit alternatives. They initially used to sell automobiles seat covers, later, the business moved itself as a mail order catalog corporation and expanded its products to include dishes, tools, towels and may more. It offers two types of account: Fingerhut FreshStart Credit Account and the Fingerhut Advantage Revolving Credit Account.
Today, it is different from other online vendors in that consumers can pay with credit, and make monthly payments up until their orders are completely paid off. It has passed through many ownerships during its existence, this includes one-time owner ship by American Can Company, Petters Group Worldwide and Bain Capital Ventures.
Stoneberry
Stoneberry is one of the prominent shopping retail web service which gives you the ability to purchase a product on a credit basis. It comprises several features, and the users will not face any kind of problem while purchasing any product. This site is limited to certain regions of the world, and it is not available everywhere.
Stoneberry provides good merchandise with an assurance and accepts credit and debit cards. It also offers promo code and sales and offers you a contact support feature which gives a live agent to communicate with the consumer directly and solve any issue.
Midnight Velvet
Midnight Velvet is one of the sites like Zebit. It is an American online store that is dedicated to offer a clothing line for women. The basic operating of a site contains a store like and interface which gave distinct feminine product, and it is available in major regions of Canada and the United States.
One of the best features of Midnight Velvet is that it lets you purchase products on a credit basis, and it lets you rent a product and pay it per month based on its requirement. Once you've ordered any product, you can be able to track the product and also, it lets you to put your credit card information on its website.
The Bottom Line
What did you choose? Well, let me make it easier for you! before picking up any Buy now, Pay Later services, it is important to be aware of things like interest rates, late fees and to be sure that you can be able to pay off the total purchase at least later.
So, I hope the above article has helped you to pick up the best buy now, pay later service from the above-mentioned list on best sites like Zebit.