8 Useful Apps like Slader for Students [2022]
Apps like Slader: Are you looking for Slader's free alternatives? Wondering which app will provide the best features? Don't worry; we'll help you with that. In this article, we'll show you the 8 best Slader alternatives.
Slader is a web-based service for students that help them to get answers for their homework problems in science and math textbooks.
Students can be able to communicate with their peers by leaving comments, answering questions and sharing textbook answers, as well as they can also use chat-based tutoring from other Slader users.
Although Slader is an amazing platform, there are several other apps like Slader that are worth using. So, here is the list of the 8 best apps like Slader that help you with your homework.
Mathway
Do you need step-by-step solutions? Mathway can be the best option for you! It is like a private tutor in the palm of your hand, offering immediate homework help anywhere, anytime.
From basic maths, algebra to difficult math problems, Mathway immediately solves your hardest problems, all you have to do is type your problem.
It is free to download, and it gives you a quick tour of the app when you open it for the first time. You can not only type, but you can also take a picture of your problem and speak about your exciting math problem.
Features
It instantly solves your most challenging math problems.
Easy to use virtual touchpad that supports all types of equations like variables, alpha-numeric signs, brackets, special operators, and other advanced notations.
The Glossary section consists of over 300 math definitions, concepts, and principles.
It offers an all-inclusive calculator that can solve any question.
It has a well-made user interface with colored buttons.
The help module provides tips and directions on how to use the calculator properly.
Pricing: Its premium version costs $9.99 per month or $39.99 yearly. Although its premium version doesn't offer a free trial, you can simply access the free version that offers some basic features.
Photomath vs Mathway: Comparison [2021]
Chegg Study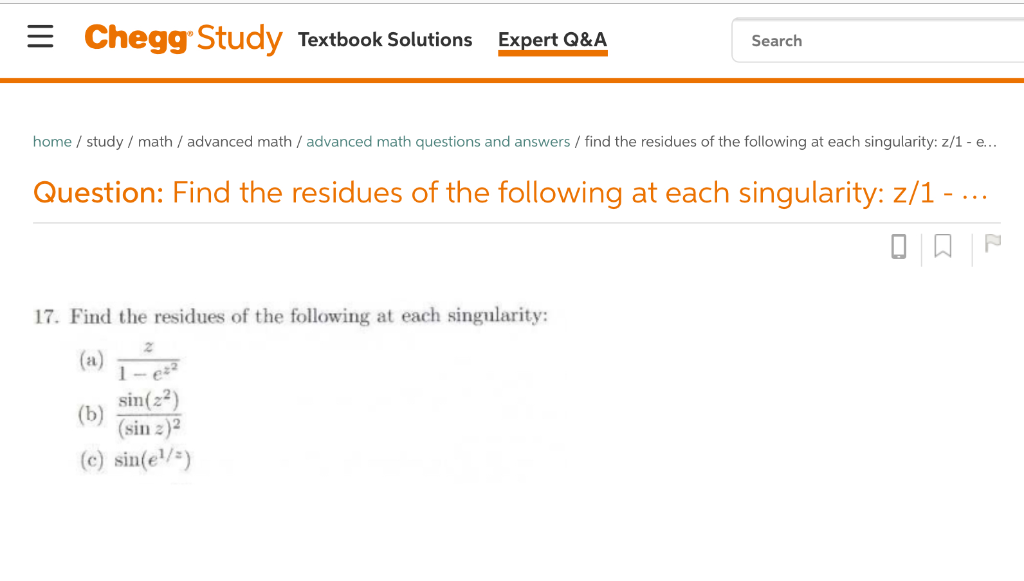 Want customized support for each of your courses? Don't worry, Chegg is one of the best apps like Slader that help you with your homework.
Through this, you can get homework help for eighty subjects and hundreds of courses.
All you have to do is click a photo of your homework question and submit it to its experts, you'll probably get a detailed explanation of the answer within thirty minutes.
You can also explore its library of over 60 million completely solved homework and find out how to solve them step-by-step.
Features
Learn your course inside-out by simply clicking into its extensive library of numerous completely explained, step-by-step textbook answers.
Get homework help for over 80 subjects and over hundreds of courses.
Discover its best study tools and get 24/7 support for your homework or projects.
Search for over 500 million flashcards from its library or make and study your own decks.
Limitless viewing of 25 million completely solved homework questions in its Q&A library.
Facility to post and get answers expert answers within 30 minutes.
You can enter your study question and read the answers which are already a part of Chegg Study's database.
Pricing: Chegg Study costs $14.99 per month. You can also subscribe to the Chegg Study Pack for $19.95 per month or Chegg Math Solver and Chegg Writing for each $9.95 per month. You can also try its 4 weeks free trial before subscribing to its plan.
PhotoMath
Want help to solve your textbook questions? Photomath can help you with that! With Photomath, you can learn math, check homework, and study for your test. It includes everything from basic arithmetic to advanced calculus and geometry.
You just have to open the app, and its in-built camera will allow you to take pictures of your problem and try to provide a detailed solution as fast as possible.
It is available in multiple languages like English, Korean, Portuguese, Spanish, Indonesian, Arabic, Polish, Croatian, Russian, Thai, and more.
Features
It consists of an in-built camera calculator that lets you take photos of your math problem.
It gives you step-by-step instructions and shows solutions to any equation in graphical form.
Recognizes handwriting.
It provides various math topics such as basic math, algebra, trigonometry, geometry, calculus, and statistics.
With every new update, new kinds of problems are added frequently.
Simple and easy user interface.
Provides animated videos for better understanding and memorizing of the explanation.
A good performance level is guaranteed, and many users have admitted that the application has correctly solved their math problems.
Pricing: Photomath Plus monthly subscription plan costs $4.99 per month for a yearly plan, and it costs $9.99 per month. If you don't want to subscribe to its paid plan, you can simply access the free version.
Wolfram Alpha
Wolfram Alpha is a computational knowledge engine that answers accurate questions straight by computing the answer from externally sourced "curated data" instead of giving a list of documents of web pages that may contain the answer.
Users can submit questions and computation requests through a text field. It will then compute answers and relevant visualizations from a knowledge base of structured and curated data.
It can respond to phrased natural language questions and does not answer queries that need a narrative response.
Features
It can only provide robust question results depending on computational facts.
It uses its large collection of algorithms and data to compute answers and produce reports for you.
It covers different topics and subjects, including math, statistics & data analysis, physics, chemistry, materials, engineering, astronomy, earth & life sciences, and more.
When you enter the name of a food, you'll get the corresponding nutritional values in the form of tablets and graphics.
It offers structured results on sociodemographic data, culture and media, educational institutions, as well as geographical facts and institutions.
It provides the option to compare different persons, aspects, or issues.
Pricing: Its basic version is completely free to use, Wolfram Alpha pro costs $5.49 per month or $65.88 annually, and Wolfram Alpha Pro Premium costs $9.99 per month or $119.88 per year.
Socratic
Socratic is one of the best apps like Slader that uses AI technology to help students with their homework by giving educational resources like videos, question & answers, definitions, links, and many more.
Using its Artificial Intelligence precisely predicts concepts that will help the student solve their problem. You just have to take the photo of your homework problem, and then it will read and classify it by using Optical Character Recognition.
You can also use your voice to connect to online resources and understand any problem. It offers multiple subjects such as science, math, social science, and humanities.
Features
Use your voice or camera to connect to online resources and comprehend any problem.
It is partnered with experts and teachers to bring you a visual explanation in every subject.
Easily learn the concepts behind the problem.
Discover videos, step-by-step explanations, and more to learn subjects at your pace.
It currently offers geometry, biology, physics, literature, algebra, trigonometry, chemistry, and history.
Its database already consists of over 350,000 questions.
Pricing: It is completely free to use.
6 Best Apps Like Socratic for Studnets [2021]
Course Hero
Course Hero is an American education technology that operates an online learning platform for students to access course-specific study resources like essays, homework, and tests.
It consists of study guides, class notes, essays, videos, practice problems, infographics, step-by-step explanations, lab reports, user-submitted questions along with answers from tutors, and more.
You can either subscribe to its paid version or upload original documents to get unlocks that are utilized to view and download full Course Hero documents.
Features
It offers access to over 7 million uploaded study documents.
Users can search for documents by university, content, or course subject.
You can get 24/7 access to online tutors, and when you ask a question, the tutor will respond within 3 days.
There is a searchable library of video lectures that are sorted by subject, university or instructor.
It offers a free directory of digital courses that are available online.
You can access over 40 million course-specific study materials.
Pricing: It offers a Basic Membership and a paid Premier Membership. Its Basic membership is completely free, and the Premier membership costs $39.95 per month, for a 3-month subscription, it costs $19.95 per month or $59.85, and for an annual membership, it costs $9.95 per month or $119.40.
SparkNotes
SparkNotes initially offered study guides for poetry, film, literature, history, and philosophy. Later, it expanded to give study guides for several subjects, including chemistry, health, physics, biology, economic, math, and sociology.
By subscribing to it, it lets you view the full study guide content available within the app. You can find essay help, sample tests and translations of books.
Furthermore, its comprehensive guides consist of detailed social, biography, historical quotes, contexts, and many more.
Features
You can personalize your text size and try out the dark mode.
SparkNotes Test Prep offers content and services related to AP, PSAT/SAT 1 and 2 standardized tests, and the ACT & GRE.
Over 50 pre-installed study guides in the library.
There are over hundreds of study guides available for viewing online.
Its website includes a section for students to search for colleges.
Discover visual summaries of the classics.
Pricing: It costs $0.99 per month or $4.99 a year. It also offers a one-month free trial.
Quizlet
Slader is now Quizlet! so it has similar features and best alternatives to Slader,it provides the simple and easiest way to study, practice, and learn whatever subject you wish to learn.
With its AI learning assistant, new expert explanations, and operative flashcards, you can get a suite of science study tools right at your hand. Get customized study methods and track your progress.
You can test yourself with practice problems and seven study modes that can assist you to feel more prepared. With Quizlet's step-by-step explanations, solve the hardest textbook problem.
Features
Available in several languages, including English, Spanish, Portuguese, Japanese, Turkish, French, Chinese, Vietnamese, and many more.
Its chief products consist of digital flashcards, practice electronic assessments, live quizzes, and matching games.
Get millions of step-by-step textbook solutions written by experts and checked twice for precision.
Make your own flashcard or pick up from millions produced by other users.
Users can create sets of terms and definitions that are tailored for their own necessities.
With the Quizlet learning assistant, get personalized study methods, and you can also track your progress.
Pricing: Quizlet Go costs $1 per month or $35.88 per year, and Quizlet Plus costs $1.9 per month or $47.88 per year. It also offers a free 7-day trial.
10 Best Quizlet Alternatives [2021]
Final Words: All the Slader alternatives mentioned in this article are great and have a large user base. They offer the best way to solve your problem and help you with your homework or assignments.
So, we hope the above article on the 8 best apps like Slader has helped you select the best free homework help app like Slader.
Discloure: ViralTalky is supported by its audience, when you buy through links on our site, we may earn a small commission.