7 Best Apps Like Mathway to Hype Up Your Game [2023]
We may earn small commission from the products mentioned in this post. visit here for more details.
When we talk about Maths, some exceptional humans would love it, but normal people will see stars in a day. It may seem like maths is the toughest subject to be understood by humans and students struggle to complete the syllabus.
Henceforth with the advance of technology and educational sites, now there are many apps available that can help students to solve maths with easy tricks and simple solutions. They are built to save time and energy for students.
Mathway is said to be one of the top listed apps according to maths solvers to help students in solving maths questions with ease and comfort. But Mathway may seem to be a little complicated to be understood by everyone and hence alternatives are required.
In this article, we are going to talk about the 7 best apps like Mathway which provides easy solutions to all your maths queries from anywhere and anytime you want.
By the end of the article, you'll get to know about all 7 apps like Mathway, and how they work with key highlights and prices.
Microsoft Math Solver
Microsoft Math Solver is a maths solver application created by Microsoft which is easily available to download from Google Play Store and App Store. The app here solves any query regarding arithmetic, algebra, trigonometry, calculus, statistics, and many other topics.
Evidently the app is said to have AI advanced tools solve any maths problems very easily with quick responses.
Key Highlights of Microsoft Math Solver
Easily write math equations on screen in the same way you write them on paper or book.
Provides a scanning option for printed or handwritten maths queries.
Easily type and edit the calculation with an advanced scientific calculator provided by the app.
Students can also get interactive step-by-step explanations and graphing calculators with their help.
You can choose to import maths question images to get their solutions.
Option to scan and solve maths worksheets with multiple questions.
For linear and non-linear functions, you can easily scan and plot x and y data tables.
As per your requirement you can search on the web via this app and get video lectures for the same.
Compatible Devices with Microsoft Math Solver
Compatible with Android Devices from 5.0 and up
Compatible with IOS devices
Pricing of Microsoft Math Solver
Microsoft Maths Solver is free and doesn't have any ads to interrupt your solutions or sessions.
SymboLab
SymboLab is another great alternative for apps like Mathway to get easy solutions for difficult maths queries. You can just scan your maths questions and get professional calculative solutions for the same.
SymboLab is said to be used by over 200 million students overall with the different calculators for maths problems like calculus, graphing, fractions, integral, equation, derivative, inequality, limit, matrix, trigonometry, series, Laplace, etc.
Key Highlights of SymboLab
The main focus of the app is given on its professional math scanner.
The scanner is used to easily take a photo of maths queries to get step-by-step solutions of the same.
It has been noted that SymboLab gives solutions to over one billion math equations with explanations in detail.
You can get Homework Helper to help solve your maths homework within a limited period.
Simply take a photo and search for the answer with SymboLab like Mathway.
It is a great app to use for educating yourself or students regarding maths queries with simpler solutions on over 20 topics.
Compatible Devices with SymboLab
Android Devices
IOS Devices
Web Store.
Pricing of SymboLab
SymboLab is completely free to use for students and teachers.
Wolfram Alpha
Wolfram Alpha is the baby of Stephen Wolfram with the building development of 25 years to give you the experience of Star Trek computer as a maths solution. The app has thousands of domains and collections to choose your queries from.
It is useful to get solutions to over 15 different types of queries in statistics and mathematics like Mathway. And it uses a lot of algorithms and domain collection to generate the correct answer for your queries.
Key Highlights of Wolfram Alpha
Students prefer Wolfram Alpha for straightforward answers to complicated queries.
It has employed artificial intelligence to solve the maths query.
It is a great partner to solve homework more quickly than the teacher itself.
Once, the query is submitted and checked with the database stored for 25 years and then it is solved step by step for a detailed explanation.
Wolfram Alpha is used as a great reference which is better than copying the same from other students.
It has been noted that, Wolfram Alpha offers solutions for queries like Elementary Math, Numbers, Plotting, Algebra, Matrices, Geometry, Calculus, Discrete math, number theory, logic functions, and much more in mathematics.
For statistics, it can help you with regression, probability, statistical distributions, and descriptive statistics.
Compatible Devices with Wolfram Alpha
Android Devices
IOS Devices
Web
Pricing of Wolfram Alpha
Wolfram Alpha doesn't charge you a penny for maths solutions.
MathPapa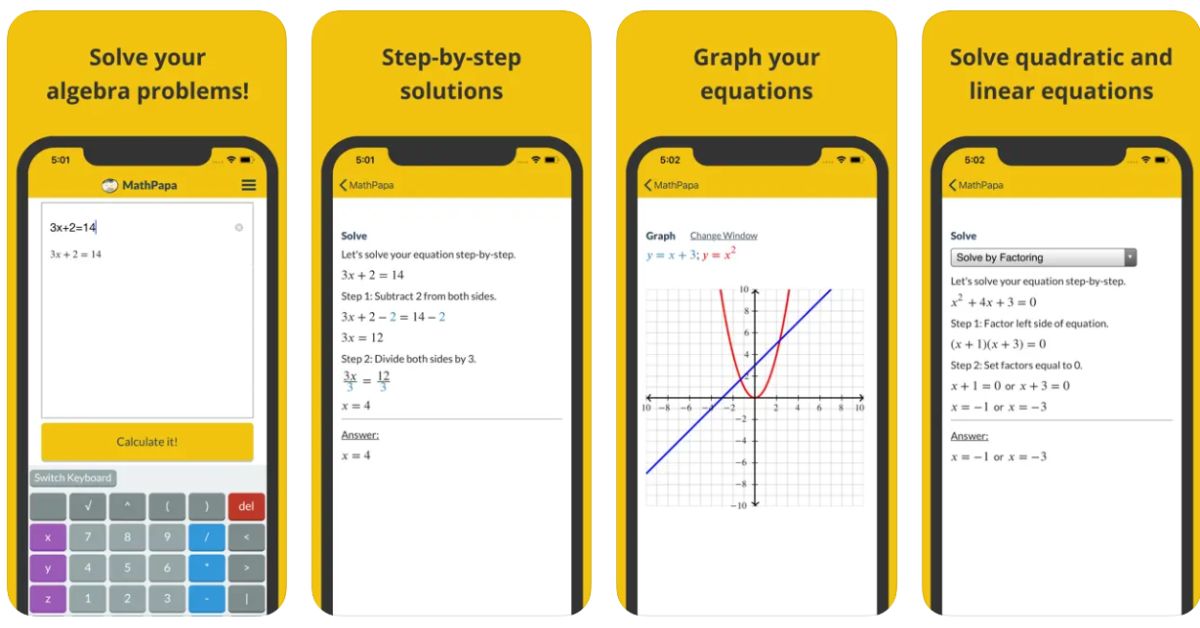 MathPapa is a great app like Mathway which is your private tutor to help you solve your maths query step by step.
The best part about MathPapa is the offline working feature which works without the internet and has a simple user interface to navigate, even the students will easily get access to the app without many options or confusing menus.
Key Highlights of MathPapa
The app is very simple and user-friendly.
MathPapa is free to use and download.
It works amazingly without the internet so no problem with the internet with students.
It has been noted that MathPapa solves systems by two equations.
It provides solutions for graph equations, and factor quadratic equations and also evaluates expressions.
The main motto of MathPapa is to make everyone learn algebra in an easy and step-by-step way.
To use a calculator, you just need to type your problem and get it solved.
Compatible Devices with MathPapa
Android Devices
IOS Devices
Web etc.
Pricing of MathPapa
MathPapa is available in a free version to use by students, parents, professors, or researchers.
Cymath
Cymath is an application that provides a solution to the math problems easily like Mathway. It is a great problem solver for mathematic questions and worksheets.
The app is used worldwide and can be easily downloaded from the Google Play Store and App Store. And as mentioned, Cymath is available on the website which you can plugin to your desktop for easy use.
Key Highlights of Cymath
The app is easy to install and use.
It provides the easiest solution to mathematical problems.
Cymath covers topics such as equation solving, factoring, logarithms, exponents, complex numbers, quadratic equations, trigonometry, partial fraction, etc.
It provides every solution step by step which makes it easy to understand.
Adding more, the app provides a solution for calculus such as chain rule, u-substitution, quotient rule, product rule, and many more.
You just need snap a photo for solving your query.
Has a maths keyboard so you can easily type in your query of mathematics.
You will easily get solutions for long addition, multiplication, etc.
Compatible Devices with Cymath
Android Devices
Web, etc.
Pricing of Cymath
Cymath has both premium and free versions to use.
For premium help with your queries, you can choose their Cymath Plus membership for $4.99 per month.
Photomath
Photomath has been quite a famous Mathway alternative. It is an easy application to get your mathematical queries solved easily.
Over 300 million users have downloaded the app, and it has both free and premium versions. In a free version, you can get basic solution steps and explanations whereas if you want advanced tools and advanced solutions then you should try the Photomath Plus.
Key Highlights of Photomath
Photomath is easier to navigate and use.
The app is used worldwide for getting easy solutions for maths.
You can easily get your homework and worksheets completed with PhotoMath.
With premium plans, you can get full access to library content of explanations for selected textbooks including word and geometric queries.
You will get access to multimedia learning where you can choose your way of understanding math with help of AI Animations and verbal explanations.
The step-by-step guidance is free for any maths query.
You will get instructions to solve word problems one by one.
PhotoMath promises to provide maths insight that shows how and why those particular steps are applied to solve maths problems.
Compatible Devices with Photomath
Android Devices
IOS Devices
Web, etc.
Pricing of Photomath
It has both versions- free and premium.
You can use it for free or subscribe to Photomath Plus which will cost you around $0.99-$299.99 per item.
Chegg Math Solver
Chegg Math Solver is a step-by-step solver for your mathematical and statistical calculations. It is one of the best apps like Mathway which supports an ad-free workspace and allows you to use graphical calculators with unlimited explanations for each step of solving your maths problem.
Chegg Math works by creating an account through email, Apple ID, Facebook ID, or Google account with a strong password. It is specially curated to help your out with homework related to mathematics.
Key Highlights of Chegg Math Solver
Chegg Math Solver helps you to find the answer to mathematical queries. '
It is free to download and can be used from the website or chrome itself.
You can install the app and subscribe to its membership plan for detailed answers.
The queries are solved for basic maths, functions, calculus, matrices, polynomials, and many more.
The app and website both offer a mathematical calculator to type in your query easily and get it solved.
With the free version of Chegg Maths Solver, you can easily solve 3 queries a day but with the paid plan, you can solve unlimited queries a day.
The paid plan of Chegg Math Solver includes a detailed explanation, an ad-free version of the web, graphing calculator, and also sub-steps explained.
Compatible Devices with Chegg Math Solver
Android Devices
IOS Devices
Web, etc.
Pricing of Chegg Math Solver
The Chegg Maths Solver costs you around $9.95 per month.
Chegg Not Working? Try these Steps to Fix! [2022]
Conclusion
Hence, here we come to the end of the articles which show the 7 best alternative apps like Mathway.
In conclusion, we have explained these 7 best apps in detail with their key highlights, compatibility of devices, and pricing to help you choose the best fit for a homework helper, especially in mathematics and statistics.
Photomath vs Mathway: Which is Better? [2022]
8 Useful Apps like Slader for Students [2022]
6 Best Apps Like Brainly for Students [2022]
FAQs
Is there an app like Mathway?
Yes. In this article, we have noted 7 best apps like Mathway to help you out with mathematics and solutions.  
Which is better Mathway or Photomath? 
Mathway always wins while comparing but Photomath is a great substitute to be used for apps like Mathway. 
What is the most accurate math app? 
To select one app out of the 7 best apps listed here is quite a difficult job but you can still choose one out of them to help you out with Mathematics.  
What is the best free math solver app? 
Besides Mathway, Photomath, Mathpapa and Wolfram alpha are the best free math solver apps.