8 Best Symbolab Alternatives [Free & Paid 2023]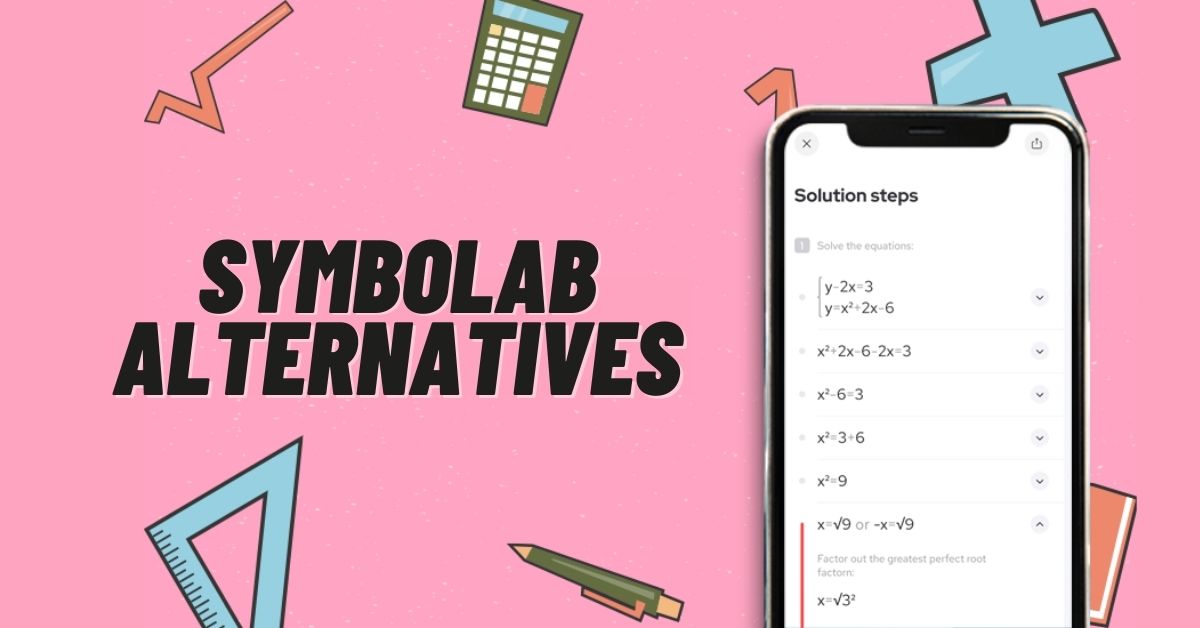 We may earn small commission from the products mentioned in this post.
Symbolab Alternatives: Maths is an important subject in academics. It's tricky yet interesting, and there are times when it gets really challenging when you're stuck at one step or can't find the right answer. For times like these, we have some promising pro math apps, like some good Symbolab alternatives.
Symbolab is a popular answer engine delivering detailed solutions to all types of math problems. It's an equation search engine and math solver where you can find problems for calculus, trigonometry, and algebra-like subjects.
Symbolab is a good platform for improving your math, but is it the only good site in the market? A big no to that! because there are even better Symbolab alternatives on the internet, and if you're interested to know these promising Symbolab alternatives, then continue reading this article!
List of Symbolab Alternatives:
1. Wolfram Alpha
Wolfram Alpha is a popular answer search engine. It provides you with answers to factual queries through computing information from outer sources.
Wolfram Alpha here provides you access to a huge collection of knowledge and its powerful computational knowledge engine. Likewise, if we were to compare Symbolab vs Wolfram feature-wise, then Wolfram would definitely win the game.
Additionally, in Wolfram Alpha, you'll be covering topics under subjects like mathematics, statistics, data analyses, physics, chemistry, engineering, materials, life sciences, units, measures, computational sciences, geography, dates, and many more.
Key Highlights
Low Pricing: Wolfram Alpha may not be free, but with just $2.99 you can unlock all its features, including basic and premium forever.
Important Topics Covered: Wolfram Alpha focuses on important topics like algebra, calculus, geometry, trigonometry, number theory, probability, mechanics, elements, reactions, and many more.
Options and Variety: Wolfram Alpha gives your variety in plots and results. It presents solutions from all the possible methods to help you know the easiest method to solve the problem.
2. Photomath
Photomath is a well-known mobile computer algebra program. It comes with powerful character recognition software, specifically designed to use a phone's camera to scan and quickly recognize math problems.
Photomath delivers answers and solutions for elementary, high school, and college students. It gives step-by-step guides for homework as well as textbook problems in detail.
In addition to that, it comes with a minimalist UI. After you've added the equation or your cell phone has scanned the problem, the software will display a step-by-step explanation, and an accurate answer to the problem.
Key Highlights
Basic and Advance: Photomath offers basic as well as detailed and advanced solutions for almost all types of math problems.
Fun learning: Photomath makes learning fun through its multimedia learning concept. It offers detailed AI animations along with oral explanations to help you clearly understand math in a suited way.
Multimedia: Photomath supports multimedia learning and so, along with step-by-step and oral explanations, it also offers an advanced scientific calculator, interactive graphs, multiple solutions, and video learning.
3. Mathway
Mathway is a problem solver, a software offering free math problem answers. It's dedicated to algebra, providing you with a good variety of homework questions along with step-by-step explanations of solutions.
Mathway is known as the world's most intelligent math calculator for algebra, while also focusing on calculus, graphic, and related subjects.
Moreover, Mathway is easy to use. Only after just pointing your phone camera toward the problem, taking a picture, or directly typing in the math question will give you a detailed answer right away.
Key Highlights
Covers all Levels: Mathway here covers nearly all levels of math including arithmetic, integers, fractions, roots, factors, decimal numbers, etc.
Specified Keyboard: Mathway has specific keywords for all the different subjects it offers, like chemistry keyboard, physics keyboard, graphics keyboard, pre-algebra keyboard, basic math keyboard, etc.
Offers options: Mathway has a huge database and knowledge, which lets it give you options and allows you to decide which method and formula you'd like to use to solve the equation.
4. Microsoft Math Solver
Microsoft Math Solver is a trusted math solver by Microsoft, providing you with free step-by-step explanations to a huge variety of equations from subjects like calculus, algebra, etc.
Microsoft Math Solver acts like an all-in-one app, containing a huge database that provides you with mathematical concepts from elementary arithmetic to advanced quadratic equations.
Also, Microsoft Math Solver works with a quick recognition program. Through this program, the app is quick to understand the problem and offer you all the required solutions for it.
Key Highlights
Fun learning: Microsoft Math Solver supports fun learning and so, it'll provide you with online video lectures, interactive graphs, and similar problem examples from the internet along with the main answers.
Math Subjects covered: Microsoft Math Solver covers important and basic topics from math subjects like pre-algebra, algebra, word problems, basic calculus, statistics, and elementary.
In-app paper: Microsoft Math Solver has an in-app paper, a place right below the question answer to help you try solving the problem directly on the device.
5. Cymath 
Cymath here is another trusted math problem solver program, helping you solve a good variety of math problems with detailed steps. It's famous for offering easy as well as advanced problems for practice.
Cymath uses a powerful math engine, letting you solve problems quickly and correctly. It's specially designed to help you complete your math homework, while also learning different methods and formulas to solve the same equation.
Cymath is a good choice when you are serious about your math career and want to continuously practice a variety of problems. It offers most of its services for free, but even if you wish to go premium, then the in-app purchases start from only $3.99.
Key Highlights
Important topics covered: Cymath covers important topics like complex numbers, trigonometry, etc from algebra, and product rule, chain rule, etc from calculus.
Type in or Snap: Cymath works in both ways, you can either type in your equation, or take a picture and focus on the required equation to get the solution.
Explanation guide: Cymath provides an explanation guide with every step in the solution. Like, it'll add explanations like simplify, multiply, add, subtract, etc whenever required.
6. Khan Academy 
Khan Academy is a 100% free non-profit educational organization, offering free courses, lessons, and practices for important subjects like physics, chemistry, math, etc.
Khan Academy doesn't only focus on basic and advanced math equations but offers teaching for a fair sort of subjects like finance, history, chemistry, biology, economics, computer programming, physics, etc.
Khan Academy is free for everyone, whether you are a teacher, a student, a homeschooler, or anyone else seeking knowledge. With Khan Academy's personalized library and powerful learning tools, it's unlikely you'll find anything hard to grasp.
Key Highlights
Development: Khan Academy has many ways to sharpen your skills and help you develop gradually. For that, it submits a big variety of quizzes, tests, and practice exercises with quick feedback and detailed hints.
Offline learning: although Khan Academy works online, it still offers offline usage of its app, where you can bookmark and download video lectures.
Altered learning: Khan Academy keeps a track of your progress and development to recommend skills and videos to try out.
7. Rocket Math
Rocket Math is a newly launched supplemental learning software teaching students basic math concepts like addition, subtraction, division, multiplication, and fractions.
Rocket Math specializes in mastering learning concepts that work best for all grades between 1 to 12. Its app is advanced and offers an assortment of freshly invented math facts and problem solutions.
Apart from all that, since Rocket Math is directed toward kids, it happens to have an interesting and fun-filled UI to motivate your kids to learn and solve more problems.
Key Highlights
Solve through games: Rocket Math uses gaming concepts to enlighten the kid's moods and further motivate them to answer correctly to win the level.
Test Games: Rocket Math uses games for tests too and since the kid will be playing games, it'll automatically motivate them to win the level while learning a new topic in math.
8. Socratic 
Socratic is an educational tech label offering students robust AI technology software to help them with their homework. The platform mainly delivers resources like definitions, videos, Q&A, etc.
Socratic gives you explanations on important topics and different subjects, of course, including math. It has received an excellent response from the users for helping you understand your school-level homework at the high school and college levels.
Talking about it's working, you can ask it pretty much anything and it'll search for trusted online sources for you. Additionally, it supports the majority of the high school subjects.
Key Highlights
Multimedia content: Socratic prefers multimedia content over only text explanations and solutions. Therefore, it has videos and more types of content to help you grasp the concept thoroughly.
Expert-curated: Socratic has affiliated with multiple expert teachers and professors to get you video visual explanations in every subject it offers. It only has expert-curated content covered on its platform.
Convenient: Socratic offers tools like voice and camera search through which you can connect to online sources by telling the question in the microphone or clicking a picture of the question.
Final Words
The above-mentioned list contains some of the best Symbolab alternatives out there.
Indeed, you can find more, but, if you want to manage the price, and want the platform to come in handy, with enough features and tools to solve at least the majority of math problems, then the above-mentioned Symbolab alternatives are promising choices.
With this, we have come to an end and hope you now know which Symbolab alternatives are better for you.
Frequently Asked Questions
What is better than Symbolab?
Apps like Wolfram Alpha and Khan Academy are better than Symbolab for detailed explanations, more tools and features, and free content respectively.
Is Symbolab free for students?
Symbolab solves all types of problems for free, whether you are a student or a teacher, but only in its free version.
Try Alternatives-