8 Dating Apps like Badoo for iOS & Android [2023]
We may earn small commission from the products mentioned in this post.
Apps like Badoo: Finding a spouse has never been easy, and the challenges created by COVID-19 have made it even more challenging. Even if you do not go out as often as you used to, online dating services and mobile dating apps can assist you in making contacts that might lead to a long-term relationship (or even just a fun fling!). Yes, the internet is an incredible resource.
Badoo is a fun dating app where you can speak with and meet new people. The software is free to download and free to use. It is presently available for Android and ios devices. Additional features are available through in-app purchases and an optional subscription.
Badoo has profiles that have been verified. This ensures that the individuals you are chatting with are who they claim to be. The technology makes it simple to locate singles in your neighborhood. By swiping right or left, you may swiftly scroll through profiles. You may view and communicate directly with other users using a video-chat system.
Over 100 million individuals use Badoo right now. With such a large user base, you are certain to meet some intriguing folks. Badoo is only 155.3 MB on ios devices and 56 MB on Android smartphones. Users must be at least 17 years old to use this software.
If Badoo is not assisting you in finding the relationship of your dreams, there are apps like Badoo that utilize more stringent screening methods to ensure that users only communicate with individuals who are judged suitable with them. Others allow people to interact and chat instantaneously.
Here's a list of the best dating apps like Badoo out there. So, what are you waiting for? Sign up for one of these popular dating sites or Badoo alternatives, start chatting, and improve your chances of meeting your perfect match.
Tinder
What is Tinder, exactly?
If you want to meet new people, expand your social network, meet locals while traveling, or simply live in the moment, you have come to the right place. Tinder is one of the most popular app amongst the best apps like Badoo.
How does it work?
There are choices for matchmaking, talking, and dating. Tinder is a fun and easy-to-use dating app where you swipe right to like someone and left to pass. If someone likes you back, it is a match! The double opt-in approach was created to ensure that two people are only matched if they have similar interests. Simply swipe through the profiles you like, communicate with your matches online, and then take a break from your phone to meet up in person and begin a new relationship.
Features
Upgrade to Tinder Plus for premium features such as unlimited likes, allowing you to use the Swipe Right feature to your heart's content; Passport, which allows you to chat with singles from all over the world; Rewind, which allows you to give someone a second chance; one free Boost per month, which allows you to be the top profile in your area for 30 minutes; and additional Super Likes, which help you stand out from the crowd.
You can also upgrade to Tinder Gold for a premium dating app experience, which includes features such as Passport, Rewind, unlimited likes, five Super Likes per day, one Boost per month, and additional profile settings. But hold on, there is more. You can check who likes you and save time and effort by using their Likes You feature. Consider it your Tinder personal assistant, available 24 hours a day, 7 days a week to deliver all of your pending matches.
Bumble
What exactly is Bumble?
Bumble is another app like Badoo which is also the first app that functions in the same way as hinge does. Bumble is a free dating app and social media platform that connects you with actual people. This is the place to be if you want to make vital contacts, meet new people, or expand your professional network.
How does it work?
Bumble is a free dating app that is based on the values of respect, equality, and inclusion. What makes it unique is that women are always the ones who initiate contact.
– Women have 24 hours to begin a discussion and males have 24 hours to respond in heterosexual pairings. – In other games, each party gets 24 hours to start a conversation.
– Bumble provides three distinct options for you to choose from: Date, BFF, and Bizz.
Features
You could discover a great date or make a new best friend using their free services:
– Unlimited Swipe: Swipe left and right as many times as you would want to meet the proper people.
– Unrestricted conversation to help you find the best matches
– Use Video Chat to learn more about your matches.
– Connect your Spotify and Instagram accounts to talk to potential dates and friends about your interests.
Bumble vs Match: The Ultimate Guide [2022]
Top 8 Apps like Bumble to Fulfill Your All Needs! [2022]
Hinge
What exactly is Hinge?
Although Hinge caters to a younger clientele, you may be looking for a more mature dating pool. You can be looking for a dating pool of people who have reached similar levels of success to you. In this piece, we will go over the advantages of various apps like Hinge. You can find anything that piques your interest, from really exclusive dating sites to simple dating apps which are Badoo alternatives.
How does it work?
'It is where relationships start,' Hinge claims. They will help you meet someone the old-fashioned way: through your pals. Hinge gets rid of the mess, creeps, and games. It is a Dating App in the Social & Communications category, so you can stop swiping strangers and start dating someone real.
Features
The Hinge dating app is not expensive. You can get unlimited likes, a grid view of everyone who liked you, and more with it.
Every day, Hinge sends a rose to one individual.
Filters for advanced preferences.
6 Similar Apps like Hinge to Check Out [2022]
Yubo
What exactly is Yubo?
Yubo is a free online chat room just another app like Badoo where you can meet new people. You can choose whether you want to talk to new friends or add your closest friends to the app. It is your platform to be yourself! You may quickly make friends on Yubo, whether they are from your local neighborhood or from all across the world, and go social in no time with live chat, all for free! They also have a subscription package available (Power Pack).
How does it work?
While live streaming, app users swipe to accept or refuse to talk to someone based on their profile image or adding friends.
When a person receives a 'like' from someone they like on Yubo, the two become friends.
Users can control how much of their location is shared with other users across the world by changing their settings to "My country first," "All around the world," or "My country exclusively."
Features
YOUTUBE STREAM: Have even more fun with your pals by watching and listening to all of your favorite youtube videos. You may now watch and share music videos, vlogger content, gaming content, and even DIY videos.
LENSES: Thanks to a collaboration with Snapchat, they can now offer you Lenses! To try out the new filters, turn on your camera and video chat. Share your new appearance with your friends or use it in a live stream! Friendship is made a little more enjoyable with the addition of lenses.
STREAM: We specialize in streaming! You may start a live video chat with up to ten pals here, and you can even invite new people to join you. Interact, sing, dance, speak about your day, send messages to the people you care about, and play party games with your friends.
USE THE CHAT FEATURE TO SAY HELLO TO NEW PEOPLE AND RECONNECT WITH EXISTING PEOPLE. You can talk directly with the individuals you have added to the live feeds.
SWIPE: This feature allows you to find like-minded people in your area or from around the world. To see if they have similar interests, look at their Tags. If that is the case, go live and strike up a discussion!
LOOK FOR A COMMUNITY: What interests you the most: art, games, theatre, beauty, yoga, sports, music, dance, travel, manga, movie, or LGBTQ+ issues? Yubo makes it easy to find and connect with online friends and communities of all kinds, so you can concentrate on making new acquaintances.
PLAY: They had a lot of fun with their game. To Be Honest, they were guessing pictures in their difficult drawing quiz, Would You Rather and Let Them Guess? Communities come together to converse, chat, and hang out in games.
SHARE: Earn points by inviting friends to join Yubo via Snapchat and other social media platforms. Everyone is welcome since they are a community that values variety. Sharing is a form of caring.
14 Best Apps Like Yubo to Make Friends [2022]
Match
What exactly is Match?
At Match a similar app to Badoo, being honest trumps acting it cool. It is critical to always be aware of who you are and what you want. And refusing to settle for anything less is not always a bad thing. Some may think it is finicky, but Match believes it empowers you.
From matching to in-person encounters, their software, which is backed by 25 years of experience and real-life dating gurus, allows you to date like an adult.
How does it work?
Meet new people in your area and make the most of Match's dating app. Now all you have to do is build your profile and tell others about your passions. If all goes well, the next step is to chat and then meet.
Features
Match has its own distinct set of qualities, including the following:
To get to know someone better, take a break from texting and use video chat instead. You can utilize in-app video chat to communicate and see each other life before exchanging numbers or meeting in person.
Personalized search: Be as specific as possible while looking for singles so you never have to compromise in a relationship.
Starters for a conversation: Our dating app includes a variety of tools to help you start a conversation, from popular subjects to simple ice breakers.
With virtual and in-person events, you can go beyond likes and messages. In a comfortable, stress-free setting, face-to-face flirting with neighboring singles.
Their dating experts can assist you with everything from perfecting your profile to nailing the first date.
Top 10 Apps like Match to Check out [2022]
Happn
What exactly is Happn?
With over 100 million users, happn is another alternative Badoo dating app that allows you to find everyone you have ever met; the people fate has chosen for you to meet. Like the profiles that pique your interest, create a crush, and most essential, meet up!
How does it work?
A happn user's profile appears on your app when you cross paths with them. Have you come across someone intriguing? In secret, it is like their profile. Happn guarantees that they will not know anything about you unless they find you interesting as well. Do you want to be noticed? Send them a note in the form of a flash note. This allows you to send a message before Crushing. It is a Crush if they Like you back! You may now chat or make a video call with your friends.
Features
The happn app is built on the reciprocity principle, which means you will never get a message from someone you are not interested in.
Your location is never available to other members on happn; only the areas you have crossed paths with them are disclosed. Your geolocation will be active at all times so that happn can show you who you have crossed paths with.
The happn app is available for download and usage for free.
You can upgrade to Premium if you want more benefits. That offers you access to a list of people who have Liked you, as well as a plethora of flash notes with which to contact your favorite people and get recognized.
Meetup
What exactly is Meetup?
Find out what you enjoy doing and who you can do it with, both online and in person. Meetup, one amongst the apps like Badoo has more than 50 million members, can help you build a professional network, find a tech community, develop a personal brand, and explore your passions. Download the Meetup app and host your events or join one of the 100,000 Meetup events happening every week.
How does it work?
Discover local and online events
• Get matched with over 330,000 groups based on your interests, from tech conferences to free yoga and everything in-between
• Browse events by category, search by keyword, or see what is trending in your neighborhood.
• Save events that interest you and come back to them later.
• Keep in touch with the people you meet by having conversations and using direct messaging.
• Create a group on your favorite topic and host your events both online and in person.
• As your group is recommended to interested people, watch your community grow.
• Manage your group from anywhere and personalize and schedule events on the fly.
• Keep the momentum going between events by sharing photos and using discussions and messaging to connect with the people in your group
Features
After connecting with local groups, you can catch up with the group members and try new things. The following are the most striking features of the Meetup app that helps it stand out among its competitors:
Explore Your Interest
With this app, you get all the flexibility to explore local events and groups. There is a setting that shows events based on your preferences. You will find a variety of groups, ranging from book clubs to free yoga.
Look for Intended Groups
You can also look for events and groups by searching for keywords, categories, or seeing what is trending in your area.
Never Miss a Special Event
Not every event will be thrilling. Thus you get an option to save events in which you're interested and revisit them later at a time when you are comfortable attending them.
Stay Connected
To communicate with the other members of the group, you do not need to use a separate messaging app. Once you have met someone, you may utilize the chat and message features to keep in touch.
Preferences based on location
You may effortlessly swap between venues if you go from one to another, and you will be matched with the closest groups to find fantastic experiences.
Form a Group
The app is not just for joining groups; it also allows you to create your events by forming a group. The group is then recommended to people who might be interested in the topics on your agenda.
Skout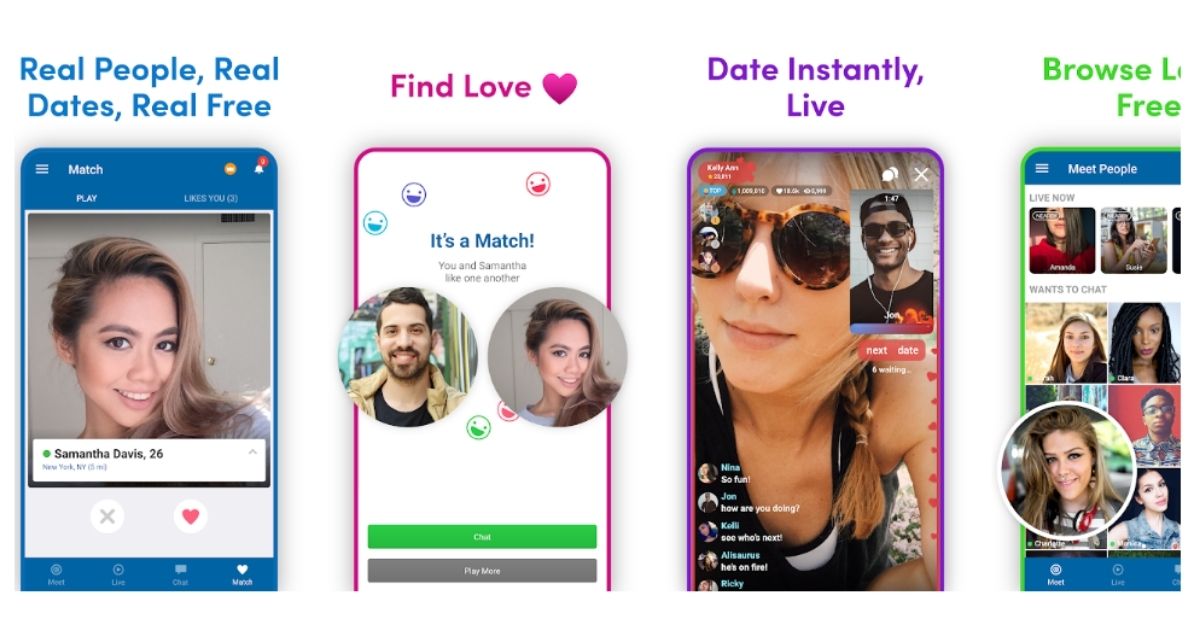 What exactly is skout?
Instantly connect with people in your area or all across the world! In Live, you can see who is broadcasting. Feel the love by broadcasting yourself! Make new acquaintances in your neighborhood or around the world.
Skout connects and brings together millions of individuals every day. Increase your chances of friending or conversing by utilizing fascinating in-app features!
Skouting allows you to make new acquaintances or meet new people at any time and in any location.
How does it work?
Skout bills itself as the largest app for meeting new people in the world amongst the group of Badoo alternatives.
It uses your phone's GPS to connect you with individuals in your area, allowing you to talk with strangers, send virtual presents, and share images if you are above the age of 18.
When you are close to another person, you can look at their profile before deciding whether or not to contact them.
Skout, on the other hand, offers a variety of additional options to meet new individuals.
The app includes a feature dubbed "shake to chat," which connects you with a random individual nearby.
When you shake your phone, the app connects you with someone else who is also shaking.
Features
Meet individuals based on their interests and proximity, communicate with them, broadcast yourself, and watch their streams.
Check to see who has checked you out.
Get notifications from users in your area.
Favorite users can be saved.
Look through the profiles and photos.
In-app features can help you promote your profile.
7 Dating Apps like Skout to Check Out [2022]
Final Words
If Badoo was not for you, there are now a plethora of other options to choose from. All of these dating services and apps that are Badoo alternatives are fantastic for forming a long-term relationship with the person of your dreams. Online dating has shown to be successful for many people. It is up to you now to take command of the situation and find your true love. Now it is time to get out there and start online dating and chose which suits you best among these apps like Badoo.
7 Best Dating Apps like Feeld & Feeld Alternatives [2023]
Tabby Dating App Review: Cost, Safe, Is it Legit? [2023]
Faqs
Is there a better app than Badoo?
Meowchat, is a free Badoo alternative, is the best option. Alovoa (Free, Open Source), Tinder (Freemium), Facechat (Free), and Chatous are all wonderful alternatives to Badoo (Freemium).
Badoo owns which dating apps?
Badoo, the main owner of the dating app Bumble, is looking for a buyer for the company, which could fetch $1.5 billion.
Is there a link between Bumble and Badoo?
Badoo, one of the most popular dating applications in Latin America and Europe, is also owned by Bumble. Andrey Andreev, the founder of Badoo, invited Wolfe Herd to join him in creating Bumble. Andreev owned 79 percent of Bumble, and the two firms shared back-end technology.
Is the Badoo app secure?
For your phone or other mobile devices, the program is safe and secure. Users can only interact with verified accounts on Badoo. Before you receive explicit photographs, they are automatically recognized and blurred. Before users open mails containing such photos, they will receive a warning.
How much does Badoo set you back?
Badoo is completely free to download and use. However, it does have in-app purchases. Premium services come with a monthly subscription cost.