6 Similar Apps like Hinge to Check Out [2023]
We may earn small commission from the products mentioned in this post.
Hinge is a dating app that caters to a younger demographic, but you may be seeking a more mature dating pool. You can be seeking a dating pool of people who have achieved comparable levels of achievement as you.
We will go through the benefits of different apps like Hinge in this post. You could find anything that piques your interest, ranging from very exclusive to simple dating applications.
What exactly is Hinge?
'It is where relationships begin,' says Hinge. They will assist you in meeting someone the traditional way: through your friends. Hinge eliminates the clutter, creeps, and games. It is described as a Dating App in the Social & Communications category, so you can stop swiping strangers and find something true.
Why not Hinge?
However, the Hinge has its own set of drawbacks, one of which is that unless you upgrade to full membership, you can only engage with your daily suggested matches. Free users are limited to 10 "likes" each day, and that is only if all six photographs are uploaded.
You cannot send "likes" if your profile is "incomplete," according to the app. Also, free users only get 10 matches each day, which might be irritating if you do not discover one you are interested in. Gender, age, location, ethnicity, and religion are the only "free" filter choices available to you. You must first complete your profile to have access to them. Additionally, persons you previously ignored may reappear in your feed if you so want.
There are several apps like Hinge available for iPhone, Android, Online / Web-based, iPad, and Android Tablet. OkCupid, Tinder, Feeld, and Facechat are some more fantastic dating applications like Hinge. We are going to go through a few of them with you to see if we can help you with your dating life.
Bumble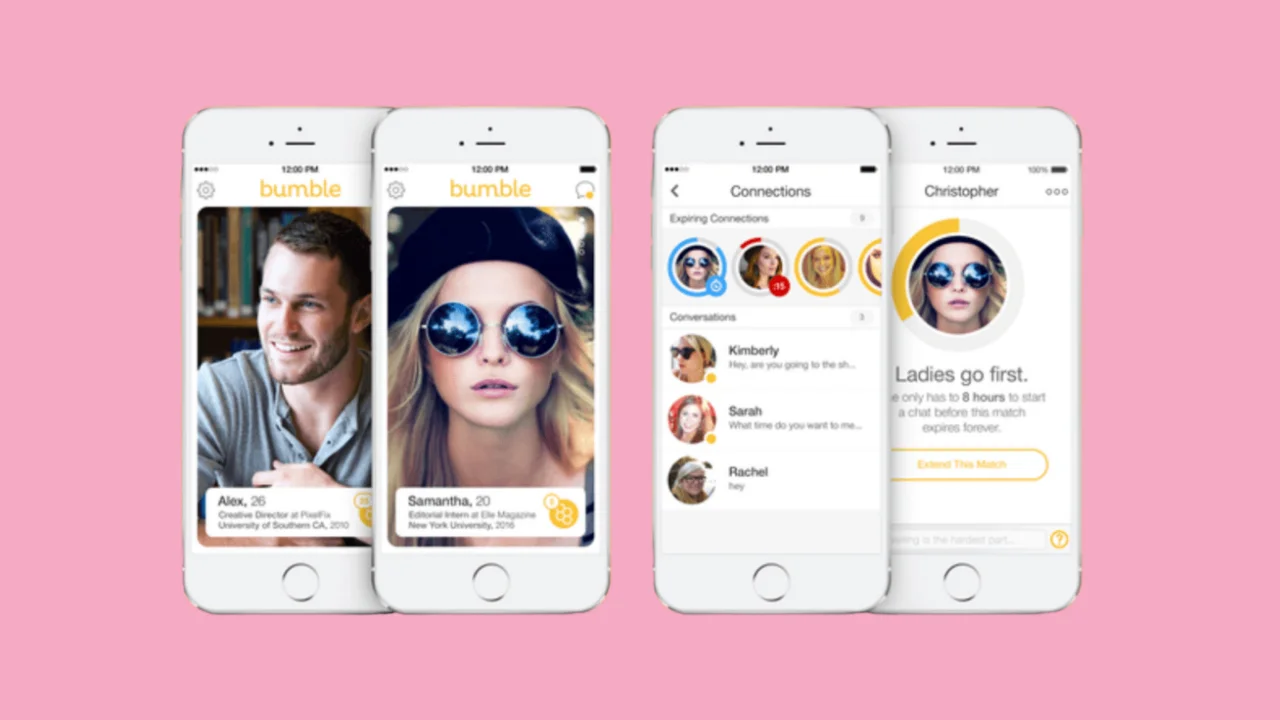 Bumble is the first app that works similarly to Hinge. Bumble is a free dating app and social network that helps you meet real people.
Whether you are trying to create important connections, speak with new people, or develop your professional network, here is the place to be.
How does it work?
Bumble is a free dating app built on the principles of respect, equality, and inclusiveness. What sets it apart is that women are always the ones who make the initial move.
In heterosexual matches, women have 24 hours to initiate a conversation and males have 24 hours to reply. – In other matches, any party has 24 hours to initiate a chat.
Bumble has three different settings to fit your needs: Date, BFF, and Bizz.
Features
With their free services, you may find a terrific date or speak with your new best friend:
Unlimited Swipe: Swipe left and right as much as you want to meet the appropriate folks.
Unrestricted conversation to help you find the best matches
Use Video Chat to get to know your matches better. – Link your Spotify and Instagram accounts to discuss your hobbies with possible dates and friends.
Top 8 Apps like Bumble to Fulfill Your All Needs! [2022]
Bumble vs Match: The Ultimate Guide [2022]
Tinder
Tinder is the most popular app for meeting new people in the world, with 30 billion matches to date. Consider them your most trusty wingman; they will accompany you everywhere you go.
You have arrived at the perfect location whether you are looking to meet new people, develop your social network, meet locals while traveling, or simply live in the moment.
How does it work?
Matchmaking, chatting, and dating are all options. Tinder is a simple and enjoyable matching software in which you swipe right to like someone and swipe left to pass. It is a match if someone likes you back!
They devised the double opt-in system to ensure that two persons are only matched if they share the same interests.
Simply swipe through the profiles you are interested in, speak online with your matches, and then take a break from your phone to meet up in person and start a new relationship.
Features
Tinder is more than a dating app; it is the world's largest and sexiest singles community. Now is the time to meet individuals in your area and discover your perfect match.
Upgrade to Tinder Plus for premium features such as unlimited likes, allowing you to use the Swipe Right feature to your heart's content.
Passport, which allows you to chat with singles from all over the world; Rewind, which allows you to give someone a second chance
One free Boost per month, which allows you to be the top profile in your area for 30 minutes; and additional Super Likes, which help you stand out from the crowd.
You can also upgrade to Tinder Gold for a premium dating app experience, which includes features such as Passport, Rewind, unlimited likes, five Super Likes per day, one Boost per month, and additional profile settings.
But wait, there is more. With their Likes You function; you can check who likes you and save time and search time.
Consider it your Tinder concierge, accessible 24 hours a day, 7 days a week, delivering you all of your pending matches.
Top 8 Apps like Bumble to Fulfill Your All Needs! [2022]
OkCupid
OkCupid makes online dating more personal and enjoyable. Amazing connections lead to romance and great dates, which is why OkCupid goes beyond a photo to show off who you are. Because you deserve it, match and find love based on what makes you, well, you.
OkCupid is a dating software that displays your personality and interests so that others can see what you are passionate about. Match and meet up based on your common interests and deal breakers, so you can focus on what is important.
How does it work?
OkCupid's one-of-a-kind questionnaire assists us in matching you with folks with whom we believe you will have a genuine connection.
Discover the Indian dating scene online and date for romance or to meet new people. Through their one-of-a-kind live chat messaging system, you may match, talk, or have a meaningful conversation about the connections and relationships you are interested in while ignoring the ones you are not.
Features
OkCupid is another app like Hinge. Its features are-
Flirt and converse using their one-of-a-kind messaging system
Find and connect with someone with whom you are compatible.
Local dating tools assist you in meeting individuals in your area.
Use online chat to meet new people and arrange a date.
Meet local individuals who share your interests and hobbies.
Local dating with companions that are exactly what you are looking for Plan a date night with your match
Decide if you are straight, homosexual, or somewhere in between when it comes to dating.
OkCupid is completely free to download and use, but they do offer a premium subscription that gives you access to additional features.
Find out who likes you without having to first like them.
Use sophisticated filters and other options to refine your search.
OkCupid is ad-free.
eHarmony
Let eHarmony help you discover true love this winter season when it comes to dating. It is one of the finest when it comes to hunting for applications like hinge since it has over 20 years of expertise.
We are ready for you if you are looking for your next relationship based on compatibility and connection.
How does it work?
Compatibility is important when it comes to love. That is why the Compatibility Matching System was built to ensure that each of your matches is based on attributes that are significant to you. Their dating site and app make it simple to discover love.
Features
Let us meet new individuals and connect with our matches! Experiment with their communication options.
BREAK THE ICE: Go beyond an introductory "hello" and use one of their Icebreaker quizzes to create an impact. It is an easy approach to start a conversation about online dating.
CHAT NOW, DATE LATER: Use texting to get to know your match. It is simple to stay up all night chatting. You may always send them a grin to show your interest.
GO ON A DATE ANYTIME, ANYWHERE: Our safe in-app Video Date allows you to date from the comfort of your own home.
Match
Being genuine beats playing it cool at Match, a similar app to Hinge. It is always important to know who you are and what you desire. And refusing to accept anything less is not always a negative thing. Some may call it fussy, but Match believes it gives you more power.
Their software, which is backed by 25 years of expertise and real-life dating gurus, allows you to date like an adult – from matching to in-person meetings.
How does it work?
Meet local people and get the most of Match's dating app. All you have to do now is create your profile and let others know what interests you. The next step is to chat and then meet, assuming everything goes smoothly.
Features
Match has its unique set of characteristics, which include the following:
Take a break from texting and use video chat to get to know someone better. Before exchanging numbers or meeting in person, you may use in-app video chat to converse and see one other live.
Personalized search: When looking for singles, be as exact as possible so you never have to compromise when it comes to a relationship.
Starters for a discussion: Our dating app provides additional methods to inspire meaningful communications, from popular themes to simple ice breakers.
Go beyond likes and messages with virtual and in-person events. Face-to-face flirting with nearby singles in a safe, stress-free environment.
Their team of dating professionals can help you with anything from polishing your profile to nailing the first date.
Top 10 Apps like Match to Check out [2022]
Coffee Meets Bagel
Are you tired of swiping? Coffee Meets Bagel — a dating app for busy relationship-seekers – is one answer. Unlike ghosting dating apps, they recommend your most matched matches every day.
As a result, there will be less swiping and more matching, conversation, and *real* dating.
How does it work?
How would they assist you in meeting your individual in person? Here's how to do it.
Matchmaking That Is Personalized
They send you a batch of your finest possible matches every day at noon for free. And, because they are always learning more about your personality type, their recommendations will only improve.
Community On the Lookout For Relationship
Are you tired of dating games and dead ends? Over 90% of Coffee Meets Bagel Daters polled claimed they are searching for something more serious, so you are not alone.
Profiles in Detail
Do they have a cigarette? What about the children? What is their preferred method of communication?
Coffee Meets Bagel profiles reveal more of what counts in a match, allowing you to get a feel of their personality and determine whether or not they are fit straight away.
Meeting Chats Made in USA
The small conversation is good for you, but the genuine connection develops when you meet someone face to face. The fact that they have a seven-day conversation limit discourages ghosting and encourages real dates, whether virtual or in person.
Features
Although Coffee Meets Bagel is a free dating app, you may upgrade to Premium to have access to more features. Premium Members also get up to 2x the number of dates. Although premium features are subject to change, here are a couple that you might like:
Complete control over your Likes You can see all of your likes at once and match them up right now.
Read Receipts: Check to see if your communications have been received, so you are never in the dark.
Activity Reports: Unlock profiles' activity reports, such as if they have been active recently.
6,000 pounds of beans each month: Beans may be used for unique features like Discover Likes and Boost.
Final Words:
Finally, there are several applications similar to Hinge. There are dating apps for certain hobbies and groups of individuals, allowing you to locate exactly the person you want.
The idea is the same whether you want to see whether you have what it takes to be admitted into the elite apps or simply want to take your time seeking the love of your life. All of these applications and websites are dedicated to helping you discover the long-term and stable relationship you have been seeking, without the distractions of hookup culture and phony profiles.
If Hinge was not for you, you now have a plethora of other alternatives to pick from. All of these hinge dating sites and app options are excellent for establishing a long-term connection with the person of your dreams.
Many people have found success with online dating. It is now up to you to take control of the situation and discover your love. Now get out there and start dating on the internet!
FAQs
Is Hinge a dating or hookup app?
Hinge is a dating app that connects you with people you have met through social media friends.
Is Bumble a better alternative than Hinge?
Hinge has better prompts and allows men to send the first message first, which is more advantageous if they are good at writing and do not want to rely solely on their photos.
Bumble is slightly more superficial and has Incognito mode, which women like for privacy as well as men who like to use it to cheat on their partners.
Which dating app is best for serious relationships?
The Best Long-Term Relationship Dating Apps
1. Match.com
2. EHarmony
3. OkCupid
4. Plenty Of Fish
5. Zoosk
6. Elitesingles
6 Apps like Wizz/ Wizz Alternatives to Check out [2022]
Stir App Review: Features, Plans, Legit? [2022]
5 Apps like Noteit Widget for Couples [Android & iOS]