Orbitz vs Expedia: Which is Right For You? [2023]
We may earn small commission from the products mentioned in this post.
Orbitz vs Expedia – We know it is a lot of hustle when you have to go through all the travel agents' websites online to search for the best one. On top of that, booking a flight from one website, a hotel from another and renting a car from another, sounds hectic as it is.
At times like these – Expedia and Orbitz are the two leading travel service providers that come to mind, but which one is the best? Which one will be more beneficial? 
To help you know everything, we have got you an Expedia vs Orbitz comparison in this article. 
Orbitz vs Expedia: Overview
Orbitz
Orbitz is a fare aggregator website for the travel industry which acts as a meta-search engine for travel and tourism purposes. It is under the ownership of Orbitz Worldwide, Inc which is a subsidiary of the Expedia group of companies.
Orbitz is one of the leading travel services providers if we were talking about local tourism. It has a good set of competitors like Tripadvisor, Kayak, Lonely Planet, Priceline, and booking.com.
Nothing seems expensive when it comes to Orbitz and vacation planning. So, it is the ideal destination for several users when they want to plan a vacation by staying within their budget.
Not only for family holidays but you can also use it for planning a professional trip with your boss or colleagues. Want to have an informal trip with your clients? Book 4 or 5-star rated hotels, book 1st class flights, and luxury cars too: everything to impress and get the deal.
Moreover, it has multiple promotions and deals dropping every day. Thus, there are rare chances you'll visit them without meeting a discount offer or promotion. 
Expedia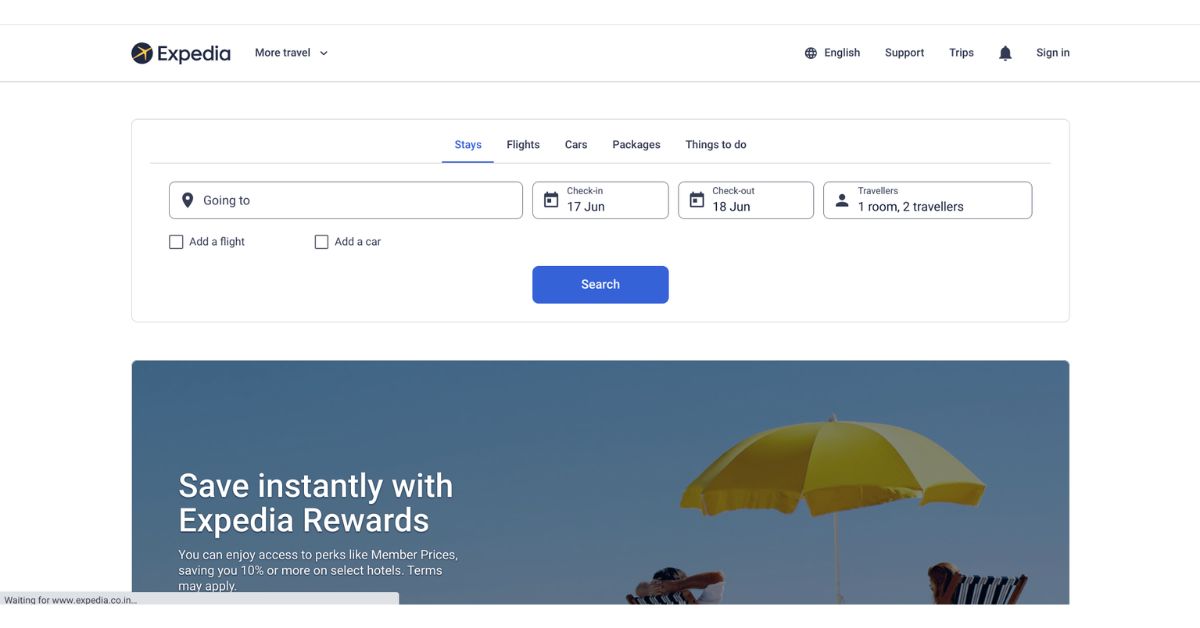 Expedia is a third-party travel agent acting as one of the leading travel booking service providers in the world. When compared with other travel agent websites, the highlight of using Expedia for vacation or business trips is that it has cheap bookings and more options.
Expedia is affiliated with a good number of companies across the world. The affiliation automatically benefits the users in the name of discounts and deals. So, Expedia is the best destination to plan a trip with its multiple benefits and services.
Initially, Expedia was just a flight booking service provider. In recent years, it developed very much into a full-fledged portal for vacation planning or business trip planning. It has updated useful tools to make planning and looking for the best deals online easier for customers.
Let it be the economy seats on flights, hotels in the city areas, or car rental companies that ask for less deposit, expedia.com here has everything you need for your vacation. Furthermore, it gives you several options to choose from and the quality of the services has to be up to the mark. 
Orbitz vs Expedia: Working
Orbitz
Orbitz is one of those travel agent websites where you don't have to follow complicated processes to book and plan your trip. You can do the booking with ease and follow a few simple steps and develop a thorough understanding before you go for final confirmation.
Start your planning by visiting the website and looking around for a minute or two. In the center, you'll see a white box with different options such as stays, flights, cars, packages, things to do, and cruises.
The blanks in the white box will change as you tap on different options from the above. For instance, if you are trying to look for a hotel booking, tap on the 'Stays' option and there will be 4 blanks and 2 additional options included.
The first blind will ask you where you are heading to. The next blank and the third blank will ask you when you will check in and check out, respectively. The last blank will ask you how many people are going to arrive at the hotel.
The additional options will be if you would like to add a flight to this booking and a car for traveling in the new place. After you finish this box, it'll show you the best deals available. 
Expedia
Similar to Orbitz, As soon as you enter expedia.com, you will see a big white box with different options at the top. Remember that booking at Expedia was never a complicated task. 
With the help of its guidance, you can take 30 minutes or an hour to decide on everything for the trip but you will barely require 10 minutes to book everything. However, if you get stuck at any point, the customer support team of expedia.com is always in active to help.
To start your planning, select an option from the list including stage, flights, cars, packages, things to do, and cruises. The blanks in the box will be exchanged with other information as you select different options from the top line. 
The options here will be almost similar to that of Orbitz, as both the brands are somehow related by origin.
Once you tap on the search button in blue, it'll gather the best deals available and help you look through them by giving reliable data. 
Orbitz vs Expedia: Bookings
Orbitz
Flight Booking – The first step is to mention if the trip is a round trip, one-way trip, or multi-city trip so that you will be presented with the flight deals accordingly.
Next, mention how many people are going to travel and which seat you are looking for on the flight. For example economy seats, premium economy seats, business class seats, or first-class seats.
Then, mention from where you will be taking the leave and which place you would like to welcome. After that, mention the date of departure and the date of return in the next blank.
The additional filter options will ask you if you would like to add a hotel available according to the flight and the same with the rental car.
Hotel Booking – start by adding the place where you are going. Then add the check-in and check-out date and the number of people going.
The additional filters will ask you if you would like a flight and a rented car in the new place and if you would like to get data about them alongside.
Once you are done filling in the blanks and adding filters, tap on the red button that says 'Search' and it will show you all the available options according to your preferences.
Expedia
Flight Booking – On the website, select the option that says flight to get the blanks updated in the white box. To start with, you will have to select an option from the first three options mentioned and let them know if it is a round-trip, one-way trip, or multi-city trip.
The next step involves choosing the number of travelers and then it'll present you with the type of seat you are seeking on the flight. The options will be economy, premium economy, business class, and first class.
Then mention where you will depart and where you are heading, and add the date of departure & return. Lastly, after you tap on the search button in blue, it'll then gather all the details available with the builders and the information you have added.
Hotel Booking – The first part of this process is to add in the number of travelers and add the place you are going to. Then, add the date of check-in and the date of checkout.
In the end, you will see two filters which are additional filters and or not required to be taken yes compulsorily.
The first option should be ticked yes if you would like to add a flight and get information about it along with the information about hotels. The next filter is for rental cars, you will get the list of available rental cars in the area on that date and time.
Orbitz vs Expedia: Highlights
Orbitz
Vacation packages are nothing but bundle bookings which saves you a good sum compared to when you would book everything separately. The vacation packages at Orbitz will include everything you need with additional benefits or options.
They have a new search filter that allows you to know the hotels that are welcoming LGBTQ+ couples and people. 
Expedia
When you view the results, the images mentioned at the time of hotel viewing or mostly in HD quality to help you get a good idea of the ambiance in the hotel.
It is confident to show you the reviews and ratings left by past customers for flights, cars, and hotels. These sections will do the best job of helping you in decision-making at the time of final confirmation.
Orbitz vs Expedia: Pros and Cons
Orbitz
Pros
It has an easy-to-use website.
It has a lot of options.
The prices are mostly cheap.
Cons
They show more options only for location and national trips, not for international trips.
Expedia
Pros
It has a lot of last-minute deals for you where you are not required to do the bookings months ago.
It claims that it can help you save 43% more than other service providers in overall bookings.
Cons
The website has a lot of ads popping up, which makes the website experience bad even when it is user-friendly.
Orbitz vs Expedia: Rewards Program
Orbitz
Orbitz has a rewards program where, if you join the membership then you will be showered with additional benefits. And if you are a regular customer at Orbitz, you have a chance to earn Orbucks and receive additional travel perks from the company. 
One of the best parts of this rewards program is that you'll receive 10% off on selective hotels for as long as you are a member of the rewards program. 
Expedia
Similarly on-page, Expedia appreciates the people who use their website for trip planning and booking frequently. If you are a regular at their website, it'll reward you with points and statuses which can be converted into discount offers on future bookings. 
The Reward program is divided into three different levels – Blue, silver and gold. The starting level is blue and the ending level is gold. You will step further on the above levels according to your performance on the website and the benefits are added accordingly.
Orbitz vs Expedia: Are they legit?
Yes. Both travel agents are legitimate and trustworthy. They have been in business for years and have gathered the trust and support of millions of people. They make sure to keep the fraudsters away from their website and make it a safe place for travelers.
Orbitz vs Expedia: Which is better?
While Orbitz has additional features like a filter that tells you which hotels are welcoming LGBTQ+ people, expedia.com has a range of varieties. 
Both brands are the leading travel agents in the industry. However, we would suggest you choose Expedia if it is about an international trip as Expedia is famous worldwide. As for the national and regional trips, Orbitz can do a good job. 
Final words
We hope by looking at our Orbitz vs Expedia comparison article, now you have the ideal travel agent in your mind. Both of the brands are the best and most trustworthy, so it would be great if you would give both of them one chance.
Frequently Asked Questions 
Are Orbitz and Expedia the same?
Orbitz and Expedia work with the same motive and or are related by the original, Expedia group of companies is the parent organization for Orbitz and a few other companies. But, that is it. Both companies are different, and not the same. 
What's the best book on Orbitz vs Travelocity vs Expedia?
All the 3 websites can help you on your vacation trip. You can book flights, hotels, car rentals, and a few other things through all the websites mentioned.
Expedia vs Kayak: Which Is Right For You? [2022]
Expedia vs Booking.com: Complete Comparison [2022]
Expedia vs Travelocity: Which is Right For You? [2022]
Expedia vs Priceline: Which is Right For You? [2022]
Google Flights vs Expedia: Which Is Better? [2022]