10 OfferUp Alternatives, Sites + Apps like OfferUp [2023]
We may earn small commission from the products mentioned in this post.
OfferUp Alternatives – Did you ever ante dot buy and sell your new or used things in an online marketplace? If yes, then you probably might have heard of OfferUp. Offerup is an online marketplace that has been optimized to buy and sell several products.
Buyers and sellers can be able to find more information on their local spots that shows a map of nearby designated places. Although it is an amazing app, it might not be right for you.
So, if you are looking for OfferUp alternatives, don't worry; we'll help you with that! This article will show you the ten best apps like OfferUp.
10 OfferUp Alternatives: Apps & Sites like OfferUp
With the OfferUp alternatives, you can easily buy and sell anything you want within a few seconds. Read on further to know more about similar web apps like OfferUp.
It never hurts to explore more options. So, here is the list of similar apps and sites like OfferUp that are worth using:
Mercari
Mercari is the largest Japanese peer-to-peer e-commerce marketplace where you can buy and sell anything from candles, jewelry, crafts, electronics to used clothes, handbags, and handmade products.
One of the main things that make Mercari different from other online marketplace is its exclusive mobile application that makes everything easier.
It is an easy-to-use application that largely concentrates on smaller items and long-distance sales.
You can be able to sell several types of products on Mercari; all you have to do is to download the Mercari app on your device and just simply list your items on their app by uploading pictures and providing category, size. Description and condition of the product. If someone likes the product, they'll either buy it or send you a message regarding the item.
You'll have the ability to shop from several popular brands like Lululemon Athletica, Apple, Louis Vuitton, Funko, Rae Dunn, Nintendo, Nike, and much more. Unlike other services, it processes every payment between buyers and sellers so that both parties can have the assurance that they are not being scammed.
Mercari vs OfferUp vs Letgo: Comparison [2021]
Pros
You can be able to sell several types of products.
Unlike other sites, they have a fixed low commission rate of 10%.
It provides a place for private communication.
You'll quickly get paid.
Cons
When you search for items, it'll even display sold products
The dashboard is not really user-friendly
Categories List: It consists of different categories, including Women, Men, Kids, Home, Vintage & Collectibles, Beauty, Electronics, Sports & Outdoors, Handmade, and many more.
Platform: App & Website
Poshmark
Poshmark is one of the best OfferUp alternatives, where users can be able to buy and sell new or used clothing, accessories, and shoes. It offers over 9,000 brands of every size, including Petites, plus sizes, and juniors.
When you really want an item but don't have sufficient cash to purchase, you can simply use its 'make an offer' feature that permits buyers to open to negotiations with sellers.
With over $175 million worth of new and lightly used products added every week, you'll discover various amazing deals and discounts on beauty and fashion from popular brands like Michal Kors, Nike, Louis Vuitton, MAC Cosmetics, Gucci, and many more.
If you wish to sell, you just have to take a couple of photos of your product, edit it by using its in-built tools and filters and fill out the information or description of what you are selling, including the size, color, quantity, brand, and price. Although it is entirely free to list an item, Poshmark will charge a fee once the product is sold.
Mercari vs Ebay vs Poshmark: Which is Best in 2021?
Pros
Buyers can be able to negotiate the price with sellers
Doesn't charge any listing fees
Safe and easy-to-use
Offers all on-trend styles and brands
Cons
Cost of shipping can be really high
It takes fees from the sales (up to 20%)
Sometimes quality and description of products may vary
Categories List: It consists of different categories, including Women, Men, Kids, Accessories, Home, and Pets
Platform: App & Website
Listia
Listia is a free online marketplace for trading products between individuals without utilizing money. Users have the ability to earn credits for giving away products they no longer require and can then use those credits to buy items that other users have listed.
It is a new approach toward e-commerce, that is well approved by several users across the world.
It uses an auction system where users can be able to bid on each other's goods until the auction ends and the higher bidder wins.
People who have listed the product then arrange for a pickup and ship the item directly to the higher bidder. Sellers can charge for shipping or offer free shipping, whereas buyers can filter listings depending on their chosen shipping method.
Furthermore, it is available for both iOS and Android devices as well as the web. Users can leave feedback at the end of every transaction. All it needs is a simple sign-up process to get you started on selling and buying things.
It has an exclusive review feature that typically displays the most recent user reviews on its website.
Pros
Offer in-app currency which can be used to buy products
It provides an amazing auction experience
Easy and simple sign-up process
Cons
Its credit system is quite complex
Categories List: It consists of different categories, including Art, Antiques, Cars, Cameras, Cell Phones, Clothing, Shoes, Accessories, Wallets, Collectibles, Toys, Crafts, Beauty products, Healthcare Goods, Makeup, Home & Garden, Jewelry, Watches, Music, Movies, Pet, Sporting Products, Video Games, Prepaid Cards & Codes, Cryptocurrency, and several other stuff.
Platform: App & Website
Craigslist
Craigslist is another website like OfferUp, which primarily started as a US-based community electronic newsletter and instantly become of the most regularly visited website. Currently, it is available in over 450 cities around the world. You'll have the ability to find specific listings for purchasing and selling products.
It has different sections particularly dedicated to sales, wanted items, services, resumes, jobs, housing, discussion forums, community service, and gigs. It is available in different languages, including English, German, Italian, Spanish, French, Portuguese, and Dutch.
The main reason behind its huge popularity is its simple application that is available for both iOS and Android devices. Not only that, it is a simple and easy user interface that helps you to easily find your requirements. There is also a subcategory feature that assists you in finding what exactly you are looking for.
Pros
No listing or selling fees
Selling and buying on Craigslist is safer
Your listing automatically remains active for 30 days
Has a simple and easy user interface
Cons
Certain categories are not free and need $3-$5 posting fees
Category List: It consists of different categories, including free stuff, furniture, bikes, clothing, computer accessories, vehicles, garden, mobile phone & accessories, electronic gadgets, tablets, home, and many more.
Platform: App & Website
Facebook Marketplace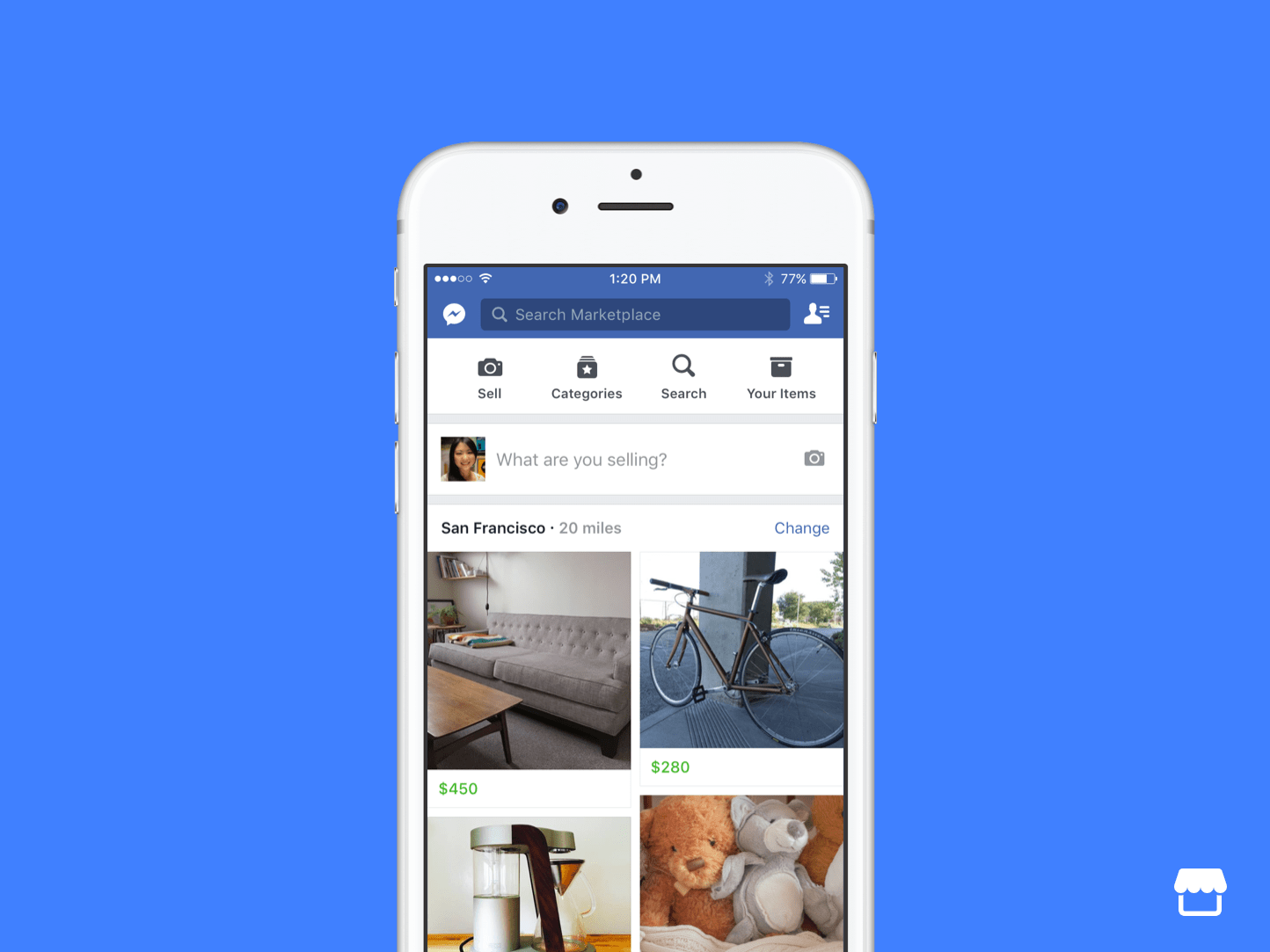 Just like eBay, Facebook has enhanced its business model to involve an online marketplace feature that permits you to explore, buy and sell products to the people in your locality. You can get in touch with the seller through Facebook Messenger and also have access to their Facebook Profile.
Keep in mind that Facebook does not facilitate the payment or the delivery of products in the marketplace. You and the other user have to decide it on your own. You just have to tap on the Marketplace icon at the bottom of your home page, and then it opens with photos of products that are available near you.
If you are looking for something specific, you can simply enter a keyword in the search bar by clicking on the search icon at the top of your screen. You'll also have the ability to filter your search results by category, location, or price. If you want to sell products in the marketplace, simply click a photo of your products and then type in the description, price, name and then confirm your location and choose a category.
Pros
It simplifies buying and selling
It reaches a large number of audiences
You can communicate with sellers through the Facebook Messenger
Search results are entirely based on location
There is no additional fee or tax for selling products
Cons
It doesn't verify products, so it opens up a platform to scammers
It doesn't facilitate payment and delivery system
Category List: It consists of different categories, including Classifieds, Clothing & Accessories, Deals, Electronics, Entertainment, Family, Hobbies, Vehicles, Home & Garden, Housing, and many more.
Platform: Since Facebook Marketplace is accessible through your Facebook, you can access it through App & Website.
6 Facebook Marketplace Alternatives & Sites like Facebook Marketplace [2022]
5Miles
5Miles is another good app, from apps like OfferUp list, that connects nearby sellers and buyers to trade products like cars, household items, used products, and even post job listings. If you are willing to sell anything, you just have to click photos of your products, ad description, select a category, set your price and post it up for sale.
When a buyer is interested in your product, you'll get a message in your inbox, and the buyer has the ability to negotiate the price. Once, both parties agree to it, you can schedule a meet and transact. If the buyer doesn't wish to meet you in person, he can simply deposit cash in your 5Miles wallet. This wallet has a "Verify Shipping" feature which the seller can use to ship the buyer's product.
With 5Miles, local shopping has become easy and safe. Their team regularly monitors listings and chats to keep the scammers away and also it doesn't share your personal information with anyone. Users have the ability to use its "Safe Exchange Area Locator" feature to discover a safe meetup place.
Pros
You can search for products by distance, city, price, and brand
In-app payment and shipping options
SEAL (Safe Exchange Area Location) feature to find a safe meetup place.
A wide range of categories are available.
Cons
Desktop site is not very convenient as the mobile app
Some people have issues while posting
Category List: It consists of different categories, including Household Goods, Cell Phones, Auto Parts, Purses, Shoes, Furniture, Electronics, Cars, Jewelry, Clothing, and many more.
Platform: App & Website
eBay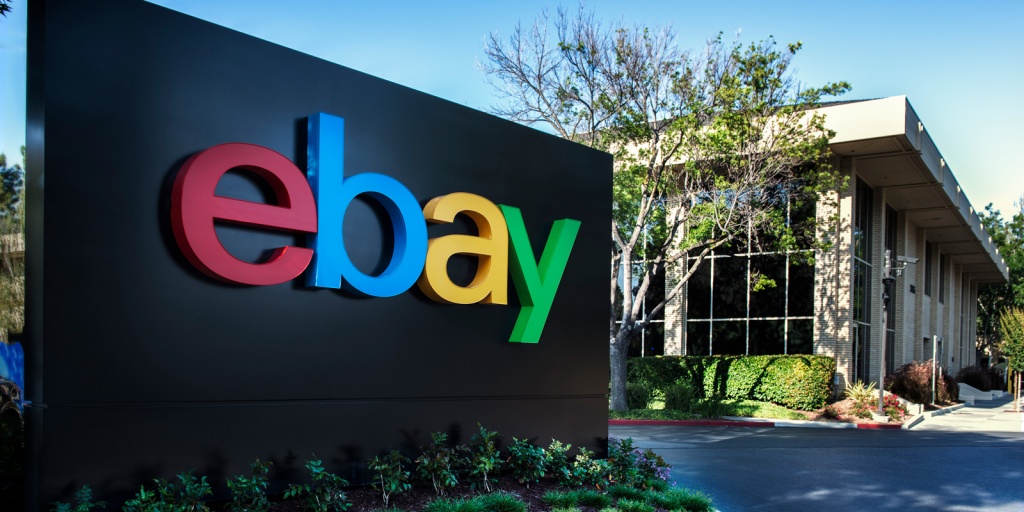 eBay is an American international e-commerce business that allows business-to-consumer and consumer-to-consumer sales. The business controls an online auction and shopping website in which businesses and other people can buy and sell an extensive range of goods and services worldwide.
Also, it offers a wide array of products, including clothes, cars, electronics, collectibles, and many more. You can discover over 175 biggest brands, including River Island, Superdry, Seasalt Cornwall, Joules, and many more. It is completely free to use for buyers, but it charges a fee for listing products after a limited number of free listings for sellers.
eBay is available in several countries; you can be able to search your desired products in your local area by entering the zip code. All the products listed on eBay are examined and approved by the manufacturer to function like new. It is one of the best apps like OfferUp and is mainly popular among merchants to use it as a sales channel.
Pros
Simple and easy-to-use interface
You can reach a large number of audiences
Offers multiple opportunities to make a branded presence, including HTML listings and eBay shops
You can be able to sell anything you like
Integration with PayPal makes it easy to accept payments in real-time
Cons
Charges fees for sellers
There is no proper support channel to get fast replies
Category List: It consists of different categories, including Books, Business & Industrial, Clothing, Shoes, Accessories, Collectibles, Consumer Electronics, Crafts, Dolls & Bears, Home & Garden, Motors, Pet Supplies, Sporting Goods, Sports Mem, Toys & Hobbies, Cards, Antiques, Computers, Tablets & Networking, and many more.
Platform: App & Website
Offerup vs eBay: Which Is Better For You? [2022]
Oodle
Just like OfferUp, Oodle allows you to put up ads for the products you wish to sell and find ads of other sellers depending on your target location. So, Oodle can be used as the best OfferUp alternative. It also helps users to search products by location and several other categories.
Currently, Oodle is the largest classified collector and sums listings from sites like ForRent.com, eBay, BoatTrader.com, as well as local listings from local newspapers and websites. It strongly approves posters to consist of a Facebook Profile with listings so that users will like the transparency of dealing with someone.
Furthermore, it also powers other businesses to classify websites, from the online classifieds for traditional newspapers including The Washington Post Express, The Sun, New York Post to other large websites like Lycos, Military.com, AOL, local.com to non-traditional classified hosting sites like Walmart.
Pros
Allows you to put up ads for the products
Transparency of dealing
Cons
Few people have complained that almost all ads are spam
You can't post anything without logging in with Facebook
Category List: It consists of different categories, including Community, Property for rent, Real Estate, Jobs, Personals, Merchandise, Clothing, Shoes, Accessories, Pets, Sporting Goods, Tickets, Services, Cars & Vehicles, Furniture and many more.
Platform: Website and an app for car finance – Oodle Finance
Etsy
Etsy is an e-commerce business that mainly focuses on vintage or handmade products and craft supplies. All the vintage items listed in Etsy are at least 20 years old. Sellers can add 13 tags to their items to assist buyers in finding them easily, and buyers can select to search for products that are available locally.
You can be able to see your favorite products and shops so that you can explore more of what you desire. This feature saves your time and provides you access to more personalized suggestions in the future.
Furthermore, you can get notified when your favorite store adds new products or when your favorite product goes on sale. You can chat directly with the sellers and have the products personalized for you. It is one of the best apps like OfferUp.
Pros
Its large user base makes it a great place for sellers
There is a collaborative community
Sellers have the ability to work at their own pace and on their own schedule
Listing fees are very low
Cons
There are only limited branding opportunities
No store ownership and user data
Category List: It consists of different categories, including bags, home decor, toys, jewelry, clothing, furniture, craft supplies, art, mobile accessories, vintage, wedding, gift ideas, trending items, and many more.
Platform: App & Website
Amazon
Amazon is an American e-commerce company that also focuses on digital streaming, cloud computing, and artificial intelligence. You can be able to buy and sell anything you want, from a bar of chocolate and needle to large machines and products.
You can use Alexa to assist you shop, simply use your voice to look out for items. It lets you shop for millions of products. Simply browse, compare prices, share items with friends, shop by department, read reviews, and many more. No matter where you are, you can manage your orders from anywhere.
You can also sign-up for shipment notifications to know when your order ships and arrives. Have complete access to your wish lists, prime shipping options, shopping cart, and save your order history.
Pros
Good for business with exclusive products
Amazon Prime members can get a second-day free delivery
It also offers same-day and fast track deliveries
It has a large number of audiences
Cons
Website's user interface can be quite difficult to understand
Category List: It consists of different categories, including clothing, consumer electronics, gourmet food, health & personal care, jewelry, lawn & garden items, kitchen products, automotive products, industrial & scientific supplies, groceries, beauty products, musical instruments, toys & games and many more.
Platform: App & Website
Final Words: What did you choose? Well, it really depends on your needs and preferences. Also, remember to check the fees before selecting any option. So, we hope the above article on the OfferUp alternatives has helped you choose the best platform for you.
7 Best Sites like Bonanza: The Best Sites to Sell in!
Mercari vs Etsy: Which is Best for Selling