Caviar vs DoorDash: Know the Difference [2021]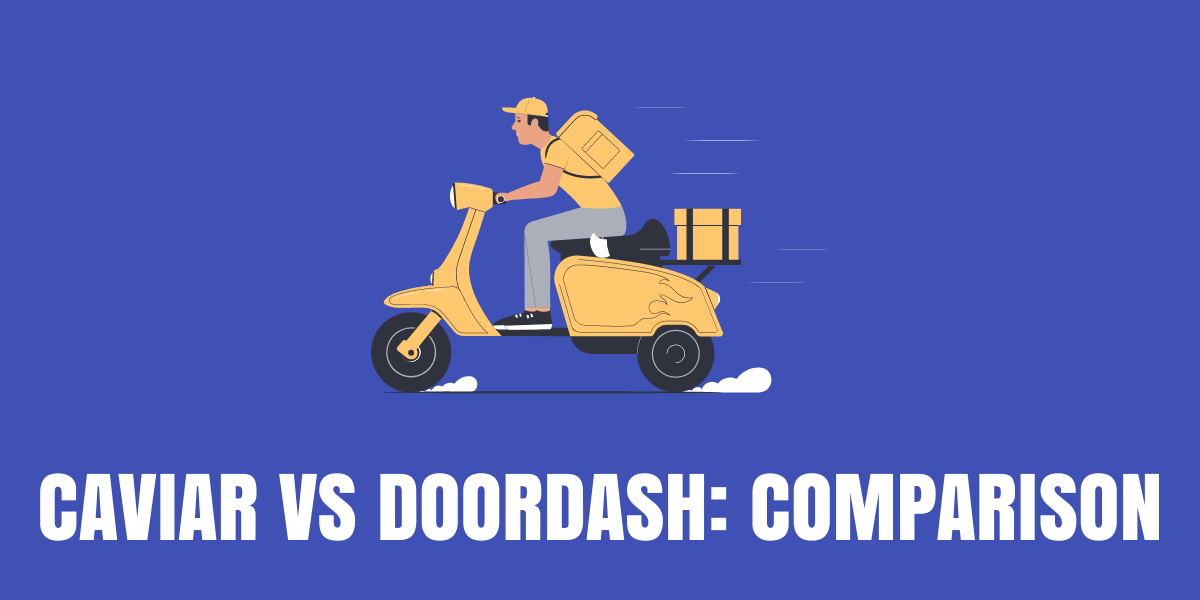 Caviar vs DoorDash: Are you wondering how Caviar and DoorDash are different? Or which delivery services will bring meals right at your door safely? Bingo! You are at the right place.
All it needs is a few taps on your mobile or some clicks on your computer to get food at your doorstep.
Even with the restrictions upon some dining areas, food delivery services are in no danger, as they have well adopted the social distancing guidelines. It also allows you to choose the specific location on where the food should be delivered.
Caviar vs DoorDash: What are they?
In today's world, food delivery applications and websites work quite well with the busy timetable for customers who don't have time to go somewhere else or cook something for themselves.
Let's take a look at Cavier vs. Doordash comparison!
Caviar
Caviar is a food delivery application that offers a great selection of restaurants where you can find anything you like.
It allows you to order meals from popular local restaurants across the U.S. and its delivery service with a very short delivery time.
So, this means its application works pretty amazing and is great for getting food delivered fast when you don't have time to go somewhere else or cook something for yourself.
It is available in Seattle, Los Angeles, Dallas, Portland, Manhattan, Sacramento, Brooklyn, Philadelphia, Washington DC, Boston, Chicago, and the San Francisco Bay Area.
You'll be able to find a good selection of foods and drinks on the application, but this is still dependent on the location.
It is easy to and has an easy user interface than any other dining apps, like DoorDash. It has a diverse collection of food vendors and delivers food from authentic restaurants rather than industrial kitchens that refer to legitimate restaurants.
They have an excellent selection, and you can be able to order from multiple places to cater to the tastes.
Pros:
Easy to use
It has a simple user interface
Cons:
The cost is pretty high
Available only in 13 cities
DoorDash
DoorDash is an on-demand food delivery service that allows you to order food or drinks from restaurants in your area.
Since restaurants don't have delivery drivers, DoorDash partnered with local restaurants to increase their delivery business by delivering food to businesses or homes.
By using the mobile application or DoorDash's website, you can be able to search for local restaurants and browse the menu.
Nonetheless, not every restaurant provides the entire menu on DoorDash as they get to choose their online menu. If the restaurant needs, DoorDash delivers data analytics to make them understand their business and work more efficiently.
The huge difference between DoorDash and Caviar or any other food delivering apps is that the order placed via DoorDash are delivered through DoorDash's freelance delivery workers rather than the restaurant's own delivery drivers.
These DoorDash's freelance delivery workers are known as "Dashers" who make money through tips, DoorDash base salary, and by completing Challenges. Restaurants are supposed to pay some money to use their drivers and receive orders through the application.
Pros:
Offers more discounts and promotions.
Has a better nationwide coverage when compared to Caviar
Offers gift cards support
Cons:
Try these 7 Best Apps Like DoorDash & Doordash Alternatives
Caviar vs DoorDash: Features
Caviar
The app is very easy to use, and you don't have to try it for a long time to understand.
It lets you to order from some of the best restaurants in the U.S.
It only includes restaurants that have four stars or more on Yelp.
You can order your favorite food from Caviar's iOS or Android app or from Caviar's website.
Payment by debit card or credit card is very easy and successful and is fast and secure.
You can schedule meal deliveries more reliably in advance.
The variety that Caviar gives is pretty much better than other popular services.
GPS tracking feature allows you to check the status of your order.
DoorDash
Acts as an intermediator between sellers and buyers.
It enables fast ordering and delivery for restaurants across the local area.
You can choose your favorite food from your favorite restaurant.
It can track the order as the driver picks it up and delivers it to you.
It has freelance delivery workers called Dashers.
It offers two delivery services: Storefront and DoorDash Drive.
It allows the restaurant to set the menu prices but control the service and delivery fees themselves.
DoorDash Merchant feature allows the restaurant to adjust the menu, track sales, average order size, popular menu items, and track metrics like total sales.
Cavier vs Doordash: Difference
To start with, Cavier is a logistics platform similar to Doordash, and Doordash acquired Cavier at the end of 2019. Cavier functions selected cities, and provides customers extra restaurants which are usually not found on the Doordash app. below are some differences:
Caviar has better customer service.
Cavier pays more than Doordash.
Caviar offers you more time to reach your delivery.
DoorDash has a hectic schedule during the day.
DoorDash offers more double pickups.
DoorDash lets you schedule your time. If they are actually busy, you can just skip it. You must have reserved the time slot ahead of time if it is not a 'peak hour.'
Caviar vs DoorDash: Comparison
| | | |
| --- | --- | --- |
| Feature comparison | Caviar | DoorDash |
| Search by item | Yes | Yes |
| Additional service fee | Yes | Yes |
| Compatible mobile application | Yes | Yes |
| Search by cuisine | Yes | Yes |
| Alcohol ordering | Yes | No |
| Nationwide coverage | Very well nationwide coverage | Limited cities |
| Android and iOS compatibility | Yes | Yes |
| Customer support | 4/5 | 3/5 |
| PayPal and Google Pay support | No | No |
Conclusion: Caviar will be a great choice if you wish to have a premium dining experience from a well-known local restaurant.
DoorDash offers a wide range of cuisines from fast food to sushi in more than 4,000 cities across the U.S., Canada, and Australia.
Finally, you might have concluded that the best food delivery service actually depends on your needs and preferences. So, I hope the above article on Caviar vs DoorDash may have helped you to pick the option that suits your situation.
FAQs
Which is better DoorDash or Caviar?
As per many reviews, we felt that Caviar meets the requirements and needs of their business pretty better than DoorDash. However, when compared to the quality of ongoing product support, DoorDash shines more than Cavier.
Does Cavier pay more than DoorDash?
Caviar pays better than any other food delivery applications and services, but their payment information is not transparent.
Which food delivery service is best?
There is plenty of food delivery services that are quite the best, such as DoorDash, Caviar, GrubHub, Seamless, Uber Eats, etc. However, it depends on your needs and preferences.
Why is Caviar delivery so expensive?
Restaurant fees are usually charged by the restaurant, which includes things like staffing, bagging, and local and state fees. Many restaurants that are available on Caviar are high-end, and they do not offer delivery. As a result, they are supposed to hire extra staff to aid them pack and prepare for the delivery orders.
Does DoorDash own Caviar?
Caviar is a food delivery platform, much like DoorDash, which DoorDash owned in 2019.
Recommendations: