10 Job Apps Like Wonolo & Wonolo Alternatives [2023]
We may earn small commission from the products mentioned in this post.
Apps Like Wonolo: Are you busy and want someone to fix the sink at home, take your dog for a walk, or maybe pick up your laundry for the week? Want to know which app has the best options?
Or maybe you are seeking a side income or a job, these similar apps like Wonolo will help you get some work for yourself.
This article will show you a 10 amazing job apps like Wonolo that connects people and businesses and lets you work or hire suitable workers for your job.
Wonolo is an on-demand staffing platform that helps job seekers work on your terms. It connects you with instant daily shifts and temporary to permanent opportunities around our area. You can be able to work where you want and when you want and get paid on your own schedule.
Best Apps Like Wonolo & Wonolo Alternatives
Wonolo can be the best app available in the market for gig-based economy service, however many alternative applications offer different varieties of professional services across various categories.
Check out the guide below for more information on the best Wonolo alternatives.
Thumbtack
Thumbtack is one of the best Wonolo alternatives that match millions of potential consumers with local professionals.
Whether you wish to hire a landscaper, dog walker, a DJ or anyone you want for a specific job, Thumbtack will find them for free.
This means it'll help local merchants and service providers to connect with their customers.
Currently, it lists over 500 types of services in categories like home, events, wellness, lessons and much more.
So, it is authentic to say that you'll find anyone you're searching to hire with the Thumbtack app.
Furthermore, it is a technology leader in building the up-to-date home management platform and also helps millions of homeowners to maintain, fix and improve their homes.
Key Features
Find businesses and professionals specializing in different categories, including home improvement, photography, pets, business, wellness, and more.
View cost estimates for popular services and read how-to guides on various subjects.
Allows you to list your services irrespective of your professional level of experience.
How Does Thumbtack Work?
Thumbtack provides a list of company profiles for job seekers to contact for free. It even uses artificial intelligence to match you up with the pros. You can search for a job by entering your job request and zip code in the search box.
Then, narrow down your search result by using a filters tab. In order to appear in the search results, a pro should have at least one review from past customers and set up a target preference to help GigSmart match you with the right customers.
You can use the service to compare businesses, read about other customers' experiences, request quotes and share your reviews.
How Do You Get Paid by Thumbtack?
You'll get paid based on the type of payment you've mentioned in your profile. Therefore, you'll have to link at least one debit or credit card to your account.
Currently, there is no way to send payments through Thumbtack.
TaskRabbit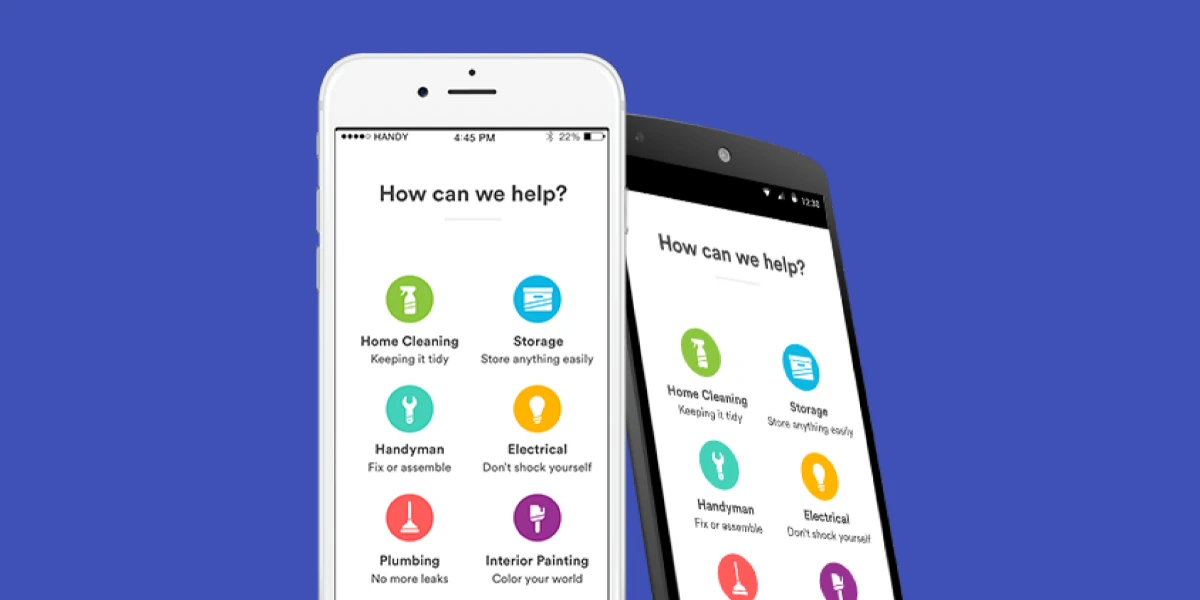 TaskRabbit is an American mobile and online marketplace that connects freelance labour with local demand and further allowing consumers to discover instant help with everyday work such as moving, handyman work, cleaning, delivery and much more. It is one of the best apps like Wonolo out there.
You can be able to compare Tasker reviews, prices, ratings and select the best person for the job.
It was founded by Busque when she had no time to purchase dog food, so by using the idea of "neighbours helping neighbours, she founded TaskRabbit.
Key Features
Customers can choose a category of tasks they need to complete.
Push notifications ensure that the users are regularly using the app.
Booking history lets customers view previous service bookings, reviews, payments, etc.
Geo feature lets the customers see how far the tasker is and how long they will take to reach.
In-app chat lets tasker and customer chat with each other to discuss the details of work and the pricing.
Customers can make direct online payments.
How Does TaskRabbit Work?
Create a TaskRabbit account by providing your useful information. Then, taskers can add details of their hourly prices, location, etc. These details are cross-checked, and it also performs a background check.
Then, it works by connecting you with the same-day help in three simple steps:
Pick a Task – Choose from the list of available works in your area and submit your request. By this, you'll instantly find jobs that suit you.
Get Matched – Select a same-day appointment or future time that'll be suitable for your schedule, and it'll offer you the right job based on your schedule.
Get it Done – You can manage your appointment in the app and get it electronically when the task is accomplished.
How Do You Get Paid by TaskRabbit?
After completing a task, you can submit an invoice through the TaskRabbit app and depending on where you live, you'll get paid through direct deposit using Stripe or Braintree.
TaskRabbit permits clients to tip taskers. Therefore, you can earn more by offering good service.
Instawork
Instawork's primary mission is to create economic opportunities for local businesses and professionals across the world. From general labour and hospitality positions to warehouse workers and delivery drivers, easily browse and apply to hourly shifts that perfectly fit your schedule.
Book your shifts, track time, and get paid quickly all through the app. The money you make really depends on the kind of job you choose, and this depends on your qualifications.
You also have the ability to work hard to become an Instawork Gold Professional. Through this, you'll get early access to gigs with access to extra monetary benefits.
Key Features
It is currently in over 25 cities in the United States.
Have a suitable schedule and easily select where you work and when.
Pick shifts that suit your schedule, hours or weeks in advance.
How Does Instawork Work?
When the businesses post shifts for positions that they have open and want to be filled, qualified professionals can apply for the shifts that work according to their schedule.
To do this, you'll have to download the Instawork app from Google Play Store or Apple App Store. From there, you can view jobs that are available in your area.
Presently, it is available in over 25 cities in the United States, including San Diego, Chicago, Boston, San Francisco, Los Angeles and Phoenix.
How Do You Get Paid by Instawork?
Instawork directly deposits your weekly earnings into the bank account you provided during the registration process.
These payments are given to you on Tuesday for the work finished prior to Monday through Sunday. You can also link your credit card or bank account information for automatic payments.
6 Job Apps Like Instawork to Earn Cash Instantly [2022]
Bluecrew
BlurCrew is a company that offers businesses flexible hourly workers in customer service, warehouse, delivery jobs, and other jobs. And workers can choose the available shifts and clients.
A worker's pay depends on the job and shift they choose. Nevertheless, the types of jobs it offers are not certainly highly paid positions.
The company can rate the worker's performance depending on a point system that provides you six points by writing a bio and uploading a photo on the site and another couple of points for liking BlueCrew on Twitter and Facebook.
Your points can be deducted if you're late to work or cancel a shift at the last moment. Currently working in states like Nevada, California, Missouri, Colorado, Texas, Illinois, Washington, and Washington D.C.
Key Features
Explore a different network of jobs, including logistics, warehouses, food service and more.
Search for the jobs based on the location, wage and job description and have the ability to schedule your work.
Offers all protections and benefits that come with W-2.
How Does Bluecrew Work?
BlueCrew works by connecting you to full-time and part-time hourly jobs and providing you the complete control to choose the job that suits your schedule, life and your goals.
Also, unlike other Gig Work apps, BlueCrew provides W-2 protections and benefits, including sick pay, insurance, overtime pay and workers' compensation.
You'll have to download the BlueCrew application on your iOS or Android device and then provide all the required information.
The BlueCrew support team then reviews your application if you are approved, it'll show you the available jobs based on your skills.
How Do You Get Paid by Bluecrew?
You'll get paid based on the job you choose because most of its jobs are of general labour. For tasks that go over eight hours, the company also pays overtime.
BlueCrew pays by check or direct deposit and checks. Since the pay is weekly, you'll get paid for the working hours on Friday.
Jobstack
Jobstack is a PeopleReady staffing mobile application that assists workers in finding flexible and short-term jobs in their area that perfectly match their skills and are suitable for their schedules. Thus, you can have full control of your schedule!
As soon as you find a short-term job that is suitable for your requirements, you'll get information on what to bring, where to go and what to expect when you arrive.
Key Features
It has work opportunities all over the United States.
It let you create your own schedule.
Work different shifts, different daily jobs, week-long jobs, and monthly jobs.
Businesses can connect with over 50,000 qualified and motivated workers when and where they need them most.
How Does Jobstack Work?
Once download the Jobstack app, it'll help you through the application. And if your application is approved, you'll get instant access to thousands of jobs.
Select your preferences, add your skills and location where you would like to work. Once you find the job of your interest, apply for it, start working for it and get paid quickly. Then, you can rate the business as your feedback really matters.
How Do You Get Paid by Jobstack?
You can work different shifts, monthly jobs, week-long jobs, different daily jobs, and even work jobs that lead you to become the permanent employee of the company.
For some jobs, you can get paid as quickly as up to 24-hours. But the majority of its jobs offer weekly pay. So, you'll have to wait for a week to get paid for the job you've done.
It offers direct deposit and pay cards for easy and quick payments. Its pay card works the same as the credit card and doesn't need you to have a bank account.
WorkMarket
WorkMarket offers an online platform and marketplace for organizations or businesses to find, manage and pay their independent contractors, freelancers and consultants.
Several corporations use WorkMarket freely from the marketplace to manage their already existing freelance talent communities.
It is considered as one of the best Wonolo alternatives that companies trust.
WorkMarket provides a platform for workers to find and apply for projects, create digital portfolios, and share resumes. Both workers and businesses can use WorkMarket's dashboard to manage current projects.
Furthermore, it allows "buyers" to look for workers, engage and onboard talent, validate credentials, manage projects and work assignments, rate workers and process payments.
Key Features
It has a partnership with several popular business solutions including, CRMs, accounting systems, service desks, learning management systems, recruiting systems, and communication tools.
Companies can look for freelancers, verify their credentials, manage their assignments, pay them, and rate their performance.
Search and apply for new work by scrolling through all of Work Market's available work listings.
How Does WorkMarket Work?
It markets its online platform and marketplace through partnerships with businesses that work with and influence workers, freelancers and consultants as part of their strategy.
Several businesses use Workmarket from the marketplace to regulate their existing freelance talent groups.
Workers get a marketplace to search and apply for jobs, share resumes and build digital portfolios. Both businesses and workers use WorkMarket's dashboard to manage assignments.
Workers can use the mobile app to find and manage assignments.
How Do You Get Paid by WorkMarket?
WorkMarket currently offers three methods for withdrawing your WorkMarket earnings based on your location – Bank Account, PayPal, WorkMarket Visa.
Allow up to 1 business day for FastFunds payment to be made to you. Remember that you are responsible for payment and reporting of any taxes related to your usage of the WorkMarket Platform.
GigSmart
GigSmart is one of the similar apps like Wonolo. It is a mobile expertise company that joins individuals and businesses with urgent on-demand work requirements to qualified candidates.
Their hiring platform is the fastest and most reasonable way to discover and hire on-demand employees, all you need to do is search for top recruitment categories.
Its primary purpose is to make a cost-effective and easy-to-use platform where residential and business requests can find skilled labourers for on-demand brief labour.
With Get Workers, you can get whatever you want, be it an hourly worker to fill shift Gigs or source qualified workers for your full-time or part-time positions.
Key Features
Browse hourly shifts, residential projects, or full/part-time positions actively hiring.
All GigSmart Shift Gig workers are automatically protected by OAI (Occupational Accident Insurance).
Automatically pay your worker based on the agreed Gig rate.
GigSmart is available in all 50 states.
How Does GigSmart Work?
Browse available Gigs in your area, from hourly shifts to permanent positions and residential projects! GigSmart connects freelance workers with several flexible jobs in a wide range of categories, from daycare, cleaning and driving to customer service, food service and warehouse work.
Once you find the job you are looking for, you can apply for it. The clients determine the wages, and the works have to decide whether to accept the job offer or not.
When you sign up with GigSmart, you agree to join ODICA – On-Demand Independent Contractors Association through which you'll be covered by occupational accident insurance. Workers have to pay for this coverage via a $1 per hour "trust and safety" fee charged by the GigSmart app.
How Do You Get Paid by GigSmart?
Create a free profile, add your related skills and work history to maximize your exposure across GigSmart's network. If you're hired, you'll get paid daily or after a certain time interval.
Once you complete your Gig and the person who hires you approves your timesheet, your earnings will show as a balance in your Get Gigs Worker Wallet. Requesters have up to three business days from the time you complete a Gig to approve your worker timesheet.
The summary section of your 'Shift Receipt' will show the exact amount of time the Requester has to approve your timesheet.
Add your debit card or bank account information to get your funds directly transferred to your selected payment method.
8 Best Sites Like Glassdoor [2021]
Jobble
Jobble is another Wonolo alternative that connects business managers to a network of professionals capable of carrying out any office tasks.
Basically, it is changing the way individuals and businesses find flexible work where it allows businesses to post work agreements and employees to take jobs according to their skills, knowledge and convenience.
It is perfect for individuals who wish to work for factories and offices on their own terms. This means, you can customize your job searches to match your routine or lifestyle.
Not only that, but it also helps you find the perfect gig to meet your preference and gives liberty to create your own work schedule.
Key Features
Get over 5 MILLION real-time jobs right at your fingertips.
Get notifications whenever a hot job posts in your area.
Educational programs that connect you with your goals and personal career paths.
Suggested solutions for real-time finances, profitability, and taxes.
Sort and filter to find your next dream job. Search by distance., pay rate, job more
How Does Jobble Work?
First, download the Jobble app for completely free. Create your Jobbler profile and access the Jobble Board. Through which you can search and filter over 4 million jobs countrywide and present yourself to the hiring manager via your Jobble profile.
Furthermore, search by job type, location, pay rate and start date to discover jobs that only interest you. Once you find the job of your interest, choose "Apply" and it'll help you get your application to the hiring manager directly.
Get notified when new jobs are posted so that you can keep looking for work with one company or apply for a new job to enhance your experience.
How Do You Get Paid by Jobble?
Once you apply through Jobble app, it'll be managed and paid out through Jobble as the hiring company uses the Jobble app to contact, hire and pay the worker.
Jobble payments are only done through direct deposit and these payments have to be set up in the Jobble application. Payments can be made to the bank account, debit card or prepaid debit card that is attached to your Jobble profile.
Since payments are made through Stripe, your banking information is secured as funds are transferred when you finish your job. It'll also authorize and help capture data for tax purposes.
Shiftgig
Shiftgig is a mobile application that connects companies with gig workers to claim one-time and recurring jobs in real-time.
It is another Wonolo alternative that Uber and LinkedIn inspired. Shiftgig chiefly functions as a SaaS company, and its employee engagement platforms, BookedOut and Deploy, remain to work with their staffing partners.
Their main aim is to change the way people work by allowing flexibility and choice to use an insight-driven platform to join with numerous opportunities in their area.
Employees are screened by the staffing agencies and businesses and then given the accessibility to browse and engage in available opportunities.
Key Features
Provides a financial opportunity for hourly workers seeking flexibility.
Displays available jobs to users based on keyword and location filtering.
Allow you to make your own schedule and pick shifts that you're interested in.
How Does Shiftgig Work?
To start with GigShift, you'll have to fill out an application on Shiftgig's official website. Once you're signed up and approved, you can start finding the available jobs through the 'Jobs' section. And then, Shiftgig displays available jobs to users based on keyword and location filtering.
Then, it'll show the filtered results on your screen with a short explanation of every available job along with a map on the right side of your screen to show the exact location. You can click on the available job for detailed information and then apply for it.
Once you apply and get accepted, Shiftgig will send you the push notifications to remind you when your shift starts and ask you to submit your working hours.
You'll also have the ability to submit feedback about your experience. In order to get paid on time, submit your working hours after the end of a shift.
How Do You Get Paid by Shiftgig?
Shiftgig operates on a weekly pay schedule. Get paid every Friday for all the working hours, which will be reported in the app and verified by clients for the previous work week.
Pay statements are usually available in ADP by the end of every business day on Thursday. On the other hand, your week starts on Monday and ends on Saturday if you work on the experiential team, and after processing, the payments are available in Payable for four business days.
Bellhop
Bellhop is one of the best apps like Wonolo that operates across the United States. It was initially known as Campus Bellhops and then later changed its name to Bellhop.
It offers moving services from small-scale moves. With Bellhop, appreciate custom-tailored moving assistance which meets your requirements and accept considerate support every step of the way.
It was initially founded to help college students moving in and out of dorms. So, it exclusively hires college students who have to be at least 18 years old and presently registered in the college and be physically able and strong.
Key Features
Accepts moving jobs according to your schedule and suitability.
Advanced online tools to assist you in getting a quote and managing your move.
It interviews and does background checks on all applicants, supervises new hires, and evaluates performance based on ongoing reviews.
How does Bellhops Work?
First, you have to create a Bellhops account and provide your personal information like name, email address, and phone number.
After creating an account, you have to set your schedule, and then, it'll match you with any new or currently available jobs that are located in your area.
Once you find the job of your interest, travel to the job location. After completing the job, the customer gets to leave a review, which can help you increase your Bellhop ranking and get paid.
How Do You Get Paid by Bellhops?
You'll get paid through direct deposit to your selected bank account. All payments are made within 5-7 days after the move has been finished successfully.
WATCH MORE APPS FOR FINDING JOBS & WORK:
7 Best Apps like ShiftSmart To Try Out! [2022]
6 Best Apps like Handy You Should Try! [2022]
7 Best Job Apps like Veryable to Find Your Next Job! [2023]
5 Top ZipRecruiter Alternatives To Find Best Job! [2022] 
6 Best Sites like ZipRecruiter To Find Your Next Job [2023] 
6 Best Jobs Apps like AirTasker & AirTasker Alternatives [2023]
The Bottom Line
In the times of gig economy, on-demand positions, short-term positions, freelance work and independent contractors, one should know which platform offers the best options.
So, what did you choose? Well, it is truly based on your requirements and needs. I hope the above article on 7 best apps like Wonolo has helped you select the best Wonolo alternative.
Also read: