10 Insider Sites like Glassdoor with Employee Reviews! [2023]
We may earn small commission from the products mentioned in this post. visit here for more details.
Glassdoor may be the most relevant job & company review site, but you can also find the suitable workplace for you with these similar sites like Glassdoor.
This article will feature 10 of the best Glassdoor alternatives to help you decide which company will be the next most convenient workplace for you.
Glassdoor is a well-known employer review website that has created a vast database of over 8 million leadership, management ratings, reviews, employee benefits reports, tips for job interviews, salary reports, and workplace insights.
This data is wholly based on former and current employees of the company. However, Glassdoor has several negative aspects, such as bad user experience, complaints about negative reviews removal, etc.
10 Best Sites like Glassdoor & Glassdoor Alternatives
Company review websites are the useful resource for job seekers. That means, if you are searching for a job and wondering what it's like to work at a specific workplace, you can check these sites for employer reviews.
Also, it's significant for businesses to know where job searchers are doing their research to manage their employer's reputation and brand.
Some of these sites feature employee-based content, including ratings and reviews. On the other hand, others create their own employer reviews by analyzing companies on their own.
Check out the guide below for more information the 10 best sites like Glassdoor.
Indeed
Indeed is an American worldwide employment website for job listings and is a subsidiary of Japan's Recruit Co. Ltd.
Likewise, it offers job reviews where user ranks their employers according to a five-star scale and list pros and cons.
It is one of the similar sites like Glassdoor and is currently available in over 60 countries in 28 languages.
It allows job seekers to apply directly to jobs on Indeed's official website and provides resume posting and storage.
The site sums job listings from several websites, including staffing firms, job boards, associations, and company career pages.
They usually make an income by selling premium job postings and resume features to companies hiring and employers.
Connect and get honest information on the overall company review rating scale, employee review, compensation & benefits scale, Work-life balance scale, job security advancement scale, culture, and management.
Key Features
Currently available in over 60 countries and 28 languages.
The site comprises job listings from many websites, including staffing firms, company career pages, job boards, and associations.
Job seekers can directly apply to jobs on the website.
Recent job searches will be saved.
Use your device's GPS to find openings in cities near you.
You can preview the job posting's complete description.
Discover part-time, full-time, contract, internship, and freelance jobs.
Indeed Resume provides the ability to be proactive and explore over 150 million resumes around your industry.
6 Best Apps like Indeed: Find Work & Job Nearest You! [2023]
Indeed App Not Working? 11 Ways to Fix! [2023]
Indeed Website Not Working? 11 Ways to Fix! [2023]
Indeed Not Working? Try These 10 Steps To Fix! [2023]
Levels.fyi
Levels.fyi helps people with crowd-sourced analyzed data and charts; this allows employees to negotiate new job offers, know about where they stand, and ensure they are being paid what they are due.
Moreover, Levels.fyi offers features like salary charts, trajectory charts, Total compensation calculator, employee's salary information by locations, company, title, and much more.
Although this website is not complete like Glassdoor, it has some exceptional, making it one of the best Glassdoor alternatives.
Key Features:
Valuable Charts: Its extraordinary chart feature offers you the insight to quickly understand and decide which company offers the most benefits. It also saves a lot of time over your manual researches.
Compiled Database: It has a huge compiled database of thousands of tech companies such as Apple, Microsoft, Google, etc. It validates and checks all data points using verified Offer Letters & W2 statements.
The database contains breakdown of employees' salaries, skills, working experience, benefits, etc, that will help you to analyze and decide the best option for you.
Premium Features: It has also some paid or premium features, such as In depth Resume review, 1-on-1 salary negotiation support, etc.
Comparably
Comparably is one of the best company review sites that primarily focus on compensation and company general data, including company culture score, gender score, CEO score, diversity score, salary information, awards, competitor's comparison, reviews from employees, and anonymous Q&A with the employee.
Furthermore, one of the most prominent features which separate Comparably from other sites is that it lets employers get in touch directly with a candidate who showed an interest in the platform.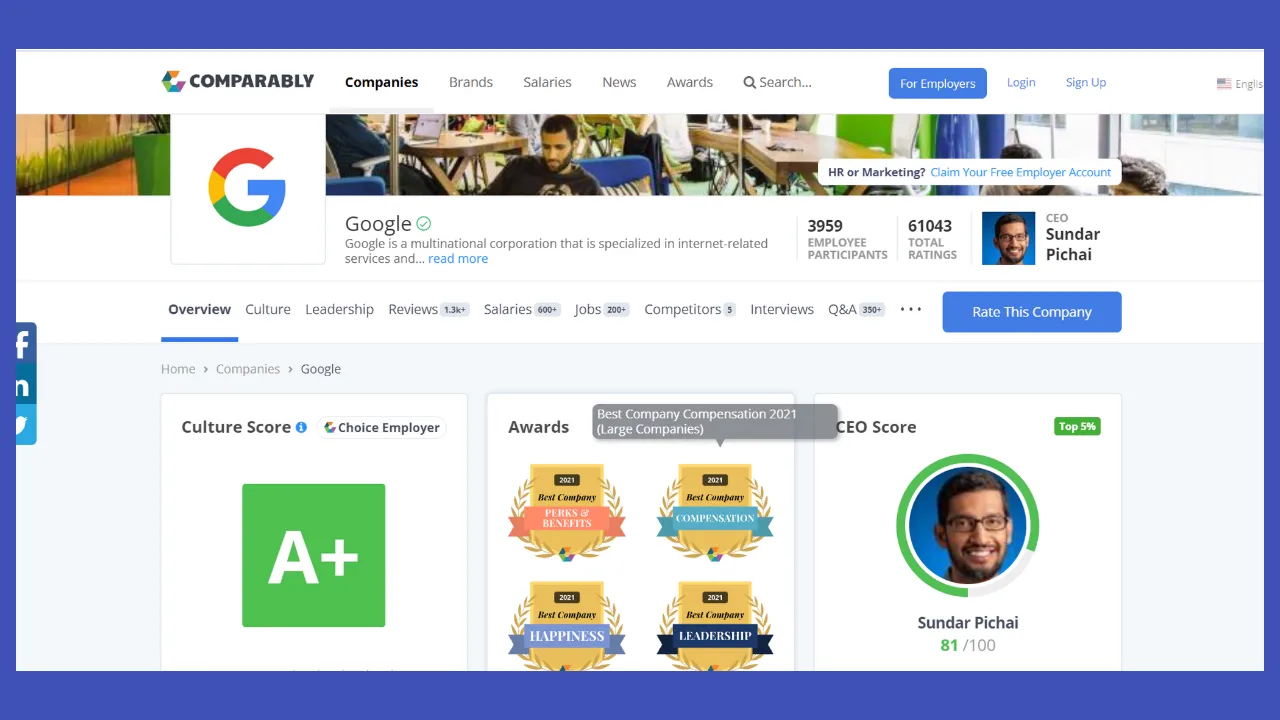 It provides compensation and culture data for both private and public companies.
It provides information related to company culture score, which is divided by departments, CEO score, awards, gender score, reviews from employees, diversity score, salary information, anonymous Q&A with employee and competitor comparison.
Key Features
Browse all companies by top-rated CEOs, companies with the most candidates, top-rated for executive team & compensation, recently answered Q&A, and more.
Browse all salaries by the highest paying jobs, popular salaries, recent salaries by company, equity compensation by city, jobs with the highest bonuses, and more.
It provides compensation and cultural information of private and public businesses.
All user identities are anonymous and private on comparably.
Blind
Blind is an anonymous professional forum and community for certified employees to discuss issues. Users of Blind are grouped based on company topics and their broader industry.
Through the users' work email, Blind verifies whether the registered users really work in that company or not and keeps its user identities untraceable through patented technology.
It provides a platform for frank opinions of employees, company overview, employee reviews, company ratings, work-life balance, career growth, company culture, salaries, and management.
Key Features
Communicate with your colleagues anonymously and privately in your private company channel and group chats.
Explore honest employee sentiments and reviews in real-time.
Check out salary and compensation information shared by verified employees.
Over 5M professionals across the world share salary, interview experiences, company review anonymously.
FairyGodBoss
FairyGodBoss is the largest career community and job board for women. This site has been "Yelp for maternity leave benefits."
It became a valuable resource for a lot of women where other women write anonymous reviews of their employers and share information of whether the business has a substantial maternity leave policy, company overview, job openings, or ideal work-life balance.
Its primary aim is to offer free resources for highly career-oriented women to connect with other career-minded people and businesses.
Tens of thousands of women check Fairygodboss for career associates, community advice, jobs, virtual events, as well as difficult-to-find data regarding how businesses treat women.
Connect and have honest conversations on company overview, employee reviews, job openings, parental leave, benefits, and work-life balance.
Key Features
Offers a women's career community, job openings, company reviews, and expert career advice to assist you in advancing your career.
Discussion boards let women connect and share experiences and ask for career advice.
It does not provide individual or customized legal advice on job and career issues.
It offers three unique plans for employers, Silver, Gold, and Platinum.
Employers get a score depending on maternity leave policies, promotion possibilities, and the number of women in management positions.
Firsthand.co
Vault, now Firsthand.co came into fame with its industry rankings, which are based on employee survey answers.
Presently, it offers access to premium research providing in exchange for employee reviews.
Their reviews need employees to leave downers and uppers and comments concerning their present or previous employers. It provides reviews, employer ratings, and rankings of over 5,000 companies in over 120 companies.
You can also be able to build your resume and prepare for your interview by providing expert tips or advice on how to create the perfect resume and how to prepare for an interview in any industry.
You can easily find the best occupation for your interests and skills, with in-depth business and profession synopses to make sure you discover the correct track. It has both free and paid subscriptions available.
With this website, you can connect and get honest information on the financial performance of a company, review of every department, employee review, mergers and acquisitions, strategy, career advancement, salary and benefits, interview process, industry reputation, and quality of life.
Key Features
It provides employer reviews, ratings, and rankings on over 5,000 companies in over 120 industries.
Offer career guidance for different professions and industries to help professionals and students.
Connect with experienced mentors who offer mock interviews, resume critiques, knowledge of roles and industries, and more.
Discover great jobs and get all the details on the top internship programs.
Have one-on-one interactions with recruiters and employees from the top-ranked companies.
LinkedIn
LinkedIn is a professional networking site where employers can search for potential job candidates or follow companies from which they've already hired.
It has been chiefly used for professional networking and permits employers to post jobs and job seekers to post their Curriculum Vitae.
It lets both employers and workers to create profiles and connect to each other in an online social network.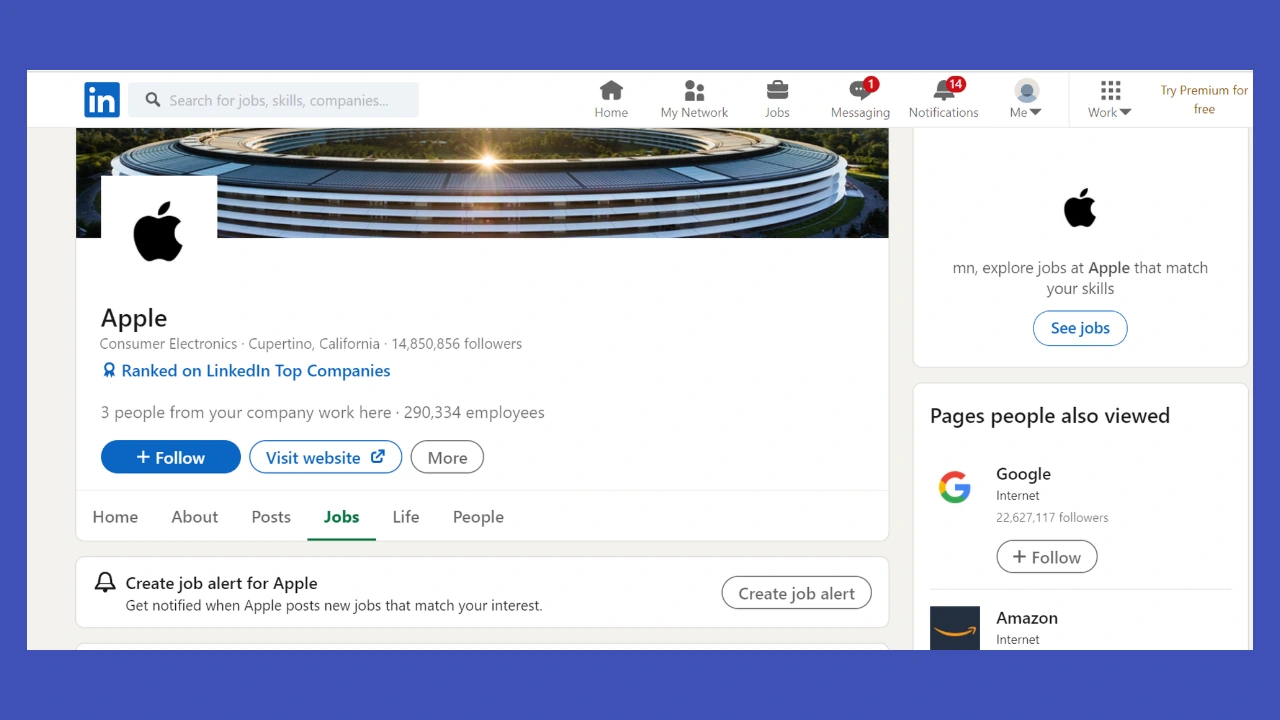 Likewise, it also offers a premium membership which lets you check who viewed your profile and data about other applicants who applied for that job.
Apart from job offerings, many users have observed that LinkedIn has been silently gathering employee reviews on company profile pages.
Some people think it is preparing to develop into the employer review space.
Key Features
My network feature shows you the list of professionals that you are connected on LinkedIn.
Send messages to another professional and also attach images or files with your message.
Employers can list jobs and look for potential candidates.
It lets members make 'connections' to each other in an online social network.
Write posts and articles within the LinkedIn platform to share with their network.
Groups support a limited number of discussion areas that are moderated by the group managers and owners.
Users can research non-profit organizations, research companies, and governments that they might want to work for.
LinkedIn Free vs Premium: Pros & Cons, is It Worth It? [2023]
LinkedIn App Not Working? 11 Ways to Fix! [2023]
LinkedIn Website Not Working? 11 Ways to Fix! [2023]
CareerBliss
CareerBliss is another similar website like Glassdoor that allows you to discover a happier career by finding amazing jobs in your area.
It is the best option for people who are searching for a job and are looking for employer information and job reviews like employee happiness and job satisfaction.
It has whole salary information, including salary by position and in-depth salary evaluations to the geographical average and national averages.
Bliss score includes several user-generated data points, such as pay-scale, job satisfaction, and entire employee happiness.
They are also a job board with over 3.5 million listings. You can even get job alerts by signing up for job alerts.
With CareerBliss, you can see employee reviews, the average salary of a company, links to job openings, company salary distribution, and bliss score, which include multiple user-generated data points like pay-scale, job satisfaction, and overall employee happiness.
Key Features
CareerBliss lets employers post job posts for free.
It has over 15 million users and offers the best experience to job seekers and applicants.
Posts salary comparisons, different job listings, and several company reviews by employees.
Ability to post CareerBliss reviews to Facebook and Twitter by copying the URL link from the address bar.
It comprises entire salary information, including salary by position and in-depth salary comparisons.
It offers a unique feature called 'Bliss Score', which allows you to compare jobs side by side.
CareerBuilder
CareerBuilder is an employment website that offers talent management software, work market information, and other recruitment-related information.
It operates in over 23 countries outside the United States and has over 60 markets.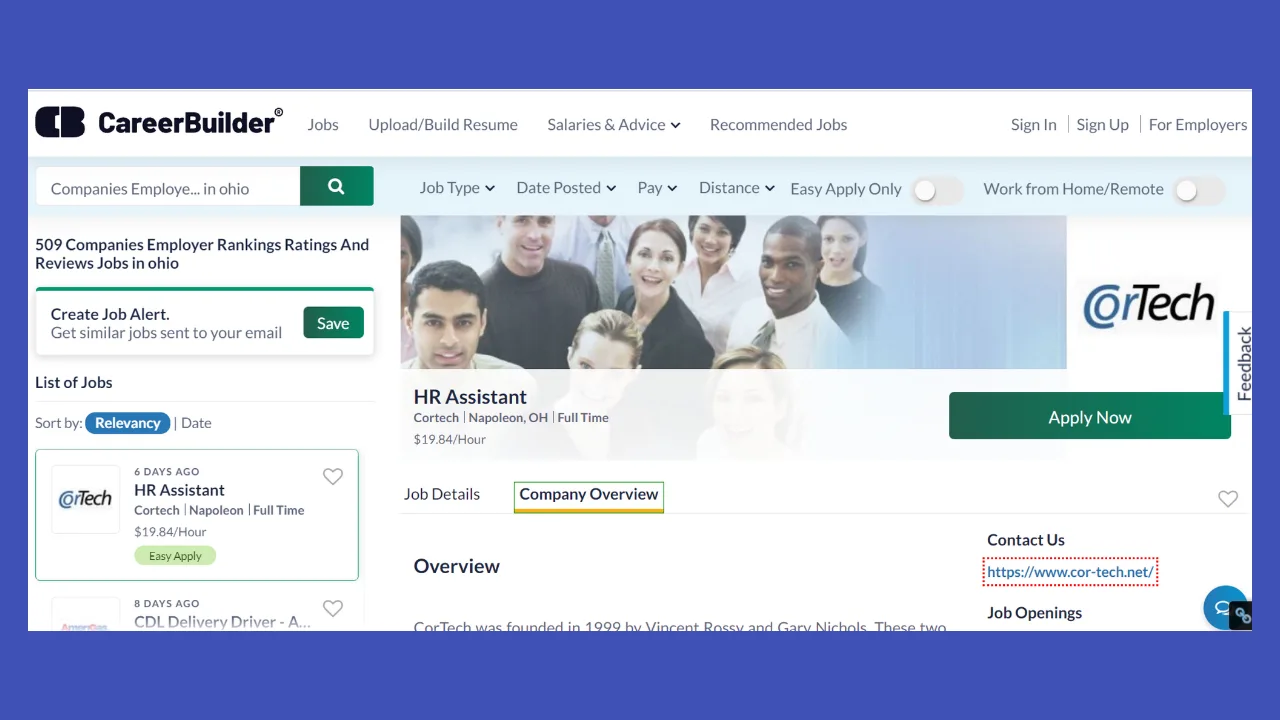 It is one of the most trusted sources for job seekers, where you can access personalized salary tools, career resources, and company insights.
Take complete control of how to manage candidate pools, job postings, and outreach campaigns.
Furthermore, it owns and functions multiple sites under the CareerBuilder name in several countries, including CareerBuilder.ca in Canada, CareerBuilder.fr in France, CareerBuilder.co.uk in the UK, CareerBuilder.in India and in several other countries.
Key Features
It offers talent management software, labor market information, and other recruitment-related services.
Currently, it operates in 23 countries outside the United States.
It owns numerous websites under the CareerBuilder name in different countries.
Salary tools check how your salary compares to others with a similar job in your community.
Search for multiple jobs, including customer service, Full-time, part-time, Sales, accounting, Work from home, administrative assistant, and more.
Quick Apply shows you suggested jobs depending on your most recent search.
Use AR (Augmented Reality) to improve your job search experience.
Get notifications when your applications are seen.
Kununu
Kununu is another Glassdoor alternative that offers job listings and lets employees rate their employer on a scale of 1-5, along with several other factors like leadership support or job security.
In other words, it gives job seekers an inside look into businesses before they work. It also permits all employees to contribute to the larger community by sharing their actual work experiences.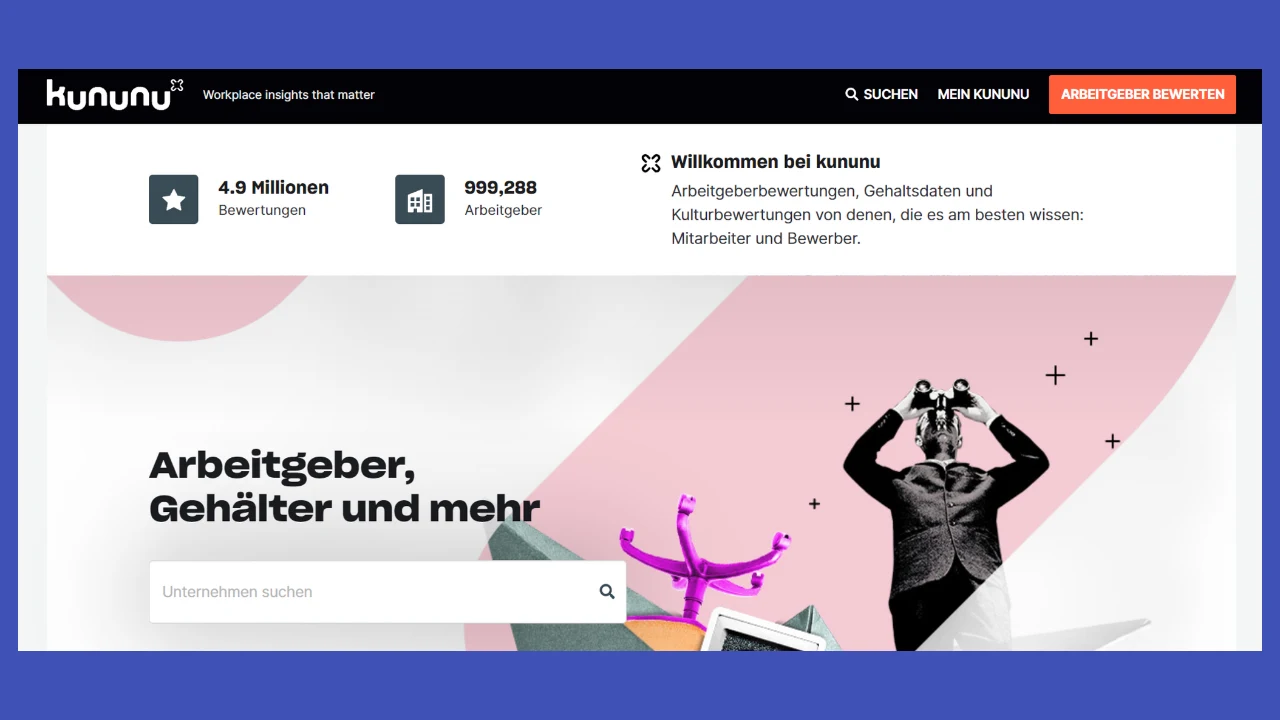 Kununu is often referred to as the German Glassdoor. Nonetheless, it tries to differentiate itself from Glassdoor by providing access to all the reviews without having to log in.
It is seamlessly integrated with Monster, which is one of the first, topmost online job boards.
Kununu is specially created to give employees a platform to actively exchange information about employment relationships in companies.
It provides information regarding employee ratings, applicants rate, recommendation rate, applicant ratings, benefits, salary, and Kununu score.
Key Features
Employees can rate their employer anonymously for totally free of charge.
The question and answer feature give job seekers access to another thread of knowledge and the option to post top-of-mind questions.
Express your own opinion and experience working for the company in question.
Focuses on providing workplace insights that matter through an in-depth review process.
It collected over 7,500 company culture information across all marketplaces, including Austria, Germany, United States, and Switzerland.
InHerSite
InHerSite is another website like Glassdoor that tends to endorse gender-diverse workforce by assisting women find female-friendly companies.
It mainly focuses on 15 key metrics which matter most to working women like maternity & adoptive leave, management opportunities, flexible work hours, and many more.
Women have the ability to anonymously rate their employers depending on these metrics and can also get matched with companies that have the same interests.
It uses data to help women find and improve companies where they can achieve their goals. Therefore, we can say that InHerSite's mission is to improve the workplace for women by measuring it!
Key Features
It creates female-friendly culter that promote a happy, gender-diver workplace
Ask question and share your expertise safely and securely
View daily job matches from companies that offer the perks, resources, and benefits you want
Track your daily satisfaction with work to check trends in your experience
Get daily content, motivation, and advice depending on your individual career goals and requirements
6 Best Sites like ZipRecruiter To Find Your Next Job [2023] 
5 Top ZipRecruiter Alternatives To Find Best Job! [2022] 
7 Best Job Apps like Veryable to Find Your Next Job! [2023]
7 Job Apps like ShiftSmart To Get Flexible Jobs! [2023]
The Bottom Line
Customer review trends have carried over to the employment place where employees review the company they are working.
Employee reviews and job reviews are clearly a win for people who are trying to understand an employer's brand, culture, paycheck, human resources benefits, company policies, and much more.
If you have any other queries related to the Sites like Glassdoor, let us know in the comment section below.