7 Job Apps like ShiftSmart & ShiftSmart Alternatives [2023]
We may earn small commission from the products mentioned in this post. visit here for more details.
Apps like ShiftSmart: Are you in search of finding jobs with flexible working hours? Jobs that are best for part-time or short-term contacts? And, do you wish to get on a temporary gig for the time being? In any case, we have the perfect list of websites and apps that can help you get a job.
What is ShiftSmart?
ShiftSmart is a platform that keeps you in a position where you can keep a track of your schedules and tasks as a worker of any company. It has plenty of opportunities for the ones who would like to start their career and also for the ones who would like to work extra for additional growth and earnings.
It is striving to build the future of advanced employment, where through them, getting employees will be an easy task. It also helps you get better opportunities and you receive rewards in exchange for your work and talents. For easy use, you can install the app instead of visiting its website all the time.
How does it work?
To start with, you are required to create an account with all the required and accurate details because if you add false details, it can result in a bad impression on the employer as these details are for the sake of your profile shown to them after you apply for the job.
Then, search for the job and change the default files according to your preference. Once you find the job most suitable for you, read the details. After you have agreed to all the details — move ahead to apply. It is all that simple.
While ShiftSmart seems to be your ideal job-finding destination, take a break and have a look at other jobs like ShiftSmart. Why? Because you never know how beneficial it can be to apply on more than one platform like ShiftSmart. So, in the article below, we have presented you with a list of ShiftSmart alternatives.
Wonolo
Wonolo is one of the best apps similar to ShiftSmart that connects you with live daily shift opportunities and temporary to permanent job offers around your area. Although you are there for both the party's benefit, among the two — you get to decide where you wish to work, when you want to work and how to get paid.
It is like a marketplace where job seekers and employers are in search of one another. And since it is an on-demand staffing platform, it allows you to work in flexible hours and you do not have to focus more on being punctual. Besides, it is a platform that has changed the seeking manner for talented individuals in the market.
Features
It is available on both Apple and Android devices to download from App Store and Google play store.
Most of the jobs come with flexible hours perk which allows you to deal with the work whenever you want.
Wonolo is a secure and legit app for the ones who require a job urgently.
It is affordable and works swiftly to comply with staffing needs.
Their community comprises more than a million workers searching for jobs to up-level their posts and get a better experience.
Requirements
You do not need higher qualifications for the jobs on the app as most of the jobs are for entry-level starters who are not highly paid. However, basic knowledge is a must.
You should be prepared to work as per the schedule confirmed by both parties.
You are required to be punctual in case you have joined a job with daily shifts and deadlines.
Be professional by all means as informality can lead to a bad impression.
Think positive and work with dedication.
How does Wonolo pay? — You get two options to get paid — either you can be paid through your bank account or can get the sum transferred to your debit card while onboarding. The workers generally get paid 1-5 after they successfully complete the job and they get paid per shift.
10 Job Apps Like Wonolo & Wonolo Alternatives [2022]
Upshift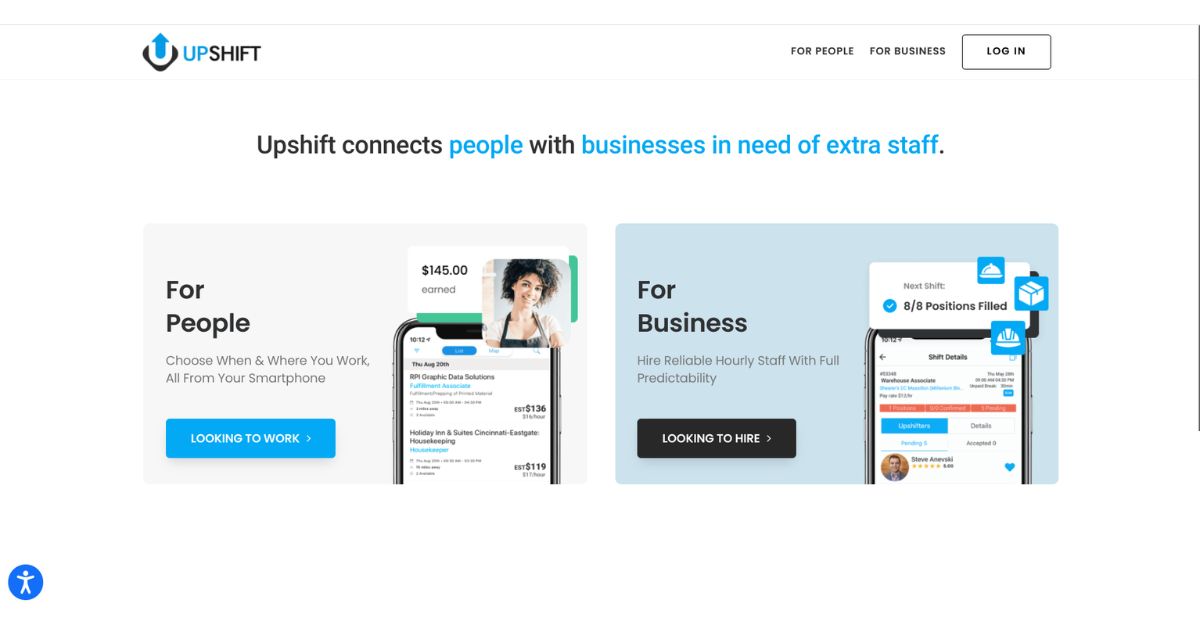 Upshift is another ShiftSmart alternative where you get multiple categories to choose your favorite job. It let you decide which working schedule is perfect as per your personal schedule. So in case you are still studying, you can set your working schedule according to your university schedule.
Upshift is a reputed company and only believes in highly qualified working staff or individuals who have a great number of talents. It'll not allow you to create an account unless you clear the test to get yourself verified. And after you make an account, finding your favorite job and applying for it is not a hard task. The success rate of gigs on upshift has exceeded the percentage of 95.
Features
Upshift offers a stable workspace with a good environment for working.
The app will pass on job requests as soon as any of the parties initiate the action.
For job search at the local stage, you will receive highly qualified workers.
Requirements
Score well in an in-person interview to get a position in the list of upshit.
Only adults are allowed to apply for jobs. So people below the age of 18 years are considered invalid.
Workers are required to follow the strict venting procedure along with the discipline policy.
How does Upshift pay? — Upshift will pay you weekly. After you are done with your job, you will get the payment on a specific day every week.
Gigsmart
If you love the way ShiftSmart connects you with companies interested in your talent — then Gigsmart platform here can be of your help. The companies mostly decided the payment methods that are acceptable to a common employee. Though you can mostly find temporary roles, they are the best to gain experience and learn new things.
You can find a vast variety of companies in options. And unlike other companies, Gigsmart charges you $1 and in return, gives you accidental insurance. So, you get to decide if the price offered is enough or you may look for other gigs.
Features
There is no limit to gigs on the app.
You get to decide your shift timing.
Companies will offer the perfect price for the job which will also be based on your qualifications.
The company offers accidental insurance coverage at a cheap price.
Requirements
You cannot join the Gigsmart community and create an account on their app if you are a minor. You can only initiate the aforementioned actions if you are 18 years old or older.
Must have a license for working.
You are required to sign a legal contract even if the job time is temporary.
Should follow the rules and agree to tests from the app.
How does Gigsmart pay? — The platform follows a bi-weekly payment method. However, you can get paid quicker than that if you are ready to pay 3% processing fees.
Bluecrew
Bluecrew is an on-demand working staff provider for sectors like delivery, customer service, and warehouses. If you are in search of hourly paid jobs — Bluecrew is your platform. It is one of the best apps like ShiftSmart.
The company gives you the utmost freedom to choose your shift timing. And the payout methods and prices differ according to job type. The minimum price per hour will start from $15 on the app. Moreover, it covers 26 states of America and has job offers from over 26 different sectors.
Features
You get to experience an elastic hourly workforce.
The app will match your profile with the perfect employer.
Their app has a well-designed user interface.
Compared to other gig apps, this app provides better business outcomes.
Requirements
You must have a smartphone along with a data connection to access the Bluecrew app.
Have the quality certificate along with relevant experience for passing the in-person interview.
You are required to be an adult. People below the age of 18 years are not qualified to even make an account on the app.
How does Bluecrew pay? — Bluecrew goes along with the weekly payment process and the average wage amount on this platform is $15.
Instawork
Instawork is one of the leading ShiftSmart alternative which is again one of the best apps to find hourly per job. You, as a worker, have to select the job of your choice, which goes well with your schedule, and apply for it. In case you got selected, you can even ask the employer to make certain changes in timings if possible.
The highlight of the app for employees is — they get to change the amount of workforce received by the company anytime. They can do it to reduce spending money. And the app has a good set of sectors offering different positions and jobs. So, it is a good place for finding flexible gigs.
Features
You get to find a job based on your schedule.
You can ask the company to make changes in your shift timings if required.
You can track the payment transfers from the app, your activity as a whole, and do more things through the app.
Requirements
You are required to be at least 18 years or older to start applying for jobs on this app.
You should not have any negative background.
As a worker, you should be able to pass the interview.
How does InstaWork pay? — Instawork pays around $18 per hour to employees on an average rate. Employees will get the payments weekly. There is no same-day payment option anywhere on this platform.
6 Job Apps Like Instawork to Earn Cash Instantly [2022]
TaskRabbit
Task rabbit is a stable and trustworthy website, mainly used to hire a man or a group to do housing work. So, let it be cleaning off your row house or a 4bhk flat — workers from TaskRabbit are all qualified for the challenges and tasks. However, employees get to decide their schedules.
Nonetheless, TaskRabbit is one of the best ShiftSmart alternatives because it provides flexible hours of duty and is best for part-time gigs' purposes. And it can do a lot of common things like pay, chat, and tip.
Features
You get to work according to your personal schedule.
The app and website both are user-friendly.
It allows secure and direct online payments in the employee's account.
Requirements
Be 18 years minimum for using the app and website.
A smartphone is compulsory to use the app.
Must possess a driving license for driving.
Have a Social Security number.
How does TaskRabbit pay? — TaskRabbit, unlike other apps like ShiftSmart will ask you to create an invoice. After you are done with the work, the employer will pay with the help of the invoice and the employee will get paid in his or her account directly. You do not have to pay any joining fee but can receive extra money in the form of tips from the employer.
JobStack
JobStack is the best place for people who are searching for short-term or part-time jobs in their locality. It'll first ask for certain details related to your qualifications and then it'll recommend the best suitable jobs according to your schedule and skills.
JobStack is one of the best apps like ShiftSmart and the job post always comes with 80% of the accurate details of the job to keep the worker out of any hesitation or confusion. Moreover, it also allows you to search for local jobs near your residence.
Features
The app will find your job is mostly near your area.
You get to personalize your schedule and find a job according to it.
The onboarding procedure is easy.
Over 50,000 verified jobs are available on this platform.
Requirements
You must possess a new-generation cell phone along with a good network connection.
Be of at least 18 years of age to use the platform.
Should agree to a thorough background check.
Before you get selected for any job, you need to complete certain paper works from the company.
How does JobStack pay? — You get to earn according to the work you have done and the time you have spent working. And based on the company you choose to work for, you'll get paid daily or weekly.
Qwick
Qwick is on-demand staffing app like ShiftSmart that can be the best option for those who are a professional in the food and beverage industry and searching for a way to earn extra money.
It connects hospitality professionals' shifts in real-time, exceptional wages, and brings them freedom in selected cities around the United States.
Furthermore, it offers you the ability to work flexible hours. So, you can select your preferred work time and choose the shifts that you want to work, and get paid within 30 minutes after your shift completion.
Features
Provides potential workers with all the information they require to accept or reject a shift
Join thousands of professionals like yourself
Get paid within 30 minutes after you complete your shift
Shifts include servers, line cooks, concession workers, bartenders, dishwashers, and general labor
offers information like start time, location, pay, required dress code, and staff contact parking
QwickScore measures your reliability and quality as a Professional
Requirements
Be 18 years or older to sign up with Qwick
Have at least one year of relevant food and beverage industry work experience
Have a cell phone with data and/or an Internet connection
Posses the required certificates for the position you're working
Complete a Qwick orientation and create a Stripe account
How Does Qwick Pay: According to Indeed, the average Qwick hourly pay ranges from precisely $10.25 per hour for the auditor to $25.00 per hour for Shift Leader.
Once you complete a shift, it'll send your money to your Stripe account within 30 minutes through Instant Pay. However, Instant pay is only available if you've provided a debit card.
And to create a Stripe account, all you need to do is to log in to the Qwick professional app, select payments, and enter your payment information after clicking update payment info.
Conclusion
All the websites and apps like ShiftSmart mentioned in the above context are trustworthy and professional in their work. We cannot guarantee that you'll get your favorite position through any of these platforms, however, if you look at the success rate of each platform, you stand a chance if you try.
WATCH MORE APPS FOR FINDING JOBS & WORK:
6 Best Apps like Indeed: Find Work & Job Nearest You! [2022]
6 High-Paying Job Apps like Handy You Should Try! [2022]
ShiftSmart App Not Working? 11 Ways to Fix! [2022]
7 Best Job Apps like Veryable to Find Your Next Job! [2023]
5 Top ZipRecruiter Alternatives To Find Best Job! [2022] 
6 Best Sites like ZipRecruiter To Find Your Next Job [2023] 
Frequently asked Questions
Which are the other apps like shiftsmart?
Apps like Instawork, upshift, and Gigsmart are a few of the best other apps like shiftsmart.