8 Best Coding Apps for Kids [2023]
We may earn small commission from the products mentioned in this post.
Are you looking for the best coding apps for kids? Don't worry, you're at the right place! In this article, I'll show you the best coding apps that can be useful for your kids.
In today's world, it became important to learn how to code as programming has become one of the most useful skills in almost every business.
However, coding or programming is not just a technical skill, it also helps kids to develop logic and creative thinking. If they start early, the more likely they'll in a better field later in life. So, it is the best option to learn to code from a very young age. And thankfully, it is now easier than ever as there are several coding apps out there, and there is no lack of tools available for you to help your kids.
List of Best Coding Apps for Kids
Here is the list of the best coding apps for kids that help them take down the path of coding by teaching everything from simple commands to complex programs.
This list of coding apps provides an easy way to start a coding adventure. It encourages kids to become creators by using their coding skills and creating their own games and solving problems, as well as practicing logical thinking reading, and math skills. So, check out the article below, for more information on the 8 best coding apps for kids.
Thinkrolls Play & Code
On our list of the coding apps for kids, we have award winning app – Thinkrolls Play & Code on the first place. With Thinkrolls Play & Code, your kid will enhance their thinking abilities, create an early understanding of coding, and develop their love for math and science.
Thinkrolls includes over 1000 logic puzzles, unique precoding, and fun brain games where kids can play, create, and share their own puzzles.
Besides, your kids will also learn how to design mazes and place pre-coded objects like flying bugs, fans, caterpillars, bridges and devise a path for their Thinkrolls.
Key Features
Enhances your child's brain power and thinking abilities
Ability to create custom ready-to-play Thinkrolls
Unlimited free retries and no time limit on arcade puzzles
Fun reward system for continuous motivation, so complete daily challenges and win trophies
It is ideal for ages 3-8+ and supports 6 player profiles
New content is added regularly
Price: To find out the monthly and annual subscription cost, you can download the Thinkrolls Play & Code app. But, before taking up a subscription plan, you can try its 7-day free trial.
You can visit this page to find out more information regarding the subscription.
CodeSpark Academy: Kids Coding
CodeSpark Academy is an award-winning and one of the best coding apps for kids that teaches the fundamentals of computer programming through a diversity of interactive learning activities like games, game design, puzzles, step-by-step creative projects, and offline printable, all of which are observed by parents as well.
Key Features
Best for ELL students, pre-readers, and kids with focus-related and reading challenges.
Your kids can learn key programming concepts and use them to code their own projects in the game maker.
Personalized everyday activities based on your child's progress.
It supports three individual child profiles at the same time.
No collection of your kid's private data, advertising, or micro-transactions.
There will be no written communication between players or external parties.
Price: It costs £9.99 per month
Tynker: Coding for Kids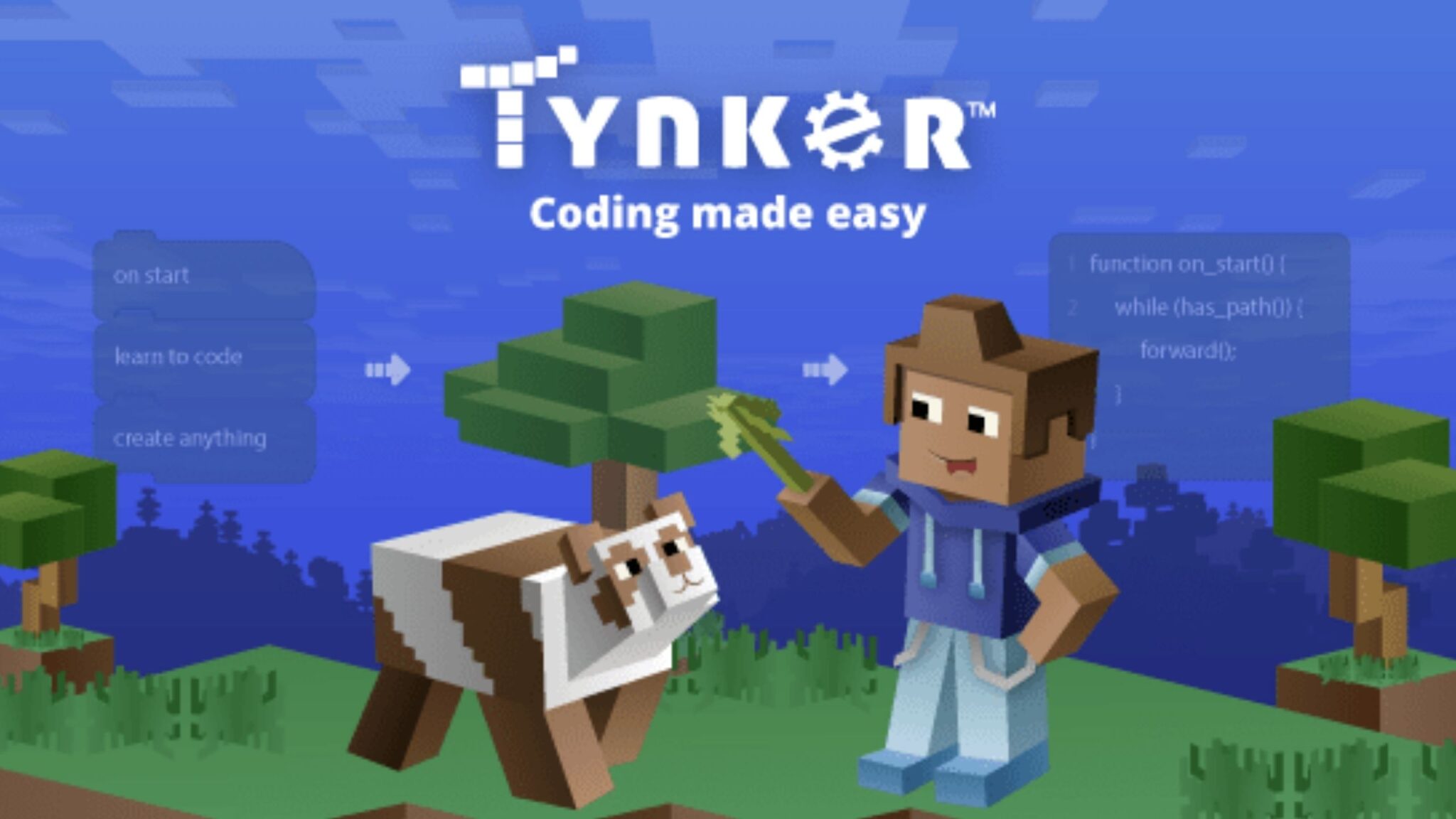 Tynker is another world's leading coding service aimed at teaching advanced coding skills for children aged between 5-18. All you need to do is to visually drag blocks of code and snap them together rather than typing the source code.
Tynker makes it easier for kids to learn over 60 courses, including web design, robotics, game design, creative coding, and animation.
Key Features
Permits kids to learn the basics with easy block-based coding challenges before transitioning to actual text-based languages like Python and JavaScript.
It has over 4000 learning modules that are backed by hundreds of in-built tutorials and practical projects.
Your kid can learn to code with immersive game-like courses, self-paced, and then advance to learning real JavaScript and Python.
It empowers free K-12 educators with free PD, cross-curricular STEM coding, standards-aligned curricula, AP Computer science course, and many other amazing coding resources.
Price: Its tablet plan costs $11.99 per month or $95.99 per year. Tablet+Web plan costs $14.99 per month or $119.99 per year. This pricing may vary depending on location.
8 Learning Games like ABCYa That Kids Will Love!
ScratchJr
ScratchJr is a visual programming language developed to introduce programming skills to children between 5-7 age. It'll provide a simple way to learn programming at a very younger age without any mathematics or reading required. And your kid can learn to think creatively and reason systematically by making projects in ScratchJr.
Key Features
It is available for Chromebook, Android, and iOS devices.
Code is created by dragging blocks into a coding area and snapping them together.
Kids snap together graphical programming blocks to make characters move, dance, jump, and sing.
You can change character in the paint editor section and add your own sounds and voices, as well as insert photos of yourselves.
Price: You can download it for your Chromebook, Android, and iOS devices for completely free.
Grasshopper: Learn to Code
Grasshopper is the best coding app for kids and beginners that offers the best way to start your coding adventure with quick and fun games on your mobile phone which also teach you to write real JavaScript.
Key Features
You can move through gradually challenging levels as you improve your capabilities, then progress with fundamental programming skills.
Use industry-standard JavaScript with just a few clicks on your phone.
Their visual puzzles develop your problem-solving skills and enhance coding concepts.
Its real-time feedback guides you like a teacher, and you can collect achievements as you learn new skills.
All your progress seamlessly syncs between devices.
It is compatible with iOS, Android, and all web browsers.
Price: You can download it for completely free on iOS and Android devices.
Hopscotch-Programming for Kids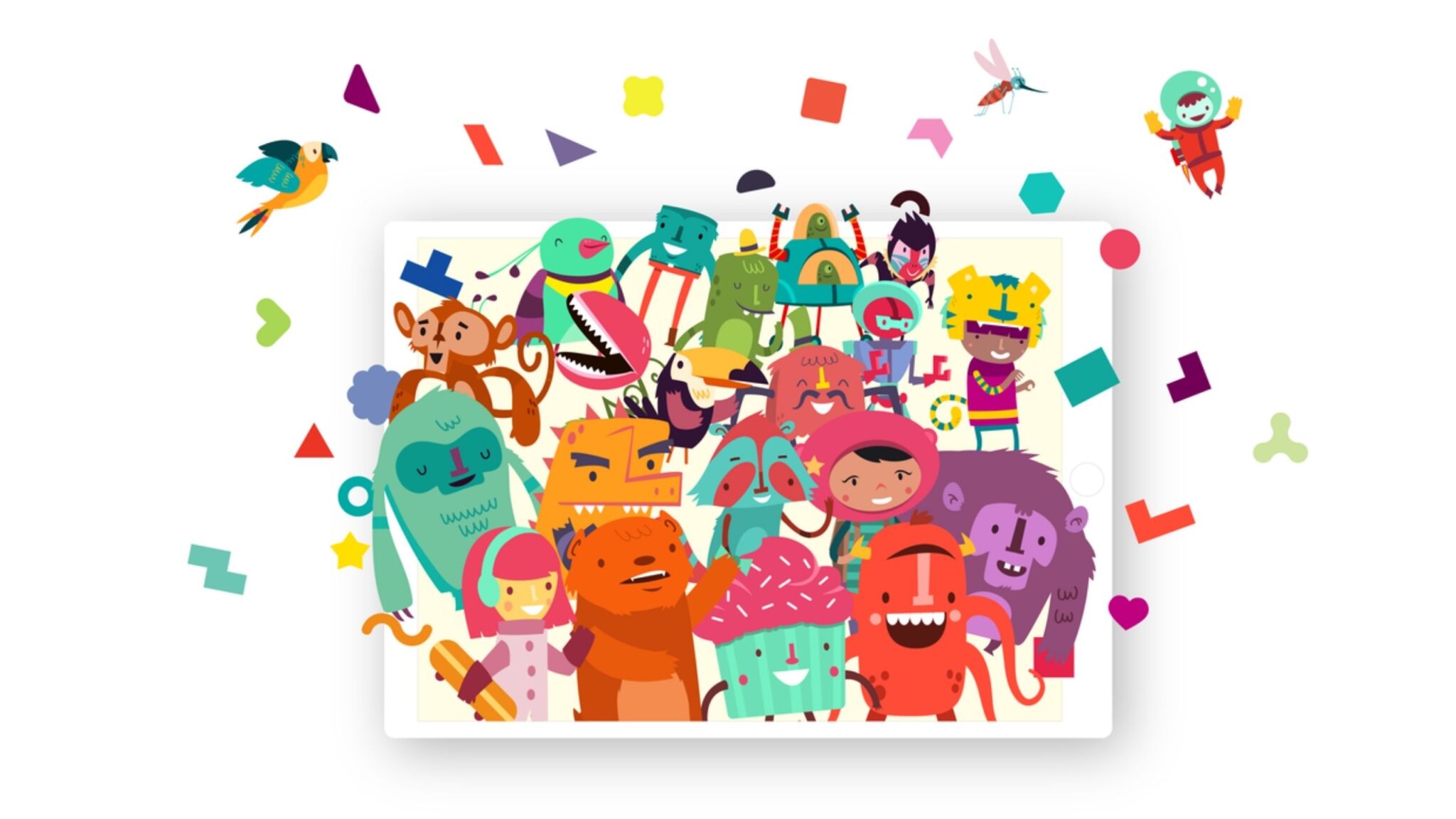 Hopscotch is a visual programming language that allows young or beginner programmers to develop simple projects. It's easy and simple user interface lets its users drag and drop blocks to develop scripts that can be played when active. Even though the language is easy to use for simple programming, it lacks the power to be used for more complex programs.
Key Features
Code whatever you want with kid-friendly programming, including games, stories, art, and much more.
You can publish your creation to Hopscotch's community where other kids can play and learn from your games.
Open any project to tweak, play, or remix and learn from millions of projects created by other kids.
Price: It costs $9.99 per month and $79.99 per year.
Kodable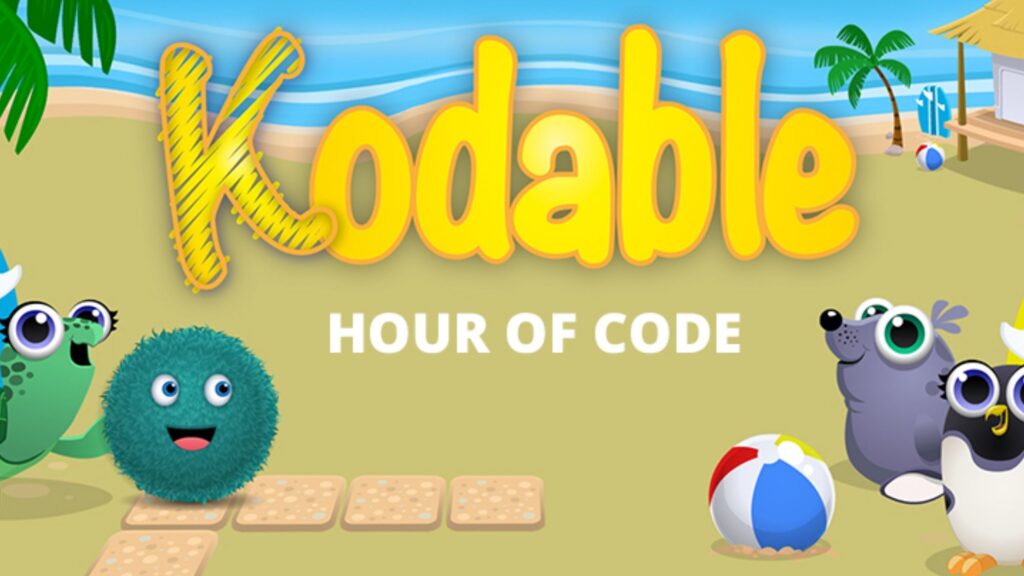 Kodable is another award-winning coding application that teaches your kids everything they have to know about computer science by using fun interactive games while offering teachers a complete K-5 coding curriculum for the classroom. It is one of the best coding apps for kids.
Key Features
Allows your kids to play and develop their own games
Features content that is suitable for all age levels.
It features age-appropriate games and activities which transition your child from learning how to think like a programmer and write real coding by using a custom coding interface.
It offers over 80 scripted lessons with complete scope and sequence for every grade.
Offers several concepts, including syntax, conditional logic statements, object-oriented programming, sequence, and order of operations.
Price: It costs $6.99 per month or $59.99 per year.
Daisy the Dinosaur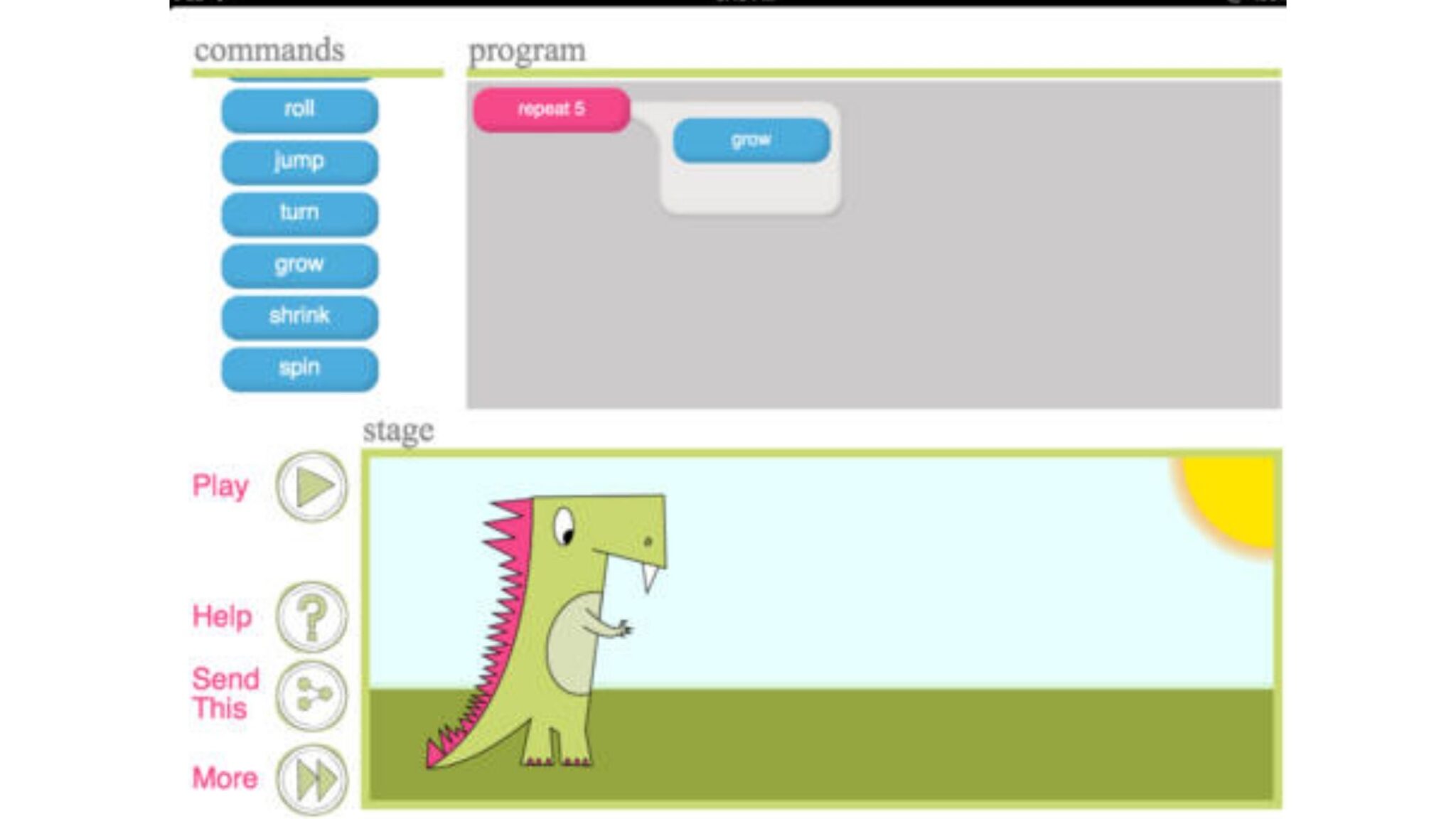 Daisy the Dinosaur is a coding application for kids who wish to learn to code. It teaches basic computer programming concepts in a way that children as young as four years old can understand. Its programming concepts include loops and conditionals without really using those terms.
Key Features
It is a free to download app that offers an amazing way to get children interested in the opportunities of learning and writing computer codes.
This short game makes programming a fun and approachable way for kids.
Anyone can be able to animate Daisy the Dinosaur and make her dance on the screen with just a few taps.
It is specially developed for children to solve puzzles and word games to learn about building algorithms as they decode these puzzles.
Price: It is completely free.
mBlock
With mBlock, you can easily create animations, games, and program robots by dragging and dropping blocks, or by writing Python. Also, mBlock comes with IoT, AI, and data science features for cutting-edge computer science learning, which makes it the perfect helper for coding learners and educators.
Key Features
It supports various devices, including Windows, Linux, Chromebook, Mac, Android, and iOS.
Children learn to code by finishing tasks and know how it feels to achieve something.
Users can be able to store their projects in the cloud, syncing the projects across different devices.
It let users create projects with the popular graphical programming language.
It is available in various languages, including English, Chinese, Japanese, Polish and Korean.
Price: Free
The Bottom Line
Coding is the most required and beneficial skill for your future. Inspiring your kids to learn to code from a very young age can be beneficial in several ways.
The coding apps mentioned above are simple to use and can make coding fun and imaginative. These interaction-based coding apps for kids assist them to understand the concept of coding and permits them to get into the world of programming.
Moreover, these programming apps will teach skills like patience, persistence, creativity, and problem-solving through the use of riddles, puzzles, challenges, and coding games.
And even though there are numerous apps, we have only mentioned the 8 best coding apps for kids. So, we hope the above article has helped you to select the best coding app according to your needs and preferences.
6 Apps like Remind for Parent Communication [2022]