6 Best Apps like Rave to Watch Videos Together![2023]
We may earn small commission from the products mentioned in this post.
Are you looking for the best apps like Rave? Do you want to know which app offers the best features?
Don't worry! You're at the right place! In this article, I'll show you the 6 best apps like Rave which you can use. Rave is one app where you can watch Netflix, Disney+, YouTube, Prime Video and more with friends.
What is Rave?
Rave–watch party lets you make instant connections with your close friends through voice messages and text while you watch videos together. You can enjoy watching Netflix, YouTube videos and a hell of entertainment right over your PCs and mobile device.
Rave has a focus on music too. If you are creating your music, you can even share it with others using Rave DJ, a sister service, allowing you to view it.
If you are looking to watch movies with friends online, or you want an interesting way to stay in touch, a few apps are here. These apps help you keep your friendship with distant friends from going stale.
Apps like Rave and its alternative apps like TeleParty, Kast, Zoom, etc. are helping you out by bringing your entertainment back to your lives. These are free to use, although it provides several advanced features. So, check out the below best apps similar to Rave.
TeleParty
Teleparty is a free Chrome extension that allows you to watch your favourite TV shows, movies, and videos, with your friends and family members living anywhere. Here you can type text to 'chat' with your friends-comments on the film or TV show, talk about and can send emojis or GIFs.
It is easy to install and you can sync episodes so that you and your friends can watch the same scene even when watching on different devices. It works with streaming sites including Disney Plus, Netflix, Hulu, HBO and Amazon.This one is best apps like Rave.
How does it work?
Installing free Teleparty extension from the Google Chrome Store or Edge Web Store or on Opera.
Then, on the same device, go to Netflix, Hulu, HBOMax or Disneyplus.com in your web browser and start a video.
Next to the address bar in your browser window should have changed from grey to red. Click it. You can either take control over the video playback or leave it open to anyone at the party.
You'll have to copy the URL from another pop-up window and share it with your friends. Those invited to join will also need to install the Teleparty extension and click the link sent and then click the Teleparty icon.
Key Features:
Teleparty is a browser extension for watching TV or movies with friends
A free tool to sync online Millions of shows and movies you can watch
Also includes emojis and GIFs in group chat.
6 Top Apps like Netflix Party/TeleParty To Watch Together [2022]
Kast
Kast is a real-time video sharing app with an always growing content library, voice, screen sharing, text, and video chat, making it easy to connect with over 100 friends wherever they are. You can play games and share the video gaming experience in real-time with friends.
You can host a watch party and stream content from Kast TV on mobile or tablet. The rooms are both public and private, whatever you want. Kast is available across all platforms. You can connect through your browser in Chrome or Edge. Kast is a best alternatives of Rave.
How does it work?
First, you download Kast on Windows, Mac or iPhone.
After downloading, install the application. Then the sign-up page appears to enter the details of Your Email Id, Choose a username and set a password for the account.
You can create a room, either public or private. Give a room name, add a description for people to know what the room is about and give tags for people to find you easily.
Start streaming your screen and invite your friends with the username. Join a room on Kast.
Key Features:
Video-sharing website allows you to upload, view and share videos
Screen sharing and live-streaming software
High-quality streaming, but for premium users only and messaging is a secure
8 Best Kast Alternatives To Watch Video Together [2022]
Scener
With Scener, you can video chat with your friends and enjoy television shows and movies together. Scener is the best way to watch movies and shows with others.
This web-based platform lets you host public or private video screenings for an unlimited number of users, although only 10 can switch on for video chats as co-hosts. If you have got a big family or friends, and you're looking to host regular movie nights by watching movies together, Scener is perfect.
How does it work?
Download the Scener from the Chrome web store.
Create your profile by entering your name and email. Click on the Scener icon to open up a private theatre.
Sign in to Netflix or HBO. Invite friends to your 'Private theatre' by either sharing the theatre code or copying the invitation link.
While watching the show, you can chat over video, audio, or text.
Key Features:
Chat over video, voice and text
Choose movies and shows together
Discover who's online to watch with them
Create groups to keep the squad together
Watch2Gether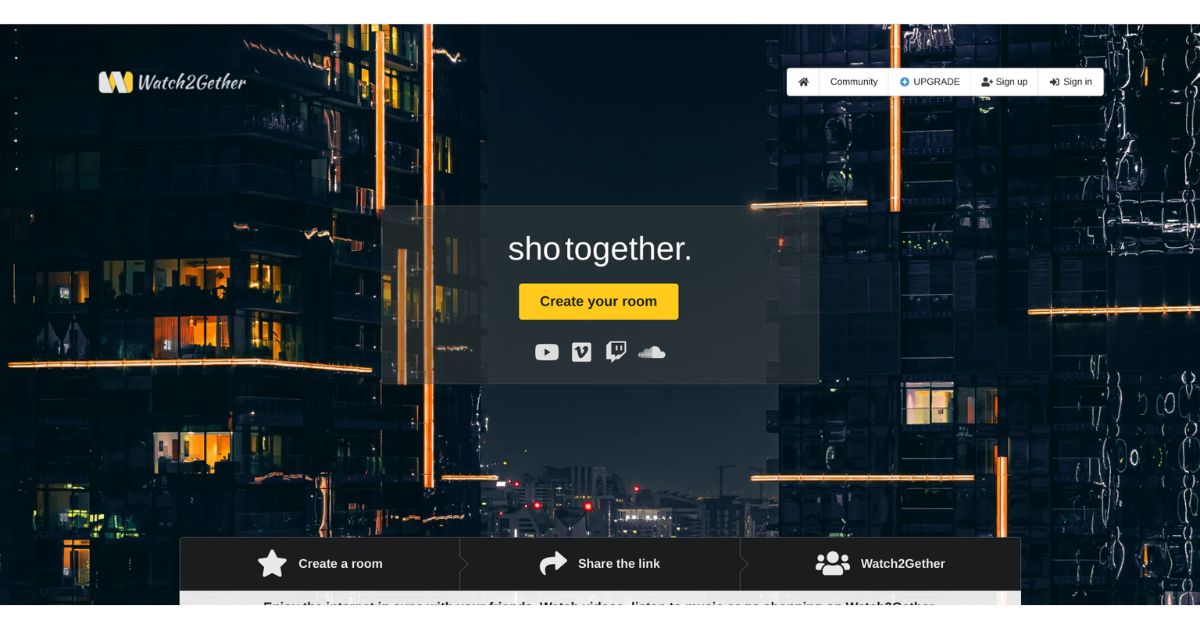 Watch2Gether is another alternative app to Rave that you spend time together watching real-time entertaining stuff. It is a web app that allows you to watch videos from several services, including Dailymotion, YouTube, Twitch and more.
Watch2Gether is an entertainment platform that is especially for movie lovers who want to watch full length and high-quality movies for free.
How does it work?
You can create a room and create a free account from the Watch2Gether homepage.
In a new room, you can use Watch2Gether by yourself. On the desktop, at the top right containing a shareable link, copy the link and paste it anywhere you like and invite your friends.
When your friends have joined the room, they appear in the bar. Then you can select videos and music and play them.
While watching the video together, you can talk to your friends through the chat area. You can also enable your video and audio or share your screen.
Key Features:
Communicate through voice chat or group chat
It is an easy to use and safe way to store your logins and password.
You can also download the Chrome extension of Watch2Gether.
You can watch videos with your friends at the same time.
Zoom
It is a video calling app, but can also watch movies and videos online together with your friends. The service is cloud-based.
It is a web conferencing platform that is used for video or audio conferencing. You need a free account to start your calls for up to 100 people and its paid version can support up to 1,000 people. You can make unlimited calls, hold meetings, and even record both.
How does it work?
You'll need a Zoom account to start your Zoom Meeting.
Go to the Zoom website and click sign up. You'll be able to start your meetings with up to 100 participants, with a limit of 40 minutes per meeting.
Key Features:
You can share your screen with other meeting participants.
You can record your meeting or events.
Host unlimited meetings even with the free plan.
Host up to 100 participants in a free plan for up to 40 minutes and host up to 500 participants to purchase the meeting.
Syncplay
Syncplay is a different type of entertainment platform. It is a downloadable program for your laptop computer or desktop. You can watch videos or listen to music with your friends and family although they are sitting in different places.
How does it work?
All of your groups of people must download Syncplay on their computers.
Anyone in the group should launch Syncplay and select username or password and room name also select the full path of the supported media player.
The video file should be present on the computer of all participants.
Key Features
No registration requirement and password protected
Watch videos or music together
Integrated chat
Conclusion:
Above all, are the best apps like Rave for you to watch movies or shows online. If you simply live far away from your friends, you can stay connected with them by using these apps. You can share your favourite tunes with your friends or family members or others, meet new friends, and discover fresh tracks, no matter where you are.
6 Best Apps Like Airtime to Host the Amazing Parties! [2022] 
7 Best Websites like Dailymotion to Watch Videos! [2023] 
Frequently asked questions
Is Rave a trustworthy app?
Rave is a safe app for those who those users who don't know how to watch movies with friends online. A wide number of users trusted the app.
Is Teleparty free?
Teleparty is a free extension for the Google Chrome browser that lets you start, stop and pause a movie or show so you can watch it at the same time as a group of friends and family.
What can you do on Scener?
Scener has a virtual remote control you can pass to and from your friends. Whoever has it gets to control what everyone is watching; they can also rewind, pause, and play the movie or TV show. It acts like an actual remote control.