8 Trustworthy Whereby Alternatives for Video Conferencing [2023]
We may earn small commission from the products mentioned in this post.
Although Whereby is a great mode of communication and conference call, you might still want to know – which are the Whereby alternatives?
Do you wish to attend meetings with flexible and easy means? Then Whereby is your destination? Start a meeting or join one on your cell phone through the Whereby app.
The app has great features that will keep you on point in the meeting. The app is said to be the most user-friendly app by its customers. You can download the app for free for your android as well as Apple device.
But – even if it is the greatest app of all time, it will still be a problem for many people. Do you like the Whereby app but the app does not apply to you? Maybe you want a Whereby Alternative? In that case, you are on the article.
In this article, we are going to give you a list of Whereby Alternatives – well-known and trusted video calling apps.
Zoom
Undoubtedly the world's most famous Video calling app is Zoom. The app is easy to use and with its amazing features – any meeting can work out well.
The app is easy to handle and manage – even if you are the host, with a few taps and adjustments, you can start your personalized meeting with your colleagues or students. Not only for Students and Teachers, but the app is also famous for high-quality video call meetings among employees and companies.
Key Features
Join the Meeting with HD Video and Audio.
Password protection will make you feel safe in the meeting – the People you want to allow will only come in.
End-to-end Encryption will keep the content within the meetings only.
In Audio-only conferencing, you can have a phone call like a meeting requiring you to switch on the camera.
Schedule the call.
Pricing – the basic features are free to use. But, if you want to update your zoom, go for the subscription plan:
Pro, best for small teams worth $149.90.
Business is best for small businesses worth $199.90.
Enterprise, best for large enterprise-ready businesses worth $240.
Microsoft Teams
Working with your team will get easier virtually if you choose Microsoft Teams. The software contains tools that will help you have a smooth video conferencing with your colleagues.
Microsoft teams can work on desktops as well as mobiles. The software is accessible on Windows, IOS, Android and Mac. The place is designed to connect you with your colleagues at any time of the day naturally.
Key Features:
You can connect yourself in different meetings through teams and channels.
The chat feature will allow you to chat in ongoing meetings.
The screen sharing will allow you to share your screen and present your assignment.
The documents will be stored in SharePoint by default.
You can experience full telephony.
You can have audio conferencing without needing to switch on your camera.
Conversations happening within the channels and teams will stay within the meeting. An end-to-end Encryption policy is allotted.
Pricing: Microsoft teams offer free versions of them and no commitments are allotted. But, if you wish to upgrade your Microsoft team account, you can opt for subscription plans:
$4 per user per month for Microsoft Teams Essential.
$6 per user per month for Microsoft 365 business basics.
$12.50 per user per month for Microsoft 365 business's Standard Plan.
Google Meet
Google meet allows you to have secure video meetings. You can start meetings, go on with your virtual training classes, perform remote interviews and much more things through the software.
Google Meet is a workplace from Google that can be obtained for free. The software works in applications for mobile phones and is inserted in your Google place on desktops. It is known as an integrated workplace best for small and new businesses along with college and school affairs.
Key Features
You will get a video and audio preview screen where you can alter the camera and audio settings.
The layout of the screen is adjustable along with screen settings according to each user.
You can message in the meeting.
You are allowed to screen share with other participants.
You can enter and host an unlimited number of meetings.
You can switch on the captioning on live meetings.
Compatible for all types of devices and brands.
Pricing: there is a free version for Google meet along with two subscription plan options.
The starter subscription plan will cost you $6 per user per month.
The standard subscription plan will cost you $12 per user per month.
Jitsi Meet
Jitsi Meet aims to help you stay in touch with your team, friends, colleagues and family. You can start an instant video conference or meeting with anyone you share your room link with.
Starting a meeting at Jitsi is no big deal. All you have to do is navigate to the Jitsi call page, tap on the 'Start A New Meeting' option, enter the meeting name and you are all done.
Key Features
The app works on both Android and IOS devices.
Text chatting feature is available for Website use, which can help you chat in an ongoing meeting.
You can stream your conference on YouTube live.
The auto-view of the active speaker is switched on by default. You can also tap on any attendees' videos to see them on the big screen.
Lock the room and set a password.
Screen sharing is allowed if your device is compatible with the feature.
Pricing: Jitsi Meet is 100% free. It does not ask you to pay for any subscription plan if you want to upgrade your account.
Skype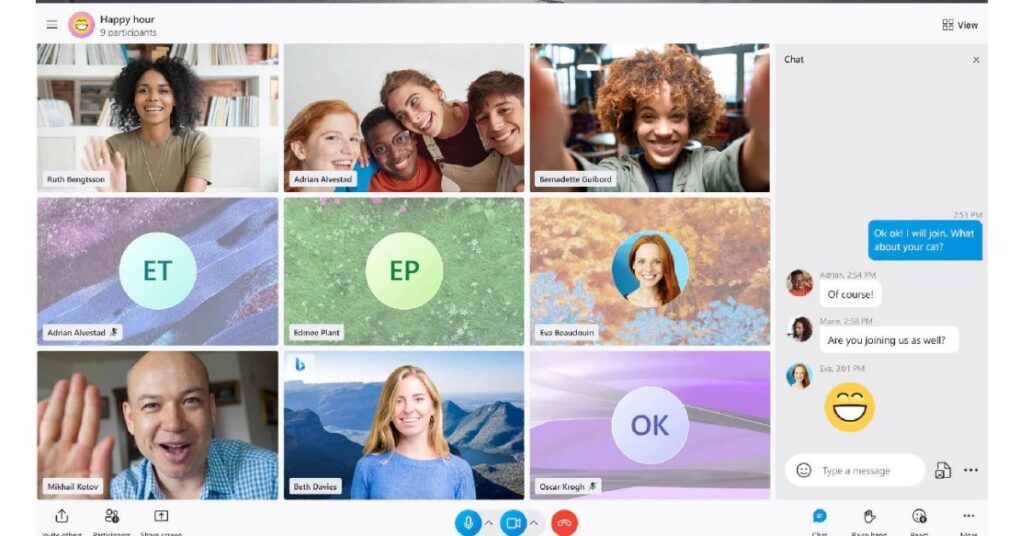 Skype is again a worldwide famous free conference app. Due to the app being accessible on both desktops and mobile along with tablets it is used by millions of people.
You can connect with anyone in any part of the world at any time. In the free version of Skype, you can join and host unlimited conference calls and video chats as well as audio chats with them.
Key Features
The classroom feature is best for college and school students.
The themed collections will allow you to personalise your Skype experience.
You can attend and host guest speaker sessions.
You can give your students the experience of a virtual field trip.
Collab with other teams and Groups for collaborative projects.
Pricing: Skype is 100% free, but if you want to connect with international students or customers, you are required to pay for a subscription worth $2.99 per month.
Cisco WebEx
Cisco WebEx is a famous American Web conferencing company it develops and sells web conferences, unified communication and video conferencing as a service.
Cisco WebEx was founded in 1995 by Min Zhu and Subrah Iyar. Chuck Robbins is the current CEO of the company and its headquarters are located in San Jose, California, United States. It is a subsidiary entity working under Cisco.
Key Features
Collaborate with different teams and companies virtually.
Screen Share your assignment and work while explaining topics to the participants.
You can attend and host 20 million video conferences per month through the free version.
WebEx will deliver WebEx webinars reliably.
Pricing: the basic subscription plan of Cisco web-x is free. Along with this, there is two subscription plan:
For the Meet plan, you are required to pay 13.50 per month per user.
For the Meet + Call plan, you are required to pay $20 per month.
RingCentral
RingCentral is a service provider for different businesses. The services include business communication solutions like messaging, phone calls, video conferencing and contact centre service.
RingCentral was founded by Vlad Shmunis and Vlad Vendrow in February 1999. Vlad Shmunis is its current and only CEO. The headquarters of the company is situated in Belmont, California, United States.
RingCentral is a well-known trading cloud-based communication company. It acts as a parent organisation for a good set of subsidiaries. Ring Central India private limited, RCLIC, Central UK Ltd, are a few of its subsidiaries.
Key Features
You can have a video conference as well as an audio conference with people across the world.
You can go for fax, voice, text, web meetings and conferences.
RingCentral software can be accessed through desktops as well as cell phones.
Through the software, you are not required to use separate applications for everyday conferencing, calls and online meetings.
Pricing: RingCentral has two subscription plan options:
The first plan will cost you $29.99 per month per user which is billed annually for $239.88.
The second plan will charge you $37.99 per month per user which is billed annually for $335.88.
GoToMeeting
Go to meeting is a service created and marketed for web hosting by LogMeIn. It is a software package that includes desktop sharing video conferencing and online meetings.
GotoMeeting allows the participants like customers, colleagues and clients to connect with other computer users. The software was invented in July 2004.
Key Features
The virtual whiteboard feature will allow you to explain anything, any topic to your participants.
You can join the meeting through cell phone or smartphone too.
You can start screen sharing through the desktop.
You can have a personalised meeting room.
The built-in audio will allow you to experience high-quality audio services.
Schedule a meeting.
You can hand over the host control to another participant.
With just one click, you can start recording the meeting.
Pricing: GoToMeeting has a free trial to try the GoToMeeting services. After that, it gives you three pricing options:
The professional subscription plan will cost you $12 per organizer per month.
The business subscription plan costs $16 per organiser per month. It is billed annually.
The Enterprise subscription plan will ask you to name your custom pricing.
Conclusion
The above list contains every Whereby alternative which is trusted and has the best services for video conferencing. They all can connect you to clients and colleagues internationally and will help you go on with your communication swiftly.
Frequently asked Questions
Which are the Whereby alternatives free?
Jitsi Meet is the best Whereby alternative which comes with 0 subscription plan commitments and fees. It is 100% free to use.
10 Best Alternatives to Zoom App
Airmeet vs Zoom: Comparison
GoToWebinar vs Zoom: Comparison
17 Useful Google Meet Alternatives
Google Duo vs Zoom: Comparison
Crowdcast vs Zoom: Comparison
Jitsi Meet vs Zoom: Comparison