UberX vs Comfort: What's the Difference? [2023]
We may earn small commission from the products mentioned in this post.
UberX vs Comfort – If you are new to the Uber ride-sharing service, you might find that some options and terminology are pretty confusing. You'll get to see terms like UberX and Uber Comfort.
Wondering what the difference between UberX and Comfort is? In this article, I'll show you a brief comparison between UberX and Comfort.
Uber is an American company whose services include food delivery, couriers, ride-hailing, freight transportation, and package delivery.
You might by now know that you can use Uber to request an on-demand ride. However, you may not know that there are various Uber services to select from, each with a different rider capacity, different purpose, and a different cost.
UberX vs Comfort: What are they?
Among all other Uber services, the most common Uber services you'll see in your city are UberX and Uber Comfort.
Because they offer a wide range of options for travelers running errands or commuting home. And with improved customization, you can get full control of your ride experience.
Check out the article below on UberX vs Comfort, which explains what both services are, how much they cost, and which to select the exemplary service for the perfect circumstances.
UberX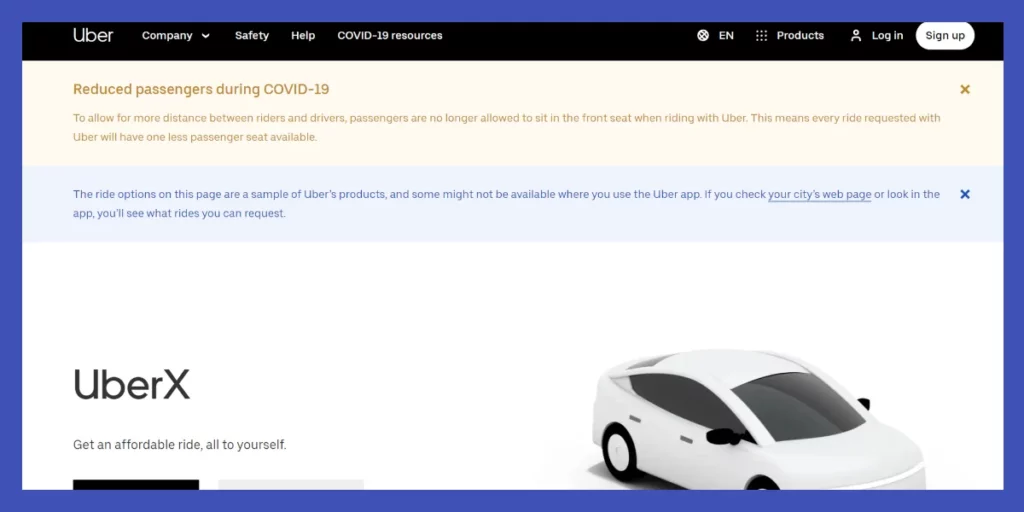 UberX is a standard Uber car service offered to users. It is one of the most prominent car services provided by Uber.
UberX offers low fare, private rides in standard sedan or other vehicles which can hold at least four passengers.
All you need to do is to open the Uber app, enter a destination without changing any of the default settings, and then an UberX ride is what you'll get.
UberX driers are supposed to undergo a background check and DMV check, so you can be sure that you'll be safe and secure during your ride.
Furthermore, it'll even ask you to rate your driver once your ride finishes. This will confirm that your driver is responsible for their conduct.
Keep in mind that drivers can also rate you as a passenger.
Uber Comfort
Uber Comfort is one of the services available in the Uber app, which allows you to be matched only with experienced drivers.
It has a new high-end product with several customization options. It allows you to make your trips more pleasant, and you can select your preferred temperature inside the car and whether you choose to chat with the driver or wish to have a silent ride.
Uber Comfort is specially designed for all riders who would like extra comfort en route at a reasonable price.
It also offers a chance to stay creative while on a trip to work, wind down and relax while leaving work, or enjoy a bit extra comfort in your everyday trips.
Although Uber Comfort is quite better than UberX, it is not as large as UberXL. But, as a whole both UberX and Uber Comfort offer a unique experience for their guests.
UberX vs Comfort: Differences
If you are wondering what is the fundamental difference between UberX and Uber Comfort, then keep on reading to know more about them.
Number of Passengers
UberX has seats of four passengers, and its cars are usually sedans such as Prius, Toyota, Honda Accord, Mazda3, Ford Escort, and more. UberX drivers are not professional drivers, and a commercial license is not really needed; however, some UberX drivers have one.
Whereas Uber Comfort has four seats in a larger vehicle with more legroom and headroom than a standard UberX vehicle. Full-size SUVs and sedans qualify for Uber Comfort, and few markets also need Comfort vehicles to be newer models.
Vehicle Types
Even though not every UberX vehicle will qualify for Uber Comfort, every car must pass some minimum requirements like having a 4-door vehicle, being 15 years old or newer, passing the vehicle inspection, having air conditioning, working windows, no rental cars, and many more.
UberX Vehicles
The type of cars UberX comprises are usually manufactured in the last 10 to 15 years, four-door trucks and sedans and vehicles with less or no cosmetic damage.
Similarly, the standard vehicles that UberX makes are Hyundai Sonata, Hybrids, Ford Fusion, and Toyota Camry.
Uber Comfort Vehicles
The type of cars Uber Comfort comprises are usually manufactured in the last five years, cars having the minimum legroom requirements and reputable drivers, who have completed over 500 rides with an average 4.85 ratings.
Similarly, the standard vehicles that Uber Comfort makes are Dodge Durango, Jeep, Chevy Tahoe, Kia Soul, Toyota Rav4, BMV, Honda Odyssey and Benz.
Looking for a buy or sell car? Try these websites.
Cost
Both UberX and Uber comfort prices depend on various factors. Uber uses an algorithm to determine the price of your ride.
It usually charges a standard base along with the cost per mile and cost per minute.
We can say that for a regular UberX ride, the price is $23.97 and for the same ride, Uber Comfort will cost $31.16.
How to Ride
From both UberX and Comfort, you can enter your destination and then confirm your pick up. Once you're matched with a driver, you'll be able to see their picture and vehicle details and can track their arrival on the map.
Then, you can check the vehicle details and also request a specific route. After your ride, you'll be automatically charged via a payment method on file, and you'll be asked to rate your driver to help keep UberX and Uber comfort safe and enjoyable for everyone.
Uber X
Usually, standard Ubers permits riders to manage their pick up and drop off location, but they don't ensure your ride will come on time or in the situation you're wishing for.
Similarly, UberX rides also don't offer any preferred changes, which means riders have to be okay with whatever temperature, station and the conversation that driver seems significant. Your driver has the most control over your Uber riding experience.
Uber One Review: Is It Worth It?
Uber Comfort
Unlike UberX rides, Uber Comfort rides give you the ability to set your preference before even entering the vehicle, such as the conversation level, temperature, and even volume control.
Conversation Level: You no longer have to face those little chit-chats with your driver! By using the quiet feature and requesting silent mode navigation, you can seamlessly control the noise level of your ride through the app.
Temperature Control: You can select from four different temperature options to control your ride's climate even before you enter.
Final Words: Many people prefer UberX as their go-to service since it is Uber's economy option, and this comprises travel in a four-door sedan, which is ideal for one to four riders.
Uber Comfort can be quite confusing. Because on Uber's website, it is listed in the economy service, but in the application, it is listed as a premium service.
Uber Comforts is basically an advanced form of UberX since it features cars with more seating room, offers faster pick-up times, controlled temperature, conversations, and well-rated drivers. So, this is the major difference between UberX and Comfort.
Nevertheless, UberX and Uber comfort provide Uber services to users who want to travel to desired destinations in different cities conveniently.
I hope the above article on UberX vs Comfort has helped you find everything you wanted to know about UberX and Comfort.
Amazon Flex vs Uber: Best for Side-Hustles?