8 Best Stores like Room and Board for Modern Furniture! [2023]
We may earn small commission from the products mentioned in this post. visit here for more details.
Stores like Room and Board: Home is where the heart is. If your heart is on the sleeve of a sofa or the leg of a vintage table, we're here to quench the heartache!
We understand how exhausting it is to aimlessly browse for the ideal sofa, and even more difficult to navigate through thousands of online search results. Customizable furniture is the solution to all of your interior design dreams just when you're about to give up on the search, or better yet, before that.
Read through to find a list of heartwarming furniture stores that will help make your home a place of warmth and course, awesome designs!
About Room and Board
Room and Board is all about modern furnishings, crafted by expert artisans, and designed to last. Striking a balance between timeless details and designed pieces, Room and Board create furniture pieces that surpass ongoing trends while also maintaining a classy aura about each wooden accent and cushion they make. With quality construction and timeless design, these pieces add up to furniture that's kinder to the planet.
So if your heart is pinned on the collections this store has to offer, you'll be surprised to see these stores like Room and Board that go above and beyond!
West Elm
We all believe in great design, here and everywhere else in the world. Additionally, if you're searching for excellent collections at premium prices, a furniture store like Room and Board will compel you to browse and make a purchase!
West Elm is an online retailer that offers modern furniture and home decor in eye-catching patterns and colours. It offers a wide range of goods, such as kitchenware, office furniture, upholstered furniture, linen, and more.
Highlights
Good for both people and the environment: According to the brand, 60% of all of its products are currently under the umbrella of at least one of its sustainability initiatives.
They work with talented artisans in Brooklyn to hand-make exclusive collections.
Supporting the maker movement locally will help local economies and aspiring designers and artists, particularly in underrepresented areas.
You can create the home of your dreams with the aid of free design services.
Categories
Outdoor & Garden, Bedding & Bath, Decor & Pillows, Lighting, Rugs, Mirrors, and Art.
Crate and Barrel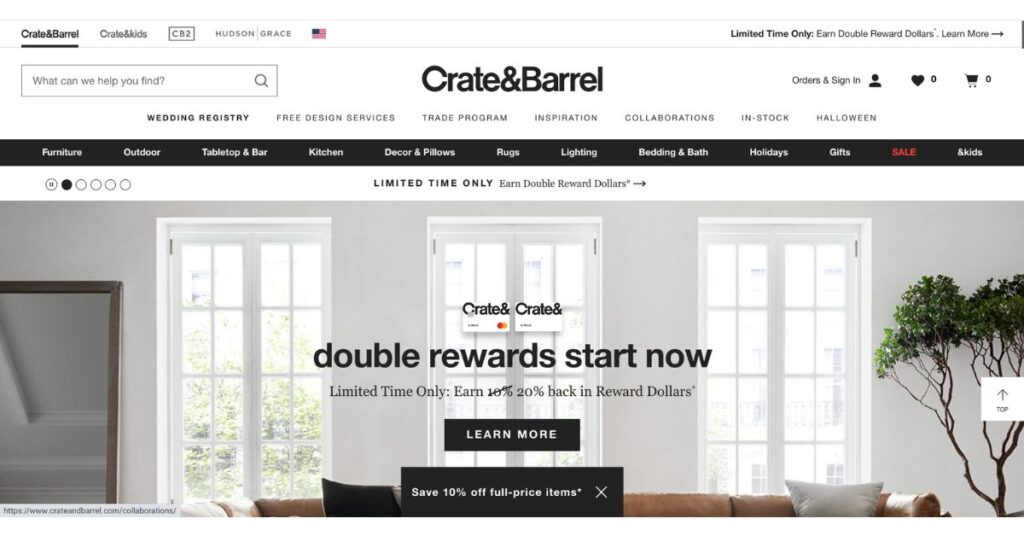 With more than 100 stores and franchise partners in nine countries, Crate and Barrel is a global destination for contemporary and modern furniture, housewares, and decor that benefit people. It connects artistic creations of craftspeople and designers with people and locations all over the world to curate inspiration for the home.
This is the best cure for your heartache if you're looking for high-end quality furniture stores like Room and Board.
Premium goods, distinctive designs, and traditional style are all used by Crate and Barrel to promote inspired living. These components are supported by online tools for designing and visualising products that enable seamless in-store and online shopping.
Highlights
To help you get the most out of your furniture shopping, gift registries and free designing services are offered.
Trade Program Three design-driven brands receive top-notch service. additionally, a professional discount of 20%.
Responsible designs for your spaces are available in the Inspiration Corner.
#CrateStyle: to be featured or to find inspiration when you're at a loss for ideas.
Categories
Outdoor, Tabletop & Bar, Kitchen, Pillows & Throws, Rugs, Lighting, and Bedding & Bath.
Blu Dot
The design ought to accomplish more than just look nice. It must take into account how each of our lives works, coming up with inventive ways to make both simpler and more enjoyable. To achieve this, Blu Dot creates thoughtfully designed items with character and meaning.
Blu Dot says they can usually be found knee-deep in sketches or playing show-and-tell with concepts inside the Minneapolis shop. Their entire design process involves teamwork, from pen and paper to materials and equipment to packaging and assembly.
When on the hunt for stores like Room and Board, you need not look further than Blu Dot.
Highlights
Shop from their Instagram Shop which gives away tons of inspiration in terms of how you can style your pieces.
A simple, easy-to-use website with no unnecessary pop-ups or hassles.
Categories
Living, Bedroom, Dining, Office, Outdoor, Storage, Lighting, and Accessories.
Pottery Barn
Pottery Barn is the industry standard when it comes to purchasing woodwork for your space because of its elegant and minimalistic designs. You can always rely on Pottery Barn whether you want to update your dining room or add accents to your living room.
The whole set screams fall and spooky occasions. Consequently, as fall approaches, use this as a signal to shop for furniture at Pottery Barn.
Highlight
GoodbyDesign: They claim that their production of organic cotton has saved 24 billion litres of water and are conscious of their impact on the environment.
#MyPotteryBarn: You may also have the chance to appear in their Instagram store!
With the Lookbook and Room Inspiration sections, you'll never lack ideas.
The New and Now section explores the latest furniture pieces that are ranked most popular by insights.
Collaborations with Peanuts and Harry Potter and The Hailey Bieber Collection "Who's In My Bathroom?"
Categories
Furniture, Outdoors & Gardens, Bedding & Bath, Lighting, Rugs, Windows, Pillow & Decor, Art & Mirrors, Tabletop & Bar, and Storage.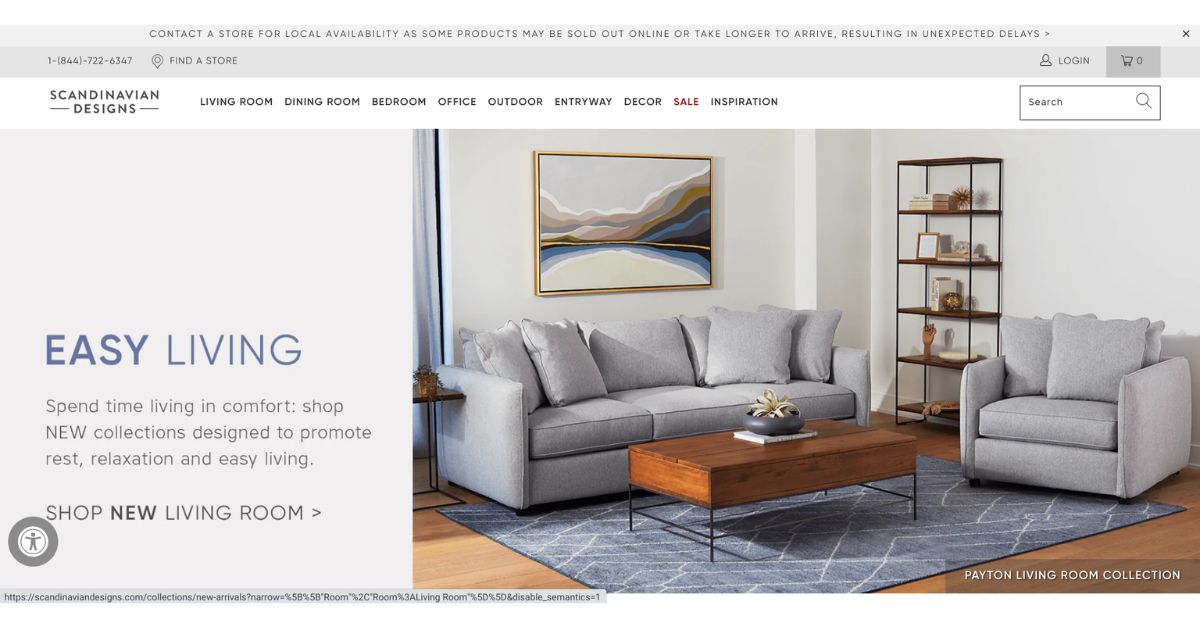 Scandinavian design encompasses much more than just furniture; elements of Nordic design, particularly Scandinavian minimalism, have permeated every aspect of our lives, from electronics to fashion, architecture to interior design.
A family-run business with more than 40 furniture showrooms, Scandinavian Design has been around for more than 50 years. It is a destination for modern home furnishings built on a love of Nordic culture, cutting-edge style, and fine craftsmanship.
The brand aims to meld the tradition of Scandinavian design with your taste through each hand-selected item. If you're looking for culturally rich collections that add significance to a space, Scandinavian design is the perfect alternative to go within the list of stores like Room and Board.
It is a way of life rather than just a design trend, their products are created to complement the art of good living.
Highlights
Clearance Sale and 20% off Karastan Rugs.
Summer Outdoor Sale with exciting offers on selected products.
Never run out of inspiration with shop by room and shop by style (Contemporary, Mid-Century, Modern, and Rustic)
Categories
Living Room, Dining Room, Bedroom, Office, Outdoor, Entryway, and Decor.
CB2
Instead of just showing you the things they make, CB2 wants you to be your most creative self. Wallpaper can be used to draw attention to a particular area, play with colour and pattern, add smart storage to an entryway, or give any room, no matter how big or small, more functionality than you could have ever imagined.
Additionally, we all agree that design should be affordable so that it can be brought home and used instead of just being admired from afar. Additionally, the more versatile furniture pieces are, the more you can do with them because experimentation and creativity are what CB2 is all about.
Highlights
60% off markdowns and double rewards.
The entire website offers free shipping on more than 1000 items.
Free, expert-approved design service so that your home can serve as your creative haven.
Categories
Furniture, Outdoor, Decor & Lighting, Mirrors, Pillows & Throws, Rugs, Kitchen & Dining, and Bed & Bath.
Article
When you need furniture, no matter the kind, the solution is in Article! The furniture that Article offers is distinctive, contemporary, and priced affordably. They can do this because of their creative direct-to-consumer business model, which allows them to offer beautiful, high-quality furniture at a fraction of the cost of traditional retailers.
This website is the best substitute if you're looking for intricate furniture with a tonne of design resources to keep you inspired because it is shorter and easier to use than Room and Board.
Highlights
If you're an interior designer, architect, residential contractor, or home stager, sign up for the Trade program to receive discounts, specialised support, and other special benefits.
Resources for Design: A little sparkle and some vibrancy. This is so that you will always be in awe of the possibilities when it comes to interior design.
Services for free interior design to make your house the castle of your dreams.
Shoppable Rooms: Affordably priced items that go perfectly together and match your mood boards.
Categories
Couches, tables, bedrooms, closets, patio furniture, decorations, bundles, and rooms.
Interior Define
Interior Define is a company committed to producing high-quality, personalised furniture at reasonable prices, including chairs, sofas, beds, and dining. Compared to the brand's top rivals, Interior Define's customization process provides 40% more options. There are countless configurations, right down to aesthetic components like piping and colour blocking.
Highlights
Start your custom journey with 125+ fabrics to choose from.
Get one on one support from a Design Expert.
Interior Define IRL: See how customers have customised their space and get featured by using #InteriorDefine and #HICI.
Categories
Living, Bedroom, Dining, Office, Rugs, Lighting, and Decor.
Conclusion
We hope your heart has found a new website to lurk around and make your next furniture purchase. If you're looking for the OGs of furniture stores like Room and Board, you need to check out Blu Stone, West Elm, Crate and Barrel, and Pottery Barn are the best options. If you're looking for more niche, customised furniture pieces in stores like Room and Board, you need to browse through Scandinavian Design and Interior Define.
7 Similar Stores like Pier 1 To Buy Online Furniture [2022]
7 Furniture Stores like All Modern to Customize Your Home! [2022]
7 Best Stores Like Ashley Furniture to Furnish Your Home With [2022]
6 Online Furniture Stores like Joss and Main You Can Try! [2022]
7 Furniture Sites like Article for Affordable, Modern Furniture [2022]

FAQs
Scandinavian design is distinguished by a straightforward, uncluttered approach that aims to bring beauty and function together. Its emphasis is on clean, simple lines and uncluttered, light spaces.
When does Blu Dot have its sale?
Blu Dot's Annual Sale is what really gets us going every autumn. They discount all of their contemporary, cheeky designs by 20% for a limited time each year. It's a sizable sale and a sizable deal. So we sifted through their library of furniture, lighting, and more to find some of this year's best buys.
Who owns the Room and Board?
John Gabbert, the company's current CEO and owner, established Room & Board in 1980. The company currently operates more than 14 stores across eight states and 6 distribution hubs across the nation.