5 Cheap Stores like Family Dollar & Family Dollar Alternatives [2023]
We may earn small commission from the products mentioned in this post. visit here for more details.
Family Dollar Alternatives: You can go for high-end brands for daily clothing and stuff, but when it comes to daily necessities, groceries, food, and beverage, then you have to decide your favorite brand among many retailers – mostly from cheap stores like Family Dollar.
About Family Dollar
Family Dollar is one of the dollar stores offering branded products at cheaper prices than your local retail stores. It is a general discount store, where you can get weekly coupons and promotional discounts to save more on groceries and everyday household necessities.
Family Dollar is one of the popular stores offering good quality products at cheap prices without any doubt.
But, if you don't have any Family Dollar stores located in your area or you simply want to try some more Family Dollar alternatives, then you are on the right page because, in this article, we are going to list down 5 cheap stores like Family Dollar that you must visit!
Dollar General
Dollar General is here to make shopping for everyday essentials easier for you. It is one of the popular American chains of a variety of stores providing services through over 18,000 stores, its website, and an app across the continental US.
Dollar General has good quality products since all its products come from popular brands. And the prices are less and it also has a good set of categories to shop from including pets, toys, food, beverage, health, personal care, electronics, beauty, household, school supplies, and much more.
Talking about the deals, it has a special page on its website and app to help you shop for all the latest super deals available. Apart from that, you can also explore digital coupons online including combo offers like buy five get one free.
Key Highlights
Has weekly ads where you can browse through all the groceries and daily essentials at an even lower price than usual.
Its website comes with an on-site store locator and store directory.
You can check five-star ratings and reviews for every product.
You can add your address on the website and app and check if certain products are available in the nearest dollar general store.
Best For: hand tools, coloring books, wrapping papers, air fresheners, party supplies, greeting cards, DVD movies, and toys
Dollar Tree
Dollar Tree is probably one of the cheapest stores like Family Dollar and one of the best Dollar stores due to several reasons, with a few among them listed below. Just trying to read, it is also a multi-price-point chain of discount stores in the US that operates over 15,000 stores across 48 US states and Canada.
It is best when you want to shop in bulk for products for various purposes including businesses, schools, churches, parties, etc, or shop for occasions like Christmas, Halloween, Thanksgiving, birthday parties, etc.
At Dollar Tree, you can shop by all departments with the list having toys, crafts, kitchen, home decor, home, office, health, personal care, food, candy, drinks, holidays, seasons, and celebrations on it.
Key Highlights
The website comes with a store locator.
You can check its weekly ad for super sales in various categories including food and beverage.
It has the same-day delivery option available for a majority of the products listed.
Best For: buying in bulk for parties, restaurants, and similar businesses
Five Below
Five Below is again one of the popular specialty discount stores in the US with over 1000 stores nationwide. It is one of the popular Family Dollar alternatives since it sells items that are less than $5 – clearly cheap along with a good assortment of items between the range of $6 to $25.
Five Below have the majority of its products between $1 to $5 at max. Also, while Five Below has daily necessities at five below for you, you can find some incredible finds and some exclusive collections that can go beyond 5 dollars at some point.
Further, you can shop from a good set of categories like Style, Room, Sports, Party, Tech, Create, and Candy.
Key Highlights
It offers exclusive collections for new occasions and seasons like Christmas, winter, autumn, Thanksgiving, new year, etc.
Both the website and app contain an on-site and in-app Store locator.
Best For: little treats, electronics, novelty items along with gifts
Temu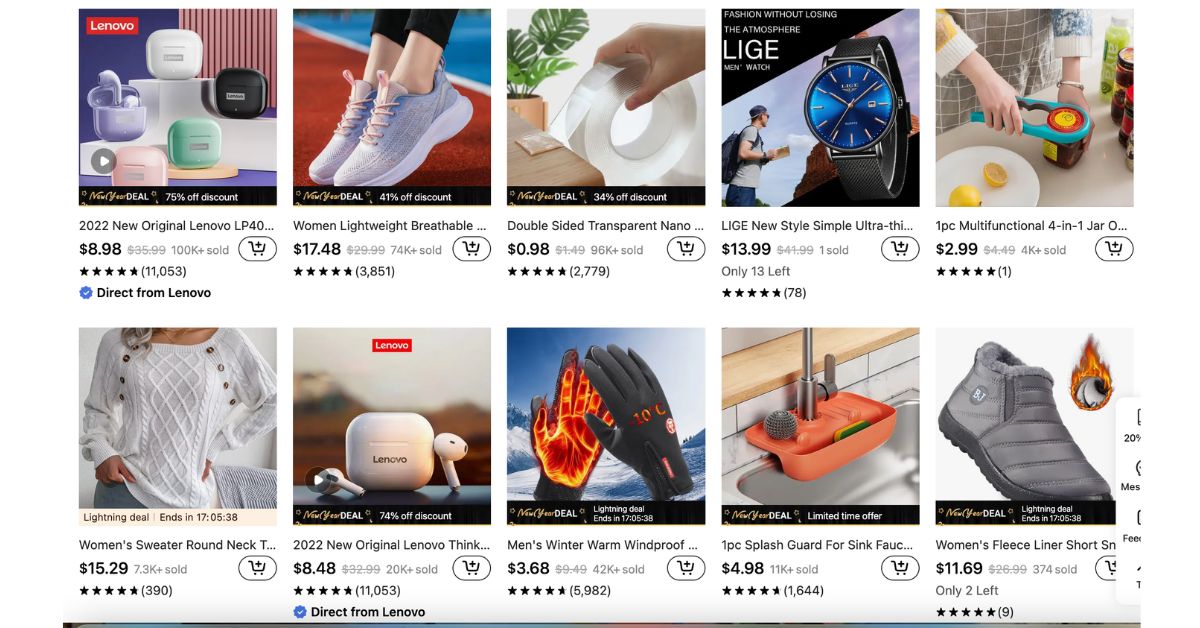 Temu is not exactly like other stores like Family Dollar mentioned in this article, but when it comes to a huge selection of products, and cheap prices with quality being average – it is one of the best Family Dollar alternatives so far.
Temu is a home for thousands of Chinese sellers, but it only serves customers in the US. Though it hasn't opened international shipping yet, it is successful in acquiring a good amount of market in the US only after 3 to 4 months after its debut.
When it comes to categories, you can shop from a good collection of departments including clothing, toys, games, automotive, jewelry, appliances, smart home, household, lawn, health, electronics, tools, and much more
Key Highlights
Has easy returns and refund policies with a 90 days return window.
Offers the buy now and pay later service through Klarna and Afterpay.
You get to check the star rating and reviews for every product before buying.
The platform shows how many units of a certain product listed has been sold since its listing for better decision-making.
Best For: lifestyle products
Walmart
Walmart is one of the leading retailers and multinational shop operating a chain of discount department stores, hypermarkets, and grocery stores all across the US.
At Walmart, you get multiple chances to save money and live better with everyday low prices charged at all your daily essentials. Also, while the prices are lower, the quality of the product is promising for the price you pay, its promotional deals are multiplied and updated frequently.
With Walmart, you can pretty much get anything and everything with the categories including art, crafts, office supplies, seasonal decor, party suppliers, home improvement, garden, baby, pharmacy, tires, industrial, shoes, clothing, video games, outdoors, sports, home, etc
Key Highlights
The website comes with an on-site store locator.
Below the cart icon, you get to check the order total.
It offers a variety in sizes, quantities, colors, etc on most of the items.
Has an easy 30-day return policy.
Best For: appliances, electronics, clothes, food, cosmetics, and toys
Final Words: Stores like Family Dollar
We hope by reading and going through our list of stores like Family Dollar, you now know some of the leading Family Dollar alternatives to visit.
Frequently Asked Questions
Is Family Dollar or Dollar General cheaper?
Family Dollar is cheaper than Dollar General, but the difference between prices is not much.
Is Dollar Tree and Family Dollar owned by the same company?
Yes, Dollar Tree and Family Dollar are both owned by the same company named Dollar Tree Inc.