MyFitnessPal vs Fitbit: Complete Comaprison [2022]
If your health and fitness are going down and you certainly do not have any motivation to get it back on track — how about we introduce you to two famous fitness service providers called MyFitnessPal app and the Fitbit brand?
While one solely focuses on guiding you and inspiring you to get fit, the other will keep a track of your heartbeat, steps walked and other health-related activities to show you your progress. Which one among these is the best for you?
To know your ideal friend among MyFitnessPal vs Fitbit — read the article below.
MyFitnessPal vs Fitbit: Introduction
MyFitnessPal:
MyFitnessPal is a smartphone application and website that is helpful when you want to track your diet and exercise. According to Apple, the app offers auto-renewing systems.
The app uses gamification terms to inspire you to exercise and follow your diet goals. The app is available on both Android and iOS devices. It has a special page of tips to help beginners on the app add newbies in fitness and have a better experience.
Fitbit: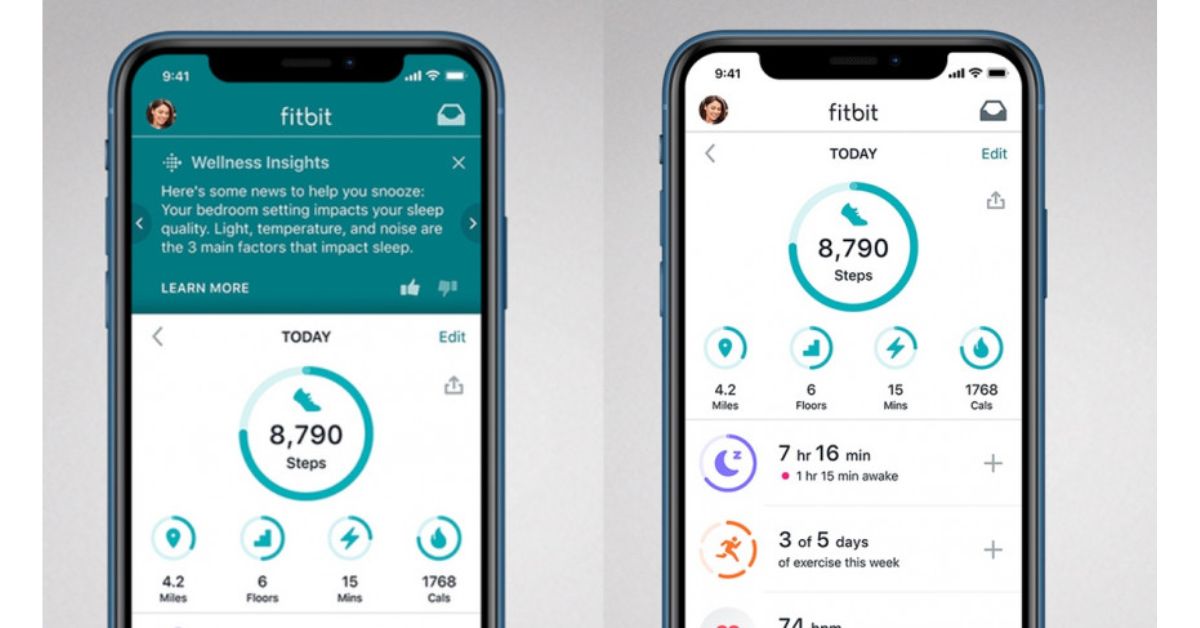 Fitbit is a consumer electronics company from America. The company is also known for its tools in the fitness and health industry. The company manufactures wireless-enabled wearable technology.
Along with that — they also make physical fitness monitors and activity trackers like pedometers, Monitors for heart, quality of sleep, stairs climbed and smartwatches and more related tools.
The brand's official services encourage you to try their services and find your fit with Fitbit's family of health and fitness products. They claim that their products are designed to keep you motivated and make improvements in your health by doing exercises, keeping track of your activity and diet, etc.
MyFitnessPal vs Fitbit: Features
MyFitnessPal:
The ad-free services of the app will help you to focus on completing your objectives and goals for a certain day or time — without getting distracted by non-relevant ads and videos.
A special feature of setting goals is equipped. You can set the goal of macronutrients by percentage or gram, whichever looks best to you.
The quick add macronutrient feature will help you save your time and after adding macronutrients, jump on to your next task.
You can customize your exercise calorie settings. You can make changes to your goals.
The app has a home screen dashboard to keep you updated all the time.
The food analysis feature will keep a track of your food and will suggest you the best diet based on your current fitness status.
The app will not stick you to a set of goals for a week or couple of weeks. You will get different goals and objectives to achieve every day.
The customer support services prioritise the customers the most. If you are facing any bug or issue anywhere on the website or app — you can report it to the customer support team or contact them to file the complaint.
Fitbit:
Fitbit tracking tool will track the patterns of your sleep. It will help you understand why you are still tired after getting enough sleep throughout the night. As sleep plays an important role in your health, knowing if you are sleeping nicely is also important.
The other tracking tool for heartbeat will monitor and track the rates of your heartbeat. It will help you know why your heartbeat is changing rapidly out of the blue.
Another tracking tool will keep track of the oxygen level in your blood.
GPS tracking will be enabled while you are exercising.
You can listen to inspiring stories and music while you are at it.
The app will allow the call and text notifications to reach out to you even if you are in the middle of your exercise or anything else. You will stay updated unless you change the default settings of the notifications and app.
MyFitnessPal vs Fitbit: Pros and Cons
MyFitnessPal:
User-Friendly — The app of MyFitnessPal is known to be robust and user-friendly. The app has a simple yet nice user interface and the performance will not slow down unless there is an issue with your internet connection or the device itself. You can take a tour of the app or website and the important elements like where to find the different tools, how to make use of tracking tools, etc are easy to understand.
Vast database for Food — The app contains information about 3.2 million food items. The list includes different vegan types and non-vegan which you might have never even
heard of. The app allows you to scan the barcode of most of the food packages — then it will automatically load those packages into the app. You can create your recipe and save them to use later. You can also copy-paste the complete meal.
Different types of measurements — you are not required to walk around your house with different cups and spoons with major accuracy. The app has options for different types of measurements to use which include – tablespoons/cups, fluid ounces, weight and precise serving sizes of different foods.
Last line calories are not usually considered — it may happen most of the time that your MyFitnessPal account will clearly ignore the user's calorie requirement. It does not take enough terms and variables into consideration when it comes to baseline calories. They are often underestimated by the app automatically.
Inaccuracy in weight loss or gain assumptions – it is quite understandable if the app shows you high inaccuracy rates and weight loss or gain assumptions to inspire you to shed some fat or gain — but, being a bit more extra than it is supposed to be, will eventually make the users overwhelmed, which is not always a good thing as after the goal is incomplete after the time the app gave — the user will get upset and unmotivated.
No customisation in exercise types — you cannot customize the list of exercises you have to do today. The app will not allow you to ignore any exercise as it has a plan ready to help you gain or lose a certain amount of fat with daily exercise. However, if you upgrade your account from a free version to a premium one, you can ignore all the exercises you do not wish to do.
Fitbit:
Options — Fitbit has a set of eight items which includes three smartwatches and five trackers. The most inspiring item by the brand is — Fitbit Inspire, which will check your steps, distance travelled, sleep and calories burned daily. You can as well track your water intake and weight. Fitbit gives you a good amount of options to keep a track of your overall health.
User friendly for tech Newbies — One of the main reasons why Fitbit is so popular is — that it has done a great job in creating user-friendly and decent items. A tech newbie or anyone can easily take in the understanding of their products and how they work.
Best for boosting your motivation — Keeping a track of everything you do will help you know when and where you are doing a better job. Watching yourself progress will eventually boost your motivation and you will inspire yourself to do better the next day and the other.
Water-resistant bands — you will get most of the Fitbit bands water-resistant. You will no longer have to worry about getting your tracker tool into danger if it meets with the water.
Long-lasting charging — The charging is made to last long. You are not required to put your Fitbit bands on charge after every time you use them. The battery runs smoothly for a couple of days and more than that at times when you have not been using them as much as usual.
Uncomfortable — not for all and not at a great rate but items from fit bit reported many times for being uncomfortable. The default band is manufactured with the help of flexible rubber and can easily be adjusted, but they feel bulky and heavy around your wrist.
Expensive — as the trackers start from $69.95 and smartwatches from $159.95, other products are quite expensive compared to other similar working products.
MyFitnessPal vs Fitbit: Pricing
MyFitnessPal:
You can use MyFitnessPal for free with their free version. The premium membership will cost you $9.99 per month or if you billed yearly then — $49.99 per year.
Fitbit:
Fitbit premium membership — $9.99
Fitbit sense — $199.95
Fitbit versa 3 — $179.95
Fitbit versa 2 — $119.95
Fitbit charge — $129.95
Fitbit Luxe — $99.95
Fitbit Premium vs Free: Comparison [2022]
FatSecret vs MyFitnessPal: Which Is Better? [2022]
MyFitnessPal vs Fitbit: Service Accuracy
If we are talking about accuracy, it certainly means the accuracy rate in tracking the user's health-related activities. As MyFitnessPal is developed to only give you instructions and make you achieve your daily goals — Fitbit has a major advance in this field.
As most of the Fitbit items and services are related to tracking of different activities, it has the most accuracy rate in service while the services from MyFitnessPal will guide you towards your objective. Items and services from Fitbit will give you progress reports on a daily basis. To put it in simple words — both can be useful but Fitbit has a better rate for accuracy than MyFitnessPal.
Conclusion
If you are aware of what you are supposed to do and you have a good amount to spend to get your health back on track — you can go for products from the Fitbit bands. Their trackers and smartwatches will help you just right to stay motivated and do better.
However, if you do not wish to spend more and are a Newbie in this field, then you can go for the MyFitnessPal app and start from scratch. For the bottom line — both the brands for fitness are best in their ways.
Frequently asked Questions
Fitbit app software vs MyFitnessPal: which is better?
As Fitbit software can be best used with the help of its items, if a user does not wish to spend a load of money in investing in Fitbit fitness — MyFitnessPal software's comparatively cheap premium subscription will get them on the right track.
Fitbit calorie counter vs MyFitnessPal: which is better?
Fitbit is known as a professional tracking tools inventor. It is known for its accuracy rates and reports for different tracking activities. Meanwhile, MyFitnessPal here has reported complaints for showing inaccurate assumptions about weight loss and gain often to its users. This simply means — the Fitbit Calorie counter is better than MyFitnessPal.
Fitbit calorie counter vs MyFitnessPal: which is better?
MyFitnessPal, it is a whole loaded app with guidelines and features that will motivate you to follow your routine. Along with that, it has recorded a Total database of 3.2 million different foods including vegan and non-vegan. This means MyFitnessPal takes a bigger step from Fitbit in this case.
Discloure: ViralTalky is supported by its audience, when you buy through links on our site, we may earn a small commission.