Yazio vs MyFitnessPal: Which Is Better Fitness App? [2023]
We may earn small commission from the products mentioned in this post.
Yazio vs MyFitnessPal: In today's modern world, everyone has a great interest in fitness. And it depends on eating healthy meals, keeping calories tracked, and everything accountable. But you can't visit a nutritionist daily after every meal to count calories.
So, in this article, we will talk about the two best fitness apps, Yazio and MyFitnessPal, which allow you to track your calories with fitness tips, diet tips, etc. Both are calorie-counting applications, but they differ in some aspects.
Yazio is a calorie and exercise tracking app for weight loss that helps you to quickly lose weight and maintain your happiness. On the other hand, MyFitnessPal keeps track of how many calories you consume every day. If you want a detailed comparison of both apps- Yazio vs MyFitnessPal, keep reading this article.
Overview: Yazio vs MyFitnessPal
Yazio
Yazio is a calorie-counting app made with weight loss and healthy eating in mind. It is among the oldest calorie-counting applications available. Also, Yazio has developed into one of the best diet and nutrition trackers available, with millions of users in more than 150 countries.
It aims to assist people of all levels of health and well-being in achieving their objectives by creating an in-depth nutritional tool. Also, it enables you to keep your diet under control by counting calories, which allows you to determine if you are on track, overeating, or undereating.
Yazio assists you in tracking your intermittent fasting routines, such as the 5:2, 16:8, and 6:1, in addition to calorie monitoring. It helps you to both build muscle and burn fat. With the free Yazio app for calorie counting, meal planning, intermittent fasting, and weight loss, you're sure to achieve your goal in a matter of weeks.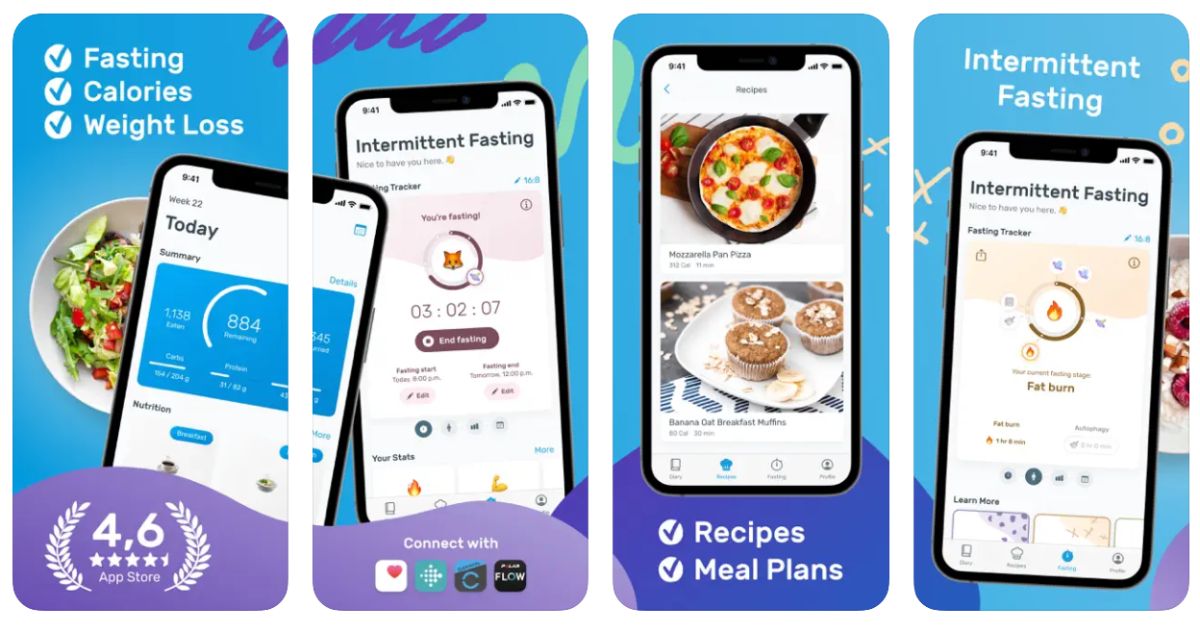 MyFitnessPal
MyFitnessPal is one of the most known apps that integrates calorie counting and tracking macronutrients into its strategy for supporting weight loss. It is another excellent option because it allows you to establish precise objectives for macronutrients, cholesterol, sodium, and other nutrients and evaluate your nutrition.
It uses a nutrition database of over 14 million foods, including many foods from restaurants, to calculate your daily caloric needs and let you track what you consume throughout the day. MyFitnessPal gives you a breakdown of the calories and nutrients you ate during the day once you enter your food intake.
With the premium subscription, MyFitnessPal also includes a barcode scanner, making entering the nutrition facts for packaged goods simple. Also, you may keep track of your weight, look up nutritious recipes, and connect with other users to share advice and success stories.
Key Features: Yazio vs MyFitnessPal
Yazio
It is quick and easy to use.
It provides countdown functionality, 6:8, 5:2, and 6:1 fasting programs, making intermittent fasting simple.
You can access more than 1,000 recipes and personalize them to your tastes.
The calorie table list almost 2 million foods.
Link to your fitness tracker to have your activities and steps tracked automatically.
You may monitor your diet and report the macronutrient breakdown of whatever you've eaten using Yazio's calorie counter.
Use a calorie counter to keep track of your calories burned.
Track your daily steps taken to encourage you to walk more.
There are also fun challenges that can encourage you to develop healthier behaviors.
Also, there is a recipe page that provides a variety of recipe suggestions and makes it simple to calculate the total number of calories in a meal.
MyFitnessPal
You can track your food and exercise intake.
In its active forums, make friends and find motivation.
You can keep track of your progress and the time of your fast.
Check out the best and worst foods you've logged.
The app also analyses your diet's macronutrients, cholesterol, sodium, and other factors.
Use the app to monitor your water intake.
You can always add your meals and recipes and access them from any location with an internet connection.
Even if you are traveling, you can log your meals and workouts.
You can set specific objectives for losing weight.
You can even scan bar codes or food using your phone's camera.
Cost & Plans: MyFitnessPal vs Yazio
Yazio
Yazio is available in both a free and a premium version—you require an email address for free version registration.
For the premium version, there are various payment plans:
For one month: $19.99
For three months (quarterly): $39.99
For semi-annual: $34.99
For annual retail: $54.99
With the purchase of Yazio Pro, you'll get access to all of the premium features, including the nutrition coach, detailed recipes, fasting and meal plans, a mood tracker, and more information on the macro- and micronutrient contents.
MyFitnessPal
MyFitnessPal is free to download. Additionally, signing up for the free version requires an email address.
For the premium version, there's a monthly and annual subscription fee.
Monthly subscription: $19.99
Annual subscription: $79.99
The premium version offers more precise nutritional information and more detailed and unlimited macronutrient reports.
Differences: Yazio vs MyFitnessPal
Overall, if we look at both apps, they are regarded as the best calorie counter. But they are different in some ways, like their features, pricing, etc.
Yazio App is a calorie and exercise track app for weight loss. With it, you might lose weight quickly and maintain your happiness. Also, it costs less than MyFitnessPal.
On the other hand, MyFitnessPal keeps track of how many calories you consume every day. Also, it allows you to plan a diet and keep track of your daily exercise routine, whether it is walking, running, or another kind of exercise.
Which Is Better? Yazio or MyFitnessPal
We have now concluded our comparison of Yazio and MyFitnessPal. Yazio and MyFitnessPal are great applications for calorie tracking and living a healthier lifestyle. Which is better depends on your needs and what you want from the apps.
Yazio is an easy and excellent app for tracking intermittent fasting, exercise performance, and calories. On the other hand, MyFitnessPal is as essential and significant for calorie counting and tracking workout results. Also, it has a blog that offers a variety of information and can act as a resource if necessary.
Also, MyFitnessPal includes a community where you can connect with people who have similar objectives so that you may encourage and motivate one another. But, this app lacks a tracker for intermittent fasting.
FAQs:
Is YAZIO good for weight loss?
It can help you burn fat and build muscle. You're guaranteed to reach your goal in weeks with the free Yazio app for calorie counting, meal planning, intermittent fasting, and weight loss.
Is there a free version of MyFitnessPal?
MyFitnessPal is free to download and use. If you upgrade to MyFitnessPal Premium, it offers monthly & annual auto-renewing subscriptions.
Why is MyFitnessPal so popular?
MyFitnessPal is easier to track your food, activity, steps, water, weight, and measurement. That's why over 200 million people use the app to achieve their health and fitness goals. All of its features are designed to set you up for success.
Try Alternatives-