5 Best Alternatives Apps like Vola to Try Out [2023]
We may earn small commission from the products mentioned in this post.
Apps like Vola: Anything and everything starts and ends with the term- money. Cash is a day-to-day life necessity for everyone even from the poor to the rich. Money runs today's world without a doubt.
But maintaining the bank balance is tougher it seems to be. Money can make you the happiest person and the saddest too. Hence maintaining the bank balance as well as finance and life balance is a task.
In this article, we are going to talk about the apps which provide cash advance facilities. Cash Advance in the simpler term in lending the cash credit for a shorter period with higher interest.
Vola has made his name popular in the cash advancing app industry and hence finding its alternatives is a difficult task, hence we have made your work a little easy by selecting the top 5 apps out of a huge alternative list of apps similar to Vola.
By the end of the article, you will get to know about the best 5 alternatives of Vola and their fee structure, requirements, and details regarding how they work. Those best 5 alternatives of Vola are- Dave, Brigit, Earnin, Klover, and Cleo.
Dave
Dave has always made it to the top list of any cash advance app alternatives. People trust Dave more than anything regarding the end-moment financial help out from the crisis.
Dave also has a monitoring system for all the expenses and budget you fix regarding your financial savings like Vola. Dave is known for its best financial tools and gives advance money without any credit checks.
Cash Advance in Dave
Dave has many funding options out of which the standard option is entirely free but it may take time to reflect cash in your account up to 3 business days. And the other plan of express funding is a paid service that encashes the advance money in your account on the same day.
If you want to repay the advance you get after a day, then Dave allows you to do so and if not you can pay it on the following Friday, all these features are allowed according to the amount you have borrowed.
How does it work?
Dave needs an email address, mobile phone number, etc documents for the identity proofs.
After the verification of the same, you can lend money from Dave.
Dave works in a cycle mode, once you get advance money from Dave you have to pay it completely before applying for more money.
Dave will then examine the expenses you make out of your income and regular account balance for predicting the future of your expenses to come and how much will you need as advances.
Dave also offers to make a list of the products and their prices like Vola to examine how much they will cost you as a total and then allows you to edit the same.
Requirements of Dave
There should be a steady paycheck with an account to direct deposit.
You should have proof of additional discretionary income each month.
The limit kept by Dave is $200.
Fees of Dave
The fee charged by Dave for every month to its users is $1.
Dave also charges for the optional service tip too.
Brigit
Brigit is a great option for a similar app like Vola. Brigit offers a free loan for a short period and for a small amount which helps the customers to pay their bills on time or manage their credits at the last moment.
Brigit costs you around 9.99$ per month as the membership fee and the app has a sleek and simple design for the newbie users. Brigit also offers credit monitoring and identity theft insurance for up to $1 million.
Cash Advance in Brigit
The best feature of Brigit in cash advancing is once you pay your loan and need it again, you can easily get it without any inquiry or something.
Cash Advancing of Brigit works according to your qualifications are approved for the credit or not. The cash advance limit of Brigit is kept for $250 without hitting the credit limit to zero.
Brigit doesn't charge any overdraft fees and they offer both a free plan and membership plan to choose from according to the customer's wish and financial status.
How does it work?
It's very simple to get started with Brigit.
The basic rule of the app is that the users should be above 18 years and have valid identification proof.
You should have an average paycheck of $400.
Brigit uses an algorithm feature that helps you to sabotage overdrafts or extra fees just like Vola.
Brigit uses a greatly advanced technology that predicts your account liability and suggests a cash advance before you run out of money.
Requirements of Brigit
There should be a sufficient bank account with active status.
Your account balance must be greater than $0.
You should have three recurring deposits from the same employer.
There should be an average minimum payday account balance.
The limit kept by Brigit is $250.
Fees of Brigit
The amount of fees charged by Brigit on monthly basis is $9.99 per month.
Earnin
Earnin is another best option for apps like Vola. Earnin turns out to be the best version for people who don't wanna put money into membership fees since it is free from any kind of membership fee.
Earnin was very helpful when we talk about the pandemic situation since it offers advances for the people who were jobless in that particular period.
Earnin has a lot of unique features like paying cash advances for medical bill concessions, cashback offers on shopping, alerts for overdraft, and also provides a calendar for budgeting the month in advance.
Cash Advance in Earnin
The cash advance limit kept by Earnin is $100. They also provide advances up to $500 but has different eligibility criteria. Their eligibility criteria are kept simple, all you have to do is pay your advances well and get qualified for more cash advances.
It has a similar paycheck cycle to Vola when once you take up advances, then pay it well to get another one.
It has a special category under the title- Max Info to keep a check on your daily max limits and to maintain it.
How does it work?
To start your paycheck account with Earnin it will ask for your mobile number to activate the same.
Once you have registered your mobile number with Earnin, all you have to do is link your bank account with the same.
They will also ask about your employment and income to maintain their safety advance limit.
It also has the feature of adding your salary to an electronic timesheet in the category of – Automatic Earnings.
It also has a Balance Sheild feature which maintains the overdraft limit.
It is known for its bank-grade security of 246-bit encryption to protect your information.
Requirements of Earnin
Earnin requires you to maintain a regular pay schedule.
They also require a fixed work location and timekeeping as proof.
You need to send $50% of your direct deposit to your checking account.
The limit kept by Earnin is $500.
Fees of Earnin
The best of Earnin is it doesn't charge you any monthly fees.
But, Earnin may charge optional tips occasionally.
Klover
Klover is known for its zero-interest cash advances to give as small loans to its customers. Klover also has made the list of best alternatives to Volo because of its customer delightful services.
Klover will ask you questions regarding your personal information, transaction history, income, bank balances, etc to note how you spent money and which is the limit of the same is when you are in a position of cash advances.
Klover also uses your data to offer different types of financial products and services which will help you out with the stability of your financial criteria of life.
Cash Advance in Klover
The limit for borrowing payday from Klover is up to $100. The standard deposits from Klover are kept at zero cost.
For the instant money, you will need to pay a small fee. After borrowing a huge amount you will need to pay the same and then get the new one like Vola does.
To increase the limit of your cash advances, you will need cash points which they offer, which will help you to increase the limit of advances.
How does it work?
It offers reward points which can get you some extra cash.
It will need 2 days to verify your account.
Once your account is verified, then you can request cash advances according to your requirement.
Once your request is accepted within 2 days your cash will be deposited in your checking account.
For the same-day deposits, they will charge you some money if urgent.
Requirements of Klover
They need at least three executive deposits over 2 months which is direct.
They will need your basic information for liking your account with Klover.
Fees of Klover
Standard deposit is kept free but immediate advances may charge a small fee.
Klover doesn't charge hidden fees or interest.
Cleo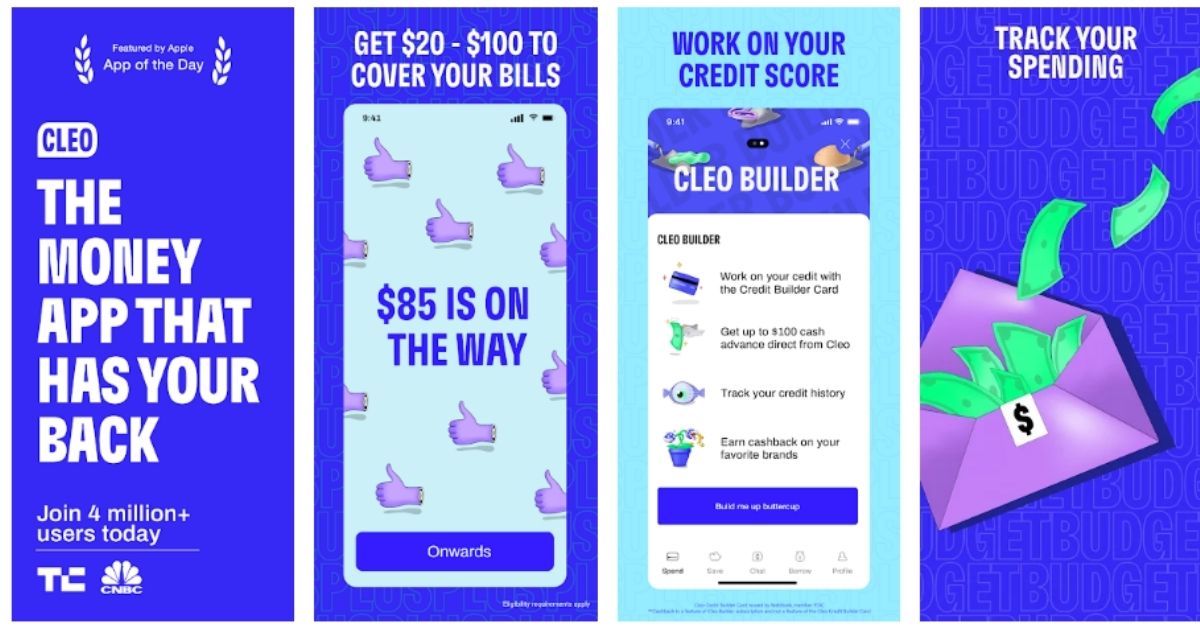 Cleo is just like Vola and made with love for the millennials. It is known for its sleek and beautiful design with easy-to-understand technology for newbie users.
Cleo does all the work for users and makes them free from going to multiple options and thousands of clicks. Cleo has two versions which are one application and another available with Facebook Messengers.
Cash Advance in Cleo
Cleo is supported by many major banks which will make it easy for the users to set up their account within two to three minutes. If the user's bank is not on the list, they can still request to do the same.
Cleo has both plans which are one free plan and one with a premium paid plan. Cleo offers mother loans and cash credit in the proportion of $500 at 23.99% APR which has to repay options in monthly installments.
How does it work?
It has a tracking feature built which allows you to track your spending.
Cleo takes up your spending habits and makes it easy by creating a budget that is perfect for you.
It has a save money automatically feature where you can save up your money with high-interest benefits.
It also has a fascinating game corner that gives you cash prizes when you answer the rightly regarding financial questions.
Requirements of Cleo
You should be older than 18 years.
Cleo will need some personal information like your name, address, salary, etc.
It will also need details of your bank account, balance, debit card details, and much more.
Once all your information is verified, you can go further by requesting a cash advance.
Fees of Cleo
It has no minimum deposit requirement.
No hard checks for the credit score.
No fees for registratiuons.
The premium plan Cleo is available at $5.99 per month.
Final Verdict: Apps like Vola
Hence, these apps work like Vola and provide small finances for the users at their minimal crisis with many other benefits.
But choosing the best is a tough call. We made it easy for you to choose apps that are very close to the ultimate best- the Vola app. Hope our research will make it very easy for you to decide among the best of all.
FAQs
What are the best alternatives for Vola?
In this article, we have provided the best 5 alternatives among many like Vola, namely- Dave, Brigit, Earnin, Klover, and Cleo in detail.
How long does it take to receive cash advances?
It takes business days from 3 to 5 according to the amount and usage.