7 Terrible Ghost Detector Apps To Try Out! [2023]
We may earn small commission from the products mentioned in this post. visit here for more details.
Ghost Detector Apps: Are you looking for apps that detect ghosts, communicating with spirits, and finding their locations? Did you want to scare your family and friends or have fun with them? If yes, there are a wide range of ghost-hunting apps available, However, in this article, we'll discuss some of the best Ghost Detector apps that can assist you in doing that.
What are Ghost Detector apps?
Ghost detector apps are for Android and iOS devices that help you to detect the presence of ghosts. You can find out if your home has ghosts by using these applications. With the help of this ghost detector app, you may communicate with spirits and find their locations. These apps are more useful for ghost hunters.
These apps provide some tools like EMF meters, EVP detection, and word analysis, which can help you find ghosts and spirits. Experienced ghost hunters can use these applications to trace the location of paranormal entities in haunted sites. The article mentioned below contains a list of the best Ghost Detector apps which have received the best response from people and a good rating.
Ghostcom Radar Spirit Detector
With the help of the Ghostcom Radar Spirit Detector app, you may detect ghosts, communicate with spirits and find their locations. Additionally, it offers "spiritual statistics" about the ghost's mood, zodiac sign, etc. It's creepy, intriguing, and a wonderful party game, according to its developers.
If you like astrology, the paranormal, and things that go bump in the night then Ghostcom Radar Spirit Detector is the ideal ghost detector app for you. This mobile application is based on a fairly simple technology that has been suggested for decades.
It has received a powerful response and attention on the app store. It has received a 4.5 rate out of 5 on the app store. Users of IOS and Android devices can get the Ghostcom Radar Spirit Detector.
Key Highlights
It's simple and free to use.
It provides location information, ghostly statistics, and cryptic messages.
Best used in a darkened space.
Mysterious and Spooky message generator.
It allows you to invite your friends for a frightful evening at home.
Ghost Hunting Tools
With the help of Ghost Hunting Tools, You may easily detect spirits. You may look for ghosts using your device's various sensors by downloading the free ghost detector app for Android, which is easy to use. This ghost hunting app simulates a ghost detection tool and is only meant for fun purposes.
EMF meters, EVP detection, and word analysis are simple tools for finding ghosts and spirits. Ghost Hunting Tools gives your easy access to realistic looking detectors for hunting ghost and communicating with spirits.
An EMF reader that picks up electromagnetic field fluctuations and an EVP recorder that records electronic voice phenomena are two tools that real-world ghost hunters use to pick up extraterrestrial ghosts. Ghost Hunting Tools is available for iPhone and Android.
Key Highlights
This Ghost Hunting app simulates a ghost hunting detection tool and is only meant for enjoyment.
The easy-to-read and understand EMF meters give you all the knowledge you require to succeed when exploring the paranormal.
It will choose words from the included several thousand words strong dictionary.
As a result, you may keep track of variations in the detected strength and alter your position to get better results.
It will be possible to have excellent ghost hunting sessions with the addition of an EVP library.
Ghost Detector — Haunted Radar
The Ghost Detector – Haunted Radar app makes the claim to be the most accurate ghost detecting app. To determine whether ghosts are present, it detects changes in electromagnetic fields. You can use it to scare your friends or look for ghosts.
With EM4 you may find ghosts and locations of other paranormal events. Using an app, experienced hunters can track the movements of paranormal entities in haunted locations and find out where they are present.
The new algorithm, EM4, is now stable, far more accurate, and sensitive than any of its predecessors, and it also allows you to measure the nature of paranormal entities, including their current state and whether or not they have a positive or negative impact on their surroundings at a given time.
Key Highlights
With EM4, locate ghosts and locations where other paranormal events occur.
It basically only has a needle that moves to the right in response to a strong otherworldly presence.
Sincerely, reading is not even necessary to use it.
The app will let you know whether a presence is favorable or unfavorable.
Paranormal EMF Recorder and Scanner
It is an essential free tool for those interested in paranormal investigation and study! This app turns your phone into an accurate and user-friendly EMF meter by using the magnetometer sensor.
Additionally, it enables you to capture scan measurements and review data immediately from the app. When you use the recording feature, you can take breaks from staring at the screen the entire time you are scanning. The scanning sound can be recorded with or without.
You can swipe and navigate through the diagrams showing the recorded EMF scan results in the interactive in-app analysis. The fact that the recordings are saved in comma separated files (CSV), a popular file format that many computer programs and apps support, is a neat feature.
Key Highlights
EMF detection is entertaining and simple to use.
Accurate measurements made with your device's magnetometer sensor.
Utilize interactive charts within the app to evaluate recorded EMF data.
Gauge displaying the EMF magnitude in real time.
Diagram displaying a real time measurement of the three-dimensional EMF strength.
Simulated measures may be turned on from the Settings screen.
The UI is responsive and fully compatible with devices of all sizes and orientations.
Ghost hunting Toolkit
It gives you access to five potent ghost-hunting instruments, including an EMF detector, a vibration detector, a power detector, an EVP recorder, and even an interrogation tool to speak with sentient haunts.
Use the power detector to "coax entities into exposing their manifestation strength" and the vibration detector to determine whether your furniture is indeed shaking on its own.
Key Highlights
In order to protect night vision during "lights out" investigations, a night-vision mode turns the screen to red tones.
This software gives the ability to examine a potential haunting right in your pocket or purse for use at any time, making it ideal for both professional and recreational paranormal investigators.
Spend $5.99 to download Ghost hunting Toolkit for Apple.
With five effective tools in one handy app, use it whenever and whenever you want to look into the paranormal
Ghost Detector Radar Camera
With a Ghost detector radar camera, you can simulate hunting ghosts and remove phasmophobia in people. If you want to have fun with your family and friends simulating hunting paranormal spirits this is the best app for you.
Utilizing the ground-breaking, ultra-realistic experience of this app, you may locate ghosts and speak with spirits. The only app that detects ghosts displays them as though they are truly floating inside your house.
People have given it positive feedback and ratings above 4.2 out of 5 play store. It has also received a 4.3 rating out of 5 on the app store. This ghost detector app has 5L+ users that have downloaded and use this app.
Key Highlights
It is a free augmented reality (AR) app.
It enables users to utilize their phones as ghost-hunting equipment.
The user interface includes fictitious scientific gauges that measure atmospheric impacts, allowing them to follow "entities".
Ghost Radar: CLASSIC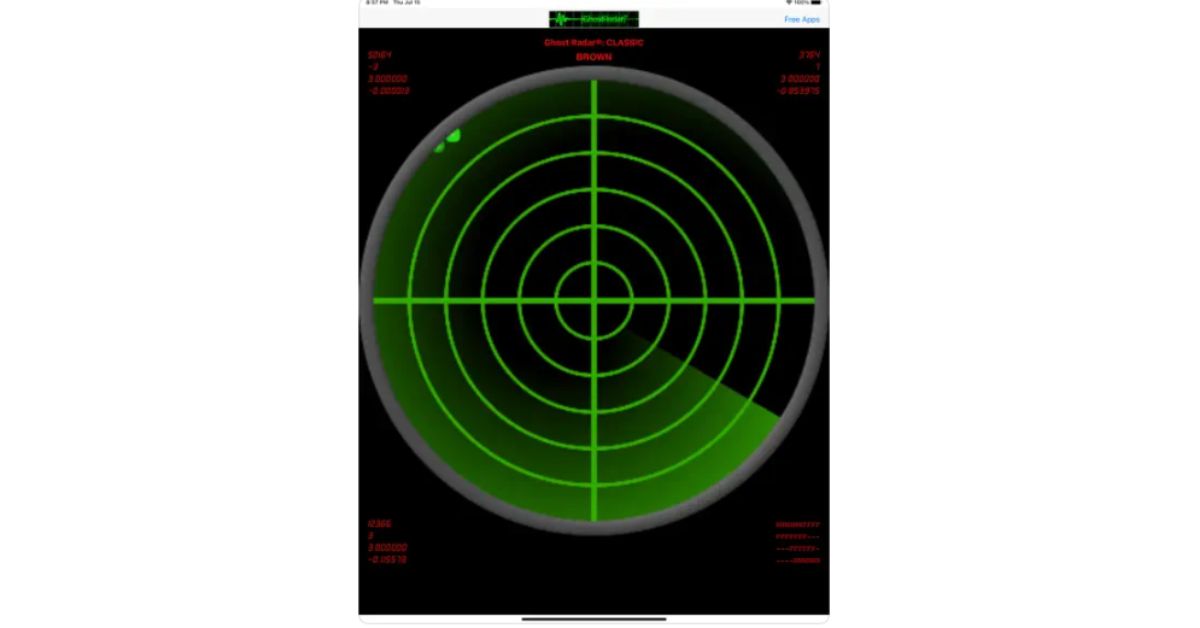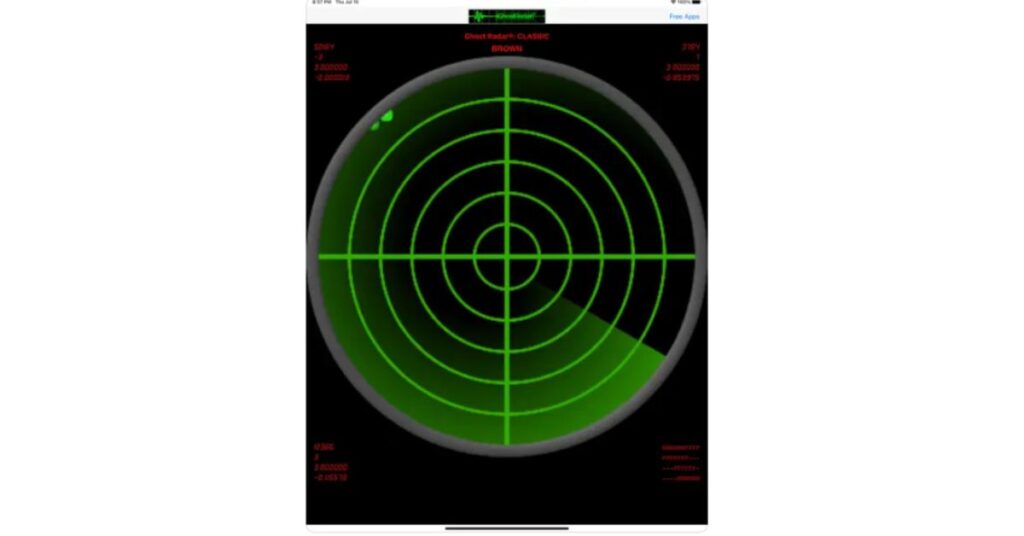 Ghost Radar: Classic is an app for Android and iOS devices that helps you to detect the presence of ghosts. If you're an experienced ghost hunter, you undoubtedly already know that "normal energy" interference can cause typical paranormal equipment to malfunction.
Ghost Radar: By only evaluating the information when intriguing patterns appear, CLASSIC takes care of that issue for you.
Therefore, you can proceed with your inquiry without worrying that something unimportant, like the sound of wind or water interfering with your reading, will mislead you. Ghost Radar: Classic also has a voice that will alert you when any intriguing words have been found.
Key Highlights
Identify any unusual activities in the area.
Measure the vibrations, sounds, and electromagnetic energies in the area.
Note any imaginary words.
To take into consideration background noise, adjust the sensitivity.
Follow signals visually.
Final Words
Here, we come to an end to the article 7 Best Ghost Detector Apps for ghost detect and communicate with it. All the apps mentioned in this article are the best choices available on the internet right now and we hope you find your favorite app that suits your requirements.
6 Scary Games like Red Door Yellow Door To Play Right Now [2022]
5 Mind Games like Green Glass Door You'll Love! [2022]
FAQs
Which are the best Ghost Detector apps with good ratings?
Ghost Hunting Tools, Ghost Detector – Haunted Radar, Ghost com Radar Spirit Detector, Ghost hunting Toolkit, Paranormal EMF Recorder and Scanner are best Ghost Detector apps.