Budget vs Enterprise: Which Is Better For You? [2023]
We may earn small commission from the products mentioned in this post.
In a market where money is the sole motive of most of the companies, you as a customer have to make sure the company you are trusting is not fake but sincere.
After the holidays start, it gets hectic at home unless you announce the plan of the trip for the vacation. When it comes to car rental companies, Budget Rent-A-Car and Enterprise Holding are two of the most famous car rental service providers in the United States.
Which of the two companies is better? What deals do they offer and what are the charges for different cars on their website? Do you wish to know every detail you are required to know for trusting the company?
If it is a yes from you, then you must have a look at our Budget vs Enterprise article below, where you will get accurate information from their introduction to the amount they hold on to your card in the name of a security deposit.
Budget vs Enterprise: Introduction
Both companies are renowned car rental companies in the United States. Below, we will give you a thorough introduction to each.
Budget
Budget Rent-A-Car is an internationally famous car rental company striving since 1958. It is originally from the United States and is still based in the same country.
Although it is available for service internationally, it is best known for acting as a regional or local service provider for its parent company called Avis Group of Companies.
Budget is well known for offering cheap car rental means. The company basically works through an online site. From the presentation of their fleet to the complete payment and confirmation of the deal, everything goes on smoothly online.
They offer a user-friendly website which allows you to carry out every task flawlessly. Even if the user does not have experience in booking online, they can trust this website and its process. According to the several reviews from their past customers, Budget is a well-trusted and professional car rental company.
Enterprise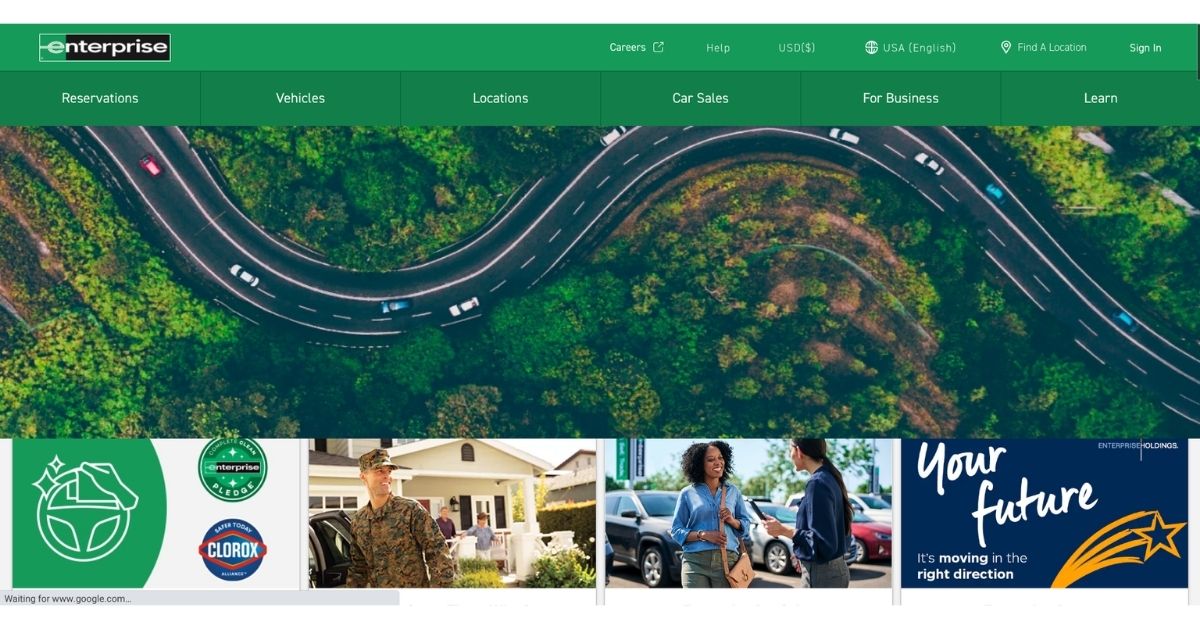 Enterprise Holdings, a United States-based private holding company helps you confidently rent a car and have a safe trip. The website has several subsidiary companies working with it and is well known for being one of the best and most professional car rental service providers.
Enterprise Holdings has multiple deals and promotions along with cheap car rental deals for you. Along with offering you these services, they offer Road Trip ideas in a specific section on their official website to help you have more fun than you imagine.
The car rental company has been in business for more than a decade and prioritizes the customer's safety and other essential factors the most. The company is ranked in the top ranks of the list of best companies in the travel and leisure category.
The brand has launched itself as an application for making printing a car easier for youngsters. The app can be installed on both Android and Apple devices free of charge.
Budget vs Enterprise: How do they work?
Both the car rental companies first ask you to visit their official website where every action can take place. You are not required to create an account unless you want to, on both the sites. They both work similarly and like any other car rental service provider in the market.
The main difference between companies under this section can be the requirements they put forth for the drivers of the cars they off. Even though in reality the difference is not wide, requirements are required to be fulfilled thoroughly or neither of the companies will be interested in offering you a car for rent.
Budget
The driver is required to be at least 21 years old or older.
The driver must carry an active and valid driver's license.
The driver must own and carry their credit or debit card with the same name present on their driver's license.
If the driver does not have a driving license from the same country, they must have an international driving permit or the official translation of their driving license.
After you have successfully proven your eligibility for renting a car from this company, you can move forward and request the car you want to rent.
The rest of the process is pretty simple and you will have to follow a few steps. The last step will be the payment page when you have confirmed everything.
Enterprise
The driver must be of at least 25 years old.
The driver must possess a credit or debit card of his or her.
The driver must carry a photo ID along, the passport or driver's license will do too.
The driver must carry a driver's license with no mistakes in the photo.
If the driver is below the age of 25, he/she can still rent a car but only after paying a fee in the name of the young driver's fee. The price of this fee can fluctuate depending on the location you are residing in.
Once you have accepted all the requirements from the Enterprise and the website has reviewed everything, they will proceed to start the renting process by asking you for your pick-up and drop-off location.
One of the major highlights of renting from Enterprise holding is that they allow you to pick up the car from a different location and drop it off at another.
Budget vs Enterprise: Pricing
The pricing policy of both the companies is similar because they tend to offer you good rental services at cheaper prices and deals.
Budget
Not the starting price but car rental charges and Budget rental cars start from $249 on average. They also offer an option if you want to add an extra baby seat at the back or in the passenger's seat. It will cost you an additional $91.
The company charges a flat rate for incidentals in the name of $100 in the name of deposit. The additional charge of $84 will be added for GPS. In total, you will be paying them around $424 if you rent a car from them. The external charges for renting through them can cost you any price between $300-$500.
The above-mentioned pricing details were random and the overall pricing depends on which car you choose, the state of it and other important factors.
Enterprise
Similarly to Budget Rent-A-Car, pricing and Enterprise holding will depend on the car you choose to rent. The pricing of prepaid options tends to fall and it will charge you any price from $70-$200.
The highlight of this section is that Enterprise holding offers short-term care services along with long-term car rental services.
The main difference between these options is that when you opt for a short-term car rental service, you will have to deal with the usual amount of requirements. But when we talk about long-term car rental services, you will have the authority of the car for a long time and you will have to keep it safe from every corner.
Budget vs Enterprise: How much do they hold onto your card?
Holding a sum on your card is their way of collecting deposits for incidentals and other required purposes. Deposits and take in from every customer. If you will receive the same amount back or a lower amount will depend on how you return the car.
Budget
Budget has a flat rate of $100 charge in the name of deposit. They will not exactly take the money from you but they will hold a similar amount on the card you have offered for payment.
The money will be held loose as soon as you return the car and they go through it to check for any damages. Once they are sure you have done no damage to the car, you will get the money back and you can use it freely.
Enterprise
The company changes the rate of the position according to your destination. If your destination is the airport, they will hold 120% of the payment for rent on your card. An additional percentage of 20% will be added in the name of security deposit for incidentals.
Budget vs Enterprise: Fleet
Fleet is that section on a car rental website where you will see all the car options they offer for rent. The brands along with the accurate model name will be presented under different sections like sports cars, SUV cars, etc.
Budget
Budget offers a good number of car types and cars. Ford fiesta under economy, Kia soul under the compact, Toyota Corolla under intermediate, Volkswagen Jetta under standard, Toyota Camry under full size, Mazda CX-5 under intermediate SUV, Volkswagen Passat under premium.
Chrysler 300 under luxury, Ford mustang convertible and convertible, Ford expedition under premium SUV, Nissan Pathfinder under standard elite SUV, Chrysler Voyager under minivan, Ford edge under standard SUV, Chevrolet Tahoe under full-size SUV.
Chevrolet Corvette Coupe under premium Coupe, Ford Mustang Coupe under standard sport, Toyota Prius hybrid under full-size hybrid, Kia Niro EV under full-size elite SUV electric, Range Rover Velar under premium elite crossover, Mercedes-Benz C300 under standard elite sports.
Jaguar F-PACE under premium crossover, Tesla model 3 under luxury elite electric, Jeep wrangler 4-door under standard recreational vehicle, GMC Yukon Denali under premium elite SUV, and the list goes on.
Enterprise
Similarly, like Budget Rent-A-Car, Enterprise holding offers a huge list of the fleet. Their fleet list contains all sorts of different and unique cars to fulfil everyone's desire and satisfy them enough.
Chrysler 300, Nissan Maxima, Chevrolet Impala, Volkswagen Jetta, BMW X3, compact SUV, Audi A7, Jeep wrangler 4-door, The new Chevrolet Spark, Mini countryman, Exotic sport, Mitsubishi Mirage.
Tesla Model S, Nissan Versa, BMW5 series, Cars Ireland, Opel insignia, Performance sport, Kia forte, Hyundai Elantra, Toyota Camry and more are added.
Budget vs Enterprise: Which one is better?
Budget Rent-A-Car and Enterprise holding are the top-ranking companies in the list of leading and most trustworthy companies in the market. These companies offer reasonable charges for car rental services which can easily satisfy a middle-class person.
However, when it comes to choosing one from them both, you will have two measure their main drawbacks and advantages which are going to affect you.
As Budget focuses on the local orders more, they offer services a bit more expensive than Enterprise holding. Whereas, Enterprise holding will fluctuate the security deposit amount as per their need. Compared to Budget, Enterprise holding charges a bit expensive deposit money.
So, if you want to spend less money, Enterprise holding is your ideal type. However, if you do not wish to spend more money on deposits, Budget Rent-A-Car can help you just fine.
Conclusion
We hope our comparison article between Budget Rent-A-Car and Enterprise Holding has helped you make your final decision of which car rental company to choose.
Both the companies are worth a try but we would suggest you if you are going for a local trip, choose Budget Rent-A-Car. But, if you are planning for a regional or a faraway trip, Enterprise holding can do the best work.
Sixt vs Budget: Which One Is Better Choice? [2022]
Budget vs Dollar Car Rental: Which is Better For You? [2022]
Avis vs Budget: Which is Better For You? [2022]
Thrifty vs Budget: Which Is Better? [2022]
Budget vs National Car Rental: Which is Right For You? [2022]
Budget vs Hertz: Which is Best? [2022]
Alamo vs Budget: Which is Right For You? [2022]
Dollar vs Enterprise: Which Is Better For You? [2022]
Turo vs Enterprise: Complete Comparison [2022]
Alamo vs Enterprise: Which is Right For You? [2022]
National vs Enterprise: Which Is Better For You? [2022]
Hertz vs Enterprise: Which is Right for You? [2022]
Avis vs Enterprise: Which Is Better For You? [2022]
Frequently asked Questions
Why is Budget car rental so cheap?
Budget car rental company is one of the cheapest car rental service providers in the market. Along with its subsidiaries and parent organisation, Budget strives to give middle-class people a chance to go on family and friend trips whenever they want by renting an affordable car from them. This is one of the major reasons why they have kept their charges just above the line.
Does Enterprise own a Budget?
No, Enterprise holding and Budget to rent a group or both different and separately working for car rental companies. Budget to rent a car is a subsidiary company working under the Avis Budget group. Whereas Enterprise holding is like a parent organisation for a good set of subsidiary companies.
Who owns Budget car rental?
Budget car rental, also known as Budget rent a car is owned by Avis Budget group. Avis Budget Group is one of the leading parent organizations in the market with a good bunch of subsidiaries like Avis car rental and more.