7 Best Apps Like Wombo to Create Fun Videos [2023]
We may earn small commission from the products mentioned in this post.
Are you looking for the apps like Wombo? Have you seen videos of random faces speaking dialogues or singing songs? In this article, I'll show you the seven best Wombo alternatives.
If you use TikTok or Instagram, you might have seen the trending videos of people animating their photos and making a video of them lip-syncing on a song.
Wombo is an AI-powered lip-sync platform, you can create animated videos with your selfies singing your favorite songs. Even though it offers several advanced features, it might not be right for you.
Best Apps Like Wombo [Best Alternatives]
Although there are very few apps like Wombo available, we still tried to identify the nearest and similar apps like Wombo. However, not all of them are amazing, and not all of them will offer advanced features.
Let's take a look at these apps like Wombo to create insane lip-sync and fun videos.
Avatarify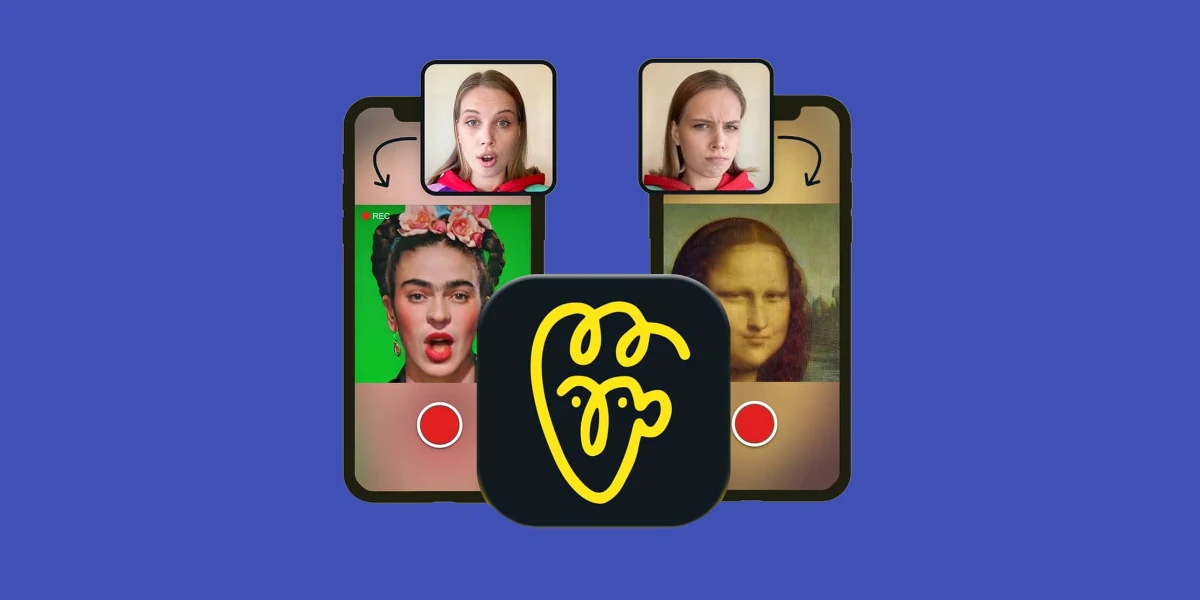 Avatarify is one of the best apps like Wombo that you can use. You can become whoever you want with Avatarify, all you need to do is add a photo of a celebrity or your boss or whoever you want to become and start recording a short video.
With their advanced neuronal network, you can put all your facial expressions and emotions on the photo of your favorite celebrity from movies, comics, or games and brighten it.
Features
Avatarify creates a real-time face-moving effect with various filters and effects.
You have to select an image, record a video and animate the photo.
It uses AI-based algorithms to animate faces from a photo or video.
It offers various photorealistic avatars that can be used for social media posts and as avatars for video conferencing applications like Skype, Zoom, Teams, and many more.
You can download it from the Apple App Store or the Google Play Store or even get this application on your PC.
It supports several filters that are customized, especially for social media users.
6 Apps Like Artbreeder & Artbreeder Alternatives You'll Love! [2022]
Reface: Face Swap Videos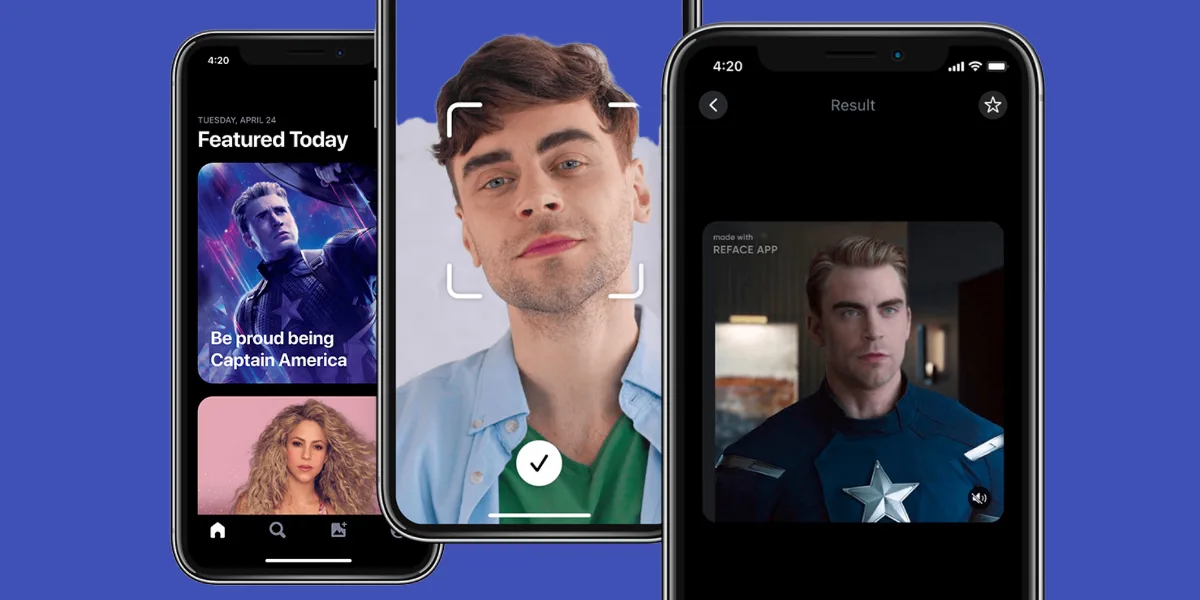 Reface app is a face swap application that offers several advanced and fun features.
You can make ridiculously realistic face swap GIFs and videos with a daily updated treasure of source GIFs, pictures, videos, and photos.
By its face morphing technology and face editor, you can easily morph or swap your face with a celebrity, pop star, become a new person in popular movie and TV clips, or even replace your faces with memes.
You can also share your amazing face swapped clip or funny meme as a video or GIF to many social media platforms.
Features
Offers daily updates videos, photos, GIFs and pictures.
You can make realistic face swap GIFs and videos with just a single selfie with the help of its photo animator.
You can share your amazing face-swapped clip or funny meme as a video or GIF to messengers and other social media platforms.
Swap your face to celebrities or movie characters with their fascinating face-swap technology.
Change your gender, morph faces, and perform advanced face swap and face mergers with their face changer's help.
You can morph your face to look like your favorite celebrity, superhero, TV star, meme, GIF and share it on social media.
6 Apps like Reface to Make Face Swap Videos [2022]
Mug Life
Mug Life gives you the experience of making stunning 3D characters from any photo. This means, you can instantly create amazing photo-real clones of family, friends, and even celebrities.
You can be able to create living memes and share your creations as GIFs, videos, and avatars.
You can download animations for free and paste them to your photos and then export or share your creations as high-definition stills, videos, animated Facebook avatars, and animated GIFs.
There is also a pro tool unlimited access monthly or yearly subscription.
Features
Immediately create an excellent photo-real clone of family, friends, and celebrities.
You can download community animations and paste them into your photos or simply have fun playing with faces.
Export and share your creation as HD videos, animated GIFs, stills, and animated Facebook avatars.
You can also be able to import your own image from the camera roll or use photos from Instagram pictures, Facebook, Twitter images, and more.
Mug any image and share an unlimited number of mugs for entirely free.
Search for fun images to animate, including pictures, tattoos, action figures, photographs, illustrations, paintings, sketches, dolls, or drawings.
Create live performances with over 16 fantastic voice filters and do live motion capture in performance mode.
Subscribe to its paid plan for unlimited access to all the advanced features.
5 Apps like Dream by Wombo to Create AI Art! [2022]
FaceApp
FaceApp is one of the another similar app like Wombo, allowing you to turn your selfies into modeling portraits.
Its photo editor offers you several features such as adding a beard or mustache, changing hair color and hairstyle, adding volume to hair, smooth wrinkles, creative light effects, removing acne, and much more.
You can trim, crop and edit videos and record them from scratch by using an outstanding video maker.
You can even morph your photo with your favorite celebrate, swap faces with friends, or try their popular old and young filters.
Features
Use an amazing set of AI filters, effects, backgrounds, and other tools to create an easy and photorealistic edit.
You can morph your photo of your favorite celebrity, change gender or try out popular old and young filters.
Share your enhanced photos with your family or friends or directly to your desired social media platforms.
Apply filters to already existing recordings to enhance your portrait filming.
Enhance your attractiveness and get a realistic makeover for your best selfie.
Lens blur, filters, backgrounds, tattoos, overlays, and vignettes are also a part of FaceApp.
Subscribe to FaceApp Pro to get access to several advanced style filters, filters updates, and all the features & content.
ToonMe
ToonMe is similar Wombo alternative where you can quickly turn your photos into cartoons.
Its special AI-driven algorithm instantaneously creates impressive portraits of a hand-drawn quality, thus making it a go-to app for all non-artists out there.
All you need to do is to upload your selfie and get ready to meet your cartoon self.
Recently, ToonMe has started a trend on Instagram in which you can participate despite having any drawing skills. ToonMe Pro subscription costs $4.99 per month or $24.99 per year.
Features
Your portrait is re-drawn in cartoon or vector style automatically by using Artificial Intelligence.
You can create GIFs or images by using this carton photo editor.
It offers hundreds of new effects.
Use a wide variety of atmospheric filters to create the perfect atmosphere.
Skin tone can be adjusted by using certain skin filters.
There are various layouts and fancy designs to select from.
Get a full-body cartoon creator by choosing your toon style from the app's multiple effects.
You can instantly transform your selfie into tool art with a simple click.
Snapchat
Snapchat is the most fun way to share the moment. All you need to do is take a snap, add a caption or fun effects and then send it to your friends.
It right opens to the camera, so you can be able to share the moment in just a few seconds.
New filters and selfie lens are added every day, and it also has a face morphing, face changing, and voice changing feature, and you can even change the way you look with your 3D Bitmoji. It is considered as one of the best apps like Wombo.
Features
Mainly used for creating multimedia messages called snaps, which can be a short video or a photo.
Snaps can be customized with various forms of visual effects and stickers.
Lens feature lets users add real-time effects into their snaps by using face detection technology.
Stay in touch with friends through live messaging or share your day with group stories.
See stories from the Snapchat community that is based on your interests.
Save unlimited photos and videos of all your favorite moments,
Create stories from your favorite memories to share with friends and family.
Share your location with your friends or go off the grid with the Ghost Mode.
Jiggy
With Jiggy face and body swap application, create GIFs, funny videos and stickers by animating your photos or by swapping your face and body.
All it needs is your photo to automatically create stickers, GIFs, and videos starring you. You can share your funny videos, photos and GIFs with your friends in any messenger app like WhatsApp and Facebook.
Its paid subscription, offers an ad-free experience, unlimited access, and removes watermarks from GIFs.
Features
Swap and create custom-made videos, GIFs, and stickers with up to three people.
You can easily animate a photo in a few simple steps.
There are over 100 unique & funny dances including videos and GIFs.
Replace your emojis with personalized GIFs & memes.
Share your photos, videos and GIFs with your friends in any messenger app, including WhatsApp and Facebook
Final words: what did you choose? Well, it all depends on your needs and preferences. So, I hope the above article on the 7 best apps like Wombo has helped you pick the best face swapping or editing app.
You may like: