6 Apps Like Artbreeder & Artbreeder Alternatives You'll Love! [2023]
We may earn small commission from the products mentioned in this post.
Apps Like Artbreeder – Can AI be used to produce good art? What are the connections between art and intelligence? When you read this article, you'll find that there are several people who have already designed Artificial Intelligence art.
Artificial Intelligence tools and technologies are often largely accessible to anyone. Similarly, Artbreeder is one of the popular web-based services that assist you to enhance your imagination by creating interesting images.
It lets you create anime figures, landscapes, portraits, and numerous other works of art on a single platform. Another feature of Artbreeder is that it provides thousands of illustrations that you can manage in folders.
However, there are some limitations in postures in the character section. And the free version will limit you to upload only five images per month. Fortunately, there are several alternatives which you could use. So, keep on reading!
Apps Like Artbreeder & Artbreeder Alternatives
Take a look at the best apps and websites like Artbreeder that will help you explore a new creative area.
WOMBO Dream
Wombo is one of the best apps like Artbreeder. WOMBO AI is an artificial intelligence company that transforms the ways that AI and entertainment work together.
Its main aim is to unleash your creativity through the magic of AI, changing the way content is created, consumed, and distributed.
With Wombo's dream, create beautiful artwork using the power of AI. You don't require a pencil, paintbrush or any art supplies to make beautiful artwork!
All you need to do is to enter a prompt, pick an art style, and watch Wombo dream turn your idea into an AI-powered painting within seconds. Whatever you are looking for, whether a vibrant colorful painting or something more dystopian and darker, it is covered with an array of selected styles.
Key Features
Create fun and entertaining clips with your friends
Images you choose will be used as a reference for the final output
Use the power of AI to transform your idea and art style into a beautiful painting
Explore a world imagined by AI with over 15 different art styles
Share your art with your friends and family
Save your artwork to your profile so that you can view it later
It provides you with AI-powered tools to immerse yourselves in the entertainment
Compatible: iOS and Android
5 Apps like Dream by Wombo to Create AI Art! [2022]
7 Best Apps Like Wombo to Create Fun Videos [2022]
Deep AI
Deep AI was developed with the intention that a future built with artificial intelligence permits for the sustainable space of all at a high standard of living.
Use Deep AI to create an image from scratch from a text description. The text generation API is backed by a large-scale unsubstantiated language model that can produce paragraphs of text.
This transformer-based language model intakes a sentence or incomplete sentence and forecasts consequent text from that input. Moreover, the text-to-image uses AI to understand the words and transfer them to an exclusive image every time.
Some of the tools offered by Depp AI are BigGAN and StyleGAN, which can generate realistic images. And the CartoonGAN tool allows you to turn the images into cartoons.
Key Features
Use this deep learning model that has been trained to add color to grayscale images with amazing quality
Process entire video files and add color to every frame of a black and white film
Add a splash of life back to old family photos or historic images within seconds
Backed by a large-scale unsupervised language model which can create paragraphs of text
Ability to predict and label the age, gender, and cultural appearance of faces
Identifies how two images are visually similar
Completes partial sentences with text generation
Clarify images and improves resolution without feature loss
Detects adult content in photos, videos, and live video streams
Compatible: Chrome and Safari
NightCafe
NightCafe is one of the best apps like Artbreeder as it has gained huge popularity in the world of artificial intelligence art generators. Unlike other generators listed in this post, it is mainly known to have more algorithms and features.
You can turn your photo into a masterpiece by simply using the neutral style transfer. And by using the text-to-image AI, generate artwork from nothing but a text prompt.
All you need to do is to start by tapping on the 'Create' button in the main menu and then choose a creation method from there.
Once you have created your artwork, you can share it with the community and then browse, like or comment on creations by other artists.
Key Features
Creation methods are simple to use and let you create amazing AI-generated art
Duplicate, evolve, and upscale your creations
Mix multiple styles to produce something novel
Use VQGAN+CLIP to create art from a text prompt
Create digital artworks to sell as NFTs using the power of AI
Produce AI-generated artworks from your tablet, laptop, or movie and review them all from any device
You can make, tweak, and download up to five artworks per day for free
Its power tools include custom seeds, bulk download, bulk creation, multiple style images, and more
View the top AI-generated artworks that others have created
Compatible:web z
DALL-E 2
DALL-E 2 is a brand-new AI system that can produce realistic images and art from a description in natural language. It has learned the relationship between images and the text used to describe them.
DALL-E 2 uses a process – Diffusion, which starts with a pattern of random dots and gradually alters that pattern towards an image when it identifies definite characteristics of that image.
What makes DALL-E 2 incredible is the tools that it offers, such as a paintbrush that allows you to add details like highlights, shadows, and much more to your image.
Furthermore, it shows amazing potential. For instance, it can be used to create design products, illustrations, and create new ideas for business.
Key Features
Create original, realistic images and art from a text description
Add and remove elements while taking reflections, shadows, and textures into account
Take an image and make different variations of it inspired by the original
Create plausible images for a wide variety of sentences that explore the compositional structure of language
Simultaneously control multiple objects, their attributes, and their spatial relationships
Enables control over the standpoint of a scene and the 3D style in which a scene is condensed
Resolve under specification in settings, changing style and time
Compatible: Web
Starry AI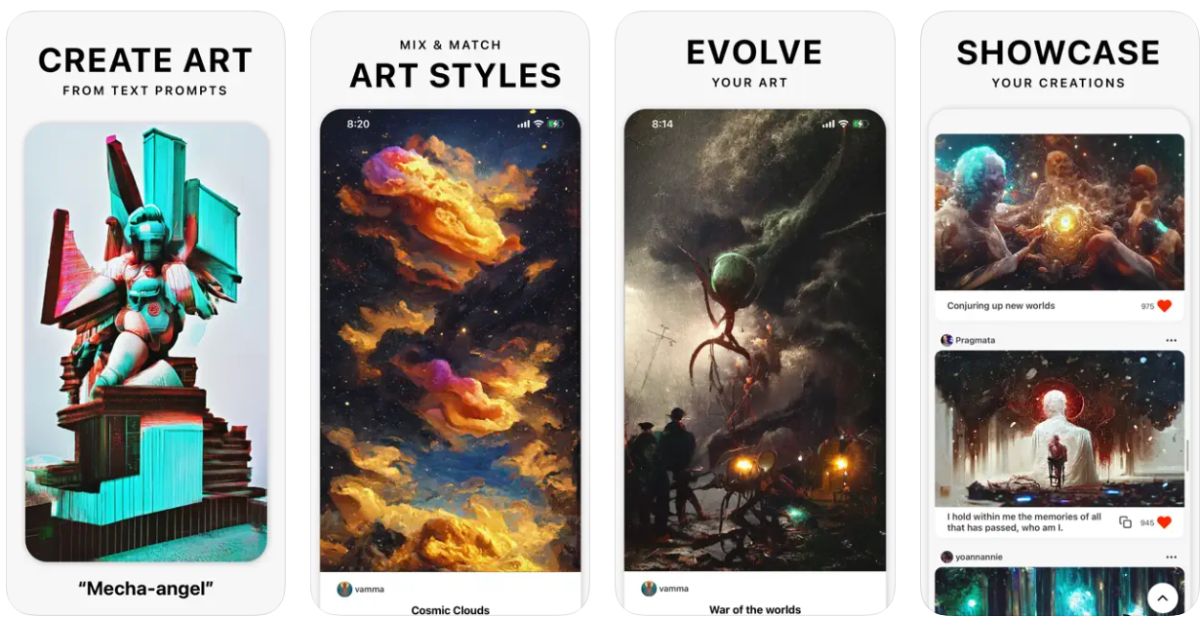 Starry AI is another Artbreeder alternative that lets you produce artwork in one simple step. Generally, AI art generation is a laborious process that needs technical expertise, but StarryAI makes that process simple and intuitive.
All you need to do is to enter a prompt for the AI to work with and choose a preferred style. Unlike other apps like Artbreeder, it doesn't need any input from the user. It can simply process images with a machine learning algorithm. Within minutes your AI-generated artwork will be ready for you!
One of the best features of StarryAI is that it gives you complete ownership of the generated images, which you can use personally or commercially.
Key Features
Create art by describing what you want to see, and Starry AI will convert your words into art
Choose from a wide variety of different models, aspect ratios, styles, and initial images to personalize your creations
Create up to five artworks for completely free without any watermarks
It uses the latest methods in AI to help you in art creation
Upscale your creations up to 16x using the upscaling feature
Creations are stored on servers
Offers an easy and simple way to create NFT art using AI
Compatible: iOS and Android
Runway ML
Finally, we have Runway ML on our list of the best apps like Artbreeder. Runway ML lets you create images by training and using machine learning models.
With the tools that are offered by Runway ML, you can generate models that create realistic image styles in a variety of ways. Moreover, you can also use this tool to produce animations and 3D models.
And it also offers tools like precision editing, keyframe control, real-time collaboration, AI magic tools, and many more that you require to make videos. Furthermore, you can purchase the paid plan to access more advanced features.
Key Features
Automate the time-consuming parts of editing with AI magic tools
Offers all the tools that you require to make videos
Choose from hundreds of crafted templates you can customize
Optimize your workflow with Runway ML AI
Use over 400 effects and filters
Pixel-perfect multitrack video and audio editing
Full controls, keyframe animations, and robust editing tools
Seamlessly remove the background from any video with just a few taps
Automatically remove background noise from your audio
Add custom animations controls or use a preset one from the animation library
Compatibility: Windows, MacOS, Linux
Summing Up
All the AI art generators mentioned in this article are great. But remember that every app has its own pros and cons. Thus, do your research thoroughly before deciding on any app.
We hope the above article on the best apps like Artbreeder has helped you to pick the best AI art generator. 
Try Alternatives-