10 Best Apps like Funimate to Edit Your Videos [2023]
We may earn small commission from the products mentioned in this post.
Are you looking for the best apps like Funimate? Want to know what are they? Don't worry, you're at the right place! In this article, I'll show you few Funimate alternatives which will help you to choose the best video making or editing app according to your needs.
Funimate is one of the best fun video editing apps which lets you make amazing music video clips, slow-motion videos, lip-sync videos, editing your videos and much more. This app is specially designed for the people who wish to make videos and share them with other to get viral or increase their audience.
Best Apps like Funimate [Funimate Alternatives]
Even though Funimate is an amazing app, it might not be right for you. So, here is the list of 10 best apps like Funimate.
Triller
Triller is one of the best apps like Funimate that contains several advanced features by which users can merge music with their videos to share them with a huge community of music fans from all around the world to show off their artistic skills. You can be able to search for videos or music by simply selecting the desired categories.
Its lets users to make skits, music videos, and lip-synch videos comprising background music. Its main feature is the auto-editing tools that use artificial intelligence to automatically combine separate video clips together without the operator having to do it themselves. Although these separate video clips are created to the same music, users have the ability to shoot several takes with different edits or filters every time.
Features
Find clash videos, music videos, challenge videos, and similar super-creative Trills.
Make professional videos within minutes with the help of its exclusive auto-editing feature.
Share your videos through Twitter, Text, Instagram, Facebook, Email or simply save to your camera roll.
You can watch live video streams from their top creators.
Go to the following sections to via triller from your favorite content creators.
Total Users: Over 65 million monthly active users.
Lomotif
Lomotif is another Funimate alternative which allows you to make awesome videos by using your favorite music and unlimited clips with the easiest video editor for Facebook, Instagram, TikTok and Twitter. You can be able to crop, cut, trim, duplicate, ad delete your videos seamlessly. You can even add titles, filters, flash effects, GIFs, animated stickers and much more.
Lomotif has been approved three technology patents exclusively attentive on authorizing creators to watch and share short videos with comfort through collaboration and remix. If you want to reorder the sequence of your clips, simply select and hold the clip's thumbnail, then drag & drop it anywhere you want on the timeline.
Features
You can share your videos to Instagram, Facebook, Messenger or as a Text Message.
Easily rearrange clips or import photos and videos from Facebook and Instagram.
You can be able to tweak your video to excellence with its in-built editor.
In-built gestures let you select your best moments to be featured as video highlights.
You can switch easily between Landscape and Square formats.
You can use Hyperlapse videos for an amazing fast-mo. effect or time lapse.
Total Users: Over 6 million monthly active users.
Instagram Reels
After TikTok's ban in India, Instagram has released a new feature called "Instagram Reels" which allows you to make a fifteen-second short video clip with effects, lip-sync, music and much more. You can even use your own audio or just simply choose a music from the app. You can share Reels as a part of your Instagram post or just stories.
All you need to do is to select "Reels" at the bottom of your Instagram page. You'll be able to see a wide variety of creative editing tools on the left side of your screen to assist make your reel, including Audio, AR effects, timer and countdown, align, and speed.
Features
Reels offers a new way to make and explore short, entertaining videos on Instagram.
Reels can be recorded all at once or as a series of clips or using video uploads from your gallery.
You can easily share your reels with your followers and can be discovered by a large, diverse Instagram community on "Explore."
You can be able to save a draft of your reel, change the cover image as well as add hashtags, captions and tag your friends.
You can explore the entertaining selection of reels made by random people in a vertical feed personalized for you.
Total Users: Averages 100 million daily active users.
TikTok
TikTok is possibly the most widely used lip-sync or short video making service by which you can not only create excellent videos but also discover exhilarating and enjoyable videos. It is one of the best apps like Funimate. You can create your videos by recording memorable and funny moments to share with the world.
It is used to make a wide range of short-form videos, from genres like comedy, education and dance which have a duration from fifteen seconds to three minutes. Users just have to select background music from a wide range of music genres, edit with a filter and record a 15-second video with speed adjustments before uploading it to share with others on TikTok or other social media platforms.
Features
Explore endless videos personalized especially for you.
Watch all kinds of videos, from gaming, comedy, sports, DIY, memes to pets and food.
Pause recording various times in one video.
Easily edit your videos with numerous free sounds and music clips, including EDM, rock, country, hip hop, rap and pop.
Editing tools let you easily cut, trim, merge and duplicate video clips.
Explore several filters, AR objects, effects to take your videos to the next level.
Total Users: Over 65.9 million monthly active users.
Vizmato
Vizmato is one of the best apps like Funimate which allows you to create flawless studding videos within a few minutes. It is an easy-to-use moviemaker app which lets you add themes, favorite music, filters, effects and text over your movies and special videos to make it look cooler. It is also known as Slideshow make which convert your images into videos.
You can be able to share your creation with family, friends and everyone else or share on Instagram, Twitter, Vine, Facebook, YouTube, WhatsApp, Snapchat or any other social media platform of your choice. Add dazzle to videos of your special moments, make something funny or record your own music video.
Features
Clip, trim and edit various videos to make the perfect film with its powerful video editor.
You can be able to add filters, text, visual effects, themes and background music to transform your video.
Its slideshow maker lets you make a piece of visual and musical art.
Select from over 40 visual effects include some used in Hollywood movies.
Choose from over 20 visual themes and filters to give your movie a look ranging from haunted, Hollywood, romantic, old school and many more.
Record in slow motion or fast pace to adjust the pace of your video.
Total Users: Over 200 million users across the world.
Dubsmash
Dubsmash is an entertainment platform which lets you create fun lip-sync videos to share with friends. You can easily use a sound clips from music, movies, shows or use an audio recording feature and other internal tools to record a video dubbing over that price of audio. Also, it has one of the finest extensive libraries of sounds.
You'll also have the ability to upload your own audio, and can add color filters and text animation to their records. Also, you can save your clips to your devices and can then send them through other messaging applications. It is available in several languages, including English, Portuguese, Italian, Korean, Turkish, Spanish, Japanese and many more.
Features
It is available for both iOS and Android devices.
You can be able to record videos of yourself, lip-synching, making skits, singing, creative ideas and dance to music.
It also offers customizable options, including sound effects, visual additional, text boxes and other audio additions.
you can choose an audio recording or upload your own audio.
Total Users: Over 200 million users across the world.
KWAI
KWAI is a social media platform for trends sand short videos. Contribute to the virtual community with videos of your life, recording, the best memes or playing daily challenges and much more. You can even add filters and magical effects from the app.
It lets users record and share their lives with the main aim to "Capture the World, Share your Story." With its content and functionalities, it makes video creation an entertaining, easy and simple process, which allows content creators and users to celebrate the fun side of life anywhere, anytime.
Features
It has a unique algorithm that doesn't discriminate profiles and is developed to offer fair participation.
You can share short video stories that last for a maximum of 24 hours or just simply save it to your device.
They conduct special events like dance battles, daily challenges and more.
You can share your videos to WhatsApp, YouTube, Snapchat, Facebook, Instagram, Twitter and other social media platforms.
It has several built-in fonts, stickers and beauty tools to edit the videos.
Total Users: 400 million users around the world and as many as 40 million daily active users.
VideoShow
VideoShow is another Funimate alterative which is completely free to use, and is an all-in-one video editing platform. It provides amazing video making and editing features by which you can intuitively edit your videos in the way you want. You can be able to create video with music, photos and many other elements available in the app.
With VideoShow, making memes, animation stickers, sound effects, movie making, video or slideshow with pictures music is easy and simple. It offers amazing video editing features. You can edit your video with scroll texts, effects, trendy transitions, FX, GIFs or live dubbing in a customized way. Create your own interesting memes, creative blog, and funny videos.
Features
Extract clear audio from any video, convert video into music.
Over 50 themes available to make an amazing music video, vlogs, slideshow, funny videos immediately.
Add filters to make your video different.
Various music can be added, adjust music volume and music face in & fade out option.
Use video overlay, make double exposure effect, add emojis or animated filters, display multiple videos on one screen.
Voice enhancement, blurred background and speed adjustments features are available.
Total Users: 200 million users around the world.
KineMaster
KineMaster is one of the best apps like Funimate which combines a comfortable interface and ease of use, along with a wide range of features and amazing tools to make the video you want to create. It has more the 2,000 downloadable transitions, video & images, fonts, effects, stickers and animations from its store.
KineMaster is completely free to download and use, however you can unlock advanced features with a KineMaster Premium paid plan. Its paid plan removes watermark and provides an ad-free experience. With several powerful tools and downloadable content, it makes it easy to edit videos. There are several EQ filters to boost or reduce bass, and add reverb effects to videos.
Features
Create amazing visual effects by speeding up, applying bending modes, reversing and adding slo-mo.
Several color adjustment tools to enhance and correct videos and images.
You can share your videos on TikTok, Instagram Feed, Reels, Stories, YouTube, Facebook Feed & Stories and many more.
Combine and edit images, videos, special effects, stickers, text and much more.
Add voice-overs, voice changers, music and sound effects.
Numerous tools to crop, cut and slice your videos.
Total Users: Over 18 million monthly active users.
VivaVideo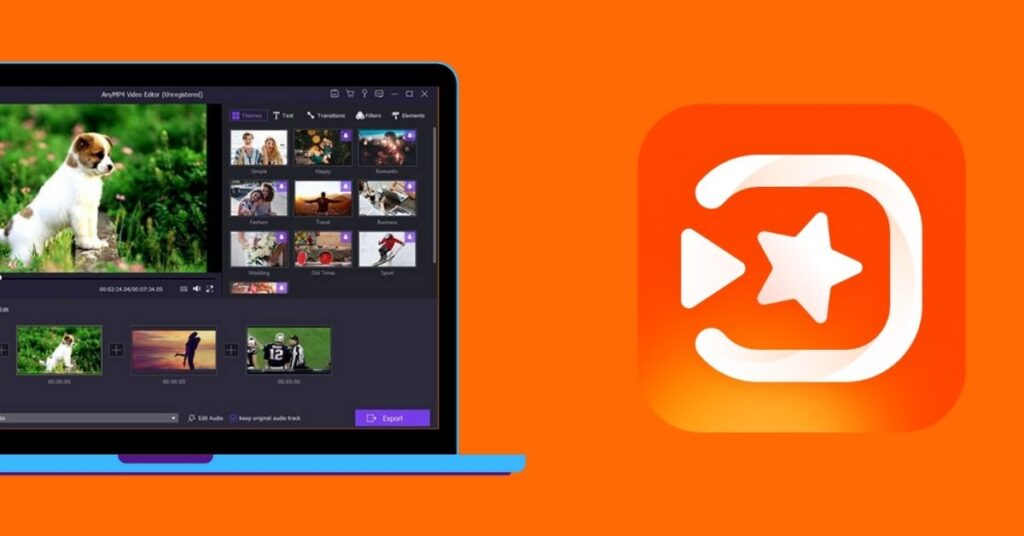 VivaVideo is another video editing tool which allows you to work with recordings and pictures to create your special video on your device. It offers the easiest way to create and edit your video story directly from the photo album or gallery photos, and has the best tools to create a video with effect, music, slideshow and movie video editor.
With VivaVideo, you can easily cut video, merge video, edit video with music, add stickers to video, make a video from pics with song and many more. It offers advanced video adjustment to edit video professionally.
Features
Offers a wide variety of video editing features like copy, paste, cut, merge and many more.
Several video editing effect such as glitch video effect, PRO video editor with music, text and photo, and transitions for edits.
You can combine various video clips to make on video.
Add free features music to video, add sound effects to video, add voice over or record your own voice and make customized videos.
Add subtitles and multiple texts to video and photo.
Total Users: Over 15 million daily active users.
Final Words: I hope the above article has helped you to pick up the best video creating and editing app from the list of 10 best apps like Funimate.
You may like: