5 Payment Apps like Venmo For Safe Transfers [2023]
We may earn small commission from the products mentioned in this post.
Apps like Venmo: Did someone mention the bank? Of course not! Who talks about the bank in the 21st century, right? The term bank is now as old as metal coins. We don't use coins as well as don't go to banks.
The reason behind not visiting the bank is the digital era of today. Everything happens on the internet or through the internet. Similarly, now all banking activities are carried out through different digital mediums.
Not just talking about the banking services, but even the smallest payment of a coffee shop or manicure appointment is being paid through different payment portals which allow you to link your bank account and pay.
You just need to enter your card details or your mobile number and your bank account is linked with payment apps within a few minutes, no need to visit the bank to do so. And here, welcome you to the digital payment era.
In this article, we are going to talk about payment apps and services offered through different apps today in the context of the most popular app Venmo. By the end of the article, you will get to know how similar these apps are to Venmo.
List of Apps like Venmo
Venmo is the payment app that gives you the platform to share payments with families and friends digitally.
Venmo doesn't charge you for sending money to your friends or families or even when you pay through a debit card or bank account.
Venmo app offers a low fee for payments through credit cards and it also offers purchase payments for selected businesses. Venmo also offers credit card and debit cards for their customers.
Hence, you have seen Venmo's popular pros, it can get a little difficult to find similar alternatives of same. But here we have tried bringing you the closest alternatives to Venmo namely Paypal, Cash App, Zelle, Apple Pay, and Google Pay.
PayPal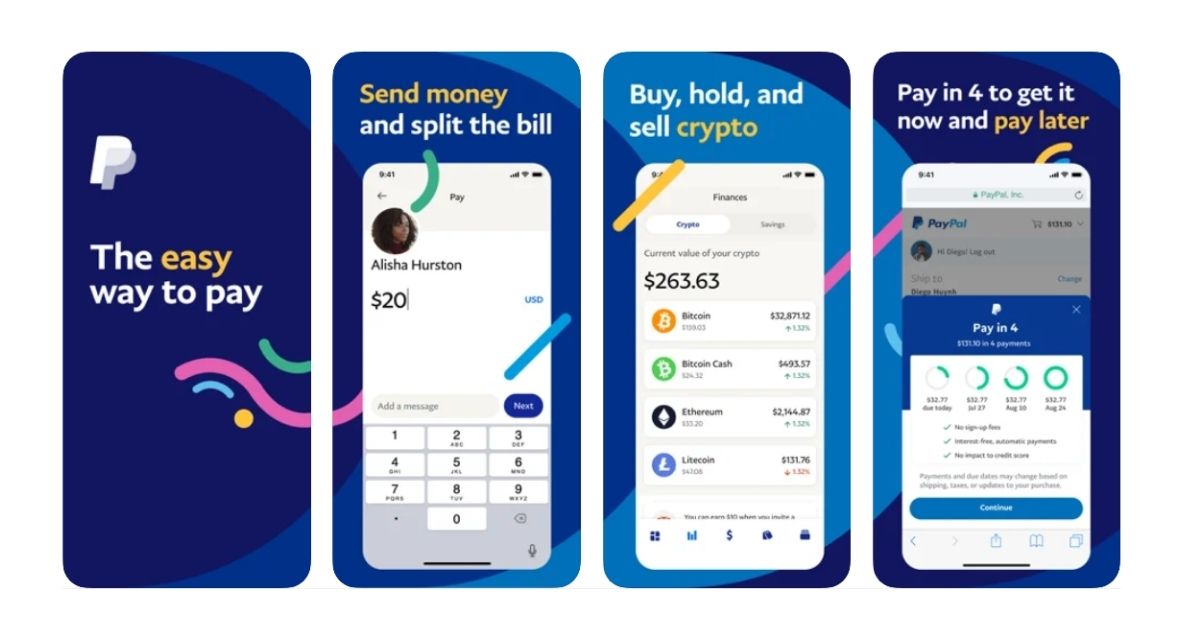 PayPal is the topmost industry when it comes to money transfer services throughout the globe. The best feature of Paypal is that it is available globally and allows you to make international transactions too.
The app is currently available on the Web, Apple Store and Andriod Google Play Store too is compatible with most devices. This app is most useful for personal and business transactions in the US and abroad.
The best part of Paypal is ita free, it doesn't charge you more for international transactions than the other competitors.
Key Features
The most popular key feature of PayPal is its verified users. Verified users are bound to get the maximum transaction limits which make their big amounts of transfers hassle-free like Venmo.
It is also used widely for the local businesses which are P2P transfers with no extra costs.
The user interface of the app is sleek and simple which is very eye-catching for the customers since it is similar to Venmo where they can easily understand how the app works without a guide or manuals.
When we talk about security, PayPal wins every time, it has great security built for frauds and scams.
PayPal guarantees you the money back feature if you pay to a fraud or scam through Paypal services.
Payment Limits
The payment limit for the verified users is kept to be USD 60,000 per transfer.
But some countries have a lower limit of USD 10,000 per transfer made.
Cost & Fees
The transfer of money from one PayPal account to another is kept free.
But for international transactions, credit card payments and border payments may cost you around 3 to 5%.
Cash App
Cash app is a payment platform for peer-to-peer money transfers similar to Venmo, Google Pay, and many more.
Cash app has unique features for debit cards like VISA and many more. The cash app not only is a payment platform but also gives you Bitcoins and stocks for purchase.
Cash app has two types of usage, it allows you to link your bank account with a cash app or allows you to open a cash app account and then add that money to your debit card when needed.
Key Features
The cash app is known for its tax filling tools which are not offered by many payment portals.
It has an easy and automatic system of depositing money directly into our respective bank accounts as Venmo does.
It has a very simple user interface which makes it easy for newbies as well as day-to-day users.
It also has a unique feature of buying bitcoin and crypto stocks.
Payment Limits
The limit is kept at $250 for 7 days and $1000 for 30 days.
For the verified users, it is $7500 per week for sending and receiving is kept unlimited.
Cost & Fees
The payments through debit cards and bank accounts are kept free.
The payments made through a credit card are charged at 3% same as Venmo and many more.
It also charged up to 1.5% for the Instant transfer of funds from a cash account to a debit card.
Apple Pay vs Cash App: Comparison
Cash App for Business vs Personal: Comparison
Zelle
After Venmo and PayPal, Zelle is the most trusted payment app trusted by millions of users worldwide. Zelle is a simple P2P payment system including banks as its members.
Zelle has a lot of banks as its members namely Citi Bank, USBank, Chase, Bank of America, WellsFargo, and many more. Hence if one of these is your bank all you have to do is activate Zelle services in your bank app itself.
Hence, if your bank is in member of Zelle you can use Zelle services and features within your bank app. And if your bank is not yet a member of Zelle, the app is individually available on Apple Store and Google Play Store.
Key Features
Zelle is free to use, it doesn't charge you up for sending money to your friends and families like Venmo.
Zelle has an easy user interface for cashless transactions.
Zelle doesn't need a new account opening or new apps to add for working.
Zelle is known for the fast transfers like Venmo and Paypal with full security for the same.
Payment Limits
The payment limits of Zelle are based on the different banks and their rates divided among weeks, days, and months.
But if your bank is not paired up with Zelle, then Zelle will give you the limit of USD 500 per week.
Costs & Fees
Zelle is free for sending money and receiving money.
The fee is only charged by banks according to their different rates.
6 Must-Try Apps Like Zelle for Safe Transfers
Popmoney vs Zelle: Comparison 
Apple Pay
Apple Pay is known for its higher transaction limits compared to individual third-party apps. Apple Pay seems to be more convenient than Venmo, because of its versatility and universal use of apple devices.
The drawback of Apple Pay is the compatibility it is only compatible on iOS devices and not on the web or Google Play Store.
Apple Pay is the simplest payment option for its users since it comes with all the ios devices, and if family friends are into apple too, it's a great deal. You don't need to download any third-party app for payments.
Key Features
It claims to offer faster payment services compare to cards similar to Venmo does.
It has a huge privacy and security block built-up with Apple Pay.
Apple Pay has successfully entered the market and is accepted as a safe payment option for millions of websites and apps.
The checkout feature comes easy and handy for Apple Pay users.
Payment Limits
The payment limit is kept at $10,000 per transfer which ends up to $20,000 per week.
The minimum limit for Apple Pay is $1 for P2P Payments.
Costs & Fees
If your Apple Pay is linked with a debit card, then you can send money to family and friends without cost.
But if you have linked your Apple Pay with a credit card, then Apple Pay charges you up to a 3% fee similar to Venmo and Paypal.
7 Best Apps like Apple Pay You Can Use! [2022]
Google Pay
Google Pay is universal like Google. Everyone knows Google and everyone uses Google. The best part of Google is that no one needs to check the security background since it has won the hearts of millions of ages.
Hence Google Pay sounds like the best alternative to Venmo in research. The big advantage of Google Pay is that it is available and compatible with ios devices too.
The other unique feature is that the payment limit is kept higher than anybody which is very useful and important for personal and business payments.
Google Pay has now become a banking app that also provides connecting your bank accounts with your Google Pay to monitor it.
Hence, it not only just provides you payment platform but also provides you with information regarding your bank accounts and much more.
Key Features
It is an universsl app. The app is available everywhere on the Web, ios, and Andriod.
It has also partnered with some banks which is a great deal.
It has also a catchy feature of unlimited rewards and cashback offers with each payment you carried out with Google Pay.
Encryption and security are kept at a very high level same as Google.
It has lots of features with the payments of bills, electricity, internet, mobile, etc.
It doesn't cost you extra for the payments.
Payment Limits
The payment limit of Google Pay is similar to other apps like Venmo which is $10,000 per transaction.
Costs & Fees
The payments made through Google Pay via bank accounts and debit cards are kept free like Venmo, Paypal, etc.
But the payments made through credit cards will be charged up to a 2.9% fee.
Conclusion
Since we are at the end of the article, you have gotten an idea regarding how digital banking and digital payments work in today's world. Venmo is ultimately the best app for payment and hence alternatives to are Venmo is hard to choose and compare.
But here we have tried to bring you the best of them so that you don't miss using Venmo and don't regret choosing the alternatives of Venmo instead of the Venmo app.
Always remember, that security is a must for any payment platform, and keep your eye open when you use payment platforms to stay away from scammers and frauds.
FAQs
Is Cash App better than Venmo?
It is difficult to say since the Cash app is also a better alternative to Venmo. But if you want an easy user interface only regarding payments Venmo wins and if you want payment portals with Bitcoin then the Cash app wins.
What are the best alternatives to Venmo?
The best alternatives to Venmo are:
Google Pay
Apple Pay
Zelle
Cash App
Paypal and many more.