6 Top Apps like Scener to Binge Together! [2023]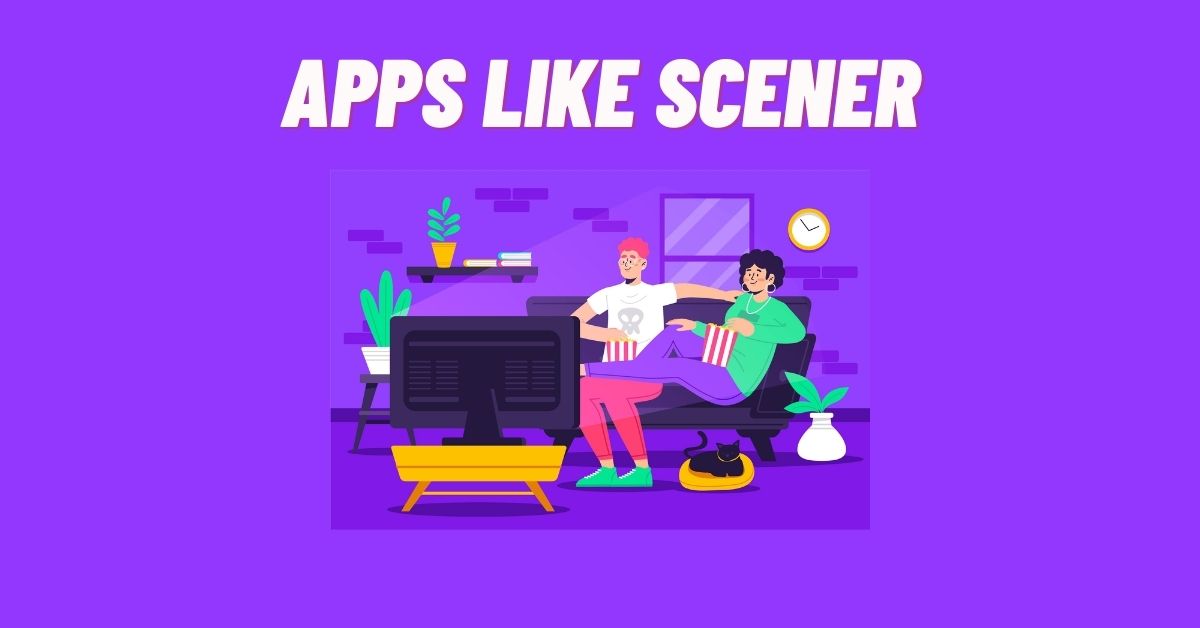 We may earn small commission from the products mentioned in this post. visit here for more details.
Apps like Scener: Watching a movie or show alone nowadays can get boring. To make it a little fun we all need friends and to make friends, we need interesting platforms where we can watch movies together.  
You can kill your time with friends together or even with long distances if you have the correct platform to use and make the most of it. Scener is such a great app used for watching movies together with friends with many features.
In this article, we are going to talk about the 6 Best Apps like Scener to use with your friends as a choice to binge-watch movies, videos, series, and much more. These apps are selected to get you more than one option for binge watching together with friends.
By the end of the article, you will get briefs about their similarity with the Scener compatibility of portals and their key features.
Teleparty
Teleparty – formerly known as Netflix Party was officially allowed to be used for streaming Netflix movies and shows but now it supports more portals. Furthermore, it is said to support other streaming services like- Disney+, Netflix, Hulu, HBO, and more.
Teleparty can be downloaded easily from web or app stores available online and supports all devices in general. The main motto of Teleparty is to let users watch shows and movies together at the same time intervals and control.
Key Features of Teleparty
Offers a chatroom where you can connect with friends and chat while watching content together works exactly like a scener.
Creating a teleparty is quite easy where you simply must create a party and share the link with your friends.
Chatroom feature works well with streaming screens.
The app has a limit set to invite people to watch together which is said to be 1000 on one screen.
Allows users to share gif stickers, emojis, and screengrabs with their friends while watching shows and movies.
Supports HD quality for video streaming on Google Chrome, while users can opt for Microsoft Edge to stream videos on 4k quality.
Teleparty is a great possibility for apps like Scener where you can simply invite friends to watch content together with chat room support.
Compatibility of Teleparty
Google Chrome
Microsoft Edge
Opera
Macs and PCs
Rave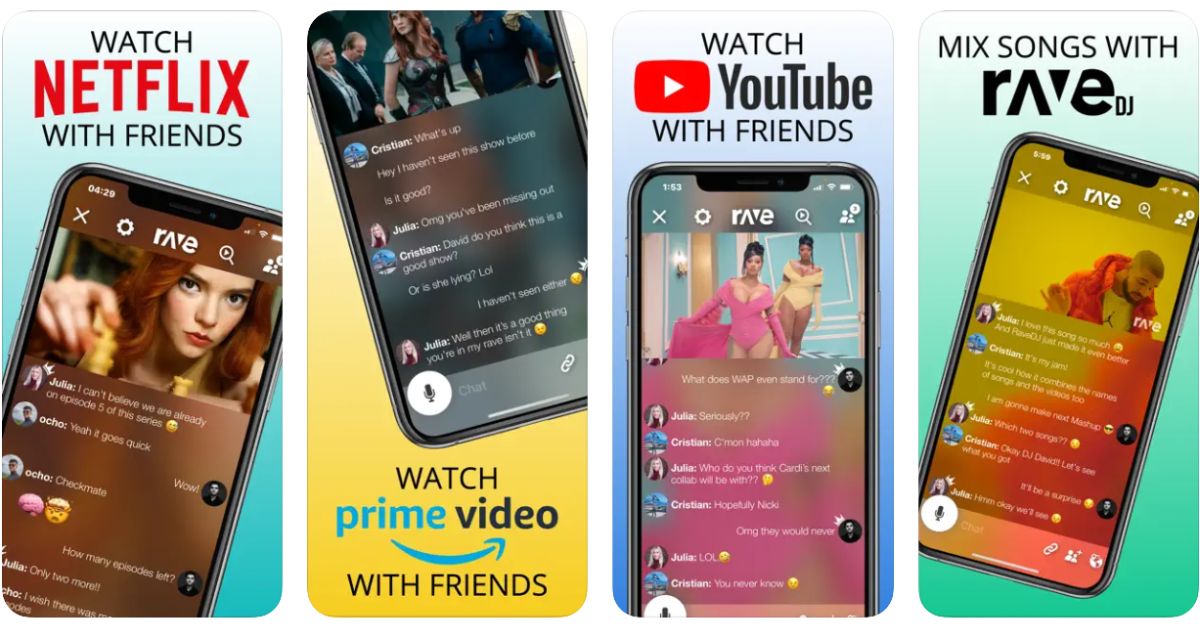 Rave is another app that is shortlisted for apps like Scener to host a watch party for friends. Rave is simply a free app made available to users to watch and stream content online with their distant friends.
First thing first, Rave offers streaming support from Netflix, Amazon Prime, YouTube, and Disney Plus with chat room choices like Scener App. The biggest win of Rave is the voice-over chat feature while watching content together.
Key Features of Rave
The main feature of the Rave is to offer an online streaming possibility with a chatroom coexisting on the same screen.
Offers free and premium plans for streaming content together with friends.
The free version will have ads in between interrupting your streaming while the premium version of the app supports an ad-free facility.
Streaming services for the supporting platforms only if you are an active member or subscriber to their content on an individual basis.
Simplifying, to host a successful watch party, the host needs to have an active paid membership of Disney+, Amazon Prime, Netflix, etc.
On free viewing options, users can access files from Google Drive, YouTube, Vimeo, Reddit, and Karaoke.
Yet, don't forget to try Rave's exclusive feature of RaveDJ to experience good musicality.
Compatibility of Rave
IOS Devices
Official Website
Android Devices
6 Best Apps like Rave to Watch Videos Together![2023]
Watch2Gether
Another great alternative app for Scener is Watch2Gether. The major hit for the Watch2Gether app is the exclusive webcam feature to chat and watch content online together.
Watch2Gether offers media sources from the portals such as Vimeo, Dailymotion, Soundcloud, and YouTube. It is said to be a free service to use for streaming online content with friends and family in a chat way.
Key Features of Watch2Gather
Users don't need any kind of registration to use the platform to stream online content.
Offers a synchronized player for audio and video and hence everyone can watch a movie or video together.
Watch2Gether offers to make playlists and organize content as per your friend's watchlist.
Additional sources namely Netflix, Disney, and Amazon Prime can be added via the W2gSync feature of the app.
Just like Scener, Watch2Gether has an integrated chat room available to chat with friends while watching the streaming content together.
Compatibility of Watch2Gather
Chrome Webstore
Official Website
Android Devices
Airtime  
Airtime is another app to hit the list of best apps like Scener. Airtime is a little underrated app for streaming options over Teleparty and other apps.
Yet, Airtime is a fantastic way to stream online content and host a group chat with friends and family to have fun together. The best thing about Airtime is the flexibility offered with chat options.
Key Features of Airtime
Offers a chatroom with voice, video, and text which is rarely seen together with other streaming apps.
Airtime has social fun games and room reaction personalized emojis to make it more fun.
The app is known as a community to create and join super different hobbies and share them with others.
Offers to upload your files and music which you can watch and hear together with friends and family for free.
The support currently airtime offers is for TikTok and YouTube content to stream together with friends.
Airtime is not an exclusive app for streaming content together but comes with many other features if you are looking forward to an app with games, music, and much more.
Compatibility of Airtime
IOS Devices
Android Devices
6 Best Apps Like Airtime to Host the Amazing Parties! [2023]
Kast  
Kast is the simplest application available out of all to watch and chat with friends and closed ones. It offers real-time collaboration and live-streaming as a choice to join with online friends and have fun.
Kast is also an excellent choice for screen sharing with colleagues and friends and watching videos together with synchronized audio and visual controls.
Key Features of Kast
Offers video streaming and screen-sharing options to share content with friends and colleagues via the app.
Supports video calling and private chat features for its users.
The app has a private group service to create groups with friends, colleagues, and close people.
Ability to stream a screen or live camera with up to 20 people while a watch party can handle up to entries of 100 people.
Offers both free and premium versions as virtual TV options for its users.
The premium version of Kast offers no ads, HD quality streaming, access to Kast's original library, animated reactions for a built-in chatroom, etc.
Kast TV can be used from mobiles and desktops as per the user's choice.
Compatibility of Kast
Android Devices
Official Website
Desktop App
IOS Devices
8 Best Kast Alternatives To Watch Video Together [2023]
MetaStream
MetaStream is one of the best apps like Scener used for video streaming together as a watch party. It is very popular for watching and listening together online.
MetaStream offers to create a session and send the invites to family and friends to join in and enjoy live streaming together with sync. Furthermore, it offers synchronised playback for several websites with great features.
Key Features of MetaStream
The online streaming of MetaStream is now powered by real-time chat support and timestamp markers.
Ability to watch together content from Hulu, Netflix, YouTube, Crunchyroll, etc.
Offers synchronized playback streaming of audio and video with public, private, and offline sessions.
MetaStream supports peer-to-peer connections via support for WebRTC.
The app works on the host-only permissions or the per-user playback permissions to control the streaming with the default full-screen choice.
You can create ques by adding favourite URLs from the popular website with MetaStream to create a playlist.
Compatibility of MetaStream
Chrome Extension
Official Website
Firefox
Conclusion
In conclusion, we are at the end of the article suggesting the best apps like Scener to host a watch party and stream online videos and movies to have fun together with friends and family.
At last, you'll get all the details here for the apps like Scener and their key features to select the best out of these 6 apps.
FAQs: Apps like Scener  
What can I use instead of Scener? 
You can simply use apps like- MetaStream, Watch2Gether, Teleparty, Rave, Kast, and many more.  
Is Scener only for Netflix? 
No. Scener is not only for Netflix but also for Disney Plus, Prime Video, HBO Max, etc.