6 Best VirusTotal Alternatives You Should Try! [2023]
We may earn small commission from the products mentioned in this post.
VirusTotal Alternatives: VirusTotal is an online service that examines suspicious files and URLs to find various forms of malware and malicious content using antivirus engines and internet scanners. It is able to defend your computer from danger.
And you can enter a website address to have VirusTotal analyze an entire page for dangerous links or upload a particular file to have it examined by many antivirus engines.
So, if you like VirusTotal and you're looking for similar VirusTotal alternatives, just to explore more, Here, we'll give you the 6 best VirusTotal alternatives that offer the same features as VirusTotal.
Hybrid-Analysis.com
Hybrid Analysis is the best alternative to VirusTotal. This free malware analysis website uses cutting-edge Hybrid Analysis technologies to find and examine unknown threats. It is a separate service that is powered by Falcon Sandbox and offers a selection of Falcon Sandbox's features.
It is a file analysis technique that combines runtime data with memory dump analysis to uncover every potential malware execution channel. And it automatically processes and incorporates all data retrieved from it into the reports on malware analysis.
Furthermore, you can download samples and IOCs or search through thousands of existing malware reports.
Key Highlights
It is simple to Manage.
Scanning in real-time.
It runs on the web.
It is user-friendly.
Note: You can also utilize a VPN to enhance the security of your web browsing, learn more.
JoeSandbox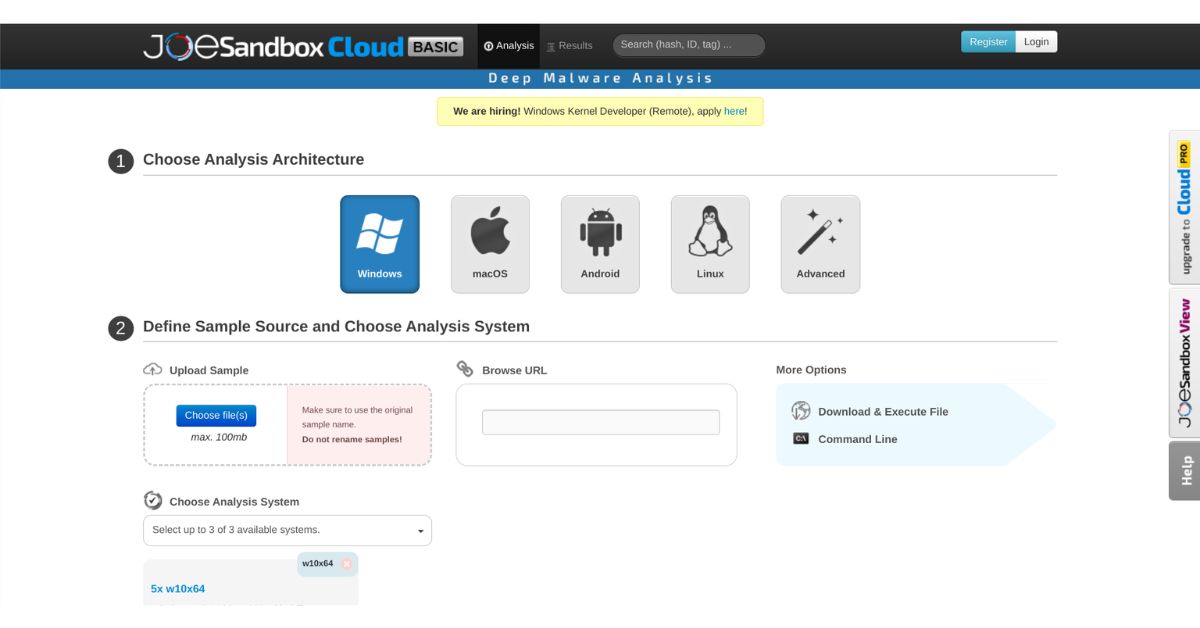 JoeSandbox detects for potential malware and examines URLs for suspicious activity on Windows, Android, Mac OS, Linux, and iOS. It gives you the ability to examine files utilizing a cutting-edge machine learning approach and a singular multi-technology approach.
And to identify the malicious exploitation of legitimate brands on websites, JoeSandbox employs a powerful AI-based methodology that includes template matching, perceptual hashing, ORB feature identification, and other features.This site is similar to VirusTotal.
Key Highlights
Purchase a Cloud Pro subscription to run more studies on any operating system with full access to all capabilities.
Its free edition allows you to transfer files, visit a URL, download and run files, or enter command lines.
It carries out in-depth malware analysis and produces extensive and thorough analysis results.
On Windows, Linux, and Android, you can execute a maximum of 15 analyses per month and 5 analyses per day with a constrained analysis output.
You get access to Joe Sandbox Cloud's Community Edition through this site.
Expand the detection's capabilities by adding your own logos and templates.
Any.Run
Another VirusTotal alternative is Any.Run that analyzes, tracks, and detects cybersecurity threats. The site offers an environment that is prepared for the live testing of numerous risks without the need for its installation.
It includes services that can be utilized for a thorough study of unknown and malicious items as well as the investigation of cyber-incidents. This platform also displays numerous testing elements including newly created processes, harmful files and URLs, suspicious activity, etc.
Additionally, it allows you to see the big picture during simulation by showing the development of multiple processes in real time. And you can save money by using ANY.RUN instead of squandering it on unnecessary tools and extra equipment.
Key Highlights
Comprehensive Analysis.
No installation
IOCs in an easy-to-use format.
IDS extended rule sets.
Virusdesk.kaspersky
Virusdesk.Kaspersky is one of the VirusTotal alternatives which has an online virus scanner that supports both files and URLs. A file you upload to this online virus scanner can be as large as 256 MB.
Through a specific paste, drag, and dropbox, it offers malware link scanning. And it scans web pages for links to a known fake website. Additionally, it enables you to upload and check files you think may contain harmful content.
And if you disagree, it will investigate the link further and get in touch with you if you give them your address.
Key Highlights
It enables you to examine any threat signal you consider suspicious, whether it be a file, file hash, IP address, or web address.
Utilize its unique and powerful proprietary technologies, including dynamic, static, and behavioral analysis, and its global cloud reputation system, to detect advanced commodity, evasive, and APT-like threats.
MetaDefender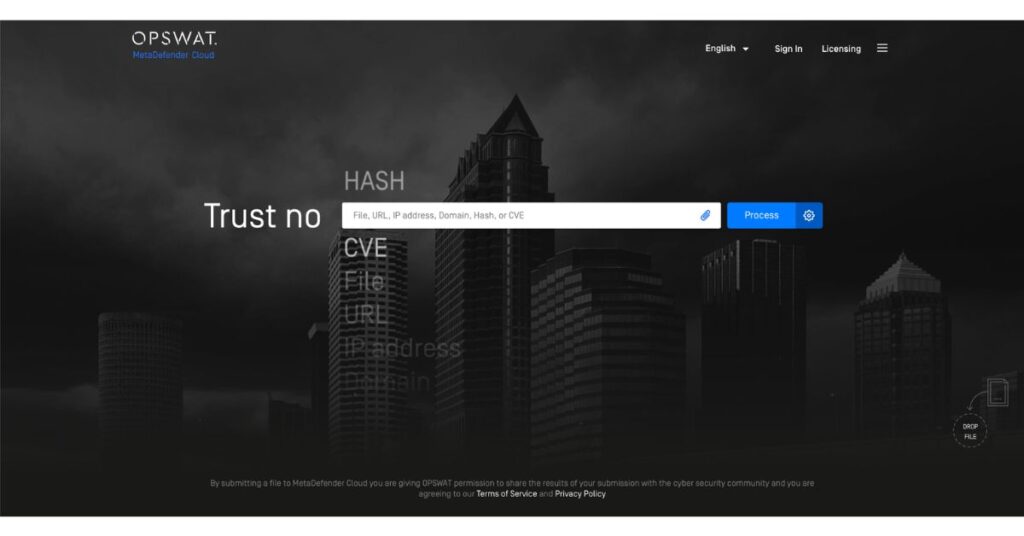 MetaDefender Cloud is a site (formerly known as Metascan Online) that allows you to upload files up to 140 MB and scan them simultaneously against 30+ antivirus engines, including those employed by well-known companies like Microsoft, Kaspersky, McAfee, and AVG.
7Z, EXE, and ZIP are a few files you might be interested in scanning at MetaDefender Cloud, but you can also scan other types of files like pictures, movies, and documents.
It offers the ability to scan by IP address, hash value, and website URL in addition to submitting a file to the MetaDefender Cloud.
When an antivirus engine considers a file safe, a bright green check mark is displayed next to each engine. And the name of the virus is marked in red to indicate it is malicious. Additionally, you may scan downloads done using Chrome by installing the OPSWAT File Security plugin.
Key Highlights
More thorough virus scanning
Doesn't need to be installed
Your data is kept private
It is a free version
Results can be read easily.
Virusscan.jotti
Another VirusTotal alternative is Virusscan.jotti which is a free tool that lets you scan suspicious files using several anti-virus programs. To increase the detection precision of your antivirus products, you must share all files with Jotti.
Although it doesn't want to know your names or addresses, it does require login and use some information. When you send files for scanning, it stores them and distributes them with anti-malware groups. This is done to increase anti-malware solutions' detection precision.
Additionally, you can discover which antivirus engines found the file to be harmful by looking at the date and scan detection status of each engine in an easy-to-read list. If you've already preferred to enter the file's MD5 or SHA-1/256/512 cryptographic hash function rather than upload it, Jotti.org also has a hash search feature.
Key Highlights
Jotti's Malware Scan scans up to five files at once utilizing over a dozen antivirus engines (with a 250 MB limit for each).
Your files are kept private.
A thorough virus check separates false positives from genuine threats.
It is available in a variety of languages.
The JottiScan application allows you to scan from your desktop as well.
Final words: VirusTotal Alternatives
In this article, we have included the best VirusTotal alternatives available on the internet that use antivirus software and website scanners to examine suspicious files and URLs and find various forms of malware and dangerous material.
There are many more solutions available on the internet, but if you want to use the best, you should first try the above VirusTotal alternatives.
FAQs: VirusTotal Alternatives
What is VirusTotal analysis?
VirusTotal tools extract suspicious signals such as OLE VBA code streams in Office document macros, invalid cross reference tables in PDFs, packer details in Windows Executables, intrusion detection system alerts triggered in PCAPs, Exif metadata, authenticode signatures and a myriad of other properties.
Is VirusTotal free to use?
VirusTotal was founded in 2004 as a free service that analyzes files and URLs for viruses, worms, trojans and other kinds of malicious content.
What is VirusTotal used for?
Virus Total is an online service that analyzes suspicious files and URLs to detect types of malware and malicious content using antivirus engines and website scanners.