5 Best Apps like PhotoWonder To Create Photo Collage [2023]
We may earn small commission from the products mentioned in this post.
Apps like PhotoWonder: Opening the gallery app to view the same photos in the same format might be memorable at the start but becomes boring as the time passes. So, how are you planning to become a bit more creative with the memories you have on your cell phone? 
If you don't have any idea then how about you listen to us and create collages from apps like PhotoWonder where all the pictures from one occasion and special day will come together in one frame?
About PhotoWonder
PhotoWonder is a popular collage maker app that let you arrange your photos into your favorite frames instantly. It permits you to be creative with a good collection of filters, frames, decorations, and free-form collages it offers on its platforms. So, with just one tap you can create freestyle colleges from over 150 variations to choose from.
PhotoWonder is a perfect app for making different collages but if you are looking for apps with more types of tools and features, then we will highly recommend you to go through our list of apps like PhotoWonder present in this article.
Collage Maker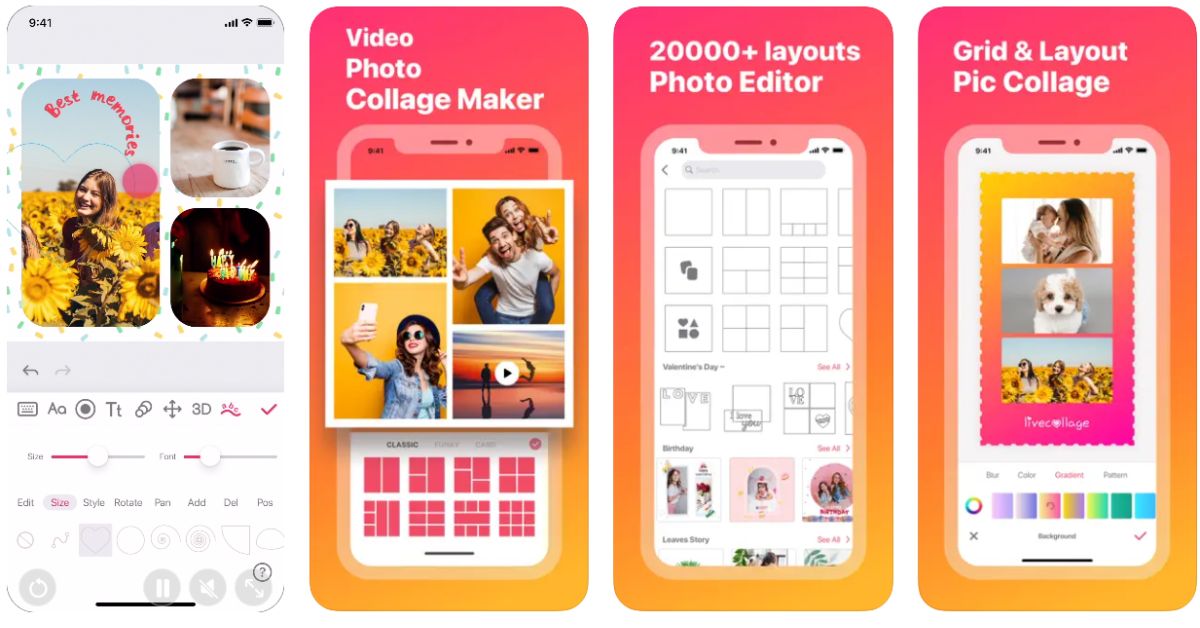 Collage Maker is a go-to photo collage maker for millions of users globally while being one of the most famous apps like PhotoWonder because it is like an original collage maker presenting over 100 collage layouts where you have the option to add a maximum of 20 photos in one frame. You can also go freestyle and likewise select filters and adjust the lighting through tools like contrast, saturation, fade, highlight, brightness, and more.
Furthermore, you can change the style of boring photos and add emojis and stickers to make them funny. The best part is that you can also add text to your picture with multiple popular fonts like Bebas and Roboto-Medium.
Key Features
Ability to change the background of your pic or blur it.
Add and deduct the picture from your collage frame whenever you want.
The cover photo grid feature allows you to blur the border or add a colored background to fit Instagram or any other related social media post.
Photo Collage Editor
Photo Collage Editor is another popular collage maker app like PhotoWonder which specializes in photo collage making along with editing your pics. You get to remix your pictures and collage them with just one tap along with changing the tone of your face like a professional.
So, start by choosing the pictures from your photo gallery or take pictures from the in-app selfie camera. After adding the pictures to the frame, you can add stickers and text in different styles. Even if you don't have experience in editing or collage making, with this app's dozens of photo grids, layouts, templates, and guide, you'll be able to use every feature easily.
Key Features
It offers special colleges for occasions and festivals like valentine's day, birthdays, etc.
With the help of the Picture frame feature, you can make a photo collage to fit perfectly with your Instagram or any related social media posting aesthetic.
This aesthetic photo editor will help you add different touches to your pic without any cropping needed. Also, you can add Golden hour filters, plastic effects, etc within the app.
PicsArt
PicsArt is so far one of the top leading apps for editing pictures because not only it offers a huge selection of templates for photo collages but after making a photo collage you can do many more interesting things in the app.
To start with, you can remove the background of your pictures by using the auto removal tool with just one tap or select the parts you want to remove, add hundreds of multiple effects and make a remix. Another fun part is that you can add stickers from a big collection while styling the selfie with tens of filters.
Moreover, the highlight of using PicsArt photo and video editor is that you don't need experience in making professional level collages, designs, or adjust. With its guide and simple creativity skills, you can add stickers, swap backgrounds, try popular edits and trends, remix hundreds of filters and effects like VHS, Y2K, retro, blur, etc to get the outstanding results you are expecting.
Key Features
Use millions of free and curated images to add an edit to yours.
Choose from over 200 fonts.
It offers an AI-powered smart selection tool for swapping and blurring the background.
PhotoGrid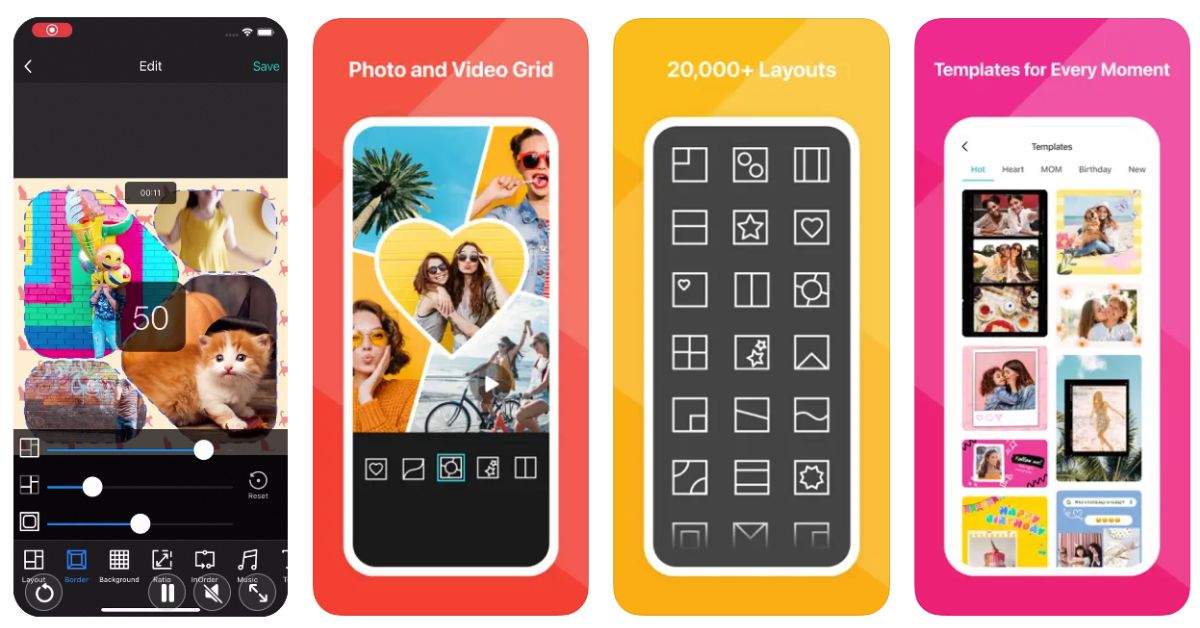 PhotoGrid is another PhotoWonder alternative that let you create amazing images to post on different social media platforms like Facebook, and Instagram. Not only that, you can also try making covers, banners, collections for Pinterest, thumbnails for YouTube and more.
One of the many highlights of using this app is that you can customize your logo and watermark and add a social media logo like Facebook, WhatsApp, or Instagram along with your name. Besides, it offers many popular issues for posting like Apple Watch, A3 size, A4, and Facebook covers to slay on different platforms.
Key Features
Along with pictures, you can also make and trim collages of videos.
It does not ask to crop the picture when you want to fit it in the proper size and ratio.
Has over 20,000 styles in collage templates and you can remix around 16 photos in one frame.
Offers the tool for making beautiful filmstrips or photo stitches.
You can personalize your layout, template, and collage frame.
PicCollage
PicCollage lets you create and celebrate every other special day and occasion by adding different touches to your pictures. If you want to transform your boring pictures, then PicCollage help you create different kinds of collages where you also get hundreds of templates, frames, and grids to choose from.
When it comes to the working of PicCollage, it is super easy – all you need to do is to add pictures from your gallery, then choose the frame and layout you want your pictures to remix with. Now, with a few taps, your picture will be ready within moments.
Key Features
Offers tens of templates for Instagram stories.
Offers the blank canvas option which will give you complete freedom to create the edit or collage with a freestyle mode at your own pace.
Provides a big collection of occasion and trend-specific stickers.
Final Words
No wonder you will find many more PhotoWonder alternatives on the internet but if you don't want to waste your time researching more, then we will suggest you try all the apps like PhotoWonder mentioned in this article before trying any other platform.
7 Best Apps like Picsart to Edit Beautiful Pictures [2022]
5 Editing Apps like Superimpose To Create Amazing Photos [2022]
Frequently asked Questions
Which is the No 1 photo editing app?
Based on our research, popularity and reviews by the users, PicsArt can be known as the No 1 photo editing app. 
Which apps are similar to PhotoWonder app?
PicsArt, Pic Collage, Collage Maker, Photo Collage Editor, and Photo Grid are the best apps similar to PhotoWonder app for making collages currently available on iOS and Android devices accordingly.
Is PhotoWonder app free?
Yes, the PhotoWonder app is free to install and use.