6 Apps like Dawn AI You'll Love! [Free Dawn AI Alternatives]
We may earn small commission from the products mentioned in this post. visit here for more details.
Apps like Dawn AI: Time has changed when you had to run your wild imagination without any tools or platforms to turn your wildest fantasy into reality.
Back then, we didn't have AI technology but in today's world, we have plenty of good apps like Dawn AI which allows you to make use of the newest AI technology and create different styles of artwork.
About Dawn AI
Dawn AI is an interesting app helping you create amazing avatars using new AI technology.
The working of this app is very simple, all you have to do is upload any photo from your device gallery and with just one tap – allow the Dawn AI app to work on it according to your liking.
Don AI is a good AI art generator app to create various styles of artwork within seconds but since it is not the only good AI avatar generator app, in the article below we are going to present details about 6 apps like Dawn AI you will love to try out.
AI Art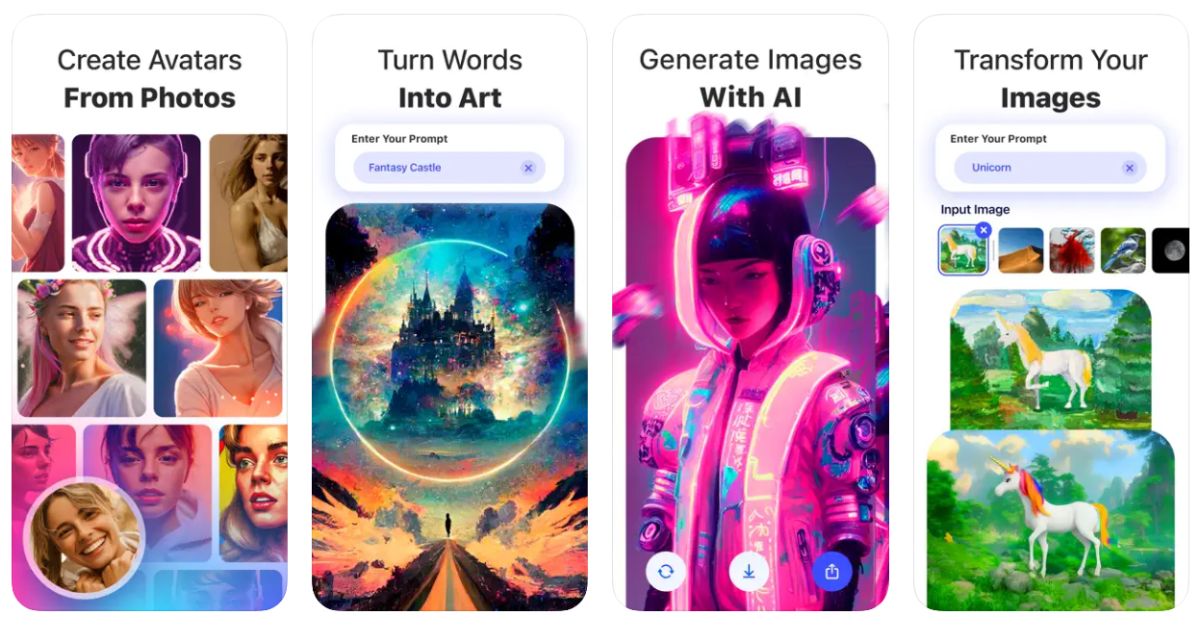 AI Art is an AI generator, an avatar maker, and AI drawing software helping you create fascinating artwork and visualize your fantasy ideas.
The working of this app is simple, with one tap you can write a prompt in text space and with another tap, the app will generate the picture for you. 
The best part about using the AI Art app is that it doesn't require you to type in accurate, detailed and lengthy prompts.
For instance, even if you add a blank picture with a plain white background and type in the prompts like sky and horse, the app will do a good job in customizing the results accordingly, and in case you add more objects, you can simply type in more details in the prompt area.
Additionally, if you have an idea in mind but are not able to find the exact image to upload from your side – then you can choose from various images and styles present on the app, that are 100% free to use without a watermark.
Key Features
It lets you redo an artwork in case something is missing or you forgot to add anything to the picture.
The app lets you download the image to your device or directly share it on different platforms like WhatsApp, Instagram, etc.
It lets you name every artwork before saving or sharing.
Cost: $4.99 per week or $30 per year
Profile AI
Profile AI helps you create incredible avatars entirely made by artificial technology with results guaranteed to satisfy your preferences.
With this app, you get to create over 100 styles of avatars with diverse looks and details. It is one of the reliable apps like Dawn AI because of the quality and ease of use.
Profile AI works like any other AI generator app. To start with, you have to adhere to some guidelines like making sure the picture contains only you and no one else, choosing pictures from different angles and distances and pictures without sunglasses will only be of use.
Moving ahead with how the app works, with Profile AI, you can upload photos of different poses from your device gallery, then have the app train the picture based on your photos and with hundreds of avatars, you can choose any one among them to create different looks and vibes.
Key Features
It lets you use one picture to make tens of various avatar looks.
The app edit the background, photo tone, etc accordingly without needing your help.
The app can make avatars for humans as well as animals.
Cost: $20
Wonder
Wonder is another good free Dawn AI alternative allowing you to turn mere words into beautiful digital art with its accurate and fast AI image generator system.
Working on this app is also simple, you have to start by entering a prompt, then pick an art style to change the picture into and watch how within a few seconds the app transfers the common picture into an artwork.
Wonder is an all-rounder where you can paint and design a good set of styles and things like song lyrics, movie characters, star signs, monuments, fantasy movie scenes, and much more while choosing your favorite art style from futuristic synthwave landscapes to baroque paintings and more.
Key Features
It offers various options for art styles such as novelistic, hyper realistic, animation, steampunk, etc.
It helps you create your profile on the app including all your artworks with proper captions.
The app helps you publish the pictures on its platform to gain recognition from other talented users and you can also share your portfolio to others.h
Cost: $4.99 or $29.99 accordingly
Dream by Wombo
Dream by Wombo is one of the famous similar apps like Dawn AI, responsible for creating beautiful art using magical power off artificial technology.
With Dream by Wombo, you can enter a prompt, then big and art style and tap on the confirm button to see the app transfering your idea and a boring picture into an incredible AI-powered painting.
Dream by Wombo is always updating according to descent trends and expanding art to reduce types of styles and masses.
Without needing a paint brush, art supplies, pencil and everything else, you can create an artwork within moments with accuracy and detailed features.
Key Features
It lets you publish your artwork in the community and while getting inspired by other artists, gain recognition for your artwork.
You get to adjust your input picture's influence on the final result.
Cost: $4.49 per month or $29.99 per year
AI Art Generator
AI Art Generator is the best Dawn AI alternative for you in case you love to create and change yourself into anime and manga characters.
The app lets you create different types of profile pictures where you can also turn selfies into amazing Ai generated artwork and Avatar profiles.
With AI Art Generator, you can make generative artwork using AI and other computer art tech such as shader, art blocks, P5GS, etc and with just one tap, you can create the artwork you desire.
Also, you get to enter a prompt, either small or detailed as per your liking and watch how midjourney, stable diffusion, and dall e turn your common photo into an artwork within 30 seconds.
Key Features
The AI Dream Art allows you to create different types of artworks using extreme fantasy like some parts of meta verse based on your prompt and description of ideas with the help of novelai model and stable diffusion.
The AI Abstract Art lets you create abstract avatars in deep dream wonbo style, an AI painter.
The AI generative art tool will help you become a generated prequel artist along with an art breeder like Wombo dream art leap or simply the meitu style.
Cost: $4.99 per month or $24.99 per year
DaVinci – AI Generated Art
DaVinci is an AI avatar art generator app turning mere words into beautiful and unique artworks within seconds.
The working of this app is similar to other apps like Dawn AI mentioned in this article, you have to first enter a prompt, let it be a few words or a detailed statement, whichever you prefer, pick an art style and after confirming – watch the AI generator generate your artwork within winks.
DaVinci is famous for helping explore various unique art styles and has mastered interesting techniques, all the way from cartoonish pencil sketches to mind-blowing photorealism.
Additionally, in case you don't have a picture for reference with you, you can select one from the app's library.
Key Features
It lets you set one blurry image into tens of HD art styles.
You can either save the picture in your device gallery, redo it in case you want something else or something is missing in the picture or directly share the artwork to different social media sites.
Cost: 1 week of artwork creation cost $4.99, weekly artwork creation cost $2.99 and 1 year of artwork creation cost $29.99.
Final Words
In the article above, we successfully presented detailed introductions about good apps like Dawn AI which will do a stable job in helping you create the artwork of your dream and ideas.
WATCH MORE AI ART GENERATOR APPS
5 Apps like Dream by Wombo to Create AI Art! [2022]
Missing ItsMe? Try These 4 Avatar Apps like ItsMe! [2022]
7 Best Apps Like Picrew to Create Your Avatar [2022]
Frequently asked Questions
Which are good free apps like Dawn AI?
AI Art, Wonder, and DaVinci Ai Art Generator are some good free apps like Dawn AI helping you create different types of AI artworks and avatars within seconds.
What is Dawn AI?
Dawn AI Is an AI art generator app which allows you to create different types of artworks and avatars with just one click. By adding the background pictures from your device gallery and adding your ideas through text, you can watch your picture get transferred into artwork and there on hold the credit for the same.
Which are the best AI art generator apps?
Dawn AI, AI Art, DaVinci, and AI Art Generator are some of the best AI Art Generator apps trusted by thousands of users globally for offering perfect tools to turn mere fantasies into reality.