Trust Wallet vs MetaMask: Which Is Better For You? [2023]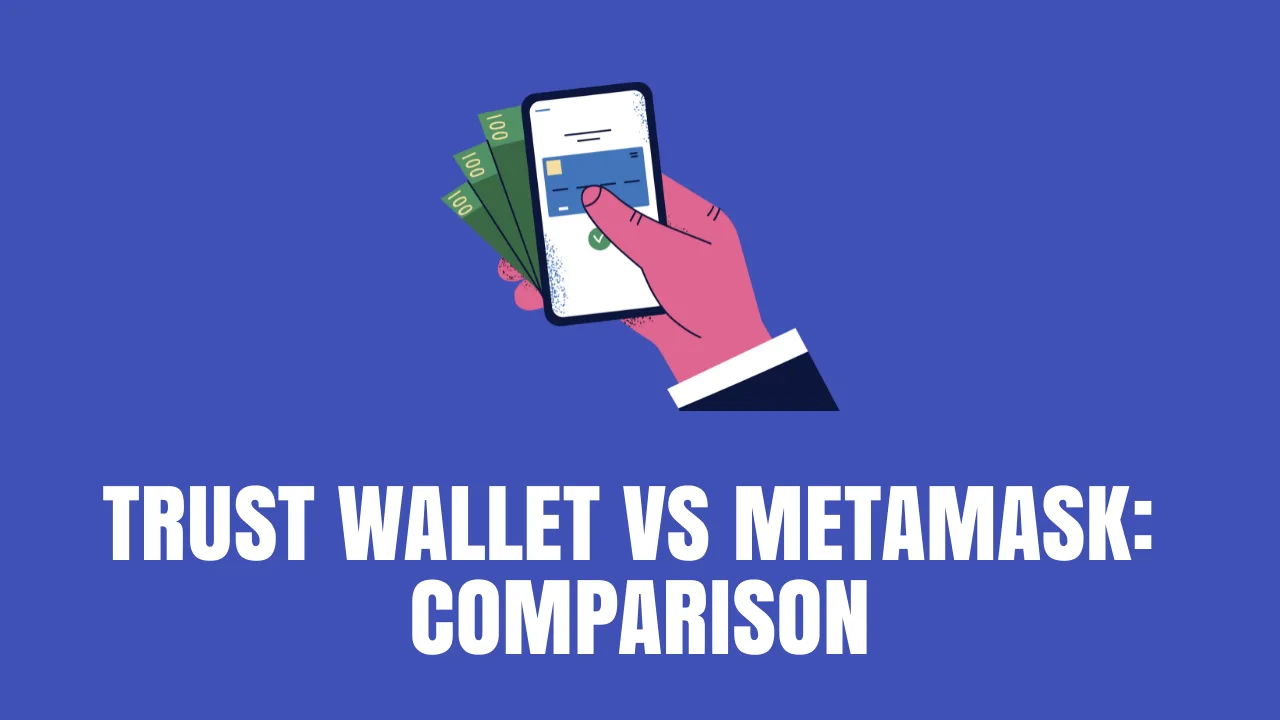 We may earn small commission from the products mentioned in this post.
Trust Wallet vs MetaMask: You might be questioning which is the best platform? Or thinking which will offer you better options, similarities and differences between Trust Wallet and MetaMask?
You've come to the right place! This article will help you choose between Trust Wallet and MetaMask.
As several people use cryptocurrencies and decentralized applications, one should know to have a healthy and straightforward way to access them. Unlike conventional financial markets, the crypto world never sleeps.
Trust Wallet vs MetaMask: Difference?
Selecting the authentic cryptocurrency wallet is essential to make sure the safety and accessibility of your digital assets.
Mobile wallets like Trust Wallet and MetaMask are specially designed to combine convenience and ease of use with fast access to your crypto. Both of them are available on iOS and Android platforms and provide a fantastic UI for users.
Trust Wallet and MetaMask are two leading digital wallets to buy, store, send and receive NFTs (Non-Fungible Tokens) and Cryptocurrencies. Both have a type of wallet that provides users easy access to crypto assets.
Both Trust Wallet and MetaMask are suitable with Ethereum and let the holding of NFTs and collectibles.
While Trust Wallet is only available on mobile devices, MetaMask is available for browsers (you need extension) and a has mobile-based app wallet.
Check out the guide below for detailed information on Trust Wallet vs MetaMask comparison.
Trust Wallet
Trust Wallet is one of the best cryptocurrency and Ethereum wallet. You can be able to store, send and receive Bitcoin and many other cryptocurrencies safely and securely.
You can also use Trust Wallet to earn interest in playing blockchain games, collect NFTs, crypto and access the latest DApps and DeFi platforms.
It is the certified crypto wallet of Binance. So, along with Binance, it is working on exhilarating features such as custom networks, a native DEX, market monitoring, test networks, deep integration, and even provides a fast and secure multi-crypto wallet.
With Ethereum wallet, you can request and send ERC721, ERC20, and many other ERC tokens.
You can use Touch ID, Face ID, or traditional passwords to protect and secure your crypto investments. It has an in-built web3 browser that lets you discover DApps of the decentralized internet effortlessly and firmly.
As blockchain is an innovative and complex technology, you can depend on the Trust DApp marketplace to help you through.
Coinbase Wallet vs Trust Wallet: Comparison [2021]
MetaMask
MetaMask is a cryptocurrency wallet that is used to interrelate with the Ethereum blockchain. It lets users access their Ethereum wallet via mobile application or a browser extension.
This can then relate to decentralized applications. You can use MetaMask's key vault, digital wallet, and secure login to manage your digital assets.
MetaMask permits its users to store and manage broadcast transactions, account keys, send and receive Ethereum based tokens and cryptocurrencies, and safely connect to decentralized applications by a compatible in-built mobile app's browser or a web browser.
Basically, until 2019, only the browser extension of MetaMask was available. Later, because of its rise in cryptocurrency users, they created a mobile application for both Android and iOS users.
It allows users to make and manage their own identities. So, when DApp wishes to implement a transaction and write to the blockchain, the handler gets a protected interface to analyze the transaction before declining or accepting it.
MetaMask needs the authorization to write and read to any webpage as it improves functionality to the usual browser context.
Trust Wallet vs MetaMask: Key Features
Trust Wallet
Users can store private keys (security feature) on their own devices.
In-built decentralized exchange through a partnership with Kyber Network and Web3 browser.
Supports all major cryptocurrencies, such as Ethereum, Bitcoin, and many more.
Buy, sell, send and receive your NFTs within Trust Wallet.
Send and request ERC721, ERC20 and several other ERC tokens.
Standout Features: The most outstanding feature of Trust Wallet is its support for numerous blockchains and support for the storage of over250,000 digital assets.
Moreover, its in-built crypto exchange feature allows users to immediately exchange tokens and even buy crypto with a card.
MetaMask
Manage, receive, and transfer cryptocurrency and tokens from Binance, Ethereum and other blockchains.
A browser extension is compatible with Firefox, Google Chrome, Microsoft Edge and Brave browsers.
Very safe and has millions of users.
You can customize the chain you want to receive from.
You can store your crypto-collectables and other NFT crypto art you but in markets like Opensea or Rarible.
Standout Features: Metamask also has some pretty reliable security systems. But it features some limitations when compared to Trust Wallet.
And not only it is limited to Ethereum, you'll also need to connect to a DeX to swap any tokens. What makes its standout from other wallets is its interface that makes it easy to use decentralized applications.
Trust Wallet vs MetaMask: How to Install?
You can easily download Trust Wallet and MetaMask on your mobile device from Google Play Store or Apple App Store.
To use Metamask on your PC, you need to install MetaMask browser extension, follow the steps below:
Go to correct MetaMask Website.
Select Get Chrome Extension to install MetaMask.
Now, choose Add to Chrome in the top right corner.
Select Add Extension to complete the installation process.
Once you've finished installing MetaMask, click on Get Started button, which will prompt you to create a Wallet page.
Both browser and mobile version offer the same functions, including key vaults, secure logins, and let users explore Ethereum-based DApps by using the DApp browser.
Uphold vs Kraken: Which is better? [2021]
Trust Wallet vs MetaMask: How to Use?
Trust Wallet
If you have a trading account with Binance, then using Trust Wallet becomes really easier because Trust Wallet is now owned by Binance. So, it supported a lot of coins that Binance offers.
Once you've finished downloading the Trust Wallet app, create a new account or just simply sign in if you already have an account. You can easily create a new wallet by buying the cryptocurrency like Ethereum, Binance, Bitcoin, Tether and many more.
With Trust Wallet, you can upload many wallets and you can have over one wallet. All you need to do is to go to settings and tap on the Wallet button.
You can be able to send, receive and store Bitcoin and several other cryptocurrencies' digital assets safely and securely with the Trust Wallet mobile application.
MetaMask
Once you've installed the MetaMask wallet, follow the steps below to know how to use MetaMask.
Select the MetaMask logo in the top right corner of your Chrome Browser and read and agree to the terms and conditions.
Type a password and select Create to create your wallet. Now, you'll see a 12-letter seed word for your vault.
Click Save Seed Words as File and copy the MetaMask Seed Words file, which will be downloaded to a safe place. Keep in mind that you'll require this later to access your vault.
Once all this is done, select I've Copied It Somewhere Safe. Now, you'll be taken to your MetaMask wallet. You can now can select one of the testnet networks like Main Network and choose one of the tesnets like Kovan Test Network or Ropsten Test Network.
Through the Test Network, you can securely buy and send test Ether from a faucet and start experimenting with the blockchain.
MetaMask vs Coinbase Wallet: Complete Comparison [2022]
Trust Wallet vs MetaMask: Fees
Fees play an essential role in the crypto world as they make up a considerable part of the business's income.
Payment services, crypto exchanges, the wallet provides naturally charge fees to produce revenue.
Trust Wallet
Crypto wallet usually charges a low fee every time you perform a transaction. However, with Trust Wallet, you'll not be charged anything for utilizing the wallet.
It also doesn't charge any extra fee for exchanging one crypto for another on the in-app DEX or when a user uses DApp Browser to interrelate with decentralized applications.
During high usage times of the Bitcoin blockchain, it can charge $5 to $10 per transaction. Ethereum blockchain can charge up to $10 per transaction.
Trust Wallet vs Crypto.com: Comparison [2022]
MetaMask
You only require a small amount of Ethereum to start a transaction through MetaMask. Transaction fees are depended on the network, this means if you use a network like Binance Smart Chain, the fees will differ from that on the Ethereum chain.
Therefore, before initiating a transaction, make sure that you're not paying $35 to send $15 in Eth to your friend. So, it is really essential to know the difference between the networks and the fees that will be charged.
Winner: Trust Wallet! As it charges nothing to use it and no extra fees for trading one cryptocurrency for another or using DApp browser to interact with decentralized applications.
Use
With Trust Wallet, you can safely and securely transfer, store and receive cryptocurrencies. And you can also use it to earn interest in your blockchain games, collect cryptocurrency and NFTs, as well as access most DeFi and DApps platforms.
Whereas Metamask lets users store and manage transactions, account keys, transfer and receive Ethereum-based tokens and cryptocurrencies and also securely connect to decentralized apps through a compatible built-in mobile app.
Compatibility
Trust Wallet is available on iOS and Android devices. Whereas, MetaMask has a mobile application and a browser extension that allows users to access their funds in wallets.
Supported Cryptocurrencies
Both Trust Wallet and Metamask support a wide variety of cryptocurrencies. But Trust Wallet wins in this case as it supports thousands of distinct assets across 33 supported blockchains as well as all ERC-20 tokens.
On the other hand, Metamask only supports the storage of ERC20 tokens, and you'll need to store foreign tokens or Bitcoins through wrapped derivates such as WBTC.
App User Interface
Trust Wallet has a modern and easy user interface than MetaMask. They list the tokens one below another, and it looks less disorderly overall.
Also, the notification feature in Trust Wallet notifies you whenever you receive a token.
Transfer Experience
Both applications provide a QR code that allows you to scan and pay, and they also have the option to manually enter the address and complete your payment.
We can simply add most of the tokens in MetaMask using the custom token button.
Trust Wallet doesn't have the token button feature in its application. So, add tokens by using the search option.
Exodus vs Trust Wallet: Comparison [2022]
Trust Wallet vs MetaMask: Are they Safe?
Trust Wallet
With Trust Wallet, you'll have the ability to lock your account, thus providing access to your Trust Wallet even more secure. To access this feature, navigate to settings and enable the App Lock option.
Once you are done enabling it, it'll prompt you to a new page where you'll be asked to type in a 6-digit password. Keep in mind that you'll be asked for your password each time you launch the app.
Once you've entered your password, it'll show 'Advanced Settings', click on it and confirm your password. You'll now have access to advanced settings like "Lock Method", which provide you the option of unlocking your application only with the password or with FaceID.
You can also access Auto-Lock through advanced settings that let you to alter the time of the application lock. Now, you can start the Transaction Signing Option that lets you to check every time you make a transaction.
MetaMask
When compared to its cold storage offline wallets, MetaMask limits its online security level. Nevertheless, in terms of ease of access with the Ethereum DApp world, it is far better than other wallets.
It uses HD backup settings has a very strong community of developers updating its open-source code. When you create a MetaMask Wallet, it'll give you a 12-word Secret Recovery Phrase, which you can use to restore your lost account.
Remember that MetaMask doesn't control any of your private or personal information on its servers. Everything is encrypted in your browser and secured through your MetaMask password. For more information, visit https://metamask.zendesk.com/hc/en-us/articles/360015489591-Basic-Safety-and-Security-Tips-for-MetaMask.
As it is a software wallet that is linked to the internet for the storage of crypto assets, it is still regarded as a hot wallet.
Trust Wallet vs MetaMask: What Makes Them Different?
Well, Trust Wallet have some basic differences with Metamask. For example, although MetaMask is available as both mobile-based and a browser wallet, Trust Wallet is only available on mobile.
Moreover, Trust Wallet supports a wide range of Ethereum and its assets. So, users can store a lot of digital currencies, including Bitcoin, Ripple, Ethereum, and Litecoin.
Whereas, what makes MetaMask different from Trust Wallet is its ability to interact with DeFi projects. Besides, it is also a complete open-source service and has an amazing customer support, which quickly responds to any problems or issues you are facing.
| | | |
| --- | --- | --- |
| | Trust Wallet | Metamask |
| Cost | Free | Free |
| Beginner Friendly | Yes | Yes |
| Desktop Software | Yes | Yes |
| Mobile App | Yes | No |
| Built-in exchange | Yes | No |
| NFT Support | Yes | No |
| Staking Options | Yes | No |
| Available Cryptocurrencies | Bitcoin, BNB, and all ERC20 Tokens | All ERC-20 Tokens |
| Security | Medium | Medium |
| Compatible with hardware wallets | No | Yes |
The Bottom line
What wins? Trust Wallet or MetaMask? Well, it truly depends on what essentially you are looking for and your requirements and preferences.
Some people may prefer Trust Wallet, and some may prefer MetaMask. So, I hope the above article on Trust Wallet vs MetaMask has helped you choose the best option.
Try these 12 Loan Apps like Possible Finance [PayDay, Cash Advance]