Uphold vs Kraken: Which is better? [2022]
Uphold vs Kraken – More and more people are preceding traditional stocks to but Ethereum, Bitcoin and other cryptocurrencies. With the increasing popularity of cryptocurrency in the past decade, there has been a rise in several cryptocurrency exchanges. Uphold and Kraken both are such cryptocurrency exchange platforms which supports all your digital asset requirements.
So, are you wondering what is the best cryptocurrency exchanges? Thinking what is the difference between Uphold and Kraken? Or wondering which will offer you the best options? Don't worry, we'll help you with that. In this article, we'll take a better look at Uphold vs Kraken and help you select the best option.
Uphold vs Kraken: What are They?
Uphold and Kraken are one of the leading crypto exchange platforms in the world. Both lets you to buy different currencies by suing fiat money. Read on further to know more about Uphold vs Kraken comparison.
Uphold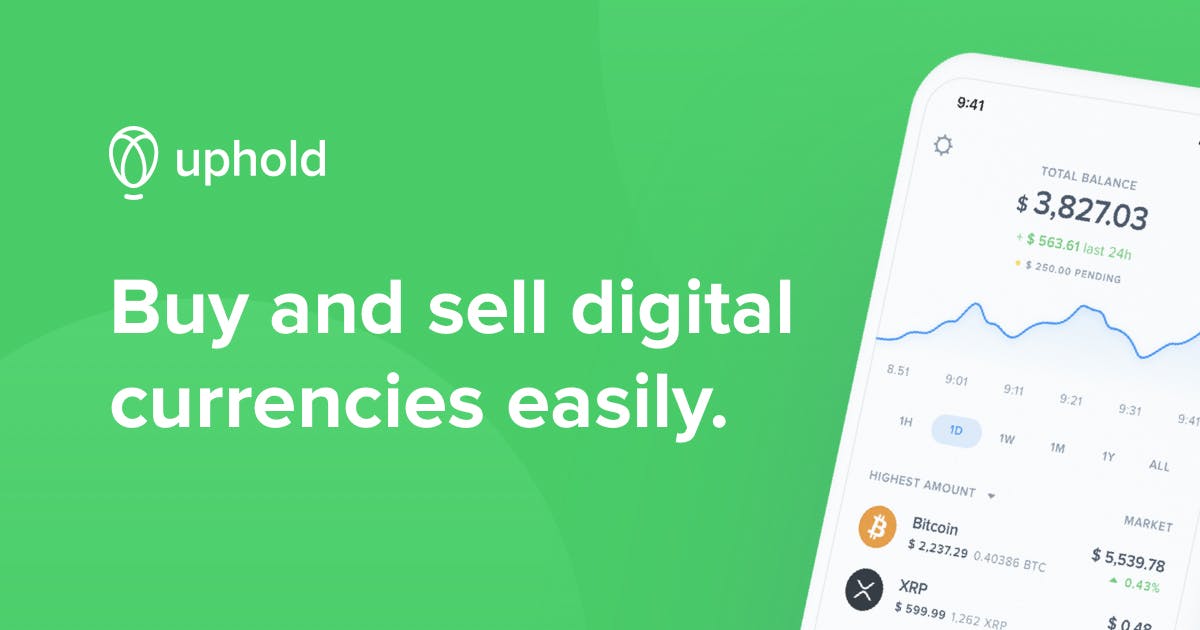 Uphold is a trading service which lets cross-asset trading. It lets users to convert between cryptocurrencies, fiat currencies and stocks. For example, users can trade from gold to Dash or Bitcoin to XRP. Its automated trading lets you to invest on schedule, but pre-selected assets.
You can easily send money to family and friends for free by using any Uphold's supported assets. You can also withdraw your money for free by sending it to a bank, private wallet or through crypto exchange.
Kraken
Kraken is a United States-based cryptocurrency bank and exchange which offers trading between fiat currencies and cryptocurrency. It is available in over 176 countries and list of 72 cryptocurrencies are available for trading. It offers various methods for funding your account with fiat.
It offers a paid version called Kraken Pro, which offers advanced features than standard kraken. It consists of market depth, graphs, open orders, positions and the capability to trade places. It provides several coins, including Ocean, Bitcoin, Ether, Waves, Uniswap, Bitcoin Cash and more.
Sign Up Process
Uphold
You can visit the official Uphold website to create an account. For individuals, the sign-up process is pretty simple and it only takes few minutes to complete. You'll also have the option to open a business account. Nevertheless, business account can take longer as you have to give some additional verification documents.
Kraken
Visit the Kraken website to open an account. You are supposed to be at least 18 to create a Kraken account and must live in kraken supported areas.
Security
Uphold uses encryption on its website and the bank accounts are connected to Uphold through Plaid, which is a financial services industry standard. However, funds deposited with Uphold are not SIPC or FIDC insured.
On the other hand, Kraken offers different levels of protection for its users. It uses Google 2-Factor Authentication for funding and trading.
Fees
Uphold
Uphold says its spread is usually 0.8% to 1.2% on BTC and ETH, and 1.8% in the Europe and the United States. For other digital currencies, it warns that "Spreads can be significantly higher for low-liquidity cryptos." It offers usual spread for its other supported assets:
U.S. equities – 1% (it can be bit higher during after-market hours)
Precious metals – 3%
Fiat currencies – 0.2% (among major currencies like EUR, USD and GBP)
Uphold doesn't charge any fees for bank withdrawals or deposits. Nevertheless, a 3.99% fee is charged whenever funds are added using debit or credit card. The Uphold debit card has a one-time fee of $9.95 and the withdrawals are $2.50.
Uphold vs Binance: Complete Comparison [2022]
Kraken
Kraken uses a maker and taker fee structure. You'll also have to pay several fees for withdrawing and depositing funds, depends on the methods you used. As your 30-days volume increases, the rates for both decreases. Below is the Kraken fee structure:
Transactions $0 to $50,000 pay a 0.16% maker fee or a 0.26% taker fee
Transactions $50,001 to $100,000 pay a 0.14% maker fee or a 0.24% taker fee
Transactions $100,001 to $250,000 pay a 0.12% maker fee or a 0.22% taker fee
Transactions $250,001 to $500,000 pay a 0.10% maker fee or a 0.20% taker fee
Transactions $500,001 to $1,000,000 pay a 0.08% maker fee or a 0.18% taker fee
Transactions $1,000,001 to $2,500,000 pay a 0.06% maker fee or a 0.16% taker fee
Transactions $2,500,001 to $5,000,000 pay a 0.04% maker fee or a 0.14% taker fee
Transactions over $5,000,001 to $10,000,000 pay a 0.02% maker fee and a 0.12% taker fee
Transactions over $10,000,000 pay a 0% maker fee and a 0.10% taker fee
| | | |
| --- | --- | --- |
| | Uphold | Kraken |
| Bank Account | Free | $4 to $35 |
| Wallet | $2.99 | Free |
| Credit/Debit cards | 3.99% | 3.75% + €0.25 |
| ACH Transfer | Free | 1.7% + $0.10 |
| Wire Transfer | $30 to deposit under $5,000 or free for over $5,000 | Free to $10 deposit, 44 to $35 withdrawal |
| Crypto Conversion | Free | $5 |
| Trades | Variable spread which may be high as 4% in some cases | 0% to 0.05% based on rolling 30-day volume |
Ease of Use
The user experience for Uphold and Kraken ranks high. Kraken's security measures are a huge advantage for large sum investors, but the added precautions can be trying for users who wish to start trading quickly.
Likewise, Uphold's website is easy to navigate. The advanced transaction types need some investing experience and the addition of stocks adds to the complexity. Nevertheless, it offers a one-step trading ability, where users can trade crypto asset for another.
Read: Trust Wallet vs MetaMask
The Bottom Line
What did you choose? We would like to mention that the best cryptocurrency exchanges are those which offers secure, easy-to-use, high trading platform, where users can trade several cryptos and pay in various payment options. So, we hope the above article on Uphold vs Kraken has helped you to pick up the best platform according to your requirements.
Trust Wallet vs Binance Wallet: Comparison [2022]
Discloure: ViralTalky is supported by its audience, when you buy through links on our site, we may earn a small commission.