Uphold vs Binance: Which Is Better For You? [2023]
We may earn small commission from the products mentioned in this post.
Uphold vs Binance – Cryptocurrency exchange like Uphold and Binance makes it easy for users to buy or sell Bitcoin, Ethereum, fiat currencies, and more.
Both services let investors purchase coins with a credit card, bank account, or debit card. Yet, both are very different platforms.
With Uphold, you can make crypto-to-crypto trades or buy precious metals. However, it can be quite difficult for those who are new to the crypto world.
On the other hand, Binance has a sharp learning curve and offers international traders hundreds of currencies to trade.
Keep on reading to know how Uphold and Binance compare, including their features, how they work, fees, security, and ease of use!
Uphold vs Binance: Overview
Uphold: Uphold is a cloud-based cryptocurrency trading platform that lets users convert between cryptocurrencies, fiat currencies, and stocks.
For instance, users can trade from gold to Dash or Bitcoin to XRP. Its automated trading lets you invest on schedule but pre-selected assets.
You can easily send money to family and friends for free by using any Uphold's supported assets. You can also withdraw your money for free by sending it to a bank, private wallet or through a crypto exchange.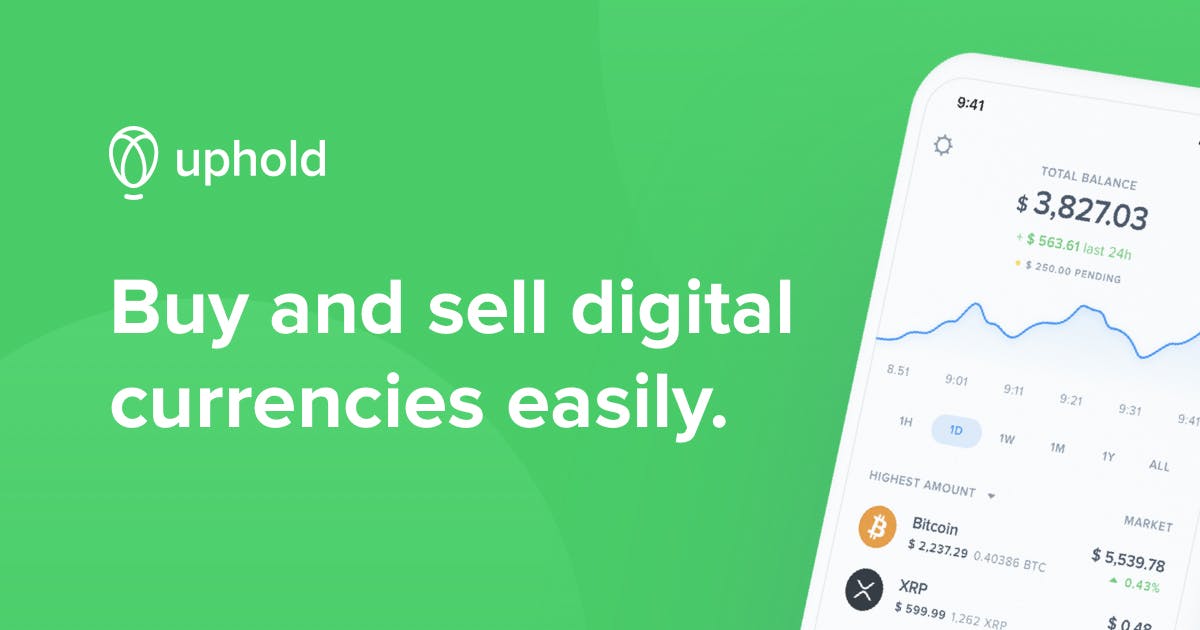 Binance: Binance is a cryptocurrency exchange, largest exchange service in the world in terms of the daily trading volume of cryptocurrencies.
You can easily get started with Binance, whether you're buying Bitcoin for the first time or actively trading.
Not only that, but you can also enjoy instant and convenient P2P transactions that are available in multiple payment options, such as UPI, NEFT/IMPS, Paytm, etc.
Uphold vs Binance: Everything About Them!
Here is everything that you want to know about Uphold and Binance;
Features
Uphold:
Easy to buy and sell Bitcoin and 'send' any other major crypto.
Choose between 31 cryptos and 3 national currencies.
Transact with any wallet on the following crypto networks: Bitcoin, Bitcoin Cash, XRP Ledger, Ethereum, and Litecoin.
Send any currency to any Uphold user, anywhere, instantly.
Unlike banks, it doesn't loan out your money.
Secure digital wallet to enable it to be a Bitcoin wallet, Ethereum wallet, national currency wallet & more.
You can now also buy and own as little as US$1 of U.S. stocks.
Binance:
Buy Bitcoin, Ethereum, Link, Tezos, Cardano and Binance Coin, and more.
Add a debit or credit card to buy and sell crypto instantly.
Enjoy instant and convenient Peer-to-Peer (P2P) transactions available in multiple payment options.
Choose from 150+ supported cryptocurrencies, including Bitcoin, Ethereum, Link, Tezos, Cardano, and Binance Coin.
Security is the highest priority for us when it comes to safeguarding your funds.
Store your crypto safely with the Binance app.
Set price alerts with a single tap to stay up to date on the latest prices and trends.
How Do They Work?
Uphold: In order to use Uphold, you'll need to create an Uphold account. You can do this by visiting the Uphold's official website and following the simple sign-up process.
Once you submit your information, you'll get a confirmation email. Check your email and open the new message from the Uphold team.
Then, you'll need to enter your phone number to enable the Two-Factor Authentication, which gives you an additional layer of protection against hackers.
You'll then need to download the Authy app on an internet-connected device that you own and use regularly. Authy app is a free Two-Factor Authentication app that Uphold uses to make sure that your account remains secure with Two-Factor Authentication.
You can complete your account registration by verifying your account. This verification process requires a current address, a valid government-issued ID (passport or driver's license), your photo from your device.
Binance: To get started with Binance, you'll need to sign up to create an account. Registering for a Binance is very easy and simple.
Remember that when you register on Binance exchange, you'll be automatically logged-into Binance Wallet. All you need to do is to visit the Binance official website and register for an account by using your mobile number or through email.
Once you've done that, you'll receive an account verification request to your email address, which you'll need to enter to confirm your login process.
From the Home Page, you can view your wallet balances in BTC as well as the functions that your wallet will perform, such as margin account P2P trading, mining pool fund storage, savings account management, and more.
Moreover, you can even purchase and trade cryptocurrencies directly from the wallet interface and withdraw fiat money.
Fees
Uphold: According to the information available on the Uphold, it says it charges a trading fee and a withdrawal fee, and therefore, it is not free.
Its spread is usually 0.8% to 1.2% on BTC and ETH, and 1.8% in Europe and the United States. For other digital currencies, it warns that "Spreads can be significantly higher for low-liquidity cryptos."
It offers the usual spread for its other supported assets:
U.S. equities – 1% (it can be a bit higher during after-market hours)
Precious metals – 3%
Fiat currencies – 0.2% (among major currencies like EUR, USD, and GBP)
Uphold doesn't charge any fees for bank withdrawals or deposits. Nevertheless, a 3.99% fee is charged whenever funds are added using debit or credit card. The Uphold debit card has a one-time fee of $9.95 and the withdrawals are $2.50.
Also, to move fiat funds through bank transfer, the trading fee is charged at a flat rate of $3.99, and third-party costs might apply in some cases like bank wire.
Binance: Binance offers some of the lowest fees in the crypto exchange market, thus making it a favorite among traders. Here are the different types of fees it charges.
Deposit Fees: It doesn't charge any fee when depositing crypto assets on Binance with Tether (USDT), Bitcoin (BTC), and Ethereum (ETH). Yet, note that you'll need to exchange your fiat for crypto and then make your deposit.
Purchase Fees: You might have to pay up to 4.5% in fees if you choose to buy cryptocurrencies with a credit or debit card.
Trading Fees: It charges a 0.1% fee for trading on the platform and a 0.5% fee for instant buy or sell. Therefore, the actual fee amount will be based on the amount of the trade.
Withdrawal Fees: For each withdrawal, a flat fee is paid by users to cover the transaction costs of moving the cryptocurrency out of their Binance account.
Withdrawals rates are determined by the blockchain network and can fluctuate without notice due to factors such as network congestion.
| | | |
| --- | --- | --- |
| Fees | Uphold | Binance |
| Bank Account | Free | Free outside of the United States |
| Wallet | Free | N/A |
| Debit/Credit Cards | 3.99% | 3.5% or $10 whichever is higher |
| Automated Clearinghouse Transfer (ACH) | Free | N/A |
| Wire Transfer | $30 to deposit under $5,000 or free for over $5,000 | $15 per U.S. wire transfer |
| Crypto Conversion | Free | Free, however, Binance has a spread above market price |
| Trades | Variable spread that can be high as 4% in some cases | 0.015% to 0.1% |
Currencies
Uphold: Uphold and Binance offers a wide range of Cryptocurrencies. Uphold offers over 50 cryptocurrencies, including Bithereum (BTH), Polygon (MATIC), Cardano (ADA), Bitcoin (BTC), Aave (AAVE), Dogecoin (DOGE), Dash (DASH), and more.
And it supports a total of 27 fiat currencies, due to which the platform enjoys a competitive advantage over other similar crypto exchanges.
Besides, Uphold supports the trading of four precious metals – Silver (XAG), Palladium (XPD), Gold (AUX), and Platinum (XPT).
It is available globally except for the Central African Republic, Somalia, Sudan, Iran, Cuba, Libya, North Korea, and Syria.
Uphold vs Kraken: Which is better? [2022]
Binance: Binance is a global cryptocurrency trading company that functions in over 180 countries and it offers over 500 choices.
It supports over 18 fiat currencies, including EUR, GBP, Indian rupee (INR), Australian dollar (AUD), Hong Kong dollar (HKD), USD, and more.
Its cryptocurrencies include Stori (STORJ), Litecoin (LTC), Cosmos (ATOM), Dash (DASH), Compound (COMP), Cardona (ADA), Ethereum (ETH), and more.
Security
Uphold: Uphold states that its consumer's funds and data are the utmost priority and also does 24/7 monitoring to check potential threats.
There is also 2FA (two-factor authentication) and private key encryption employed on the platform to provide an extra layer of security to protect the user's account.
Moreover, it also assures that their products go through security audits by experienced cybersecurity professionals to eliminate any security system.
Binance: When creating an account, you can enable frontline security features like Universal Two-Factor Authentication (U2F), and Two-Factor Authentication (2FA).
Although a lot of cryptocurrency exchanges and hot wallets have this feature, we should not overlook its significance. That means 2FA is the perfect way to protect your assets from major hacking attempts.
Moreover, you'll also be thrilled to see that Binance wallet keeps the majority of its user' cryptocurrencies on cold storage devices.
Since cold storage is not connected to the internet, they are less susceptible to getting hacked by potential hackers by any means.
Besides, there are many different features that Binance provides its users, such as custom PIN code, multi-signature functionality, a seed phrase-based recovery method, and more. Thus, keeping in mind all these, we can say that Binance Wallet is one of the safest exchange-wallet out there.
Ease of Use
Uphold: The signup process is straightforward, and it is easy to find details about cryptocurrencies, and even learn how to start the trading process.
Uphold also offers a one-step trading capability where users can trade any crypto asset for another. Moreover, it provides some helpful articles for beginner traders.
Moreover, its AutoPilot feature makes it easier for you to purchase your favorite crypto monthly, weekly, or daily by letting you schedule recurring transactions.
Trust Wallet vs Binance Wallet: Comparison [2022]
Binance: Binance Wallet is incredibly easy to use. If you are using the Binance Wallet app or the browser extension, they both offer complete functionality.
Additionally, by keeping your coins in this wallet, you can exchange and trade them at any given point in time. This can be a perfect feature for both daily traders and long-term traders.
Customer Service
Uphold: Uphold states that you can only communicate with members through approved support channels such as Submit a request, Live Chat Support FAQ page, Facebook, One Hub, and Twitter @Upholdinc.
Note that Uphold doesn't offer customer support by phone.
Binance: If you have any questions or need help with Binance, you can contact their customer service by visiting this page. Or you can contact Binance Customer Support through Twitter at @BinanceHelpDesk.
| | | |
| --- | --- | --- |
| Cryptocurrency Exchange Name | Uphold | Binance |
| Platform | iOS and Android | iOS and Android |
| Currencies | Total 52 | Over 500 for global traders on Binance. 60 available for U.S. investors on Binance.US |
| Fees | Variable spread up to 1.25% | 0.015% to 0.10% purchase and trading fees, 3.5% or $10 whichever is higher for debit card purchases, or $15 per U.S. wire transfer |
| Types of Transactions Supported | Buy, sell, trade, hold, and limit | Limit order, market order, stop-limit order, trailing stop order, post only order, peer-to-peer trading, margin trading, one-cancels-the-other order, and more |
| Maximum Trading Amount | Differs based on account activity | Limits differ based on the cryptocurrency purchased |
| Security | 2FA, bug bounty program, platform insurance against theft, and cold storage | 2FA verification, FDIC-insured USD balances for Binance.US, device management, address whitelisting, cold storage |
| Main Features | Offers metals, and free to send money to a friend or family member | Low fees, comprehensive charting options, and hundreds of cryptocurrencies |
Final Words: Uphold vs Binance!
Uphold and Binance is a secure exchanging service that offers a great select selection of cryptocurrencies and features.
Uphold can be a great option for those who want to make crypto-to-crypto trades, or buy precious metals. Yet, it can be difficult to use for those who are new to cryptocurrency.
Whereas, Binance offers a wide range of currency and delivers a next-level user experience to crypto traders. Besides, it even lets its users to deep dive into the crypto market.
Hopefully, the above article on Uphold vs Binance has helped you to know everything about Uphold and Binance!
FAQs
Is Uphold better than Binance?
Both Uphold and Binance make it easy for users to buy or sell Bitcoin, Ethereum, fiat currencies with a credit card, bank account, or debit card.
Does Uphold take a fee?
Uphold is not a free platform, and it charges a spread every time you trade, and it even charges deposit fees, trading commission, and withdrawal fees. Network fees are charged when you withdraw to external crypto wallets.
Can I get my money back from Uphold?
You can withdraw funds directly to your bank account to private wallets on different crypto networks.
Is Binance good for beginners?
Yes. Binance exchange is simple enough for beginners to use, and offers enough coins and features to use.