6 Top Sites like Trivago To Find Best Travelling Deal [2023]
We may earn small commission from the products mentioned in this post.
Sites like Trivago: Are you also maxed out on work and productivity and need an escape to the hills or the beach, or just a hotel room and a royal bathtub? Well, we've got you covered! Work from Home with a home that beats all views and dreams. A guide to the most efficient travel websites that will help you in your journey of planning your next vacation, curated by yours truly so you can sit back and focus on the escape!
About Trivago
Happiness? Travel. Hotel? Trivago.
Pioneered in 2005, Trivago is here to be your companion across the globe and make your travel experiences worthwhile. Trivago has developed into one of the top websites for finding accommodations worldwide. Their primary goal is to transform how millions of travellers look for and evaluate hotels and other accommodations.
With thousands of visitors making their travelogues come to life every day, Trivago is a metasearch engine that evaluates offers and costs for lodging from numerous online travel agencies. With the help of the 1000+ articles in Trivago magazine, you can start organising the vacation of your dreams. These articles cover everything from the hippest hotels in New York to romantic getaways in Florida and everything in between.
So if you think Trivago is fly, keep reading to lock down your perfect planner with these websites like Trivago.
Kayak
Kayak has been transforming the travel industry since 2004. Travel metasearch, please? Been there, done that.
You should search on Kayak if you want to pay cash for your travels rather than using travel rewards points. Compared to some of the other booking sites within the Priceline family, Kayak has a cleaner and friendlier website that makes it simpler to conduct research.
Kayak currently processes billions of travel-related queries annually across platforms, assisting millions of travellers worldwide in making informed choices. The website searches hundreds of travel websites for every query to provide users with the details they need to select the best flights, accommodations, rental cars, and vacation packages.
Highlights
Easy-to-use website layout to give you access to the best deals in town.
Joining Kayak's email list will allow you to take advantage of their Private Deals, which can save you up to 35% on a variety of travel options.
The search for a rental car is a little bit more interesting thanks to Kayak. It has a price predictor tool to help you determine the demand for rental cars.
Tips on booking the cheapest flights at your disposal and top 5 airlines flying to the US so you can travel in style.
Best for:
The best deals on Airline Tickets, Cheap Hotels, Cheap Cruises, Vacations, and Rental Cars.
7 Best Sites like Kayak To Find The Cheapest Deal! [2022]
TripAdvisor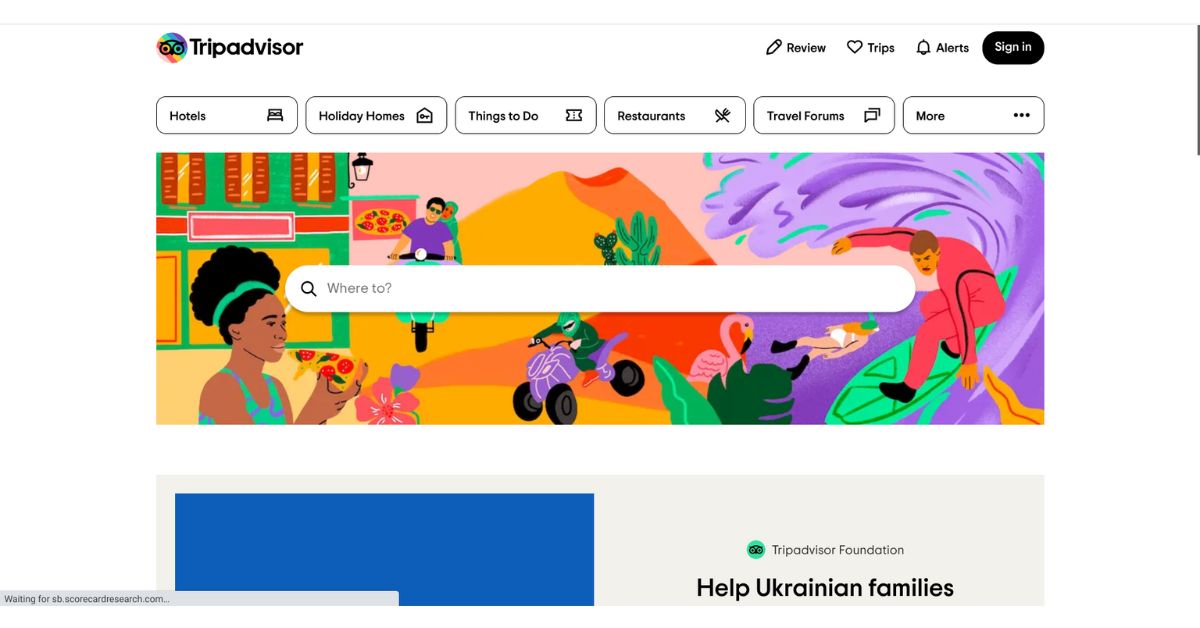 Tripadvisor, the world's largest travel guidance platform, helps hundreds of millions of people each month become better travellers, from planning to booking to taking a trip. Travellers from all over the world use the Tripadvisor website and mobile app to find places to stay, things to do, and places to eat as if our mothers weren't already doing enough. Travellers use Tripadvisor to find discounts on lodging, reserve experiences, book tables at delectable restaurants and learn about great places nearby thanks to its more than 1 billion reviews and opinions of close to 8 million businesses.
Highlights
The TripAdvisor Travel Trends Report outlines trends in full for us. The "In-destination Experience" is what tourists desire, and they also want to be outside.
Popularity Ranking Algorithm that ranks hotels and airlines so you can pick the best one.
The website introduced Sponsored Placements for eateries in 2017, enabling proprietors to "sponsor" a location at the top of their city search page.
Best for:
comparing the prices of Hotels, Flights, and Cruises.
Travelocity
Having the right mindset is just as important as picking the right destination when it comes to having fulfilling travel experiences.
Travelocity helps in celebrating life in travel, making it just one big journey, and assisting people in stopping more enlightening along the way. But exactly what does that mean? By delivering cutting-edge products with the Travelocity Customer First Guarantee, which offers individualised support before, during, and after the trip, the brand helps its customers have more fulfilling journeys and treasured memories. Of course, don't forget to pack snacks for lengthy flights.
Highlights
You can easily browse and manage reservations with the Travelocity mobile app. Both iOS and Android services support it. To keep track of delays, the app will alert you of your flight's status and gate numbers.
Additionally, guests can message hotels directly through the app.
More importantly, even when offline, you can access all of your travel information in one location.
Best for:
Stays, Flights, Car Rentals, Vacation Packages, and Things to do/ Activities.
8 Sites like Travelocity For Getting Travel Deals! [2022]
Travel-Google
We all know and trust Google blindly, so why not for your travel needs and trip journals? If you're looking for reliable travel websites like Trivago, this is unarguably the best option out there! Google Travel allows users to plan for upcoming trips by summarising info about the user's destination in several categories such as day plans, reservations, and things to do. Google Travel also facilitates locating flight, hotel, car, and restaurant reservations for the trip based on emails from the user's Gmail.
Highlights
The website has complete day guides to more than 200 major cities.
Google's unbeaten reliability gives secure and efficient booking experiences for all your trips.
Best for:
Exploring destinations, Things to do/ Activities, Flights, Hotels, and Holiday Rentals.
Skyscanner
Skyscanner is used by millions of people to instantly find the best flight deals. To find you the cheapest flights to wherever you want to go, the website compares prices for thousands of destinations worldwide across hundreds of airlines. Skyscanner is simple and fast, just like you'd imagine your packing would be, but if only…
So if you're looking for easy website designs, famous for their usefulness and affordability, this Trivago alternative website is going to delight you.
Highlights
Discover the most recent United States travel requirements and receive notifications when they change.
Find the most affordable day or even month to fly to the United States. Alternately, set up Price Alerts to reserve at the best price.
Best for:
Flight Bookings, Lodging, and Rental Cars.
Momondo
Momondo is a website that searches all over the world for travel deals on hotels, flights, and rental cars. The catch is that they don't sell hotel rooms, car rentals, or airline tickets; instead, they give you a rundown of your options, present you with the most recent costs, and allow you to select the deal you want.
A comprehensive search run to give you the most affordable flights on Momondo. The brand tracks down the best prices by comparing them across more than 1000 airlines and travel websites.
Highlights
Best prices for flights in and around the US (cheapest one-way ticket, cheapest round-trip tickets, and fastest flight time).
Graphs and insights on popular things to do and places to visit. A database built with extensive research from visitors and travellers.
Best for:
Flight, Stays, Car Rentals, Packages, and Trains & Buses.
Conclusion
We hope you've found your match to partner with on your upcoming vacation. If you're looking for accessible travel websites like Trivago, Kayak and TripAdvisor are the best options out there! And other websites like Google Travel, Travelocity, and Skyscanner are reliable and elaborate travel guides that play right into the league of travel sites like Trivago.
We hope you're ready to escape and have packed a pair of sturdy shoes along with your enthusiasm.
FAQs
Is trivago an online travel agency?
Trivago, in particular, never serves as an organiser or a travel agency. Regarding the right to cancel and withdraw, only the terms and conditions of the specific organiser or travel agency are valid.
What do people use TripAdvisor for?
Travellers use TripAdvisor to compare cheap hotel, flight, and cruise rates, book popular tours and attractions, and book tables at top restaurants whether they are planning their trip or are already on it. The best travel companion, TripAdvisor, is accessible in 49 markets and 28 languages.
What happened to the Google travel app?
Although the tech giant said users could still use Google Search and Google Maps to access the program's features, it has discontinued its Google Trips app. For those who are unaware, Google Trips is a mobile trip planner app for Android and iOS devices that were released in September 2019.
Why is Skyscanner so cheap?
Skyscanner is almost always the most affordable website for booking flights thanks to its multi-city searches, price trend tracker, and undiscovered "everywhere" feature.
Expedia vs Trivago: Which Is Better, Differences & Why [2022]