6 Best Sites Like GumTree & GumTree Alternatives [2023]
We may earn small commission from the products mentioned in this post.
Sites like GumTree: In this fast world, we need to do everything so fast. Yesterday we have own something, today we have used it and tomorrow we want to get rid of it.
But in between all this, we do tends to forget that buying procedures can be the easiest thing in the world and selling the same is the toughest. And we generally can't go outdoor to door like a salesperson to sell our belongings.
We also don't have plenty of time to roam in the local markets, meet middlemen and get our belongings to sell. Even if the middlemen agree to sell our belongings the commission charged by them will always be higher than what we expect and that results in our loss.
So now the problem comes is how to sell our belongings without the loss of middlemen's commission and also get the best deal out of the genuine buyers with profit-making statements.
Thanks to the digital world, we now have many sites that let us post our belongings for second-hand sales and they give liberty to find customers online like how we find friends nowadays with great profit-making deals.
So the sites let us open our details, post the posts and videos of our belongings, and post us with features, price deals we want to keep, etc.
In this article, we are going to talk about similar apps to GumTree which is a marketplace for customers and buyers to join in for the cheapest second and deals. The similar apps of GumTree namely are Facebook Marketplace, eBay, Freecycle, Freegle, Shpock, and Trading Post.
By the end of the article, you will get to know about the details of GumTree Alternatives as in their key highlights, availability in the countries, compatible devices, and much more.
Summary of GumTree
Gumtree is a free marketplace application and an online platform that offers to buy and sell services in second-hand items and motors to the local people.
It has more than 14 million people registering each month for buying and selling options with GumTree.
It allows users to browse for what they are looking namely toys, used cars, furniture for the home, garden utilities, and much more.
It also users to connect with people around their locality and find the best deals with pocket-friendly options.
It also offers a facility for creating free ads to promote their products which are kept on sale to gain more audience attraction.
It also has quality photos and detailed features facility with every product it offers for re-buying.
It also offers a built-in messaging facility so you don't have to worry about your personal information such as your email address or mobile number to get public.
It also its customers and buyers to talk and finalize the deal according to the negotiation made.
You can also get preowned clothes items and even PS4 or Xbox games etc at the cheapest deals available.
Facebook Marketplace
Initially, Facebook Marketplace was only for the mobile application and bot the web options. But after it was initially rolled out in the year 2016 in the countries the US, UK, and Australia then it was made available to more than 50 countries in total.
Now Facebook marketplace comes into the web version too. Facebook Marketplace has promised to add more nations and locations for an upcoming update on their desktop as well as a mobile application.
Facebook Marketplace allows you to post items like cars, electronics, Homegoods, outdoor tools, pet supplies, and everything else like GumTree to earn money from selling them. Firstly it was only meant for pre-owned items but now it has slowly started to bring wholesale items too.
Highlights
It offers free registration like GumTree.
It has a simple user interface of click, describe and post to ell feature where you can post photos, features, and videos of the pre-owned item you want to sell.
It offers up to 10 photos per listing made.
Since it is a Facebook Marketplace it allows customers to check the seller's Facebook profiles for contact details and surety against them.
It also has an in-built messenger application like GumTree where both customers and sellers can talk with each other and negotiate to finalize the deals.
It currently has more than 2.6 users listed under the marketplace.
It also has notification alerts when the customer likes your post or is interested to buy items out of your listings for sale.
Available in Countries
United Kingdom
Australia and many others.
Compatible Devices
iOS devices namely Ipad,iPhones, etc.
Android devices
Desktops like Microsoft Windows, Mac, and other web options.
6 Facebook Marketplace Alternatives & Sites like Facebook Marketplace [2022]
eBay
eBay is known for being the best free marketplace found on the internet ever. You can never go wrong with eBay. And because of the popularity and trust of more than 300,000 sellers, eBay turns out to be the best alternative to GumTree.
eBay is the best option if you are looking to start your small business or promote it on the site which is visited most and has a great portfolio and goodwill in markets. eBay has both a marketplace and refurbished shop for their customers as buyers and sellers.
eBay offers many deals for its customers and hence also promotes small businesses, famous brands, factory outlets, refurbished items, social missions, and a lot more for every generation and every kind of customer.
Highlights
It has millions of deals and sales options every month.
It offers eBay for change mission where small businesses can promote their business with eBay and gain customers via them like GumTree.
eBay even has more than 200+ brands to shop from namely River Island, Nike, Dyson, Apple, LEGO, Joules, Shark, GoPro, and much more.
It also has an order tracker available for the customers to track their parcels and to get estimated delivery dates for the same.
It also offers sales alerts, order alerts, and new arrivals alerts for buyers and sellers throughout the globe.
It also has unique crafted selling tools for new sellers to establish their market shop online with eBay.
It also provides payment security and protection against your data and OTPs and passwords.
It offers plenty of products to shop which are brand new and preowned under the categories of fashion, toys, electronics, tech, home, etc like GumTree.
It also offers free delivery in the UK.
It also offers a money-back guarantee on refurbished items.
It offers seamless payment options and supports every payment with third-party protection namely PayPal, Google Pay, Paypal credit, debit cards and credit cards, and much more.
Available in Countries
United Kingdom
Australia and many others.
Compatible Devices
All the ios devices.
Supports all the android devices.
Also available in web versions under mac and chrome extensions.
Mercari vs Ebay vs Poshmark: Which is Best in 2022?
Freecycle
Freecycle stands for freecycle.org which has more than 5000 local town groups to get free goods. Freecycle is the service of lending the items which are not in use anymore for use to someone else like how we recycle think.
The simple motto of Freecycle is to give items for recycling without any charges. It is a nonprofit organization for giving and getting the stuff for free at the local grounds. Hence it is a great alternative to Gumtree for pocket-friendly users.
Freecycle promotes free membership and has easy access to join one or more groups. Freecycle starts by signing you up and having your, location offer you the groups in nearby locations.
From those groups, you can choose what you want and when, after deciding on the final product you can contact the owner and get it picked up for you when you wanted.
Highlights
Since it is a completely non-profit organization, it has no hidden fees.
It offers free registration, free membership, and free of charge posting the products to want to get rid of like GumTree.
It is owned under the freecycle network which was first rolled out in the year 2003 as an email campaign.
It currently has its services in more than 110 countries out of which its incorporation is established in the state of Arizona.
It has its trademark registered for the countries namely Australia, Canada, and The United States counting it in a total of 32 countries.
It also has an online inbuilt messaging app to talk with local individuals like GumTree.
It also has a feature for the reply to the posts and comments and getting more and more people under their local groups and radar.
It has a great-searching facility where you can easily browse donations with keywords.
It also has a feed system where you can click a photo, post it and write a short description of the user object and it gets done simply like GumTree.
Available in Countries
The United Kingdom and many others.
Compatible Devices
It is available in web versions for windows and mac.
It is available for ios devices and android devices.
Freegle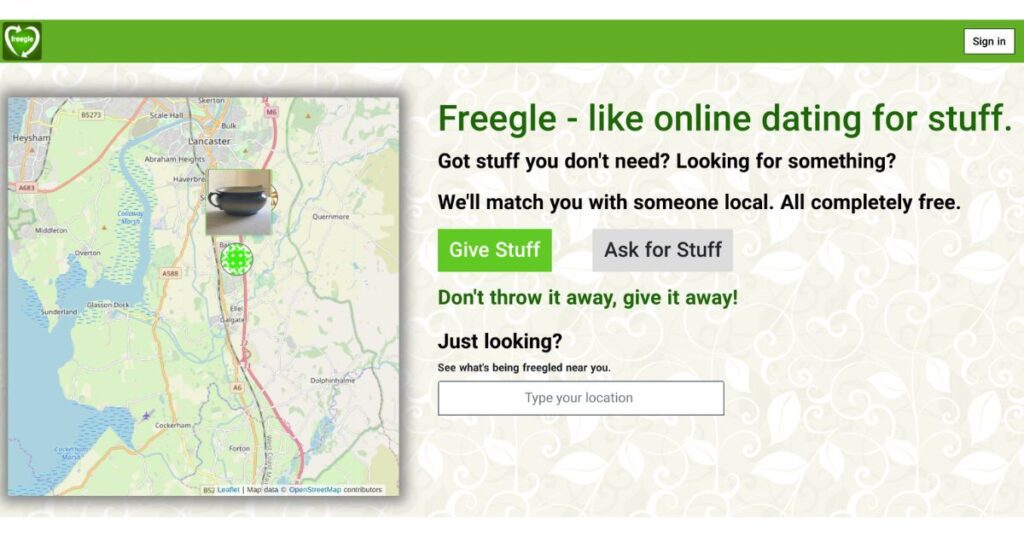 Freegle offers its services mainly in the UK and hence it is also reached under the title 'freegle uk' the most. It is a great alternative to GumTree because of its simple user interface and straightforward procedures.
It is a great application if you are a UK citizen and want to get rid of old goodies In your home or office area with charges or no charges. It follows a simple motto of don't throw anything away, give it away on freegle for a great deal.
It is a great application to reuse the items which are in great condition at cheaper deals. Freegle promotes saving money and also helps you clear the clutter. It has been downloaded by more than 100,000+ users.
Highlights
It is free to download like GumTree.
It also has free membership and sign-up procedures like GumTree.
The procedure for posting your belongings and listing them for sale and giveaways is similar to GumTree as in click the photo, write features, and get it posted.
The overall procedure is kept free of cost and they don't charge any delivery or courier fees.
It also has an inbuilt replying and responding facility like GumTree to reply to whoever is interested in your unwanted items or listings.
It also has email chatroom access available for the givers and takers.
The rules and guidelines are different per the local groups and communities which users have to follow if they want their products.
Its only motive for working is to reduce the waste, help the neighbors, and make use of useless resources.
Available in Countries
The United Kingdom and many more.
Compatible Devices
It is available on all the ios devices.
It supports all android devices as well.
It is also available in the web and desktop versions respectively.
SHPOCK 
The only motto Shpock follows is to sell your stuff and bag a bargain. It comes under the top 6 alternatives of GumTree for every good reason. The user interface provided by Shpock is eye-catching and smooth to be used by the new users.
It follows their goal of making every secondhand thing useful to someone at a joyful rate. It is set to be cheaper than the original prices but more profitable than giving it away in a scrap. It is currently focused more on the united kingdom but does offer its services to other limited locations too.
It suggests zero free, zero-hassle browsing facility and signing facility for its users. It only works as the middle agent to help you make money out of your useless things.
Highlights
The key highlight of Shpock is the versatile categories to gain second things at a great rate. It doesn't have any limited categories to be posted for the resale option.
It also offers resale options for cars, homes, property, and everything you want to resale and gains money from.
It has over 50+ million downloads and users getting registered every year.
It also has the best of substantiality in the year 2019 award from Apple.
It offers a listing of an item for sale in seconds.
It also offers a bargaining facility to get good quality products at cheaper rates.
It also offers buyer protection and payment guarantees.
It also promises secure deliveries at your doorstep.
It also has its wallet under the title – Shpock Wallet which gives you end-to-end protection for the payments and payment details.
It offers no hidden fees or selling fees charged.
It also offers to chat features like Gumtree to connect the buyers and sellers within the app itself.
Available in Countries
United Kingdom
Germany and many more.
Compatible Devices
All the android and ios devices.
It is available as desktop and web versions too for windows, Linux, Mac, etc.
Trading Post
Trading Post is the best alternative to GumTree because it is the oldest in the free marketplace industry with the trust of more than 50 years of experience. Trading Post stands for TradingPost.com.au which confirms that it is made for Australia.
Trading Post is available for the second-hand buying and selling materials for categories namely cars, motorbikes, trailers, pets, home and DIYs, sports and fun, caravans, 4×4, boats, backyard, farm, wheels, and parts.
Trading Post has a great user interface which is very easy to use and at the same point very accurate with useful browsing tools for the users as buyers and sellers.
Highlights
It is available only for the citizens of Australia.
It has easy click, describe and post a feature as GumTree provides.
It also has a post an ad now feature where you can instantly post whatever you want to sell via Trading Post.
It also has a very well-maintained browsing panel where you can search what to want by typing, nearby location, product name, and choosing the category for the same.
It also has the feature of saving what you want to buy in the future like GumTree.
It has watchlist maintenance, my searches page, a recently viewed page, and a homepage gallery window.
It also has an inbuilt feature of messaging and bargaining chatroom for buyers and sellers to finalize the deal exactly like Gumtree offers.
It also provides security against every ad posted under Trading Post since it verifies every ad by professionals and accounts created under Trading Post are well surveillance.
It also provides a call center for customers' help desk which helps them provide solutions to every query posted and registered under them.
Available in Countries
Compatible Devices
It is available in the website version and not the application format.
The website link is valid only for Australian citizens.
Conclusion : Sites Like GumTree
Here we have provided you with all the details regarding the best 6 alternatives of GumTree for regions under The United States, Germany, United Kingdom, and Australia.
The article comprises alternatives to Gumtree namely Shpock, Trading Post, Freecycle, Freegle, eBay, and Facebook Marketplace. We have provided their availability in different countries, compatible devices, and key highlights of the same.
6 Best Sites like Locanto & Locanto Alternatives [2023] 
FAQs
Is Trading Post available in countries other than Australia?
Currently, Trading Post is only available for Australian citizens and does allow access to anyone out of Australia.
What are the best alternatives to GumTree?
The best 6 alternatives of GumTree are-
Freecycle
Freegle
eBay
Facebook Marketplace
Shpock
Trading Post and many more.