Guilded vs Discord: Which Is Better For You? [2023]
We may earn small commission from the products mentioned in this post.
Guilded vs Discord -Discord was launched in May 2015 and soon replaced apps like Line and TeamSpeak for many gamers. The dark screen, server structure, and customization were just the beginning. Discord evolved into a tool not just for gamers, but also for streaming communities, companies, and friend groups as bots became more popular.
However, several gamers and content developers have recently expressed their displeasure with Discord's business activities and their supposed acquisition by Microsoft. Several of these commenters claimed that they were considering switching to Guilded.
Guilded vs Discord: Let's Compare!
We would compare all platforms with a variety of characteristics in order to truly comprehend the debate.
What are the prices of the apps?
Guilded vs Discord- Both applications are available for free download. Though Discord Nitro is available for purchase, the essential features are available for free.
Which of the two has a better voice chat?
Guilded vs Discord– Discord's voice chat (and capabilities) are inferior to Guilded's. Discord users can listen to audio at up to 96/kbps (kilobytes per second), while Guilded users can listen at up to 256/kbps. Not only is the output higher, but Guilded members may also use a hotkey to whisper to a single person in conversation, ensuring that only that person hears them. Many activities for Ga have been simplified as a result of this.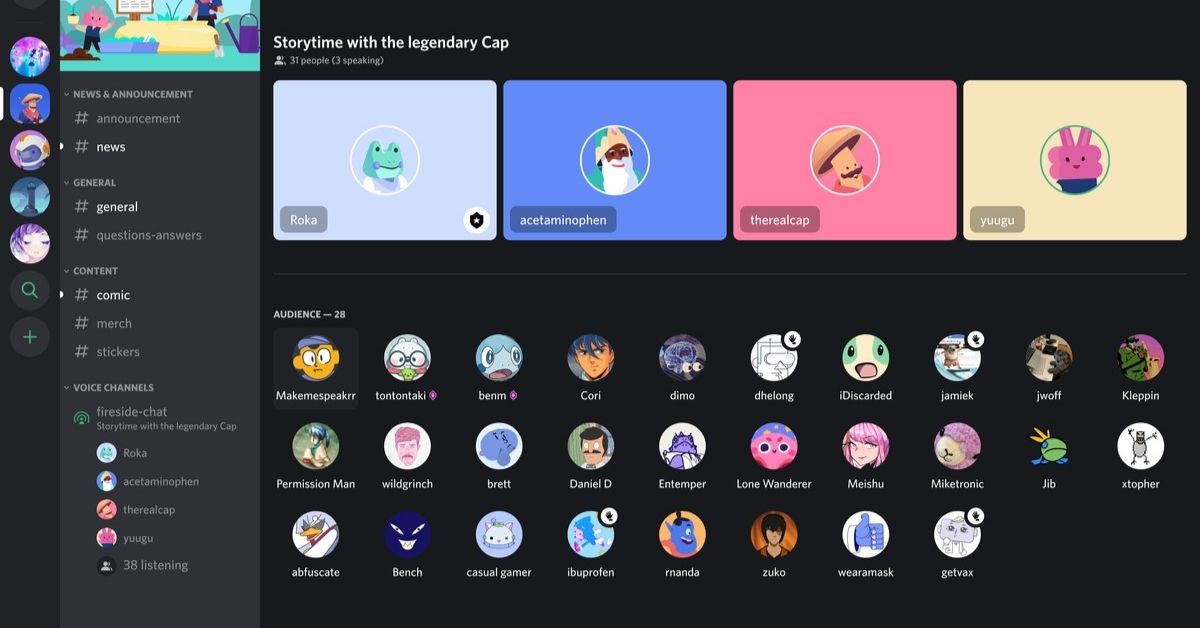 Which Provides the Best Free Streaming- Guilded vs Discord?
Guilded once again outperforms Discord in this category, enabling users to display in 1080p at 60fps. Users on Discord begin at 720p at 30 frames per second. Both have a relatively short latency.
What distinguishes Guilded from Discord?
Apart from the above, Guilded's base package has a number of features that Discord does not. The following are some of these characteristics:
There are ten guilded channel forms.
Although Discord supports both speech and text networks, Guilded provides ten different types of channels that can be categorized. You may construct additional sub-categories within such channel groups.
The below are the Guilded channel times:
1. Get a discussion
This is a text chat that encourages users to send each other updates, build threads, surveys, and forms that other users can fill out. You should delegate the appropriate functions so that the additional functionality can be used.
2. Streaming video
You can stream from either your camera or your computer screen. You can also use simultaneous broadcasting to video chat with your friends or group.
3. The voice
You can not only have a complete chat room, but you can also build nests inside it to enable people to chat together for longer periods of time. You can even "whisper" to another person secretly while still in conversation.
4. The year's calendar
In Discord, you can use bots to make a calendar, but Guilded has one built in. You can quickly plan parties for your teammates to attend. Streamers will mark their streams to see how enthusiastic their viewers are about their upcoming material. On the server's preview section, you will also be able to see upcoming activities (more on that later).
5. Organizing
You will use the scheduling feature to figure out when people are usually around, whether you need to arrange a meeting or organise the guild into raiding groups.
6. Notifications
You should make updates for the members of your server to see, but you still have the option of making them public. Announcements will also appear in the summary section of the server.
7. Discussion boards
Thus keeping the rest of your server clean, create some things for your members to explore. You should also pin the most interesting issues to the top of the forum so that new users can quickly access them.
8. List
This platform is ideal for well-organized groups that want to make sure everyone is in order prior to a major event. Threads may also be used to keep things ordered and in perspective. You can also label items as complete as you complete them.
9. Doctors
Do you have a set of guild rules, or have you spent time working out how to mine precious resources in-game the most efficiently. You will quickly build papers that will assist the participants in learning improved game techniques.
10. The media
Add your own videos or photos to the gallery. This channel is ideal for streamers who want to put together visual collections of their clips and branding.
Also Read:
How to Stream Disney Plus on Discord [Complete Guide]
Applications for the Server
You should create a form that people who wish to join your server must fill out before they can join. This eliminates the need for them to contact an administrator or provide a Discord channel where certain people can fail to respond to important questions.
Overview of the Server
Upcoming activities on the guilded server
Each server has a Server Overview page where participants can easily check in and see what activities are coming up and if any new announcements have been made. Users can easily communicate with activities, making it more effective for both them and the system administrators.
There is also a "About" section where you can easily describe your server's purpose and link to your other social media pages. This segment is ideal for streaming groups where the streamer wishes to expand their reach across many channels.
Inside Servers, There Are Groups
Inside your servers, you can even build groups that only those members would be allowed to access. If you have a squad of guildmates who enjoy playing a different game together? Make a game-centric community for them to fill with memes, screenshots, and their own lists without disrupting the main server's members.
Streamers may build communities for their VIPs, fellow streamers, or Tier 3 subs.
Luci's professional profile – Guilded personal profile
You have a personal profile on Guilded that you can customize. Add your games (and aliases), upload content periodically, write a about you section, and link to your social media accounts. This is ideal for streamers who want to connect with other streamers without being too commercial or pushy.
Subscriptions to Servers
You will make money off of some facets of the server. By running your own Guilded server, you can build personalized incentives for people who sign up for subscriptions and gain passive income over time.
Line vs Discord: Who Wins the Battle? [2022]
Reddit vs Discord: The Battle of Social Platforms [2023]